Reception Guide: The Ultimate Checklist to WOW Your Guests
By Jen Fries- Ashley Rose Weddings + Events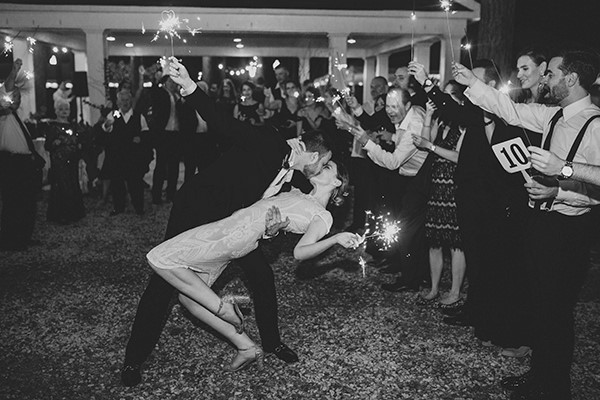 Your wedding day is all about beginning your journey as husband and wife. Aside from that, you want to create an unforgettable experience for your guests. We want to help you create a stand-out event. Receptions require extensive planning, preparation and communication between vendors. From the food selection to the decor, there's lots to decide. This checklist from our experienced planning and design team will help you begin a process that could make-or-break your big day.
Ready to be the envy of all of your family and friends? We created this list of the best tips to help you execute a reception that is sure to WOW your guests. Your future spouse and guests are sure to notice!
*Keep the Time: Write out your day hour-by-hour, then review with your vendor team. If you've hired a coordinator, they will create this timeline for you and share with the necessary recipients. You'll need to coordinate arrival times of all vendors and check on adequate set up time.
*Hire a Pro: Even if you are organized, planning a wedding and keeping a reception flowing are huge tasks better left to the professionals. And you don't want your friends and family distracted from soaking in the moments with you, so hire as much help as possible. It'll be worth it when you see your guests interacting and enjoying their time with you and your new spouse. Connect your vendor team via email a few weeks prior to the wedding day so everyone is on the same page for timing and expectations.
Once your venue is secure, get your key players in place. This will allow you to shift focus to smaller details as the big day approaches. A professional band or DJ will know how to read the crowd and keep the party going. Hire a fabulous caterer to bring great food that your guests will rave about throughout the night. Consider booking at least a day-of coordinator to keep the day operating flawlessly.
*Create an Ambiance: Lighting sets the mood, and it's important to create the perfect ambiance. If your vision is having your initials scrolling across the dance floor and up lighting for days, finding a lighting professional familiar with your venue. Your reception space can come to life with tea lights on reception tables or candelabras throughout the room. Entryways and exit areas can be lit with lanterns. Your venue may agree to replace light bulbs if you provide a softer option.
*Make it Cozy: Consider your guest's comfort level. Put together a bathroom basket of toiletries that will help your guests feel fresh throughout the evening. Include lotion, wipes and hairspray. If it's an outdoor event, have a basket with bug spray and paper fans. Add a basket of slippers near the dance floor for the moment when the high heels become unbearable. Include menus and place cards on each table for an extra touch. Decorate the welcome or entry area with a few wreaths or flower arrangements.
*All in the Details: A few thoughtful touches will make your party look intentional and well-planned. Place monogrammed napkins at the bar. Include a fun, out-of-the-box guest book experience. Create labeled totes of decor and a written guide of your vision so your designers and planners can piece things together perfectly. Order signs and decor at least a few months in advance. Stash extra lighters and batteries in your supplies to make set up a breeze. Consider a unique detail to wow your guests such as live entertainment, dancers or a magician to pop in while the food is digesting.
*Set the Tone: Let your cocktail hour set the pace for the reception. Bring in strong entertainment like a band or quartet to get your crowd going. This will set the tone for the entire celebration. Get the party going based on your theme and vision. Allow your guests to mingle with the best music in the background. The most fun weddings we've attended were ones where the newlyweds set the example of fun. Get out there and have a blast! Your wedding party should be ready to keep the party going as well. Discuss this at the rehearsal so they are on board and ready to swoop in to bring up the energy level if needed.
*Spark Great Conversation: This begins with the most dreaded task- the seating arrangement. Tackle this strategically, and you're in for a day to remember. Begin this process when the very first RSVP arrives. Use a large board so you can easily adjust your plan as new RSVPs arrive. Place your party-going friends and family close to the dance floor so they get the party started. Consider the placement of older guests. They should be near exits, have easy access to restrooms and be furthest from the sound system. If your entertainment vendors are not familiar with your venue, have a conversation about acoustics, and ask them to arrive early enough to test the space before guests arrive. No one wants to hear dead air or volume changes as the staff tries to figure out the best level.
*Tick Tock: Don't let the clock work against you. Stick to your timeline. Most vendors charge for additional time. Be mindful of the clock to save money on bar fees, service charges and other vendors add-ons. Save room in the timeline for guest transitions, like moving from cocktail hour to finding seats in the reception area. And know when to call it a night. If your venue does not have a solid end time, talk with your DJ or planner to outline a good exit strategy to end the night before the party fizzles. Set up an optional after party if you'd like to keep things going. If the after party plans are in place, add a coffee bar option near the end of the reception to perk up the crowd. Include a barista and a variety of options if your budget allows.
*Extra! Extra!: Your guests need to read all about it! Keep everyone informed of your plans via your website or mail out the details. If the majority of your guests are out-of-town, give them ample time to get their calendar and travel plans in order. Invites are usually mailed around four months prior to the wedding. Take a moment to provide details about your location. Out-of-town guests will appreciate knowing where the best hotels and restaurants can be found. It's a nice touch to add area highlights and must-see spots. Your guests will have quite a bit of down time while you are preparing for your big day. Provide some options that will allow them to make some memories and have fun together.
*Go with the Flow: Your space must be laid out properly. Designate a separate cocktail area and close the reception space to early arrivals. Guests should only see the finished product of all planning. Keep reception doors closed to create a dramatic entrance. Serve the meal and cake at appropriate times. Additional entertainment should be spaced out accordingly. Make sure your guests feel as though they can move about the room with ease. Remember the tables will have chairs pulled out once guests get comfortable. Provide an inviting dance floor that won't feel cramped. You don't want it so big that it intimidates guest from getting out there to get their groove on either. Try a 9' x 9' dance floor for 100 guests and an 18' x 18' floor for 200 guests. If you want dancing to be a key part of your reception, make the dance floor a focal point. Plan out your room with your venue staff to make a beautiful flow for drinking, dancing, snacking and dessert. Add places for guests to mingle and relax as they take breaks from the dance floor.
*'Tis the season: Be inspired by the season. Kick off fall by allowing a crisp fall breeze to sweep through your celebration. Ask your venue to open doors and windows for a perfect cross breeze. If your celebration is outdoors, help your guests soak in the surroundings. Don't let inclement weather ruin your day. Reserve a tent as backup in case of rain. It's worth losing a small deposit to ensure your guests aren't drenched. Play off of the warmth and coziness created by the winter season. Find a venue with a fireplace. Bring the colors of spring in to your space. Surprise your summer guests with popsicles or ice cream bars on the dance floor.
*Keep Kiddos Entertained: If children are on the guest list, be sure to accommodate. Have some arts and crafts available in a space where little ones feel free to let loose. Once their parents see the effort you've put in to make the night fun for everyone, they'll feel free to join you on the dance floor and enjoy the night. All of your guests will notice the extra touch. Pay a few hours of wages to a trusted babysitter to oversee the children's area. Include small toys and games, or even a mini dance floor with fun lighting.
*Surprise, Surprise: Your guests will welcome a mini break from dancing for some fun entertainment. Have a magician, electric violinist, illusionist or specialized dancers swoop in to up the party energy. Have some interactive side stations rolling through the night like a photo booth, cigar roller, or drink tasting. Engage your guests to create lasting memories. Make a grand exit with fireworks or a musical performance.
*Let's Eat: A plated meal instead of a buffet is a much appreciated gesture. Since this is not always as budget-friendly, here are a few ways to make the buffet seamless. Create lines on both sides of the tables to keep your guests from standing in long lines. Have your coordinator dismiss tables based on the movement of the line. Take care of the children and elderly with pre -plated meals. It's kind to include your vendors in your headcount for food. Don't forget photographers, assistants, videography teams, musicians, planning teams and any other service providers. Have a space set up for them to eat as they find a break in the evening, and include water and other beverages in this space. You can go with one entree to keep things easier. The meal is often remembered by guests, so take an extra moment to plan wisely. Try to include some local foods to allow your traveling guests to really experience the area
*Mix it up: Whether you hire a band or a DJ, set up several meetings to discuss the playlist and vision for the reception. If you are having a difficult time choosing between the two, mix it up! Have a band at the cocktail hour and a DJ at the reception. Know when they will arrive, what they provide, what they require from the venue, and their wedding attire. Create a list of must-have songs and ones that you absolutely want to avoid. A top-notch DJ will read the crowd and use some great techniques to increase engagement if needed. Be upfront with your ideas so nothing gets overlooked or played on your day that you didn't want to hear.
*Favor Fun: There's nothing like a well-done wedding favor, and there's nothing worse than spending time and money on ones that get left behind. Think through what your friends and family would appreciate. Have the DJ create a CD of your wedding playlist and have someone leave the CD in each guest's car at the end of the night. They'll be reminiscing for years to come! Edible gifts are always a winner. Try a local jarred food or a Virginia wine or even a product made by a local vendor. Follow the seasons with a jarred hot cocoa mix in the winter or a fall-themed candle. Or you can opt for a charity donation. If there is a charity that is important to you and your new spouse, let everyone know you've made a donation in their honor in lieu of a take-home favor.
Follow these tips to create a reception your guests are sure to remember. Envision the experience from your guest's perspective, and be sure you're spending enough time with them. A fun, interactive reception will be remembered for years to come.
Bonus: Reception Timing Guide
Here is an overview to help you get your plans in action:
Cocktail Hour Begins: 1 HR
Reception Doors Open, Guests Seated: 20 MINS
Wedding Party Entrance, First Dances: 15 MINS
Dinner Served: 1 HR
Toasts and Cake: 45 MINS
Dancing: 2 HRS
Last Song/Grand Exit: 20 MINS