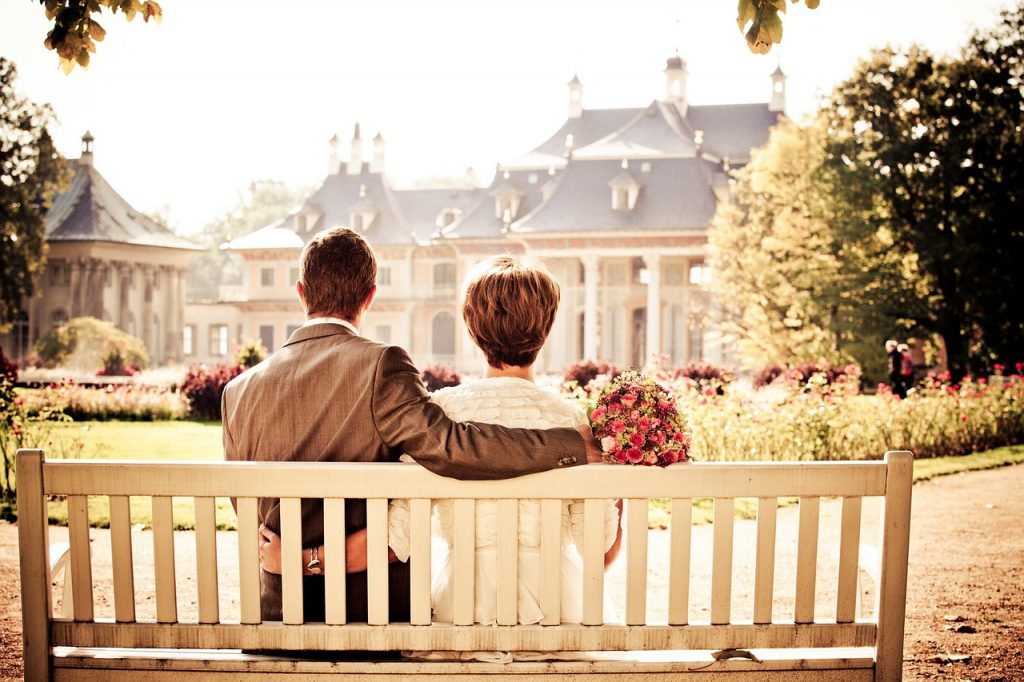 Memorial Day weekend is a good time to not only recognize how people are remembered, but to notice: with flags, wreaths, somber remembrances, and then do it differently.
Wearing Something Old In A New Way
Sometimes all we are left is some jewelry. I have worn an old, 1920's necklace as a bracelet, and there is no reason a necklace, bracelet or broach from another century could not be worn as a hair adornment, or used in centerpieces, or affixed in a new way on a new dress. Take the tradition of "wearing something old" as a way to remember a grandmother, an aunt, or anyone. Even you dad's medals or anything he may have kept as a keepsake could be an adornment. It is an eclectic age. Embrace it.
Something New
It may be the case that you've been given something by the person that passed away.  If it is stemware or flatware, you could have it worked in at the head table during the reception.  If it was a tablecloth, it could be dressed-up for at least the cake table. If someone recently gave you something from their household, no matter how casual it was, work it in, as a way to remember.
In the Programming
You can dedicate your wedding to your loved one in the wedding program.  At the end of the program, you may choose to write a short paragraph of remembrance or just simply put, "In Loving Memory" with their name, date of birth, and when they passed away.  You could name multiple people and under their name, say how the bride or groom is related.
In Loving Memory

---

Elaine J. Hobart

Grandmother of the Groom

Ray M. Belk

Uncle of the Bride
A Single Candle
For a single, lost loved one, a single flameless memorial candle can be very appropriate.  There are even candles which have passages or quotes painted on them that can be very touching and informative.  Simply search on Google or Amazon "flameless memorial candle" and several options will be shown.
Traditionally With Pictures
Many times there are pictures of the bride and groom on the tables, but a special place could be set for pictures of those you'd like to remember.  If this is a large affair, and you might be afraid you would forget someone, it might be nice to invite people to bring photos that they would like displayed.  Who knows, you might discover an aunt has hoarded a baby picture of a cousin you never knew about.  It might be a way to learn more about your family tree.  You might discover who is the accidental, family genealogist.
*I would advocate getting pictures of relatives when they were very young or doing something unconventional. I have a great picture of my mom and a cousin dressed up in my uncles WWII uniforms. It showcases her fun and silly side, something very much worth remembering. She wasn't always the serious mother of six who worried about a husband who was largely overseas fighting for his country, but was a teen who sometimes was silly and fun with her friends, older brothers, and cousins.
A Dedication
In some weddings, it seems they are always passing the mic.  If this is your style of reception, at some point, you could dedicate a song or a dance in memory of someone.
A Toast
In some weddings, someone is always raising a toast, and this is a wonderful way to remember someone who was themselves a person who enjoyed lifting a glass now and again.  Try to do it in keeping with their style.  Were they champagne, bourbon, or beer?  In some cases, it might be something to do in full view of everyone, but in other cases, maybe the groomsmen or bridesmaids might want to do something small and private before the reception or even before the wedding.
A Moment of Silence
In some cases, in a church, before the ceremony is complete, a moment of silence called for by the minister might be the best way.  If the person was someone very near and dear to everyone, this would be a way of paying tribute that recognizes every person's heart.
Save Them a Seat
With a seat at the head table or any table you think appropriate, with maybe a bouquet of flowers in their chair, you can recognize their absence and your love and respect.  At some point, you may want to propose a toast in their memory with everyone saluting with raised champagne flutes, this departed loved one.
I hope this gives you some ideas and inspires how to remember those you may miss at your wedding but who you will always carry in your heart all of your days.
Salute!
---
– Virginia Bride Magazine features the best Virginia weddings and Virginia bridal shows. Find it all in one place. Check our blog posts regularly for the latest show information.