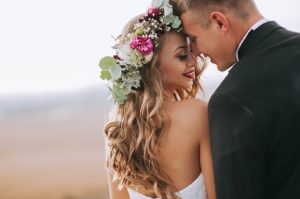 Summer is one of the busiest wedding seasons of the year. The sky is blue, the trees are a lush green, and the flowers are in full bloom. This offers the perfect backdrop for a beautiful wedding. However, there are a few key do's and don'ts to pulling off the perfect Summer wedding. Follow this simple list to help you plan the wedding of your dreams.
DO consider an outdoor wedding (for all the wonderful aspects noted above). Outdoor weddings can be exceptionally lovely at sunset or in a favorite garden, for example, particularly when the flowers are coming into full bloom. DON'T forget to plan a quick escape route including a good backup plan for cover in case of wind and/or rain. Summer can kick up some nasty storms without a hint of a warning, quickly ruining the most well-planned ceremony and reception. Make sure to pick a venue with plenty of shade because nobody enjoys a clingy dress wet with sweat or feeling like a suit is slowly suffocating them! Consider a providing a cooling off pavilion with fans and possibly a mister if you live in an extremely hot region. Have plenty of non-alcoholic beverages on hand and consider having a fun popsicle stand to keep your guests hydrated and cool.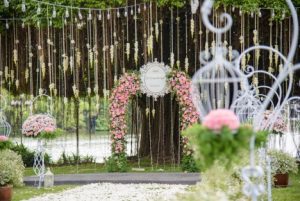 DO choose an appropriate color palette for the season. This summer has several hot trends, including natural colors, cool metallics, pinks, summer jewel tones, and color combinations with THE color of the season, gray. Pastel yellows and grays and turquoise and grays are particularly popular combinations for 2017. DON'T select off-season colors like darker reds and burgundys or colors more often associated with Fall and Winter. This goes for everything from the bridesmaid dresses to the flowers and the table cloths at the reception. Matching your color theme to the season will enhance and elevate the ambiance for a perfect wedding setting.
Do consider choosing a theme for your wedding. Flowers are a fantastic focal point of every wedding from the ceremony to the reception, so pay attention to the five basic "personality traits" of flower arrangements. Choose one that complements and enhances the theme you and your fiance are planning. Whether you want exotic, dramatic, natural/outdoorsy, romantic, or traditional, choose a floral personality and summer color palette that says "you" to make your day truly unique and special. DON'T overdo it. You don't have to "theme" every aspect of your wedding and reception, but when you are going to use a theme, use the same one. Don't try to mix and match themes or do too much. Consider staying with personality based fresh flowers and greenery instead of adding artificial gimmicks that may overshadow the simple beauty of a Summer wedding. This is the perfect season for lilies, daisies, lavender, delphinium, gladiolus, snapdragons, and hydrangeas. For a little more originality, opt for other lesser known summer florals such as agapanthas, liatris, lisianthus, yarrow, or pincushion flowers. These can be used for everything from the bridal bouquet to the bridesmaids and flower girls, boutonnieres for the guys, ceremony flowers, reception centerpieces, and even fresh cut flowers for the wedding cake topper. When done tastefully and thoughtfully, you may not need much more theme planning other than excellent floral services and the perfect color palette!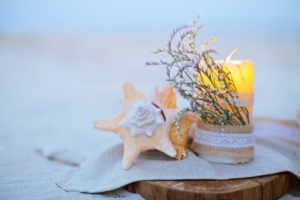 Do use reputable vendors and venues when planning your Summer wedding. This goes for caterers, florists, deejays, and everyone in between. Do your research and read multiple reviews. Ask close friends who they have used and whether they would recommend that company. Ask the vendor lots of questions (ie, do they have an alternate plan if it rains?) and make sure you feel completely comfortable with them before giving them a deposit. And ask if the deposit is refundable if plans change. DON'T wait until the last minute to book your event space or hire your vendors. As noted above, Summer is popular wedding season. Venues book up months (sometimes years) in advance, and vendors fill their calendars well before Memorial Day is even in sight. Be proactive and book early to ensure you get just what you want.
With sunny skies and blooming flowers, Summer is the ideal season for a beautiful wedding. Following these simple do's and don'ts can help you have the wedding you always wanted. Enjoy this special time of planning your perfect wedding day and preparing for your happy ever after!