Guest Post by Kristina Lee Grandstaff
All women are built different, but I was always the little girl that dreamed of my future wedding. What my dress would look like, the flower arrangements and venue. I couldn't imagine a more beautiful celebration than to be with the man that I love surrounded by our dear family and friend in one room together.
Now finding my prince on the other hand, brought about its challenges! I embarked in the dating scene a bit in New York in my early twenties and prayed and hoped for my Prince to come along. Well fast forward to my mid twenties, I was out for a girl's weekend in Myrtle Beach, South Carolina with my best friend. We were walking along the ocean and saw a little girl on the beach stung by a jelly fish. We went up to the lifeguard to get help for her, but he was reluctant to leave his stand because he's was supposed to be watching over the beach. Well that didn't settle right with me! I said "Sir, that little girl was stung by a jelly fish and she needs you to tend to her!" Well needless to say he got his vinegar spray and walked down the beach to help her. (Side note, he was very cute, so my friend and I decided to stick around and chat with him when he got back.) We got acquainted with him for a bit and he was truly such a kind southern gentlemen. I told him that I would be back out to South Carolina in a couple of weeks on my family vacation so we were going to look for each other again.
Two weeks later, my family went down to Myrtle Beach for our annual vacation and the handsome lifeguard, Robert, happened to be life guarding in front of the condo that my family stays in every year. Delightful! Another week that I got to talk to him! I went out early in the mornings to set up my towel; I could see him from my balcony while I was eating lunch. I think it's safe to say, I had a "crush" on the lifeguard. We had talked throughout the week, but Robert never asked me to go out. So by the end of the vacation I went up early to get fixed up and I was planning on going down to give him my number or even just my email address, but I was far too shy. So I was thinking and thinking and I came up with the idea to tie a note with my number on his lifeguard bench so that he would get it in the morning.
My family had the car all packed to leave, but before we left to drive back to New Jersey, I went to his lifeguard stand. So there I was, with no makeup on, no contacts in, it was dark out, raining and windy on the beach. I tied the note with a little seashell and rubber-band, but honestly did not know if Robert was even going to get my note with the rain and wind from the ocean. I was thinking about him all morning and thought I might never see or talk to him again. That morning at 9am, I received a text message from Robert! He told me that he didn't ask for my number because he thought my brother was my boyfriend and he wanted to be respectful.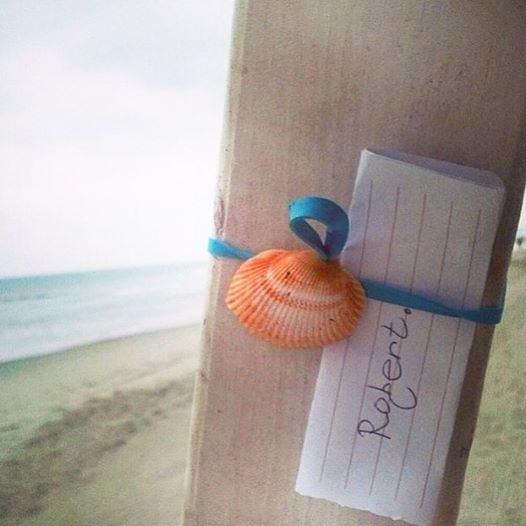 Robert lived in Virginia and I lived in New Jersey and he asked me out on our first date one month later for a Red Sox game in Baltimore, MD, a midway point for both of us. We talked throughout that month and our first date was perfect! We had our first kiss under the fireworks in the stadium and the Red Sox won!
Robert served in the Marine Corps for four years, Life-guarded and then became a Firefighter out in Chesterfield, VA and I went to college in NYC worked in fashion and the nonprofit sector. We were in a long distance relationship for one year and would see each other every other weekend and then I finally made the decision to move out near him in Central Virginia where his career and family were. This was a big step in our relationship, but we knew that in order for us to progress to the next step we really needed to be in a place where we could do day to day life together. At first it was an adjustment but we did indeed work great as a couple together and it was a beautiful season to spend time in Robert's hometown with his family and friends.
After being in a relationship for two and a half years, Robert asked the permission of my father for my hand in marriage and proposed to me this spring. He took me out to California for my birthday and it was truly a beautiful surprise. We walked down on Laguna Beach at sunset and set up a blanket. We were looking at the beautiful ocean when he asked me to stand, at that point, I realized he was proposing! He shared some of the most beautiful words he has ever said and got down on one knee and proposed. I was in shock and stared at him for what felt like a few minutes and of course said "YES"! Out of the corner of my eye, I saw a man taking photos and thought it was just a kind stranger that captured the proposal, but Robert hired an amazing photographer based in CA that captured the entire proposal. The whole night felt like a fairy-tale and I still have to pinch myself. He put so much love and thought into every detail of the proposal and that is just a testament of who Robert is. Oh, and the beautiful ring of course, he snuck onto my Pinterest account and worked with a jeweler to custom design the engagement ring. I truly feel like I am wearing a piece of his heart every day.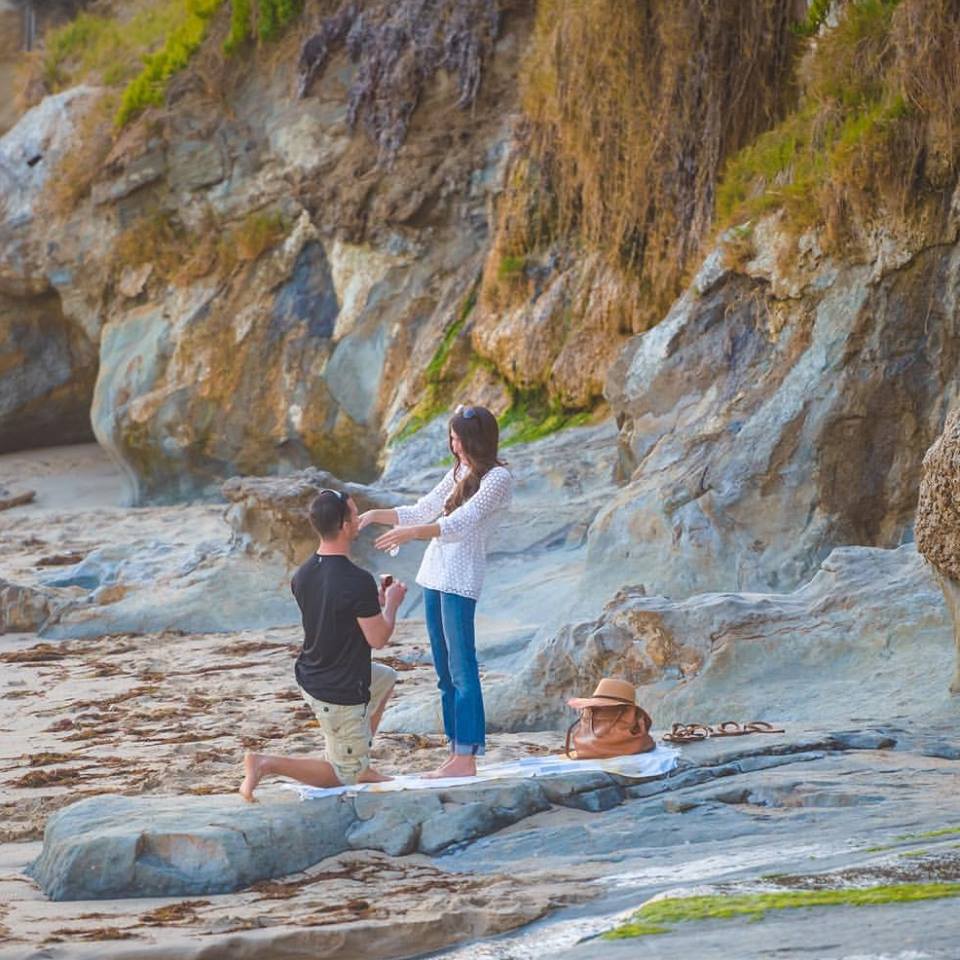 Photo by Mariusz Jeglinski 
We decided as a couple that for the long term, living in New Jersey by my family would be the best decision for us. Our rustic chic wedding is set for September 25th, 2016 at Jack's Barn in Oxford New Jersey. We will come together as husband and wife before God in an intimate ceremony with our immediate family and closest friends.
Robert and I have had to overcome so many obstacles from some health issues I've had with chronic migraines, cultural differences and being a long distance relationship. We had every reason for our relationship not to work out, but each and every obstacle has strengthened us as a couple. Life is not a fairy-tale, but it certainly has its fairy-tale moments and we are very much looking forward to celebrating our wedding day this September! He was the best souvenir I ever took home from South Carolina!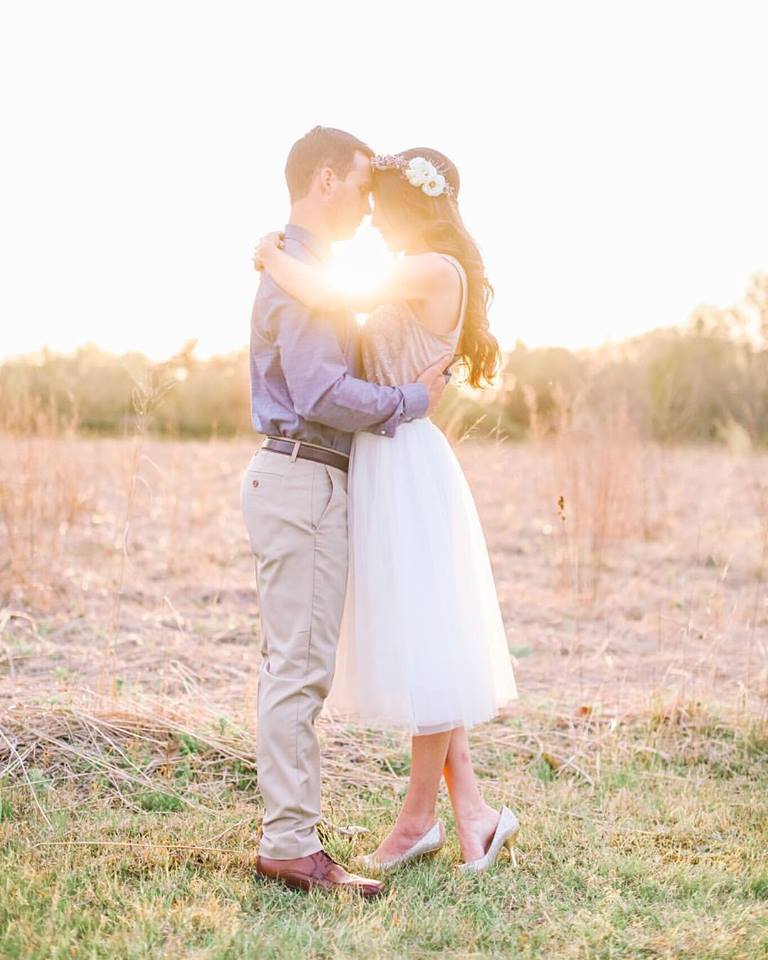 Photo by Kay English Photography