Engaged- Check
Bridal Party Confirmed- Check
Now What?
Are you a little overwhelmed with coordinating everything with your bridesmaids? From day of details like hair and make up appointments to bachelorette trip plans, there's a lot of information you need from your 'maids. Brides on the social media platform TikTok have found the perfect solution to this issue. Use a Google Form to retrieve all the information you need. This will allow you to receive answers to all the questions you have while keeping everyone's responses in together.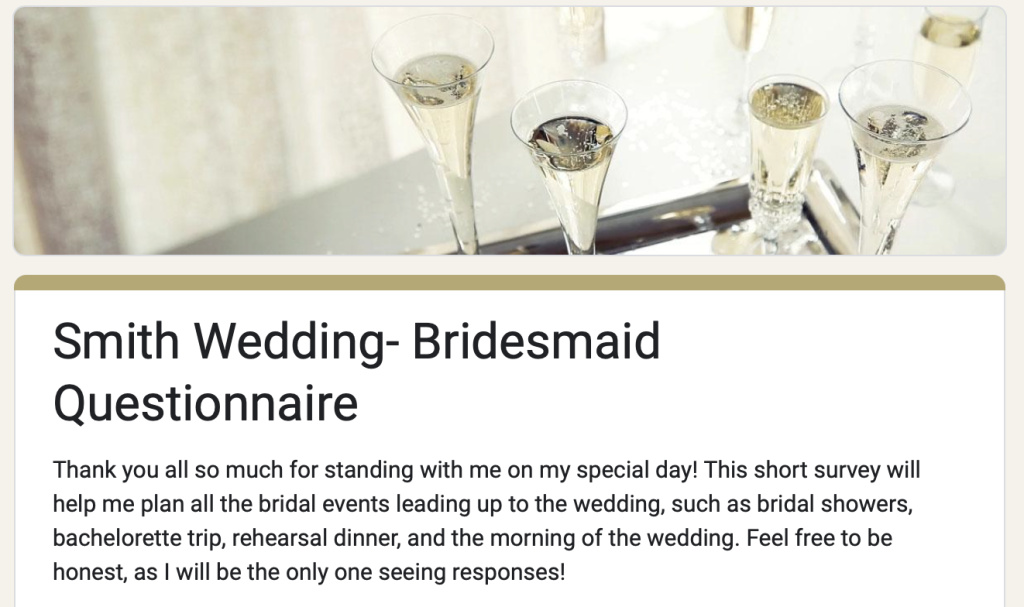 Step One: Creating the Google Form
If you've never used a Google Form before, it is super easy to create one. Simply log into your Google account, or create one, and choose to create a blank form. Feel free to get as creative as you want with this! Use your wedding color palette or simply your favorite colors. Add a fun picture as well: a group photo with all your girls, an engagement photo, or even a playful stock wedding photo, like the one shown above.
Next, add a short message under the title of your survey. A quick "thank you" and any other information you want your friends to know.
Step Two: Adding the Question
This survey can be as comprehensive or as limited as you'd like it to be. Keep in mind you can add multiple choice, check all that apply, short answer and even linear scale questions. Start off the questionnaire by asking for their name, so you can keep track of the responses. If you plan on getting anything monogrammed, specify you need their first, middle, and last name! Here are some ideas of questions you may want to ask:
Shirt and pants size

If you're purchasing t-shirts or pajamas for the day of

Shoe size

This is important if you're buying slippers for the morning of the wedding

Preference for getting ready outfit

Choose from robe, matching set, etc.

Favorite Snacks
Favorite Drinks
Starbucks Order

If you plan on having someone fetch coffee on the morning of your big day, this is a must ask!

Do you want your hair/makeup professionally done

This is important for hiring hair and makeup professionals as well as scheduling

If yes to previous question, how much are you willing to spend?

It is good to be mindful of everyone's budget if this is going to be an out-of-pocket expense.

Must play songs to add on the Bridal Party Playlist
Availability for Bridal Shower(s)
Availability for Bachelorette Party/Trip
Buget for Bachelorette Trip

If each girl will be paying for their portion of the trip, having a good idea of what everyone is comfortable spending is super important.

Preference of destination for Bachelorette Trip

If you're still undecided of where your Bach party/trip will be, include your top choices and have your 'maids help you decide!

Availability for rehearsal dinner and Sunday brunch

If the majority of your bridesmaids will be traveling for your wedding, ask about their availability for the rehearsal dinner and brunch the day after the wedding, if that's something you're interested in hosting.

Opinion on bridesmaid dresses

Depending on which direction you want to take your bridal party's apparel, adding a question with photos of dress options is a good idea!

Will you be bringing a plus one to the wedding

If your bridal party has the option to bring a plus one, add this question to your survey. It will help you with a headcount prior to the RSVP date. In addition, if you are doing a head table at your reception, this can help gauge if there will be room for plus ones to be seated there as well.

Any "extra" jobs they'd like to take on

Adding choices like helping with wedding DIYs, taking "behind the scenes" photos/videos, helping with decorations, and planning events (Bach trip/Bridal shower) will help you know what your girls are comfortable helping with and where their abilities lie. Also add an option of not taking on any extra responsibilities.
Use questions that will be helpful to you in planning events for your bridal party, these are simply ideas to get the ball rolling.
Step Three: Sending Out Your Survey
After crafting the perfect questions, send the survey out to your bridesmaids. If you haven't created a group message already, this is the perfect opportunity to make one. This will not only allow you to send the survey to everyone at the same time, it will also ensure that the whole group has everyone's contact information.
Step Four: Seeing The Results
After everyone has submitted their responses, you can log back in to your Google account to see the results. Go back to the form and click on the "responses" tab.
This simple task will save you hours of coordinating with everyone. You can keep all of this important information in the same place and easily locate it when you need it.
If you are planning a wedding in Roanoke Virginia, Richmond Virginia, Fredericksburg/Northern Virginia, The Shenandoah Valley, Coastal Virginia or in Charlottesville/ Lynchburg Va. we can help with your wedding planning and ideas.