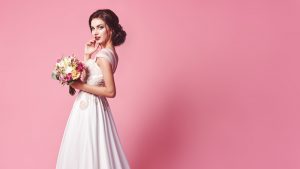 The wedding day is about the look as much as it is about love. Brides (or grooms) should choose fashion that conveys their unique style. While wedding fashion once bowed to convention—the long white gown and veil for the bride and a tux or suit for the groom– traditions come andgo with each generation. And millennials are making their own sartorial choices.
Brides traditionally have been swathed in white for the conveyance of innocence and virginity. While many still love bridal white, others roll their eyes at the lack of color and the dated notion that a woman should be labeled as pure and untouched. Style has veered in a new direction, and bridal gowns burst with color. The runways for the Spring/Summer 2018 bridal collections featured dresses in bold reds, buttery yellow, floral prints and even onyx black.
Designers exhibited bridal independence through fashion. And today's brides can express their individuality through their dress, accessories…and even their footwear. Style is individualized, and on your wedding day, make the style about you:
Colors
Feeling bold and empowered? Choose a dress that pops with color…maybe even your personal favorite hue. Wedding dresses can be customized in any color and many designs feature extraordinary hues to create stunning style. Don't be afraid of color…embrace it!
Texture
Feathers are taking flight in wedding style. Fluffy floaty feathers create drama for dreamy dresses. Skirts featuring layers of feathers or even sweet feather details add a touch of luxe and whimsy. For brides who want color, find dresses bedecked in colorful peacock feathers! Or add feathers to your bouquet or in your hair!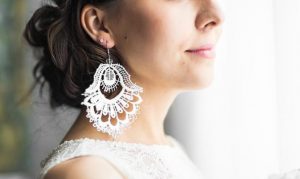 Jewelry
Pearls and diamonds remain favorites for many brides. But colored gemstones like sapphires, rubies, garnets and emeralds add dazzling color and depth to wedding jewels. However, jewelry doesn't have to feature traditional gems; choose turquoise and silver pieces for a southwestern wedding. Or add a Boho touch with mood jewelry, necklaces with charms featuring your birthstone, birthday moon phase, zodiac signs, or even seashell chokers (perfect for beach weddings!).
Makeup
Wedding beauty creates fairytale magic. But all fairytales tell unique love stories. Your makeup doesn't have to scream princess with pale pink shadows and lipsticks. Go for Goth Queen, with dark lips and a cat eye. Or create a natural look with just a brush of mascara and clear gloss. Have fun with your bridal beauty…you can even create customized wedding manicures with your monogram or other designs.
Footwear
Don't hurt your feet on your wedding day! Yes, heels tend to be the typical choice, but who needs typical if those stilettos cause painful bunions! Choose shoes that you feel comfortable marching down the aisle…and dancing! Your wedding day will have you constantly on your feet…so choose wisely. Comfortable sandals, bedazzled flip flops or even sneakers make fun wedding footwear. Or opt for a sweet (and light!) ballet flat. Or go badass bride and wear Wellies or combat boots…yes, you can!
Hair Accessories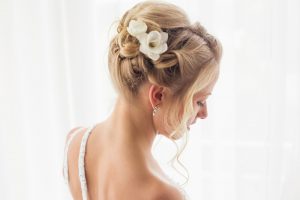 Veils are cliché. Skip the veil if you feel flirtier. There are so many fantastic headpieces for brides that veils just feel too overused. Fascinators with feathers or other embellishments add class and sophistication, while tiaras channel the inner princess. For a retro Hollywood look, choose a bedazzled barrette to hold back hair on one side of the face. Or go Jackie O. with a pillbox hat.
Whatever wedding style you adopt, make sure you look like you. A wedding is the time to celebrate your love and your life. Don't choose a costume, and don't make fashion choices to bow to tradition. Find a style that speaks to you…and feel and LOOK amazing when you say "I Do"!