Styled shoots are a creative way for photographers, stylists, and other wedding pros, to show off their talent and visions to inspire readers for their own wedding planning.
This whimsical shoot is fantasy inspired by the story Little Red Riding Hood and was a collaborate effort by several wedding pros, full of amazing details and a real wolf!
The Scoop:
The idea of the Red Riding Style Shoot was stemmed from the owners of The Magnolia Wedding Collective befriending Rachel Brown-Wilson of Mountain Mama Photography, a live wolf photographer in the area. They spoke about her work with wolves and the wedding business. An idea was formed to create a Red Riding Hood Styled Shoot. Then Covid-19 hit the industry, the wolf couldn't travel and the wedding industry shut down.
Last summer, Sarah K Events created and planned a Whimsical Sunset Style Shoot and the owners of Magnolia participated as their individual businesses. They asked to help them with the Red Riding Hood styled shoot they had imagined and hoped to have in the spring of 2022. So, with an idea, a venue and a wolf, they started creating and designing the Red Riding Hood Styled Shoot. The group wanted to create a moody and romantic outdoor wedding. Petal Pushers created amazing floral designs for the mantle and a table centerpiece, as well as the bridal bouquet and boutonniere. It was created by using dark reds, purples, greens and accented in gold and black. For the design Sarah of Sarah K Events, used chandeliers and furniture outside as well as bringing moss inside for the both the table decorations and area around the cake. She also wanted to use different textures for the shoot, including a velvet table runner, the wood tables, and satin napkins working with nature. Although most brides don't have access to a real wolf, or want one at their wedding, they wanted the wolf to add to authenticity to the fantasy of the Red Riding Hood theme. The wedding table and decor made small nods to the theme as well.
"Growing up, I have fond memories of vacationing at the Cacapon Resort State Park. The Park has over 6,000 acres of trails, woods, cabins and a large lake. The day we visited the park to scout the best areas for the staged areas, the park was shrouded in snow and fog. We chose the Batt Shelter due mostly to the beautiful rustic interior. It has a large fireplace, stone pillar and large flagstone patio that created the needed look for our central staged areas. During our scouting visit of the park, we chose several options for the staged areas. The day of the shoot however was unusually warm and windy, and the park had many visitors, so we made the decision to use the area in and around the Batt Shelter. It is a log and stone shelter built in the 1930's by the Federal Civilian Conservation Corps, better known as the CCC's. We used the shelter to create staged areas in front of a fireplace, Including a burgundy settee provided by Something Borrowed WV, and a chandelier, provided and hung by Grand Event Center. Two additional staged areas were for the cakes, and the table. On the table, in addition to the florals, we used real moss, a gold velvet table runner, wolf figurines, candles and individual charcuterie boards created by The Cut-n-Board. The "Dining in the Woods" area included a chandelier and a picnic of wine and charcuterie. A last-minute decision was made to move the settee to a clearing to stage some photos with Alma, the wolf with Maddie and Dave, our couple. Maddie and Alma the wolf, instantly connected. Ohio Canid Center handles Alma's presentations and encounters. Alma had been part of the park's nature center presentation earlier in the day".
Some of the details showcased for the style shoot included, not only the large board used for the Dining in the Woods, but also individual charcuterie boards at each place setting. Whisked Sugar Bake Shoppe creating two one-of-a-kind designs for the cakes for the styled shoot. One was a beautiful wedding cake. The other was a very detailed Red Riding Hood Theme cake. Tiers of Heaven, not only baked a basket of goodies for "Grandmother" as favors, but owner, Jennifer Frey even created a howling wolf created entirely from sugar in the center of the large basket of chocolate chip cookies.
The bride and groom models are real life couple Maddie Mackintosh and David Betz, who originally met while in high school but later reconnected at a Bluegrass music festival during their college summer break. They are planning their own wedding for the fall. David had asked Maddie to marry him by taking her to a waterfall along the Shenandoah River that they visit every year. It was the location of one of their first dates. As they were standing at the top of what they call "the falls" Maddie asked David if he was ready to jump in, meaning literally to jump into the water beneath the falls. When she turned around to hear his answer, he was on one knee! After Maddie said, "Yes!" They did jump in together! Maddie said she likes to think of their proposal as "the big jump" as it is the beginning of the rest of their lives together. Maddie wore a strapless Adore by Justin Alexander gown provided by The Valley Bride. The Valley Bride also provided the burgundy hooded cape. David wore a classic black tuxedo from True Elegance Bridal & Formal Boutique.
Elevated Media a videographer was invited in addition to three different photographers to the styled shoot, each of them giving a little different perspective to what the group was trying to achieve. These images were created by Images by Madison, LLC.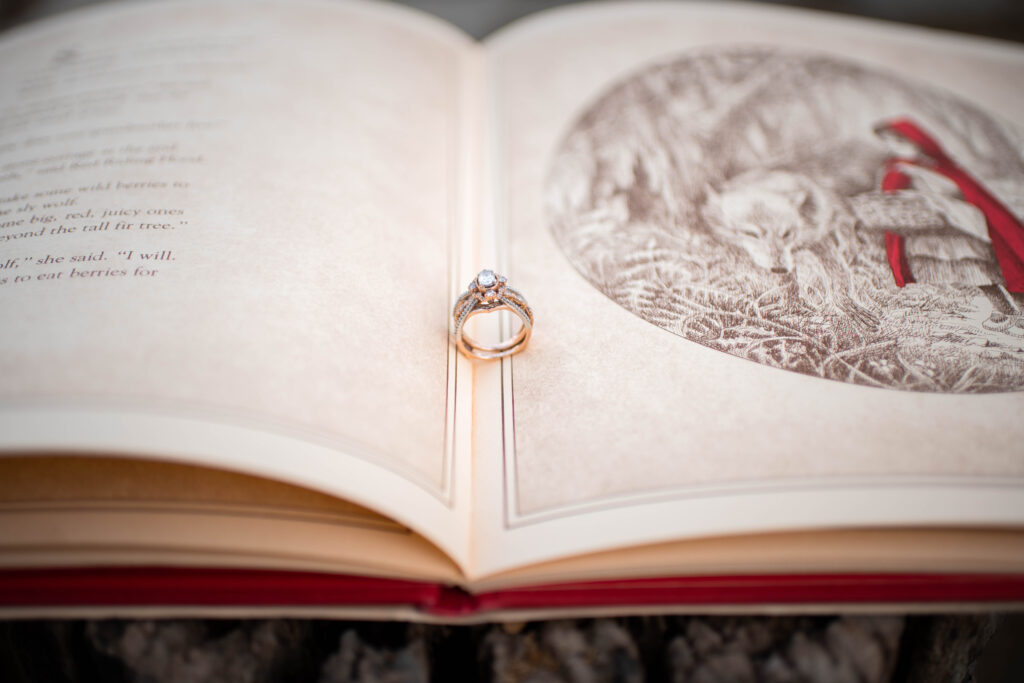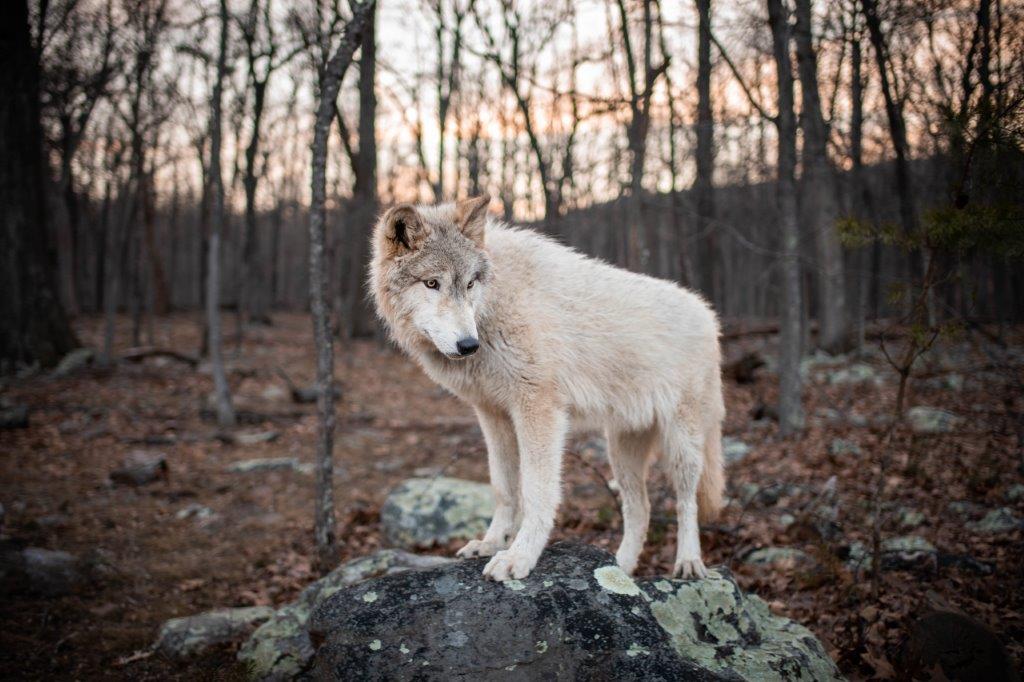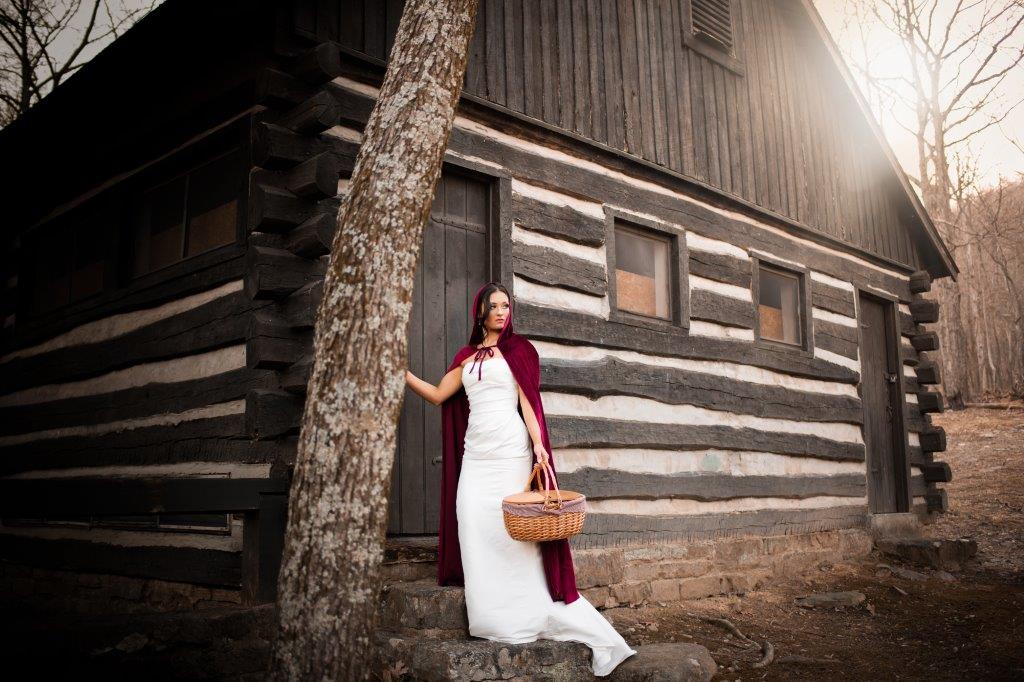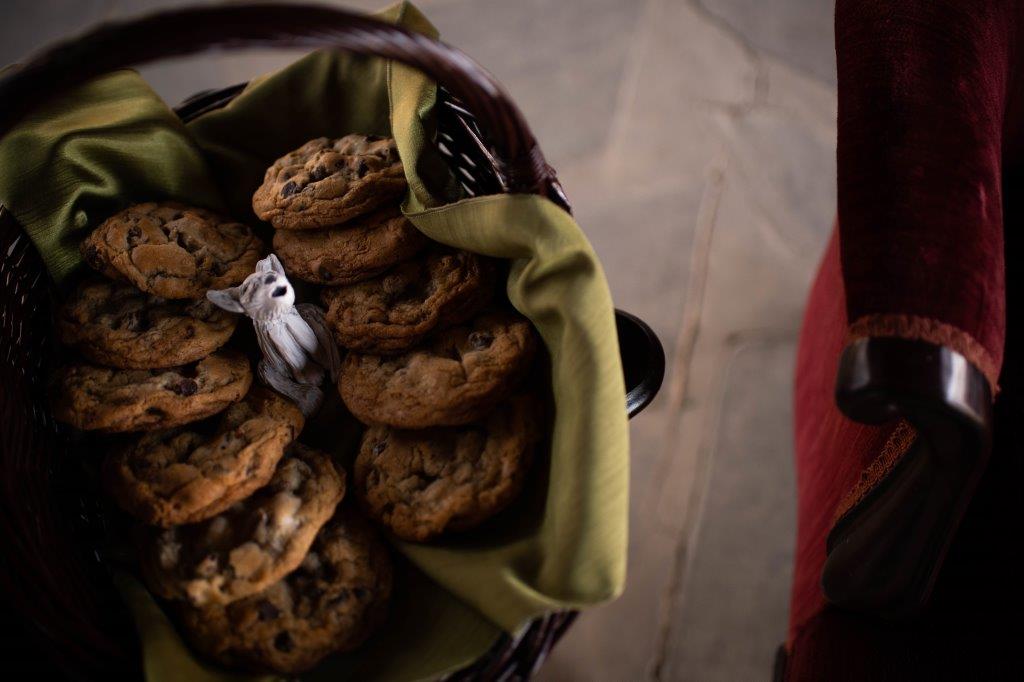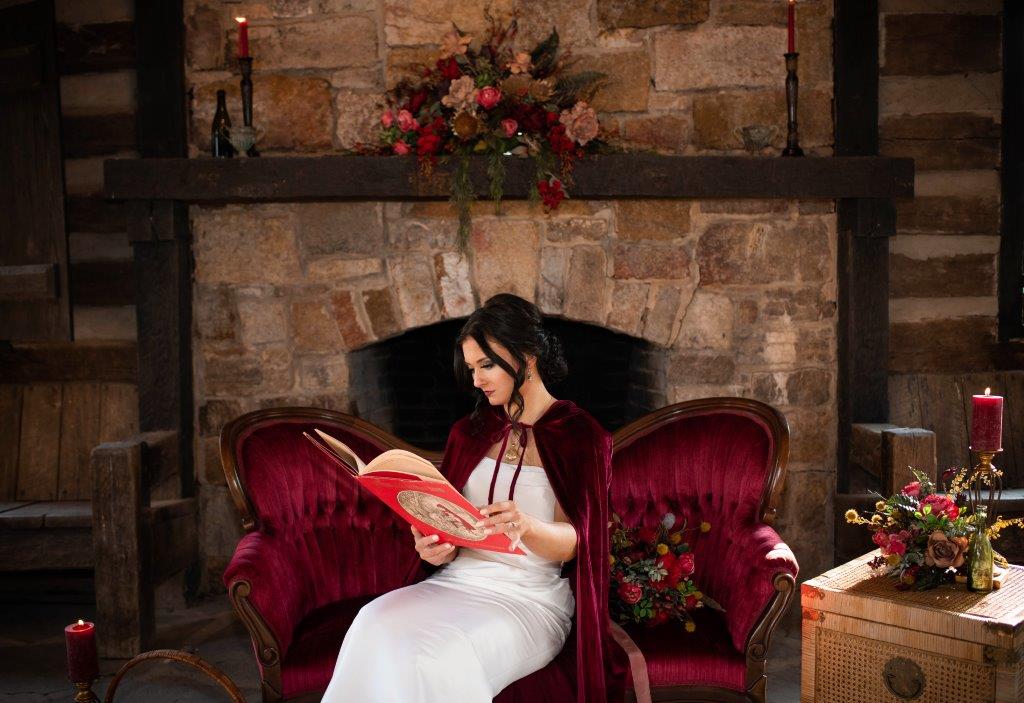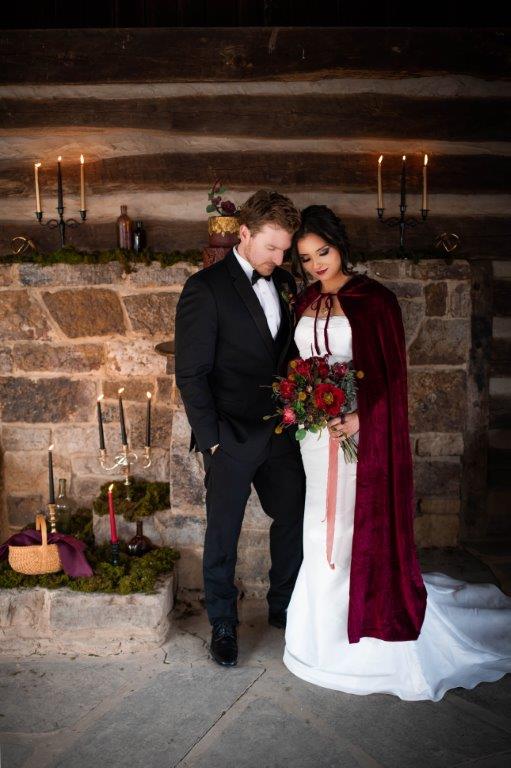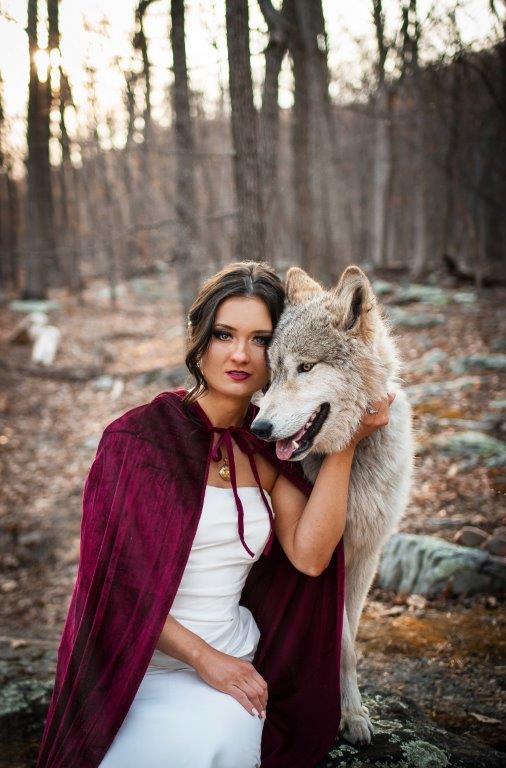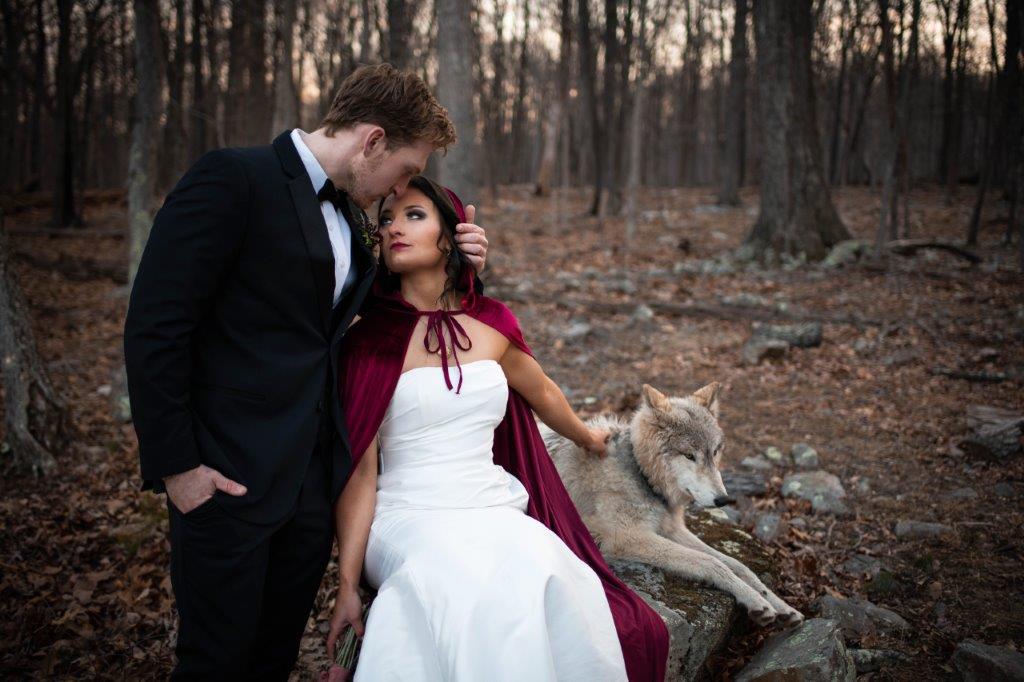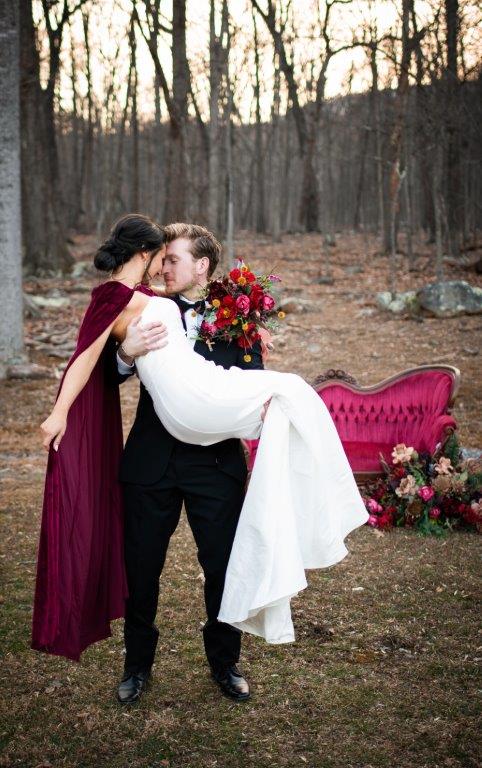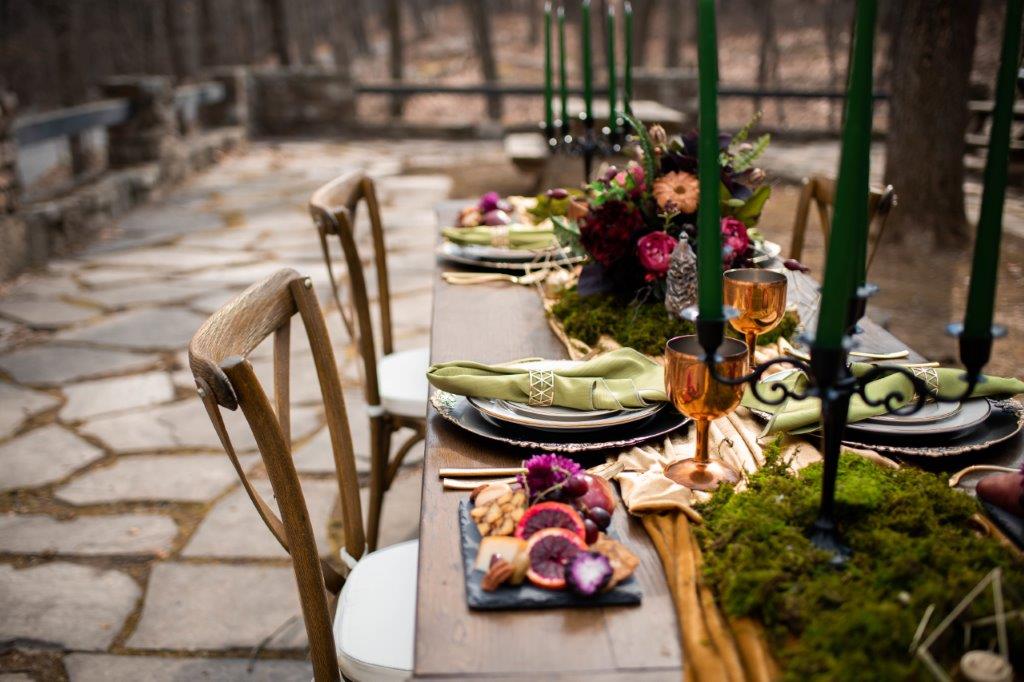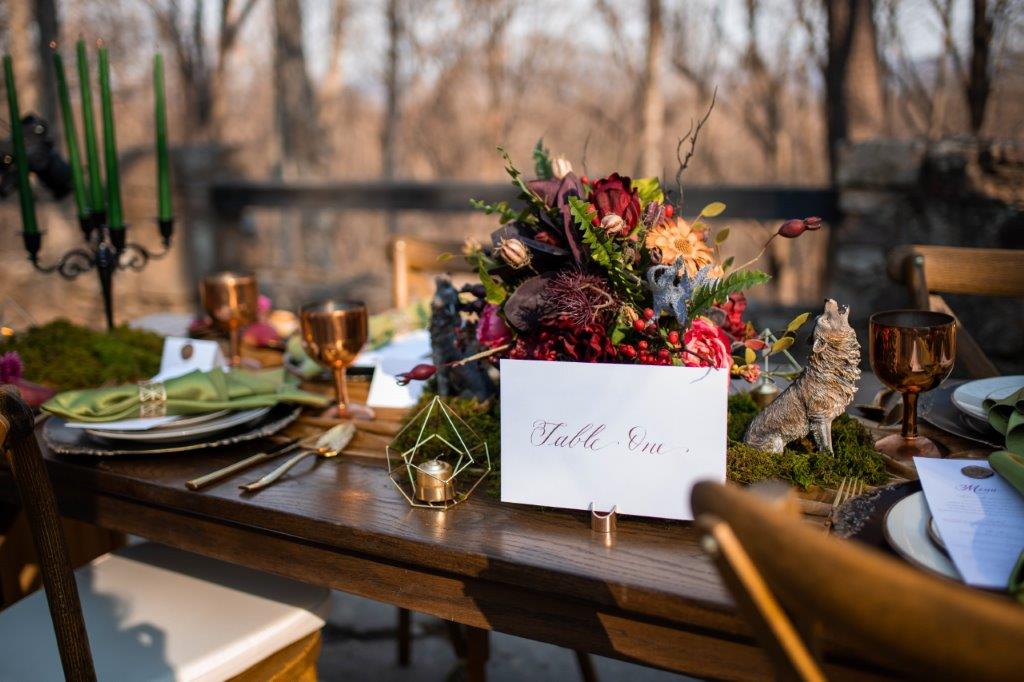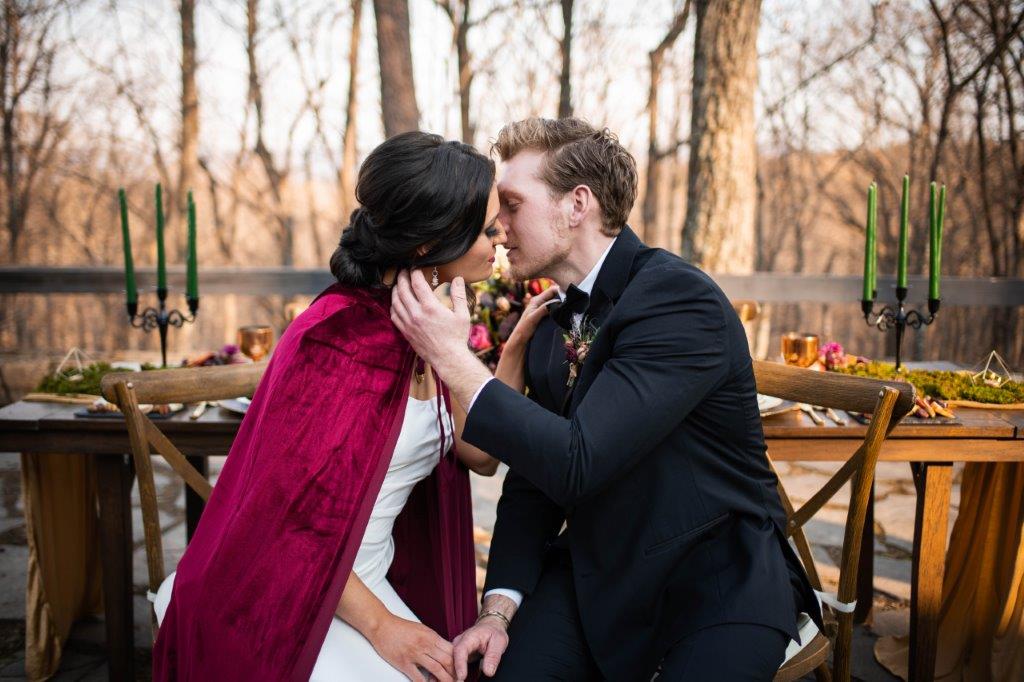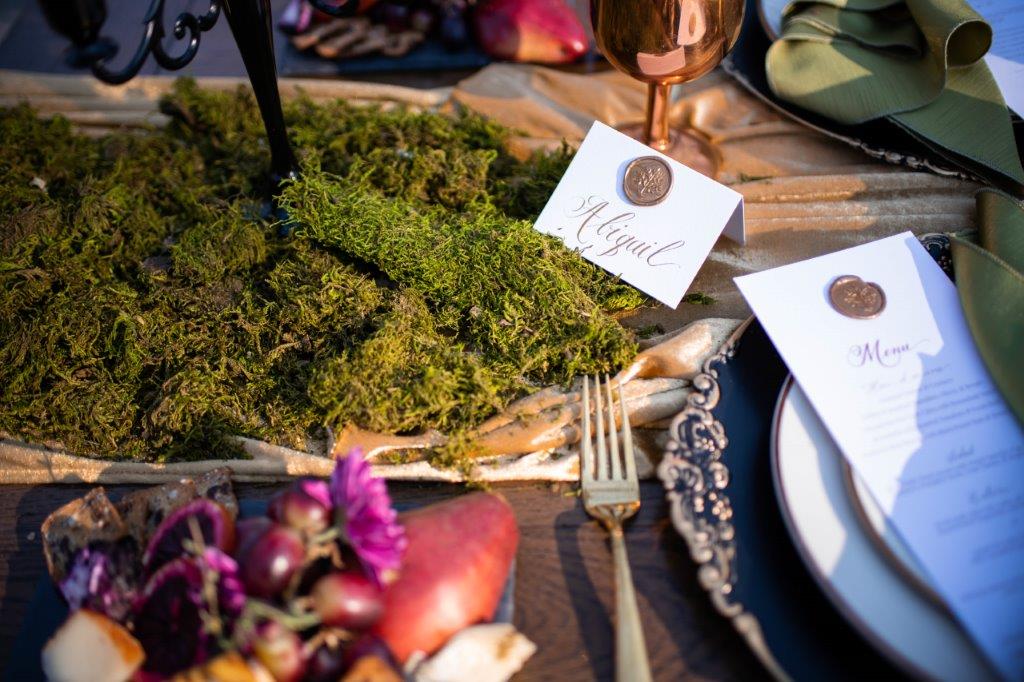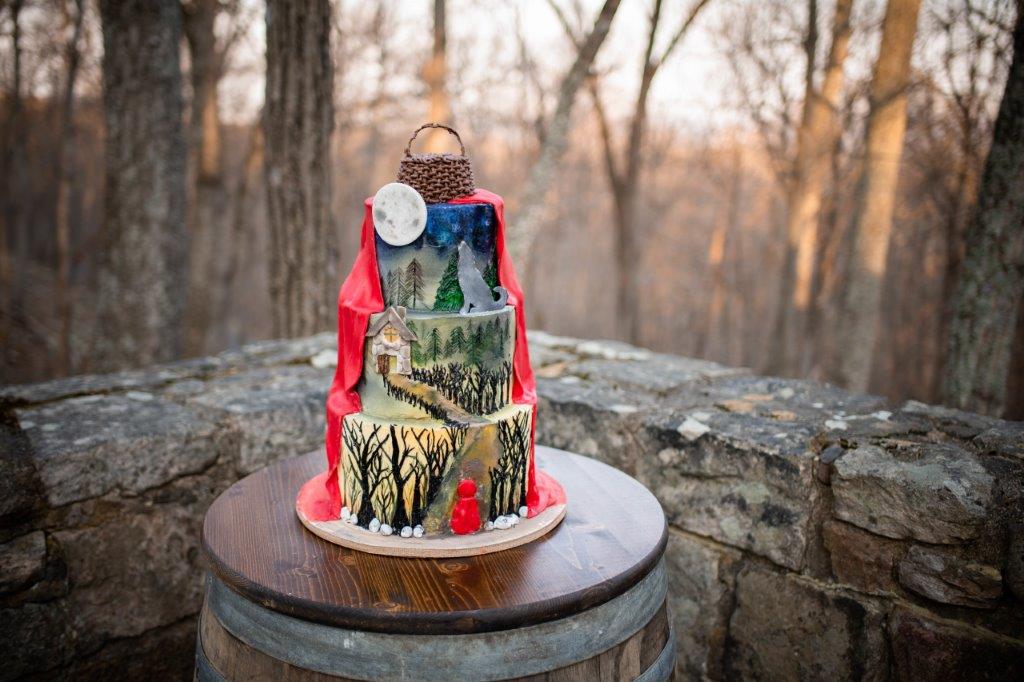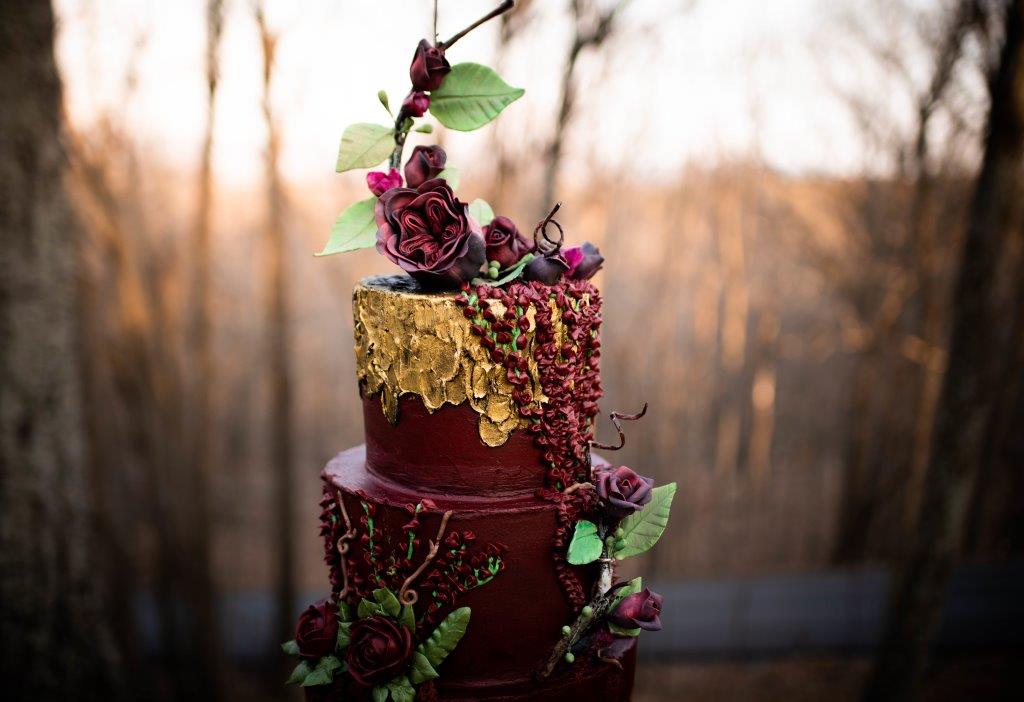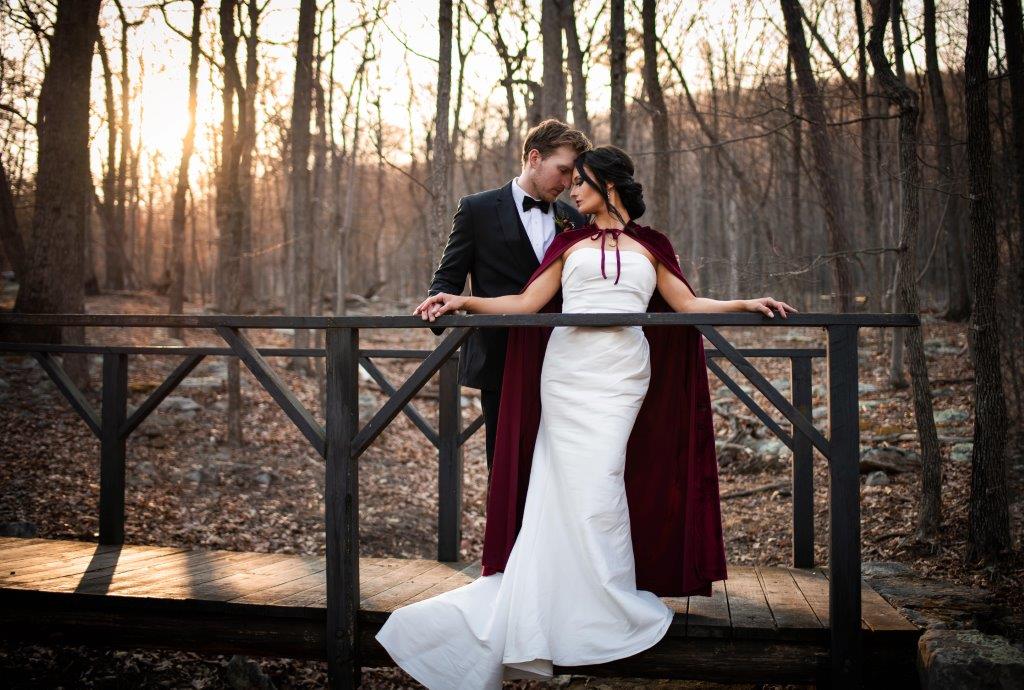 Sources:
Event Planners and Design:
Sarah K Events, LLC
Sarah or Rebecca Hott
Mobile: Rebecca: 304.671.0650
Sarah: 304-.671.6302
Email: hello@sarahkevents.com
Facebook: @sarahkevents
IG: @Sarahkevents16
Florist:
Petal Pushers
Kelsie Mast
Mobile: 5403335339
Email: petalpushers20@gmail.com
Facebook:@petalpushersva
Cakes:
Whisked Sugar Bake Shoppe
Cheree May
Mobile: 540-877-8790
Email: Whiskedsugar20@gmail.com
Facebook: @whiskedsugarbakeshoppe
Photographer:
Images By Madison,
Madison Cameron
Mobile: (540) 664-9019
Email:  imagesbymadison@gmail.com
Facebook: https://www.facebook.com/imagesbymadisonLLC
Hair Stylist and Make-up Artist:
Studio Verde
Amber Warren
Phone: (540) 692-8945
Email: studioverde511@gmail.com
Facebook: facebook.com/svog511
IG: @studio_verde_salon_and_spa
Rentals:
Grand Events Center
Annie Solenberger
Mobile: (540)247-0067
Email: info.grandeventcenter@gmail.com
Facebook: @grandeventcenter
Wedding Attire:
The Valley Bride
Morgan Beachler
Mobile: 540-664-7580
Email: info@thevalleybride.com
Facebook: @TheValleyBride
Favors and Sugar Wolf:
Tiers in Heaven
Jennifer Frey
Mobile: (703) 887-8205
Email: jennifer@tiersinheaven.com
Facebook: @TiersInHeaven
IG:
Rental Company:
Something Borrowed
April Johnson
Mobile: 3049196922
Email: somethingborrowedwv@gmail.com
Facebook:@somethingborrowedwv
Calligraphy:
Nicole Walsh Creative
Nicole Walsh
Mobile: 337-313-8224
Email:nicole@nicolewalshcreative.com
Videography:
Elevated Media
Rob Atha
Mobile: 304.451.9300
Email: rob@elevatedmediawv.com
Facebook:@ElevatedWV
Caterer:
The Cut-n-Board Charcuterie Boards
Jonelle Daugherty
Mobile: (570) 640-8768
Email: thecutnboard@gmail.com
Facebook: @thecutnboard
Wolf Handler:
Ohio Canid Center
Rachel Lauren
Mobile: 740-759-1289
Email: ohiocanidcenter@gmail.com
Facebook: @Ohio Canid Center
IG: @ohiocanidcntr
Jewelry:
Creekside Gift
Phone: 540.662.0270
Website: www.creeksidegift.com
IG: @creeksidegifts
Bride Model:
Madison McKenzie
IG: @madmackfit
Groom Model:
David Betz
IG: @david-betz10
Venue:
Cacapon Resort State Park
Contact: Valarie Chaney or Kim Malar
Facebook:@cacaponresortstatepark
Styling:
Magnolia Wedding Collective
Contact: Jennifer Frey and Morgan Beachler
Phone: 703-887-8205
Webpage: https://www.magnoliaweddingcollective.com
Facebook: www.Facebook.com/magnolaweddingcollective
Instagram: @magnoliaweddingcollective
If you are planning a wedding in Roanoke Virginia, Richmond Virginia, Fredericksburg/Northern Virginia, The Shenandoah Valley, Coastal Virginia or in Charlottesville/ Lynchburg Va. we can help with your wedding planning and ideas.