Styled shoots are a creative way for photographers, stylists, and other wedding pros, to show off their talent and visions to inspire readers for their own wedding planning.
Today's styled shoot turned into an actual wedding proposal and engagement!
The Scoop from Kara Morgan Wedding and Events:
"This stylized shoot was planned for a way to get content for a new brand and website launch with my company, Kara Morgan Weddings & Events. We decided to do this shoot as a way to get more content for our website and social content to be able to showcase our skills and vibe. We did a whole rehaul of our brand and worked with a brand creator – April Foster with PaperDolls Design to come up with our brand identity. The neutral colors represent the colors and feel of our brand. We want our brand to be simple, elegant and timeless, which was our same goal as the shoot. I have worked in the wedding world for seven years now and have never seen a brand just go with neutral and simple, we felt like it fit us best and can be a brand that will last years to come. Our slogan is "Extraordinary events one detail at a time", for this photoshoot we worked to make sure we had everything down to the detail so we can play into our slogan and show our audience and potential brides and grooms our attention to detail. From the gold accents to the stylization everything had details that all worked together to form this vision.
We reached out to some of our favorite vendors and were happily surprised when everyone said yes! Never expected that but we have come to grow amazing relationship with vendors over the years. Each vendor also gets full rights and permissions to any of the photos and videos we captured that day.
We have everything planned, all the vendors selected, everything ready to go. The day before the shoot, the "groom" also know as the boyfriend to our "bride" messaged the photographer and I and asked if it would be okay if he actually proposed during the shoot. He had the ring and thought this might be the perfect time. He knew there was going to be photos, video, and his "bride" all dolled up making it the perfect moment to capture without her having a clue. Immediately we said YES! We decided that we needed to end the shoot with something a little more fun so that he would have the perfect romantic moment to propose. So we decided to end with a rose petal drop. We did this rose petal drop multiple times to make it seem like we were trying to get the perfect content. After all of the petals dropped to the floor, the "groom" got down on one knee and proposed, ending the night in the most perfect way. He may have fumbled to get the ring out of his pocket, but it was the perfect moment and one they will cherish forever. We ended with a champagne toast to the end of our stylized shoot and to the newly engaged couple. I mean who gets proposed to in a wedding gown after all"!
What we love:
The color theme is not only lovely, but add a sophisticated vibe to the table settings, flowers and venue.
And how romantic is it that the "groom" surprised his real life girlfriend with popping the question?
That's one very unique proposal and one very clever guy!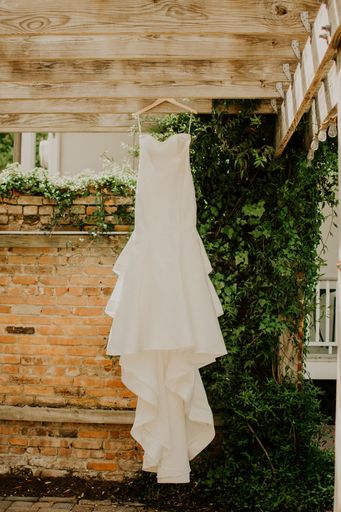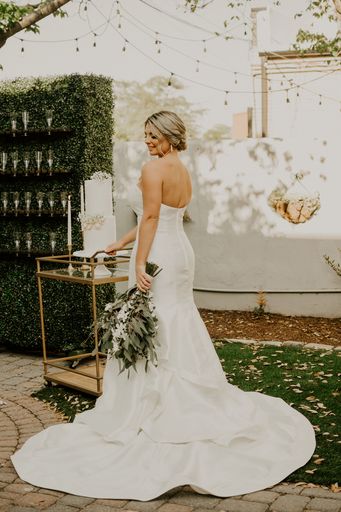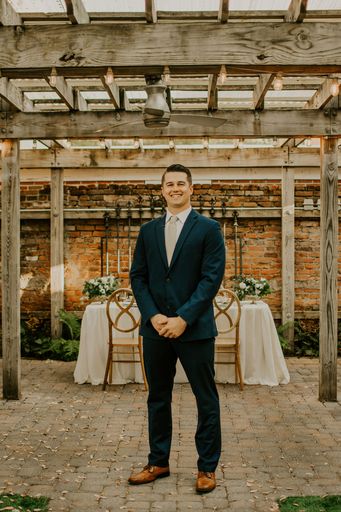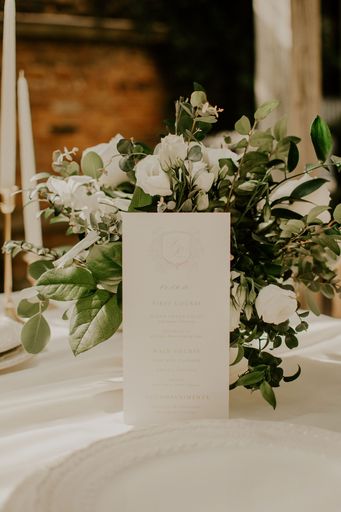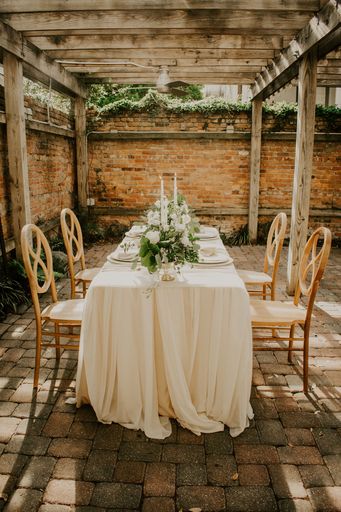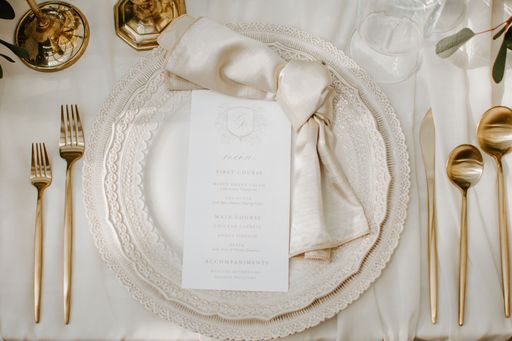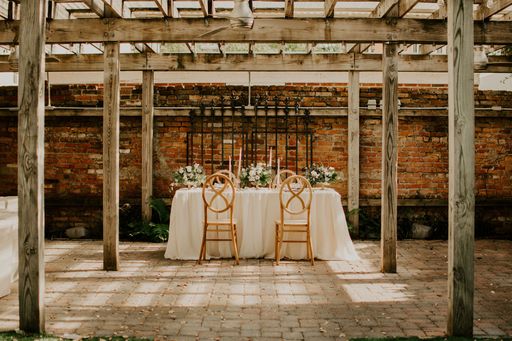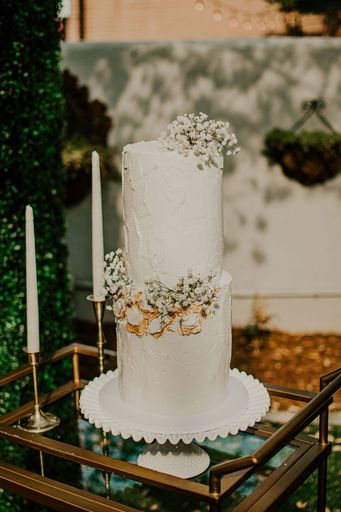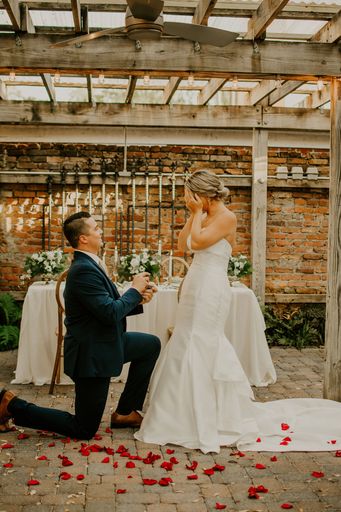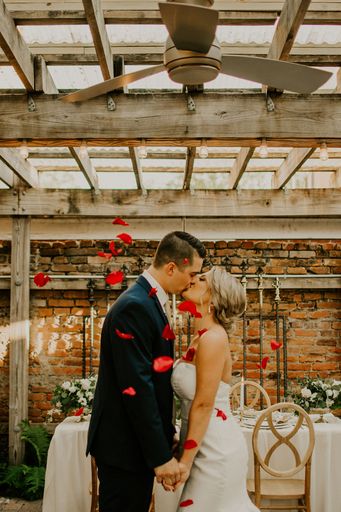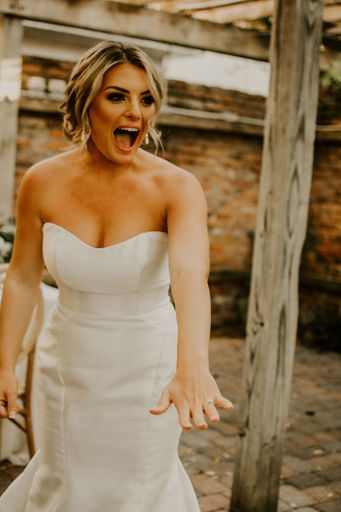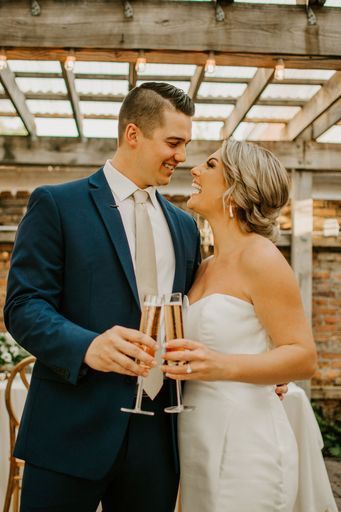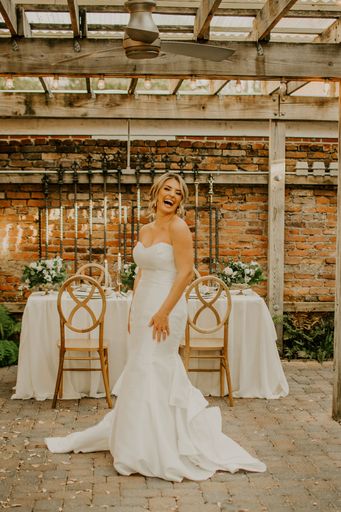 Sources:
Planner:
Kara Copley
Kara Morgan Weddings & Events
Kara@karamorganweddings.com
@KMWeddingsandEvents
Photographer:
Nikki Bollinger
nikkifalkphoto@gmail.com
@nikkibollingerphoto
Venue:
Four Eleven York
info@fourelevenyork.com
@fourelevenyorkinn
Linens:
Waterford Event Rentals
http://waterfordeventrentals.com/
waterfordeventrentals@gmail.com
@waterfordeventrentals
Models:
Taylor Jones& Cody Schneider
@jaaylorrr & @codyschneider757
jonestmj94@gmail.com
Videographer:
Mel Workman with Whitecaps Film
hello@whitecapsfilm.com
@whitecapsfilms
Tableware:
The Collection by Courtney Inghram
www.thecollectionbycourtneyinghram.com
hello@thecollectionbycourtneyinghram.com
@thecollectionbycourtneyinghram
Hair:
Katlyn Sainz
hello@ittybittyboutiquee.com
@katlynsainz
Furniture
Rentals:
Mad Hatter
taylor@madhattervintage.com
@mhattervintage
Makeup:
Hayley Joan
HAYLEYJOANMUA@gmail.com
@hayleyjoanmua
Paper
Company:
Paperdolls Designs
http://www.paperdollsdesigninc.com/
April@paperdollsdesigninc.com
@paperdollsdesign
Florist:
Fluttering Flowers – Debbie Pence
flutteringflowers1@yahoo.com
@flutteringflowers
Dress:
Avenir Bridal
http://avenirbridalboutique.com/
info@avenirbridalboutique.com
@avenirbridalboutique
Cake:
Fowler's Bakery
fowlerbakes@gmail.com
@fowlersbakery
Champagne:
Mermaid Winery
haley@mermaidwinery.com
@mermaidwinery
If you are planning a wedding in Roanoke Virginia, Richmond Virginia, Fredericksburg/Northern Virginia, The Shenandoah Valley, Coastal Virginia or in Charlottesville/ Lynchburg Va. we can help with your wedding planning and ideas.