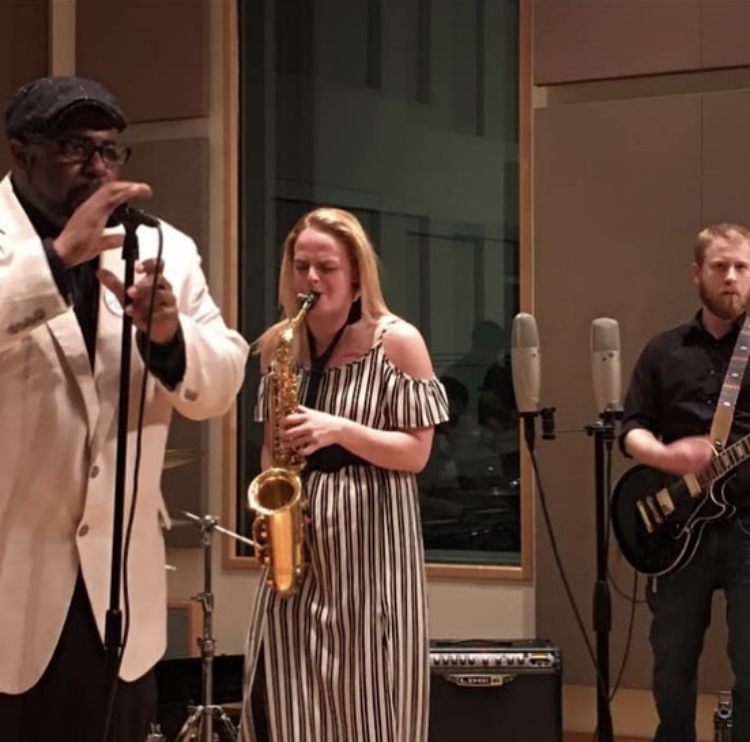 Bryan playing with his band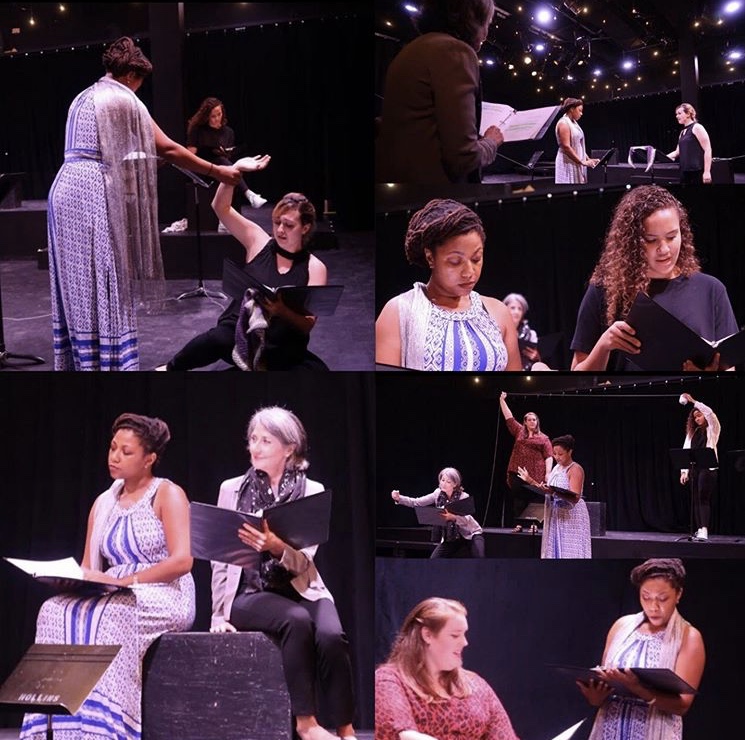 Kiesha in various scenes with her theatre troupe
Kiesha, a community activist and community theater actress, was out one night with her theater troupe enjoying an evening of karaoke for a fellow Showtimers' birthday. The comedians of Big Lick Conspiracy came in, with Bryan along. "Performing arts circles in Roanoke are small so most of my table knew his so we wound up merging parties and got nudged together by a mutual friend."
Bryan is an award-winning musician for the band called Harvest Blaque and Co, the founder of a six-year-old poetry jam and spoken word series in Roanoke (the Soul Sessions), and performs with Big Lick Conspiracy when there's not a pandemic going on.
Bryan works at Virginia Tech University as a community engagement specialist and hip-hop instructor. Kiesha, a survivor of domestic violence, helped to create the Domestic Violence Victim Protection Act in Virginia (which was signed on March 23, 2020). Their mutual passion for love, freedom, and equality has helped to draw them together.
Kiesha and Bryan knew that this was meant to be. They started dating and hanging out with their families together. "We dated for about 10 months. I'm a single mom and don't always have a ton of extra time so we squeezed in time to see one another creatively like getting up really early and going to the gym together before work, coordinating our lunch breaks, and grabbing a meal together, etc.  Once I felt ready to introduce him to the kids we'd spend time together doing family stuff, or he'd come over to my house and we'd make popcorn and grab snacks and have family movie nights in."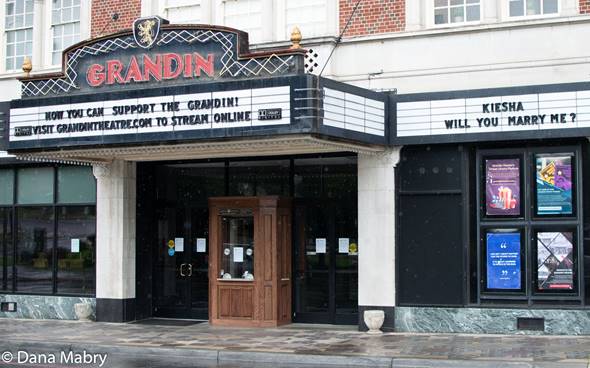 Before Bryan had the chance to propose, the pandemic hit. They still spent time talking and doing what they could together. "Up until that point we had mostly been communicating via facetime and really long phone calls but we hadn't seen each other much in person due to the need for social distance. Once in a while, we would get together for 'Social Distance Dates' where we would grab takeout from a local restaurant then find a park or somewhere outdoors where we could eat and chat while keeping the recommended distance between us."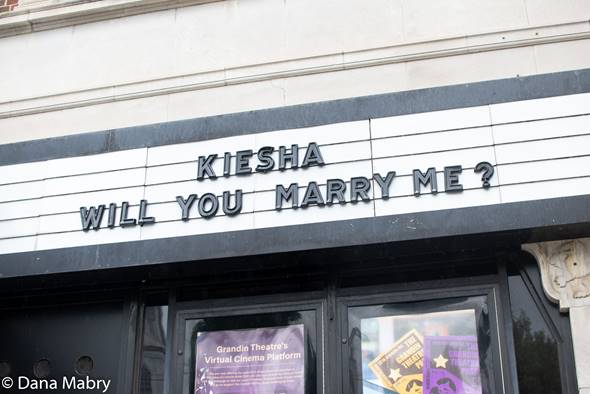 The day had come. Bryan invited Kiesha and her children out for a social distancing picnic. They were to grab lunch from a restaurant in the Grandin Village neighborhood – Grace's Place – and go park across the way on the blacktop for a lovely afternoon together.
The rain fell. Kiesha thought they'd cancel, but Bryan asked her to come anyway – to grab a pizza and figure out what to do next so the day wasn't ruined.
"When I pulled up, I saw Bryan across the street waving an umbrella and I just assumed that he was telling me to wait in the car and he was coming to keep me and the kids from getting wet. I sat and waited, but he never crossed the street and eventually, I noticed that he was using the umbrella to point so I looked up and that's when I saw the marquee on the Grandin Theatre next door, which read: 'Kiesha Will You Marry Me?'"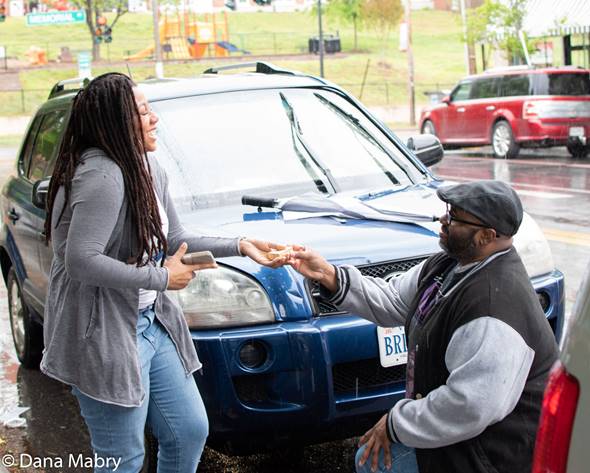 After the proposal, Kiesha learned that Bryan had taken her oldest son for a walk one day and asked him for permission to marry her. "He was originally planning to wait until the Stay at home order due to COVID19 had been lifted but decided he couldn't wait."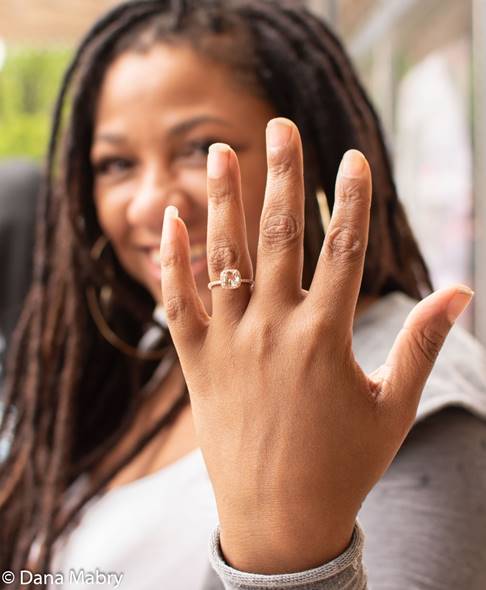 Now, as they wait for their for wedding in July 2021, they're eagerly planning their special day with unique touches from their life together that's been growing this past year. "On our first date we bonded over our mutual love for Jim Henson and the Muppets. We're hoping to find cute little ways to sneak nods to Jim Henson into the wedding."
They're using this time of waiting not only to plan their wedding, but to raise support for Sabrina's Place, a safe exchange and supervised visitation facility in Roanoke. Kiesha never needed the services of Sabrina's Place, but through her community work, she knows of many who do and wants to bring much needed funding to this worthy cause.
"[Sabrina's Place] was created after a local woman named Sabrina Reed was killed by her abuser during a custody exchange. Courts often grant visitation rights to abusers who are not viewed as a threat to their kids and this puts victims in the dangerous situation of regularly having to come into contact with them. Sabrina's place is the solution to that problem. Victims drop their children off with Sabrina's place, leave, and they never have to come into contact with the other parent."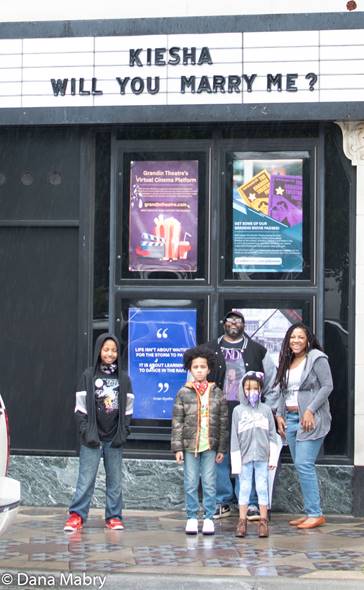 Kiesha's advise to fellow brides in the planning process right now is to "use this time gathering and collecting ideas via Pinterest. Work on figuring out songs you'd like to hear at the reception. Create a vision for your day and do the things that you're able to and don't stress out about the rest. There are also bridal box subscriptions and things you can receive at home to help you plan while staying healthy and safe."
Thank you so much for sharing your story with us, Kiesha.
Congratulations to you and Bryan! We can't wait to hear all about the wedding.
Thank you, Dana Mabry, for photographing their special day.