Rain dates are great, except when it is a wedding date. So what should you do if it does rain on the date you picked out a year ago? You can't throw in the towel because of the weather.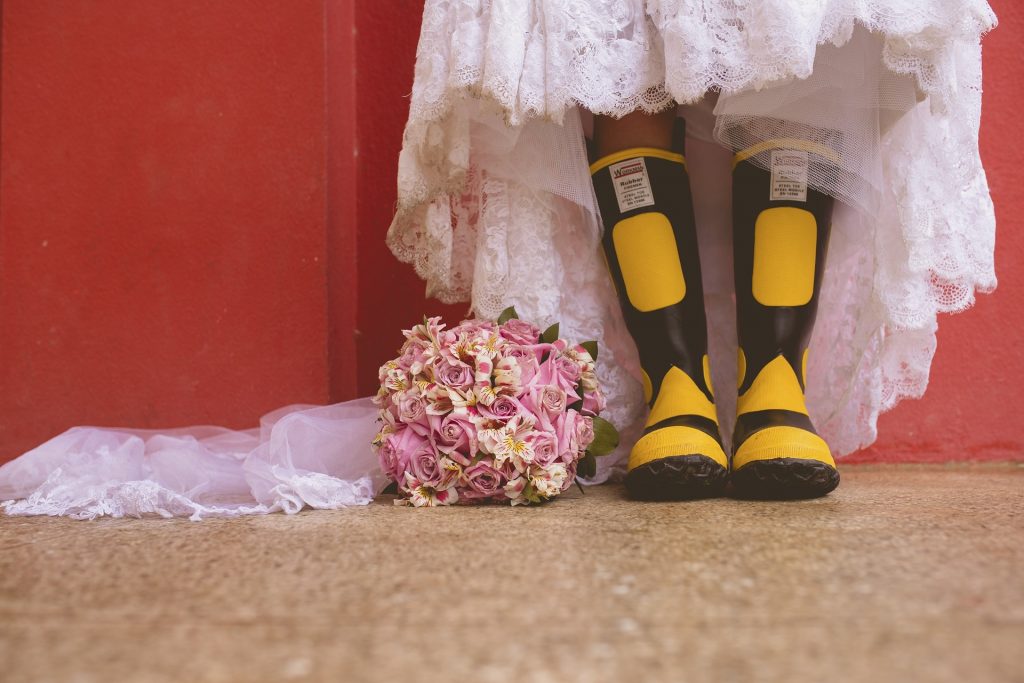 Serve Hot Beverages
If it is rainy and chilly, bring on the hot tea, cider, coffee, or maybe hot toddies and Irish coffee! or hot Butter Rums! This can be a fun and endearing and sweet way to celebrate. Hot chocolate doesn't have to be instant. Get someone to man a cauldron and serve with cinnamon sticks.  Have a hot bar going in a corner and give out dry towels and blankets. Be cute about it. If you don't mope, neither will guests. And don't forget the whipped cream!
Offer Umbrellas
Having extra umbrellas on hand is great because, like with this summer, one minute it is sunny, and then all of a sudden there is a deluge! So just have a bunch and have some gentlemen willing to run back and forth from the cars to the doors with guests.
Have Towels on Hand
One thing I noticed was the lack of towels at one gathering. People were dripping wet and their shoes were bringing in water and slippery leaves. And what was being offered were paper towels.
Space Heaters
Even in the summer, some rain and clouds can put out a chill. Have some space heaters suitable for outside or for the inside (get venue permission!) and that way guests can completely warm up and dry off.
Rearrange the Space
If your wedding has to be at an outdoor venue, see ahead of time if there are suitable and available indoor options at places like botanical gardens and parks. You can also transform a space with tents. If you are planning on tents, maybe plan on a larger area covered just in case of rainy days. Even on sunny days, having enough space to shade people would be considerate.
Insure Yourself As Well as Reassure
There are a lot of things that are non-refundable if say a flash flood were to happen (or if a tree falls and rips out power lines), so it might be in your best interest to have wedding insurance. Protecting yourself from disaster is not a bad idea, and mother nature may not be the only culprit.
Keep a Sunny Disposition
No matter what, don't let the rain get you down. This is a perfect opportunity to learn that things don't go as planned as we hope. That is life. No one says you can't mope a little, but you can't wallow. There are beautiful weddings in the rain all the time every year. Figure out how to make it work for you whether it is everyone with matching umbrellas doing great photo ops or enjoying hot toddies together under a great big blanket.
---
– Virginia Bride Magazine features the best Virginia weddings and Virginia bridal shows. Find it all in one place. Check our blog posts regularly for the latest show information.