If you and your spouse have a special pooch that you want to include in your wedding day, you have several options. The first big decision you have to make is whether you want your dog in attendance or if you'd rather incorporate them in a different way. Keep in mind the temperament and personality of you pet. Just because you want them to stand by your side at the alter doesn't necessarily mean that's the best for the dog. If your furry friend has anxiety or hasn't quite nailed down a few commands, then it might be a better idea to include them in a different way.
If you decide your dog is well suited to make an in-person appearance, then there are a few more decisions to make. Be sure to chose someone to wrangle your pooch so you're not scrambling day of to find a trusted guest. In addition, you must chose a role that suites your dogs personality, but more on that below.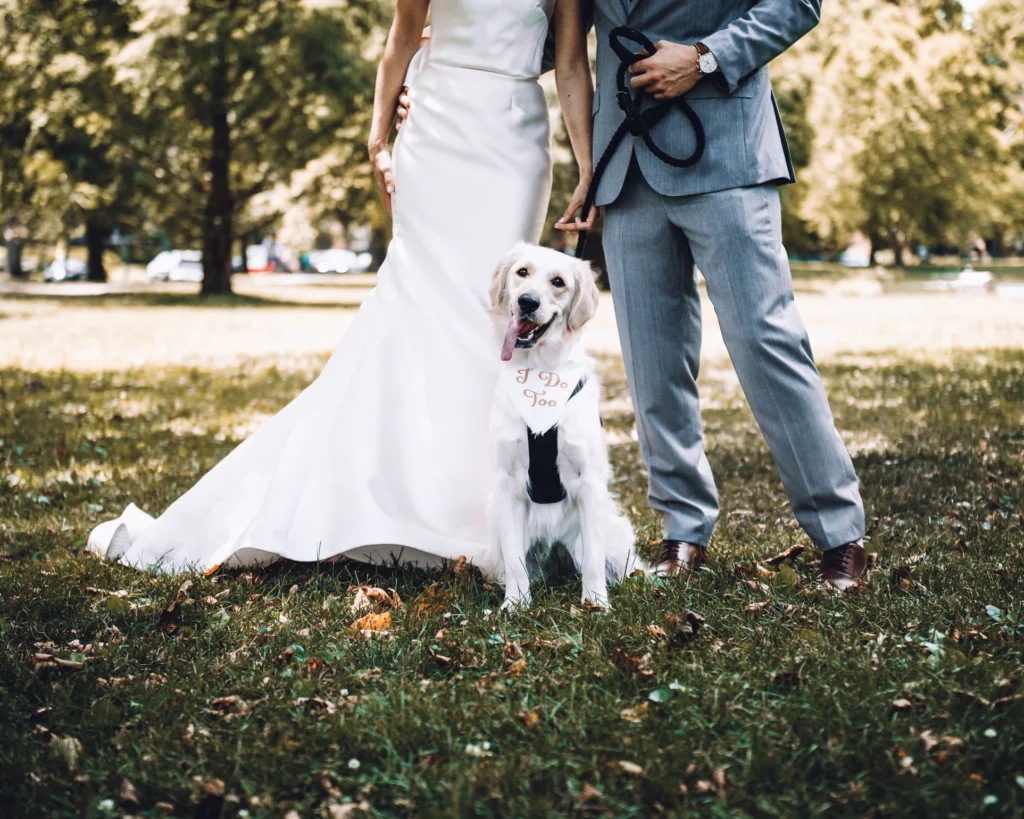 Whether you chose to have your pup walk down the aisle, make a cameo appearance, or just recognize them through details, we have your how-to guide for for every step.
Ring Bearer/Flower Dog
The American Kennel Club suggests 4 different roles for your dog, depending on their "obedience level and personality." Pup of Honor: to walk down the aisle and sit in front of the bridal party. Flower Dog: carry a flower or basket of flowers in their mouth down the aisle (make sure those flowers are dog safe!) Ring Bearer: tie the rings to his collar or bandana and have him walk down the aisle Honored Guest: have your pup sit in the front row with a familiar family member All of these choices are a great way to include them in your ceremony. Don't forget to make sure your venue is dog-friendly!
Signature Cocktails
Many couples chose to include their dog by naming signature cocktails after them and picturing them on the bar sign. There are so many options for creating a signature cocktail; you and your future spouse can choose a favorite drink and name it after your dog or you can find a cocktail online that's already named after your pooch. A few of our favorites include "The Regal Beagle", the "Big Dog Cocktail", and "The Salty Chihuahua". Don't forget a custom sign to advertise your signature "pup-tails," this one's available on Etsy.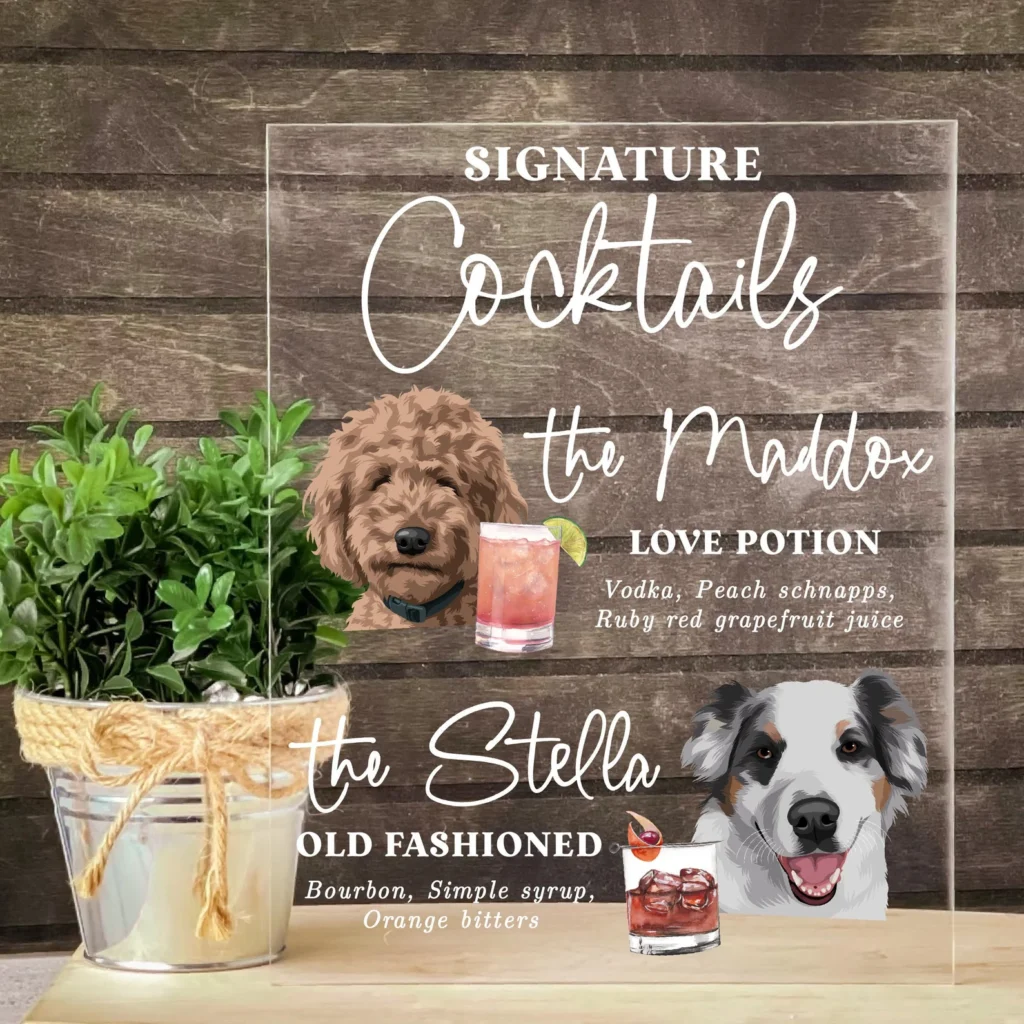 Seating Chart
If you chose for your dog not to be in attendance, including them in your seating chart is a great option. The seating chart is something that every guest will see, so they'll be able to enjoy your pup's pseudo- presence as much as you! This custom seating chart is available on Etsy!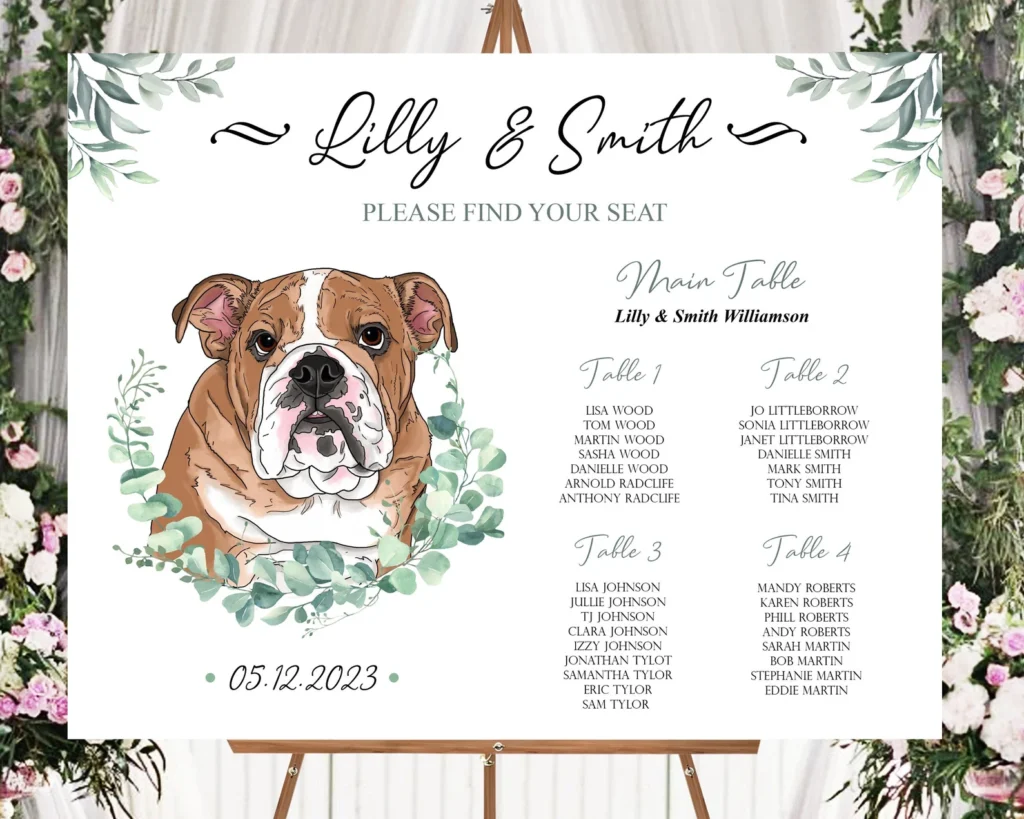 Cake Topper
A subtle way to honor your pup is with the cake topper! There are so many different ways this can be executed, but one of our favorites, shown below, is available on Amazon!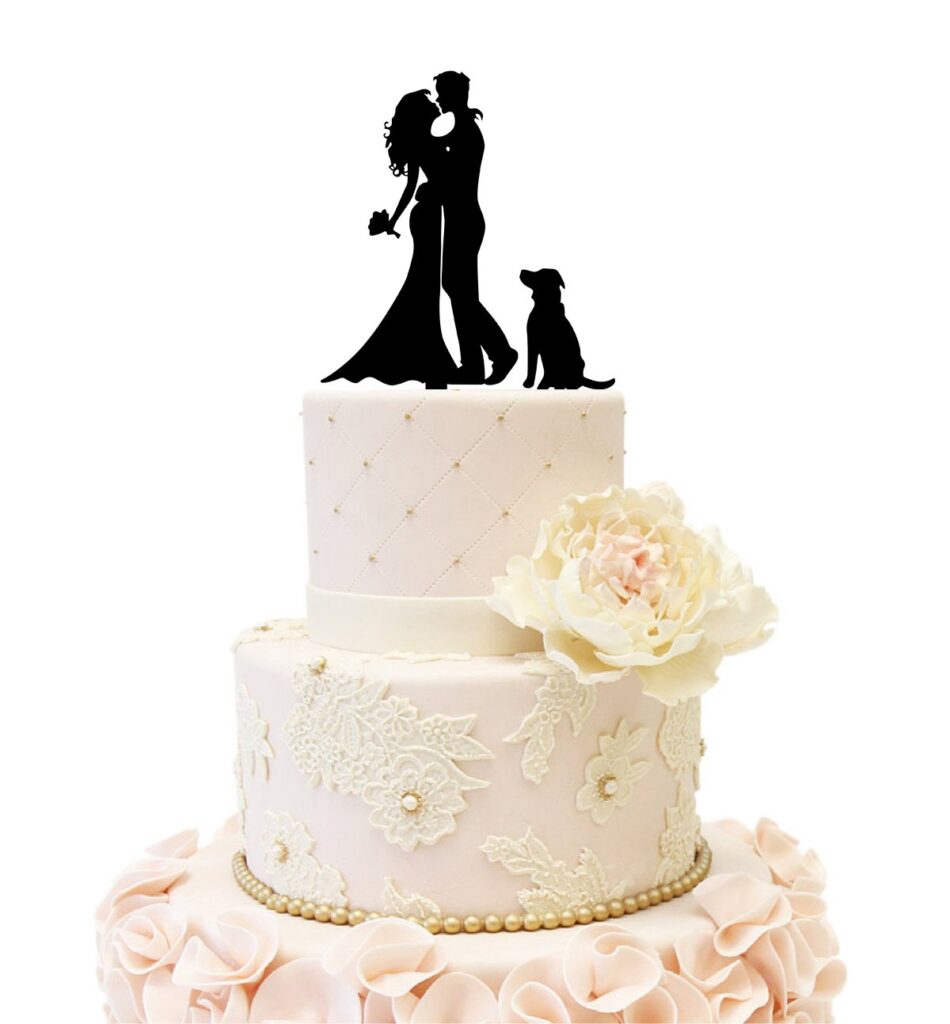 Getting Ready Photos
If you don't want to added stress of having your dog walk down the aisle, but still want them there on your big day, have your pup join you while getting ready! This is a great compromise because you'll still get those adorable pictures, but you won't have to worry about how they'll behave during your ceremony or if your venue is pet-friendly. An added bonus is the stress relieving properties your pup will bring on the morning of you wedding. Get ready, get some puppy snuggles, and walk down the aisle!
If you are planning a wedding in Roanoke Virginia, Richmond Virginia, Fredericksburg/Northern Virginia, The Shenandoah Valley, Coastal Virginia or in Charlottesville/ Lynchburg Va. we can help with your wedding planning and ideas.