Spring is quickly approaching which means wedding planning season!
For those who are hosting a wedding at a venue that may allow you to bring in your own alcohol, or if you are hosting your wedding at a private home, and you are planning to serve any type of alcohol; including beer, wine, or mixed drinks, you will need to check out the following information.
ABC Consulting has put together the following steps to help determine if you will need to get an ABC License for your wedding reception.
As seen in Virginia Bride Magazine.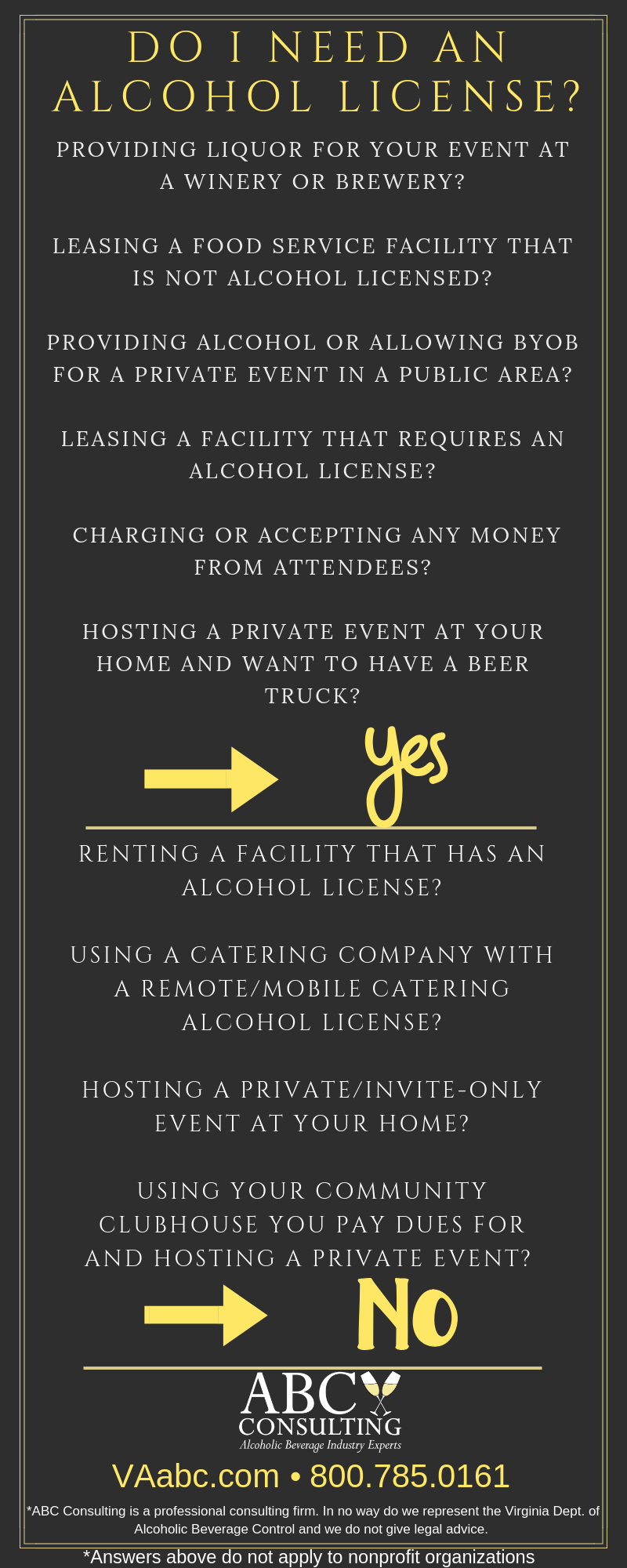 Founder, CEO and Alcohol Specialist
Founder/Instructor T.O.A.S.T. VA
Former Special Agent VA Dept. of ABC

Email: Crystal@VAabc.com
Phone: 757.617.9773
Crystal E. Stump is CEO and Senior Consultant at ABC Consulting.  Ms. Stump has licensed over 1,000 licensees and trained over 5,000 people in the alcohol industry.  This number is increasing everyday.  Her expertise in state and federal regulations is unmatched.  Educating the alcohol licensee drives her everyday, ensuring licensees are aware of alcohol regulation changes motivates her everyday and celebrating client business success provides purpose to her everyday.
Ms. Stump was born and raised in SWVA in a small county known as Tazewell.  While still in high school, she began working for the Virginia Department of Alcoholic Beverage Control (VA ABC) Enforcement Division as an Under Age Buyer, responsible for testing licensed establishments by attempting to make purchases of alcohol. After high school she attended Bluefield College, earning a Bachelor's degree in Criminal Justice with a minor in Psychology. During her senior year, she was selected for and attended the Southwest Law Enforcement Academy located in Bristol, VA. After completing the police academy and her final semester of college, Ms. Stump was selected as a Special Agent for the Enforcement Division of VA ABC. In the following years she worked in virtually every aspect of ABC enforcement operations affecting the licensee community including application investigations, underage buyer operations, audits, inspections, surveillance, criminal court proceedings, and administrative hearings.
Ms. Stump left ABC in 2009 to create ABC Consulting. She now utilizes her expertise as a former Special Agent to provide sophisticated consulting services related to licensing, hearings and appeals, inspections, compliance, training, and numerous other areas that affect the alcohol licensee community throughout Virginia.
Dissatisfied with the accuracy and real world practicality of the other training programs in the State, in 2012 she developed a comprehensive training program for Virginia alcohol sellers and servers, "The Operational Alcohol Standards Training of Virginia" (T.O.A.S.T. VA), which received approval for state certification by the Board of the VA ABC.