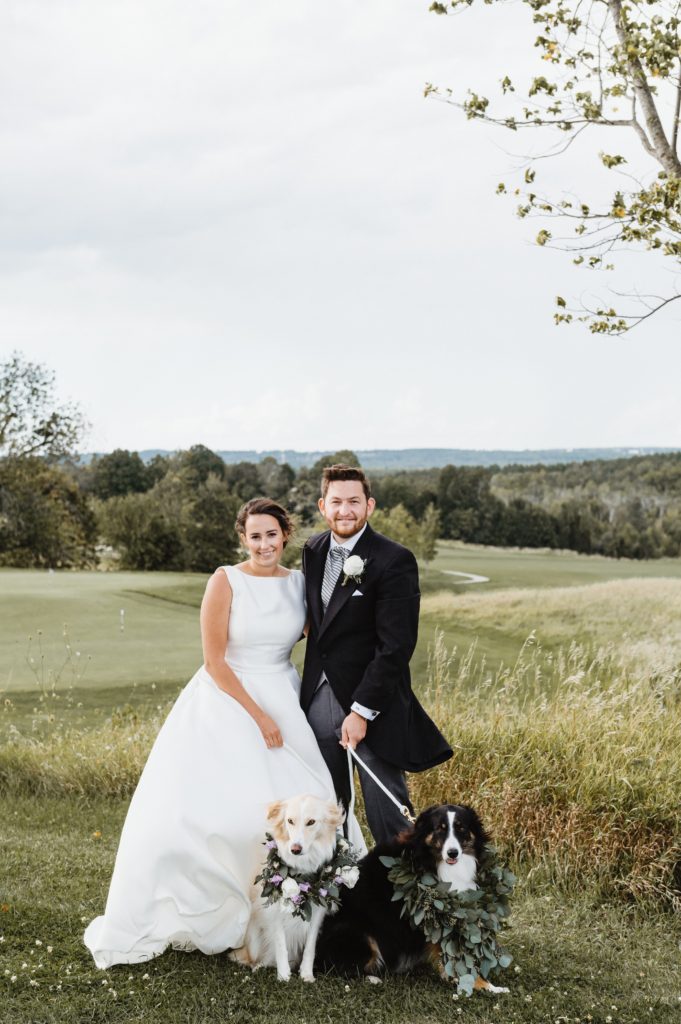 Whether you embrace the title "fur baby" or not, our pets are a huge part of our families – and that means we want to include them in our special occasions. My husband and I, for example, always give our cat a stocking at Christmas and I decorate a tree safely just for her to climb (secured to the wall, of course!).
For our special day, our little gray ball of fluff was only 4-months old and we celebrated at a church, so having her there in the fur wasn't an option. But we still found little ways to honor her presence in our lives – and there are tons of ideas for including any pet in your special day, as well.
For the Not-So Crowd-Friendly Pets
For our Stardust – and probably most cats – being present at the wedding itself likely isn't going to be the smoothest occasion. So, instead of trying to bring them to the ceremony, you still do some other things.
Décor Items Featuring Your Pets
For example, our cake topper was a simple foam core cutout made by a friend. We're huge Doctor Who fans, so the topper featured a bride, groom, the TARDIS (a spaceship in the shape of an old British police box), and the little silhouette of a cat waiting by the door.
Or, for the photo sessions pre-ceremony or at the reception, include special props that remind you of your pet. It could be special ring holders that look like cats or cat masks for the photo booth.
Create Special Attire
Not only can you order some special attire for your pet for the special day, but you could commission someone from a site like Etsy to embroider the likeness of your pet into some piece of your own wedding attire. This could be a handkerchief or pocket square for the groom, a tiny corner of your veil, an applique feature on your wedding clutch, or even a special article of clothing – like gloves or a shawl – featuring your pet's image.
Photos of Your Pets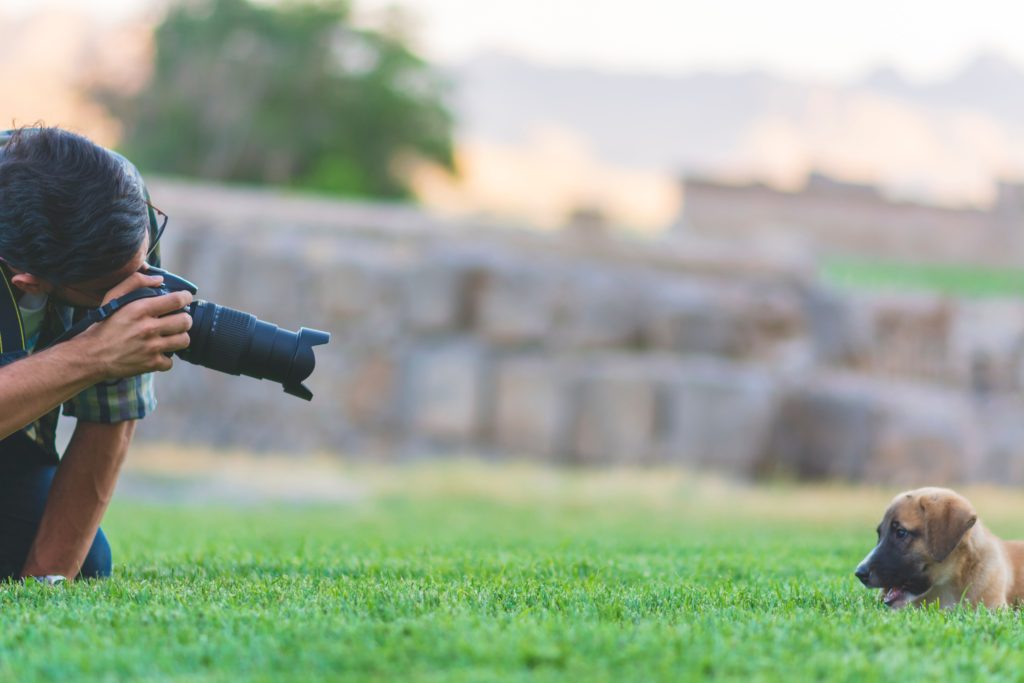 You can have photos of your pets on display at the wedding as well – and if your kitty or pooch like to dress up like our Stardust, you can even dress them up for the special occasion for a photo shoot and print those out for the big day. I mean, who wouldn't love an adorable shot of their puppy as the flower girl?
Or, if you want to keep your pet close to your heart, find a charm that allows you to put your pet's photo inside and attach to your bouquet, shoes, clutch, or a charm bracelet.
Pose Together Before the Ceremony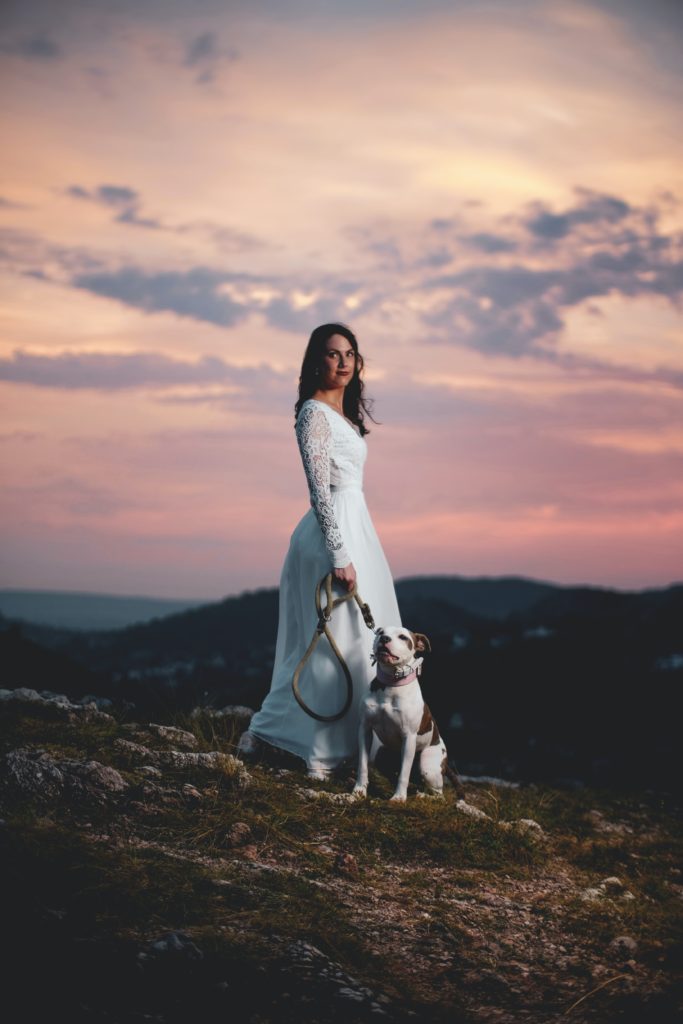 If you have a pet who's eager to participate but not going to do well among the crowds, you can pose together beforehand, all decked out in your full wedding attire. Give your pooch or kitten, or ferret, or horse, or hedgehog, a fancy collar, a basket of flowers to hold, or some other prop that enhances the imagery of the day. Most photographers are going to happily help you capture those special pre-wedding moments with your furry family members.
For the Wedding Attendant Pets
When you do have pets able to attend, there are even more options for ways to participate in your special day.
Special Photo Sessions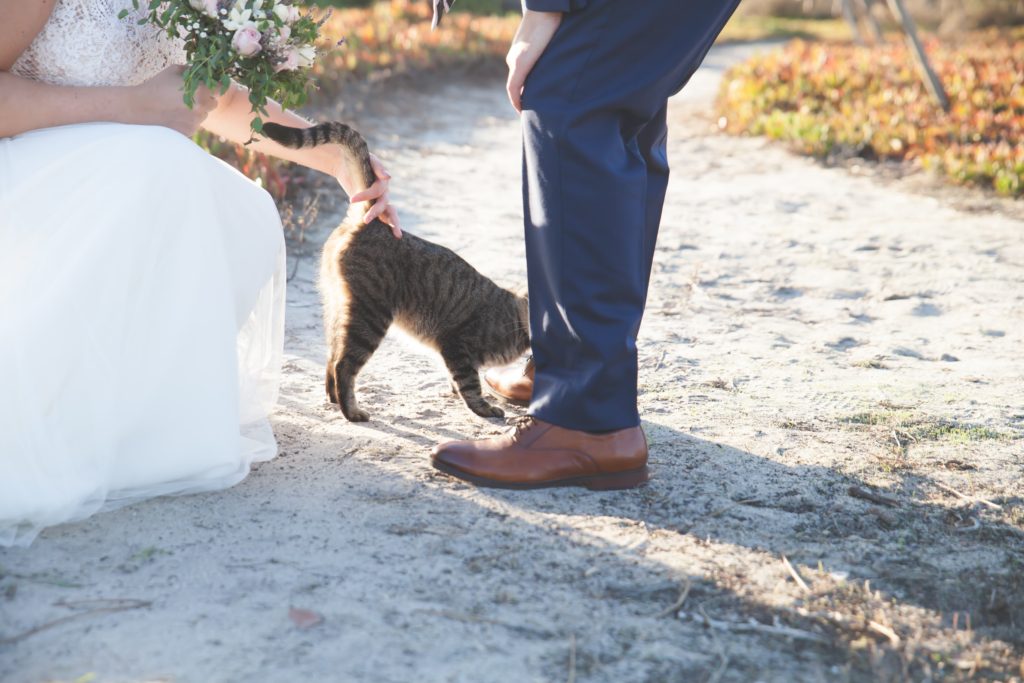 Invite your pet into the getting ready suite for some pre-wedding love and pictures. Enjoy yourselves together and let the photographer capture your utter joy – infectious to your pooches and kitties! – and let the whole bridal party pose together for some ridiculously adorable shots.
Walk Down the Aisle Together
If your pet won't get too distracted by the glory of dozens of exciting strangers, you can bring your pet down the aisle with you. If your pet handles a leash well, walk down together like that. If your pet needs more focused attention, you could invite another friend into the wedding party to escort your pet. This escort can use a leash, carry bag or even a small pet "bubble" backpack.
Let Your Pet Carry the Rings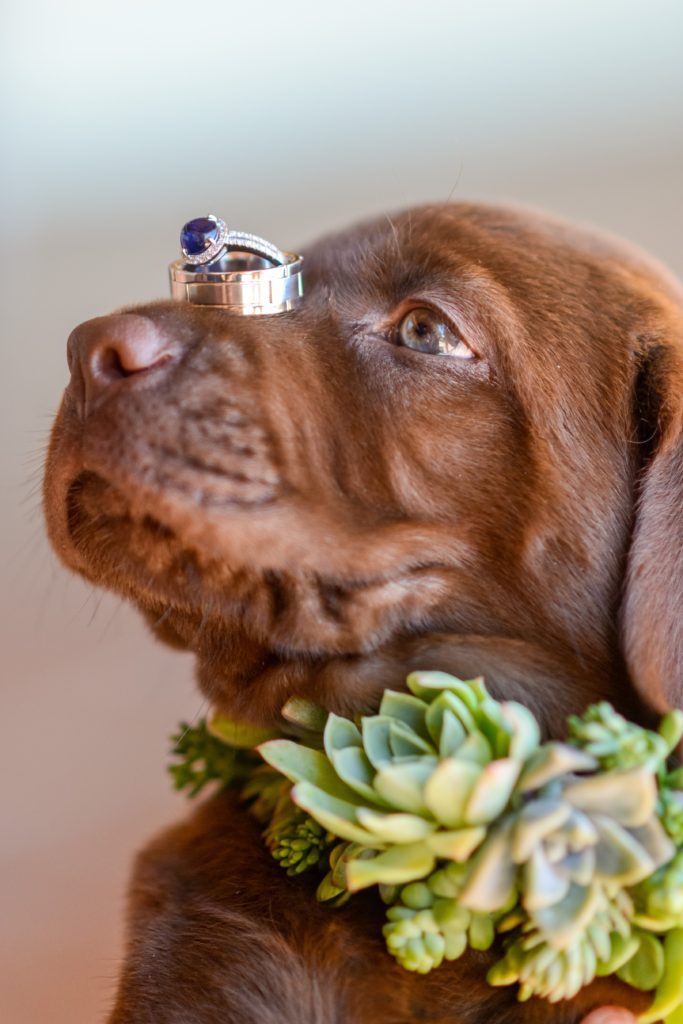 You could have a dynamic ring-bearer duo with your nephew leading the way while your pup carries the securely fastened rings on a pillow on her back or in a basket she carries. Who wouldn't love that setup? And seriously – how adorable are those pictures going to be?
Make a Grand Entrance
If your fur baby happens to be a horse and you're having an outdoor ceremony, you could enter the ceremony on horseback. Be sure to have someone your horse knows on hand to help with details for the day so you don't have to.
Hire a Pet-Sitter
Finally, be sure to hire a pet-sitter to care for your favorite fur before, during, and after the ceremony. Your pet will love spending the day with you, but with a pet-sitter there, you won't have to worry about feeding times, water, clean up, and other small details that could throw a wrench into your wedding day timeline.
Having a pet sitter is also a great idea for your pets who love people, but for only so long. The sitter can bring your pet for part of the ceremony or reception and then take your pet home again when it's time – again, leaving you with less stress and fewer details to worry about.