In the warmer Virginia months from March to September, outdoor weddings can be found in every park, garden and large-ish back yard. Brides flock to book their big day at this time of the year to capture blue skies, glowing sunsets and weightless weather. The backdrop of an outdoor ceremony is the frame for the highlight of the wedding, the bride and groom taking their vows. There are so many options to choose from, and this central element of the event ties the whole theme together.
So, what's your style?
A Ceremonial Arch: The Focal Point of Your Ceremony
Erecting a surround for the marrying couple can come from any kind of material, and Virginia has plenty of sources to peruse. It may take lots of shopping, or it could be incredibly simple; you may have two stately trees at the venue location that happen to be the perfect width apart to serve as uprights to attach flowing material, vines or flowers.
Two ladders, a series of screens, or a swag of macramé adds a casual, unexpected touch if that's the vibe of your ceremony. Geometric shapes like triangles, hexagons and heptagons are wildly trendy and make a stunning impression for a modern, chic wedding. Sheer panels of curtains can host all kinds of gorgeous touches, such as twinkle lights, flowers, and sprays of branches or greenery. A simple teepee with a swag of wildflowers is a perfect accompaniment to an open-air Boho wedding.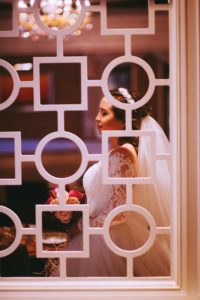 Wooden pagodas or a flower-draped archway are classics that are always in style. Perhaps your nuptials are scheduled to take place on the steps of a downtown church or city building with large Roman columns? Take full advantage of that composition and incorporate its grandeur into your altar arrangement!
A circular arch form is a beautiful layer to add as a reinforcement of the exchange of rings and the infinite love the bride and groom are to pledge. Wooden forms and large metal hoops have been used to which floral arrangements or greenery can be attached, or a circle entirely covered in flowers is an opulent choice.
Capture the Essence of Local Virginia Style
Virginia is rich with national history and Americana. Work with the stylistic character of the local scenery and go with it! If you are getting married at one of Virginia's beautiful farms, keep your arrangement rustic and layer that theme with your arch or arbor. Virginia is not short on beautiful, stately churches; if your ceremony is taking place on the lawn of one of them, a more classic or polished setup will coalesce the whole scene. Getting married on the beach? Sheer panels of fabric and seagrass strung along a structure made of driftwood is just too perfect.
Be careful about mixing too many styles. Symbiotic visual cues are more enjoyable for the audience. With the innate distractions of an outdoor wedding such as wind, temperature, direction of the sunlight in people's eyes, and ambient noise, make sure the visuals are a harmonious, peaceful spectacle.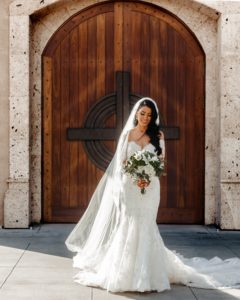 Ambient Light as a Backdrop
Lanterns and candles are a stunning element for an evening outdoor wedding. The glow of soft light from mixed-sized lanterns or an array of electric candles is hard to outperform when it comes to ambiance. This design can be used in conjunction with an arch or arbor, or by itself in a stacked, stadium-style pattern set up on crates or logs for a more casual vibe.
Strung patio lights are also a popular feature and can make magic for your wedding. Maybe you have considered having your attendants carry candles down the aisle rather than a full bouquet of flowers? There are so many ways to infuse candles into your ceremony and create even more intimacy with the soft light. There are so many wonderful candlemakers in Virginia that you are sure to find something perfectly unique and collusive with your theme.
The Perfect Style is Out There!
Explore the possibilities. If your wedding feels a little bit cookie-cutter, change it up and elevate the natural setting with a unique arbor in an unexpected color, shape, or pattern. This feature could be the most impressive element of the entire celebration!
Virginia is full of artisans like woodworkers, metalworkers, and sculptors who can design a perfect apparition for your perfect day. Think about how you could re-incorporate your arch, arbor or altar into your home or garden after the wedding as a monument and design element of your new life together. Such a special construction should be admired for many years, and who knows… maybe one day your own children will use it as their "something old" for weddings of their own.