By: Elisa Yu-Shan Lion from Exceptional Events by Elisa
This past Sunday, July 10th, we celebrated a dream wedding at the breathtaking Morais Vineyards and Winery in Bealeton, Virginia. We celebrated April and Taquan tying the knot! April and Taquan are the fortunate winners of the $100K Luxe Dream Wedding sponsored by Virginia Bride Magazine, Fox 5 News and a group of AMAZINGLY talented Wedding Pros. April & Taquan were selected by DMV viewers, garnering over 15,000 votes, which placed them on the lead since the first day of the voting period.
I had the honor and privilege of leading the planning and designing team. Working closely with the couple and all 55 Luxe Sponsors to plan a memorable event, we designed and executed 12 to14 months' worth of work in two and a half months. I confess I pushed most Wedding Pros' creativity and talent asking them to do things they had never done before. Getting comfortable being outside their comfort zones and requiring them to test and retest what they would be creating in that short period of time ensured wonderful, outstanding results. I encouraged them with what my mother used to say to me, "if your dreams don't scare you, you aren't dreaming big enough".
Among the top things guests typically remember or talk about after a wedding event (good or bad) are: the wedding dress, the food, the ambiance, the décor, and lastly but certainly not last – CAKE! There is one word conveyed to us that can summarize April & Taquan's wedding – EPIC! We loved hearing that.
Let me share a SNEAK PEAK of their EPIC and memorable wedding! You will enjoy more photos in upcoming blog pieces and in the Spring 2023's print edition of Virginia Bride Magazine; and most certainly, we encourage you to check out reels, photos and videos on our social media accounts.
Photos by Sanaz Fahimi from Butterfly Photography.
COLOR PALETTE
April LOVES PINKS, so she selected a color palette rich in pink hues – little pink, hot pink, fuchsia and peach with gold accents. I worked closely with the Wedding Pros to incorporate her color palette in the details.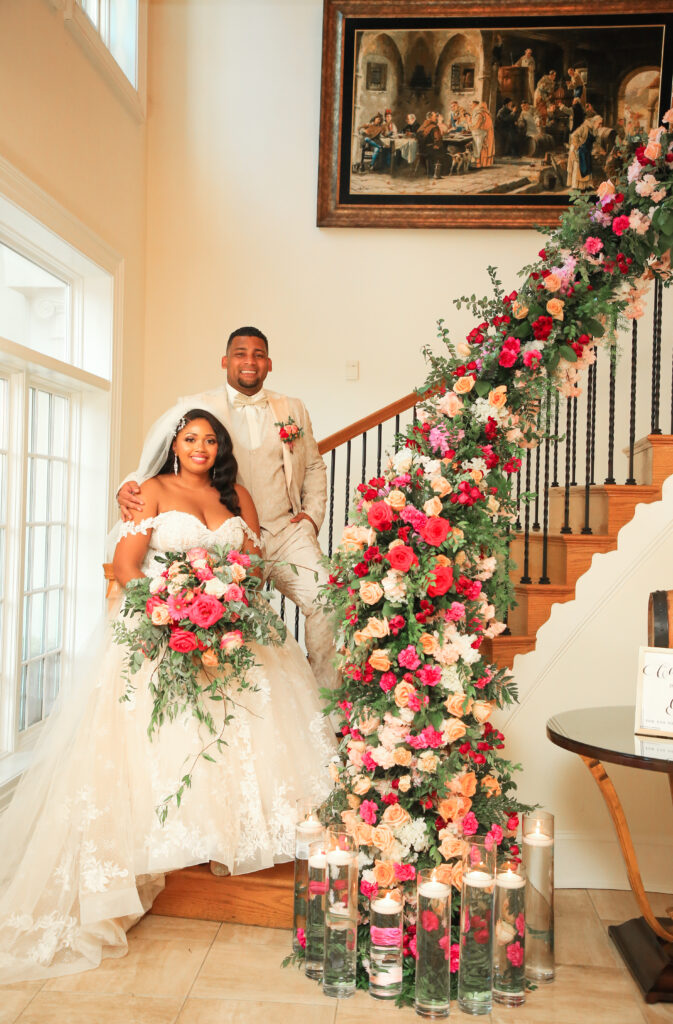 SAVE THE DATES
April & Taquan are foodies; and Taquan is a huge sweets fan – especially CHOCOLATE! Their Save the Dates were actually edible cookies by Amy Hicks from Seriously Sweets. They looked too cute to eat!
INVITATIONS & STATIONERY
Invitations set the tone and give guests a glimpse of what is to come for the wedding day. Toya Hodnett from Via Paper Boutique worked closely with the couple to incorporate the couple's personalities, colors and wedding day logistics to a bold and colorful invitation suite.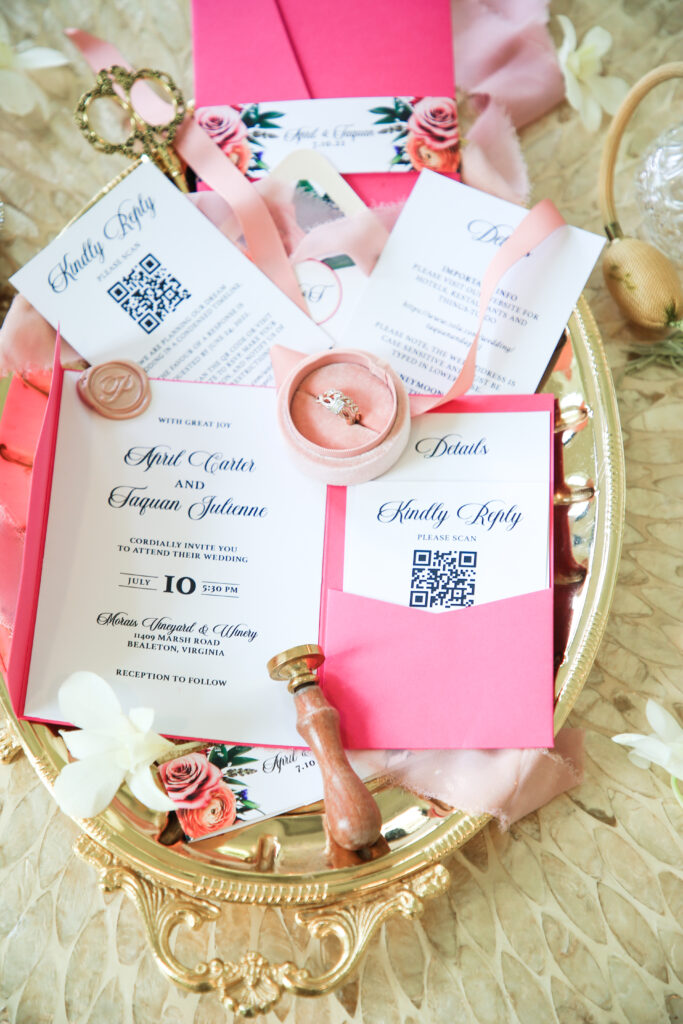 THE BRIDAL SUITE
The Bridal Suite at Morais Vineyards and Winery is a beautifully decorated room with one-of-a-kind furniture featuring giant carved golden peacocks, lots of natural lighting and a private terrace. Having designed peacock sculptures with incorporated floral touches in the past, I conveyed these ideas to Soledad Soto from SolEvents Floral. She perfected my design and took it to the next level! Soledad and Rathna Kong from Oh Graze Away in collaboration with Bilstad's Beignets, Little Mezza and Lucy Q's, created a stunningly beautiful and exquisitely delicious grazing table for April, her Bridesmaids, the mothers and the grandmas. The assortment of cupcakes, beignets, and others delicious choices were placed around two giant floral peacock sculptures. It was edible art in the truest form!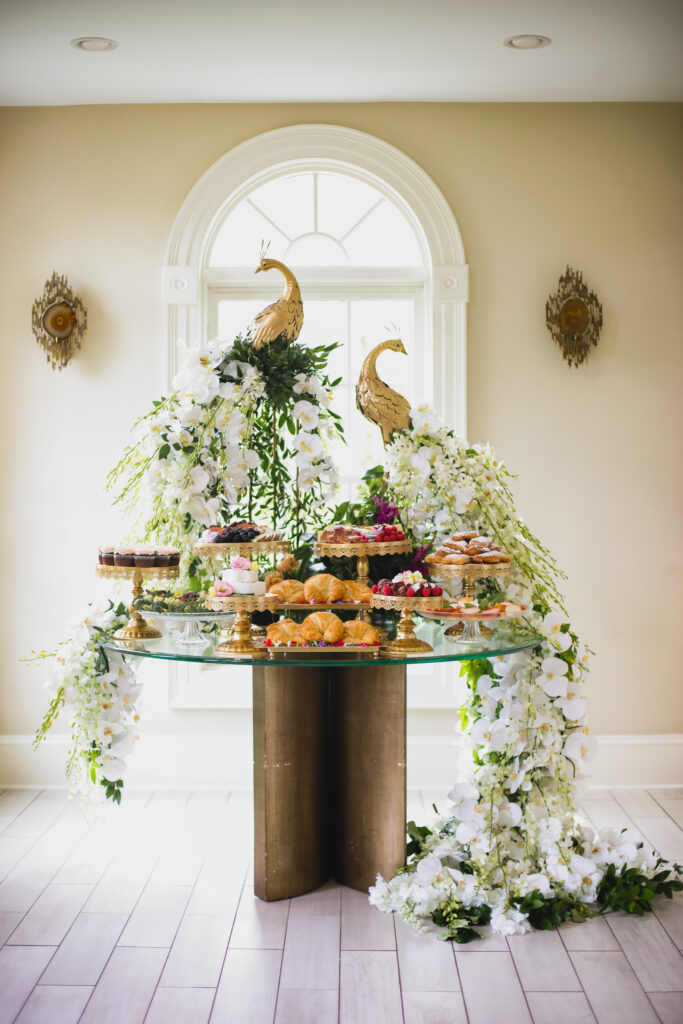 THE GROOM'S LOUNGE
Rathna Kong from Oh Graze Away in collaboration with Bilstad's Beignets, Little Mezza and Lucy Q's, created a hearty grazing table for Taquan, his Groomsmen and the fathers and brothers. It included, an assortment of bagels, smoked salmon, beef meats, cheeses, bronuts (brownie donuts) and more.
THE BRIDE
April fell in love with 2 wedding dresses during her wedding dress fitting with Valerie and Cristina from That's My Dress Bridal, so she decided to wear a princess gown for her ceremony and first dance; and a mermaid dress to bring her dance moves unto the dance floor.
April has a gorgeous smile that lights up a room. We noticed during their engagement photo session with Sanaz from Butterfly Photography that her eyes smile and light up when she looks at Taquan. Khatera from Luxury Brides accentuated these features through a natural glam look by keeping the makeup light and airy, extending her eye lashes and using a soft lipstick color.
April was truly glowing!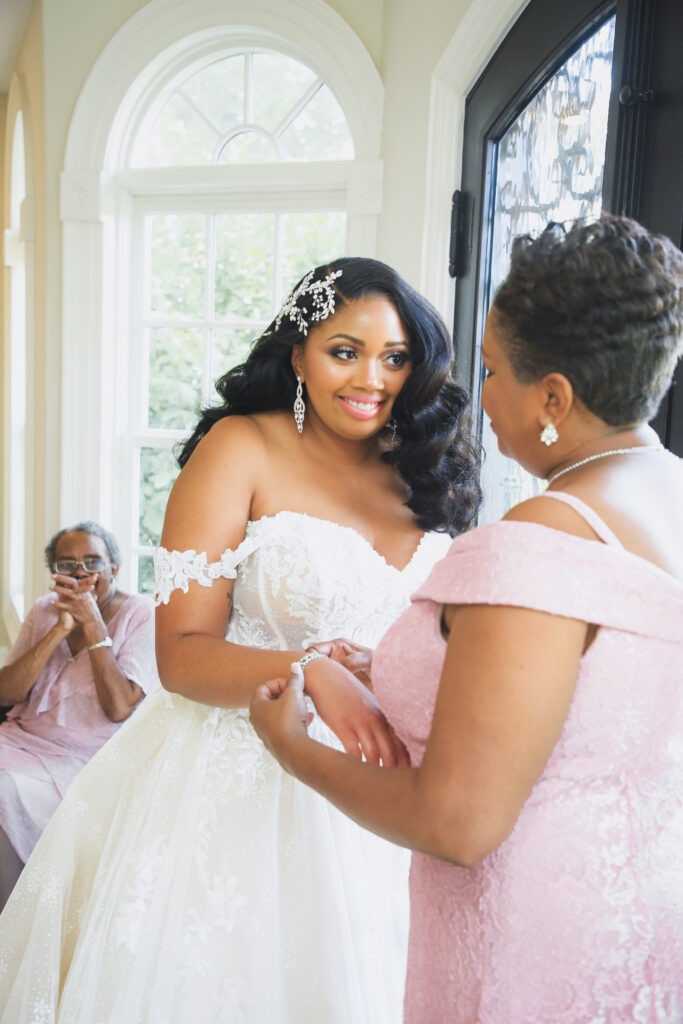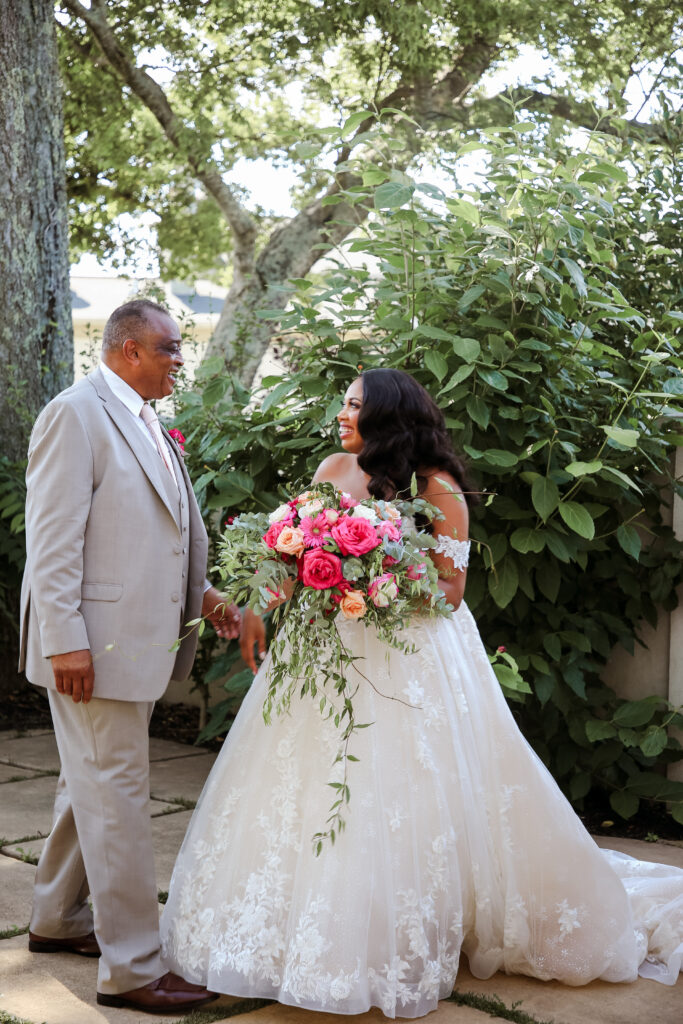 THE GROOM
Taquan selected a beige color tuxedo from Moe's. The tuxedo had an intricate pattern on the sides of the pants.
His groomsmen wore color matching tuxedos from Abbi Yemuru from Tuxedos by Sarno.
THE BOUQUET
Annette from I Do Weddings with Love created a large garden style bouquet. To create this look, she incorporated seeded eucalyptus, Italian ruscus, gerbera daisies and an assortment of roses.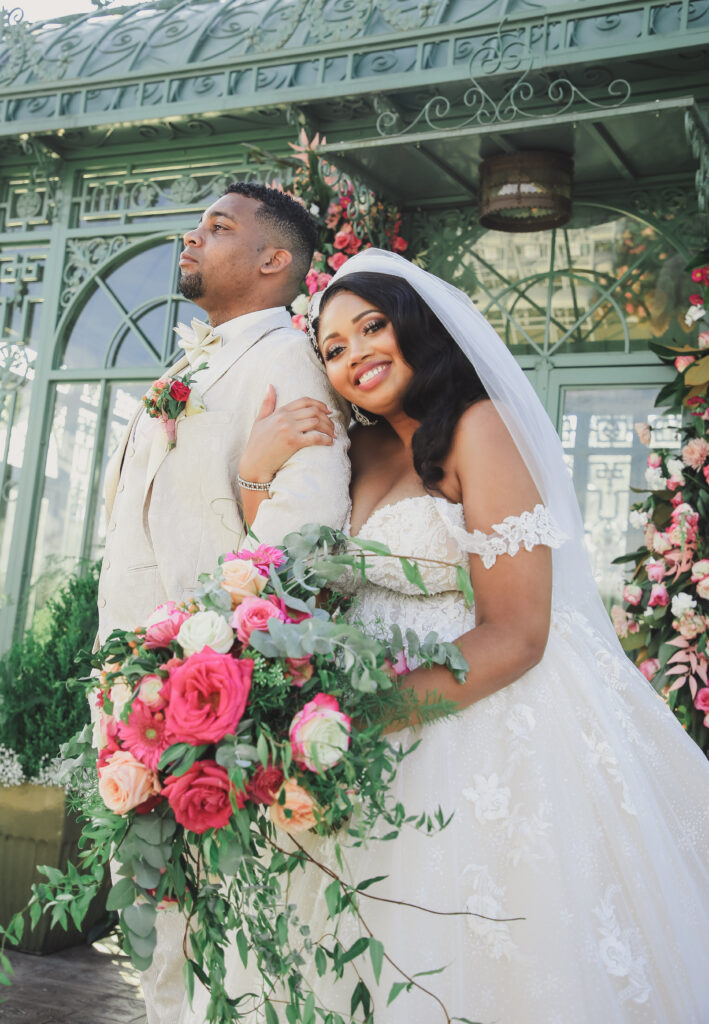 THE CEREMONY
I worked with Annette Lindsey from I Do Weddings with Love to design the ceremony space. Annette kept the MAGICAL garden feel through out the ceremony site with a large floral mural attached t0 the Greenhouse, one of 4 Euro Disney Cars in the world. She extended the feeling of being in a garden by placing large floral urns on the steps and on the aisle.
Annette also designed and created the Bridesmaids bouquets and Groomsmen boutonnieres.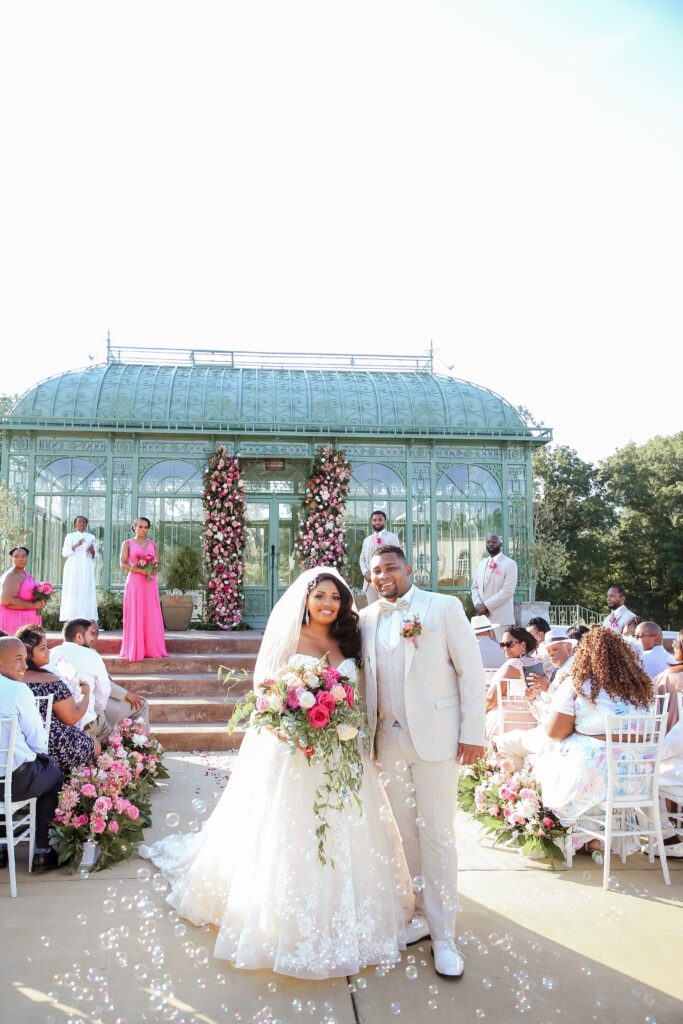 THE COCKTAIL HOUR
April & Taquan's Cocktail Hour was held in Morais Vineyards and Winery Bar Room. The Bar Room has a gigantic round bar as the room's staple. I worked with Darlene Williams from True Love Designs to design a floral piece which framed the bar and created a ONE-OF-A-KIND floral piece, strikingly providing a WOW factor as you entered the room. She added small floral pieces around the cocktail tables and fireplace mantles to balance the room.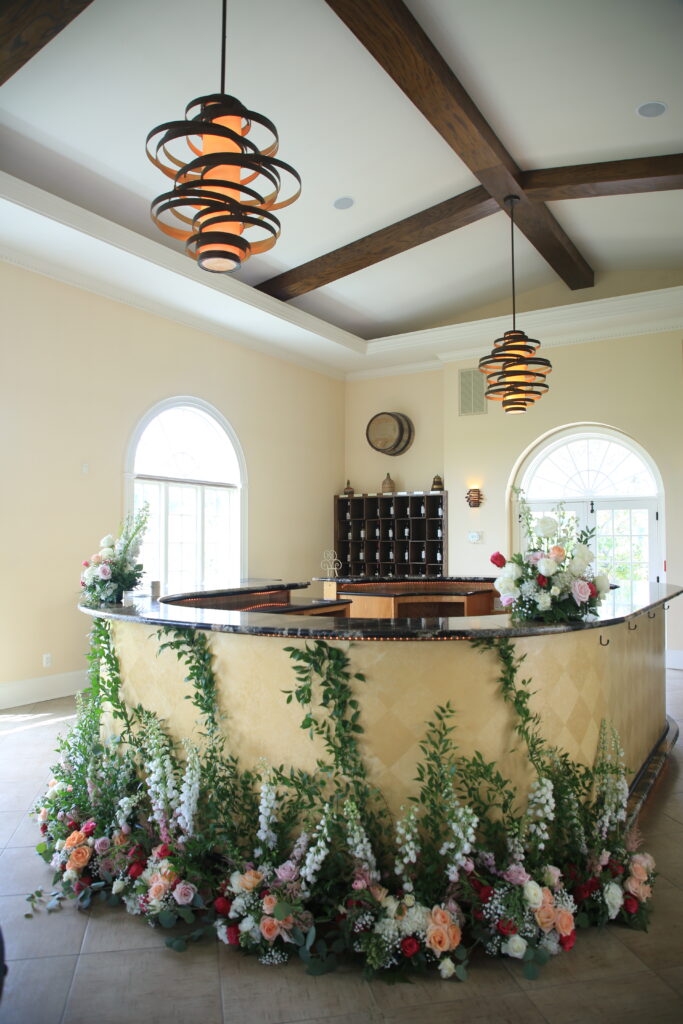 THE RECEPTION
I worked closely with Soledad Soto from SolEvents Florals for nearly two and a half months to create an EXQUISITE design for The Ballroom in The Palacio, at Morais Vineyards and Winery. Afterall, this was the room were April & Taquan would have many of their FIRSTS – their first dance, their first meal together as husband and wife, their cake cutting and their welcome speech.
The room was magnificently decorated with thousands of flowers. The sweetheart table was nestled underneath a floral canopy; while family members sat in rectangular tables with floral runners arranged in swags cascading over the dining tables, and the guest tables displayed exuberant and brightly colored bouquets standing tall over large gold floral urns. More flowers cascaded as tails from golden peacock statues at the hors d'oeuvres table adding a unique touch.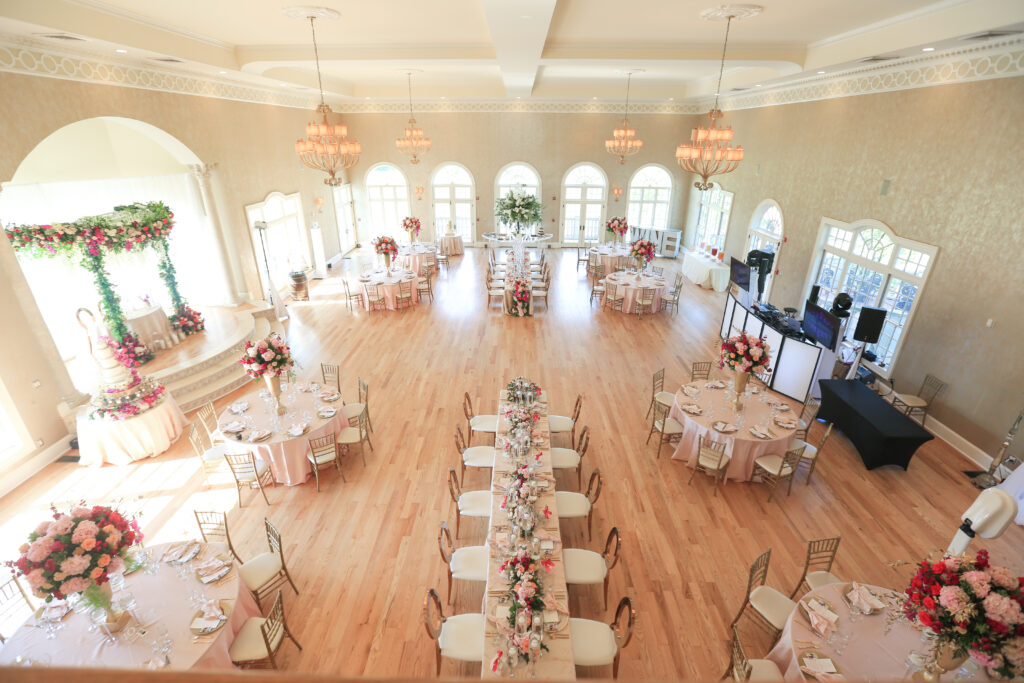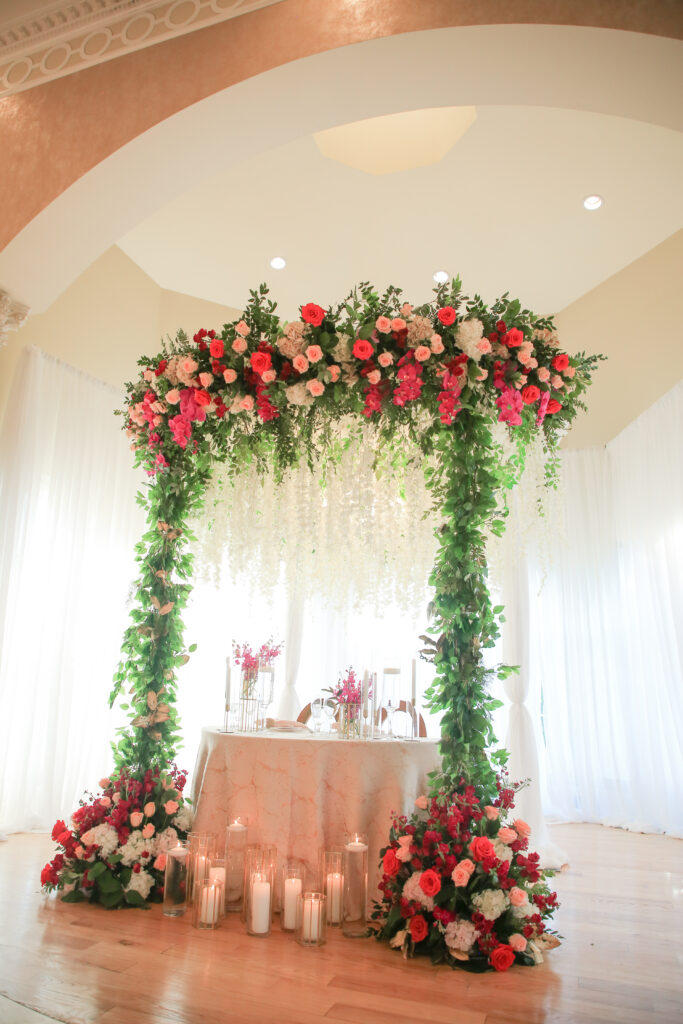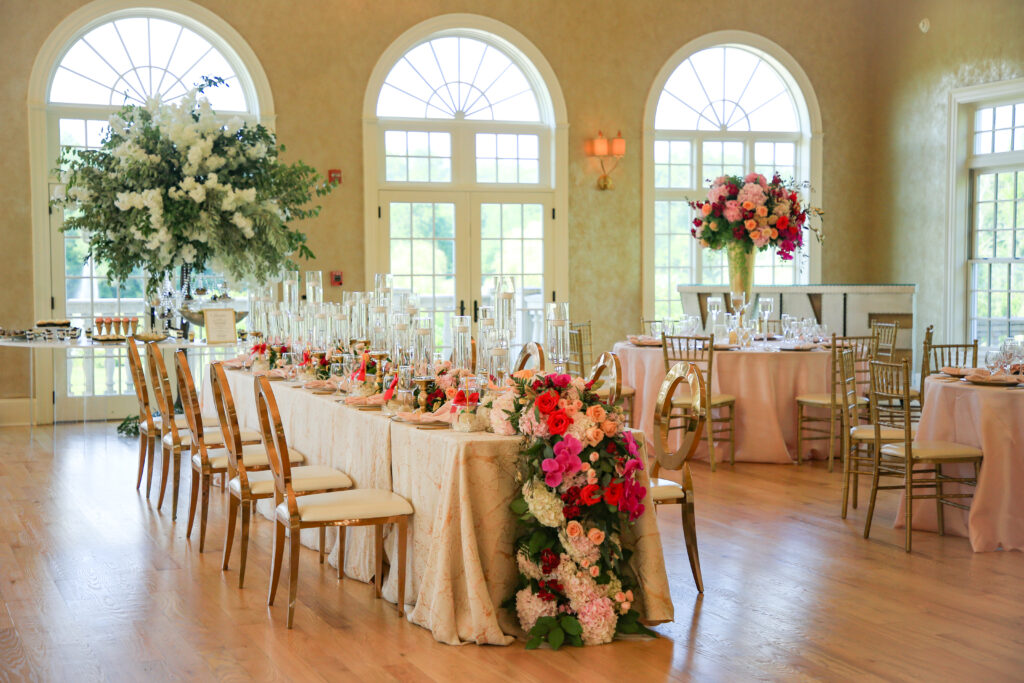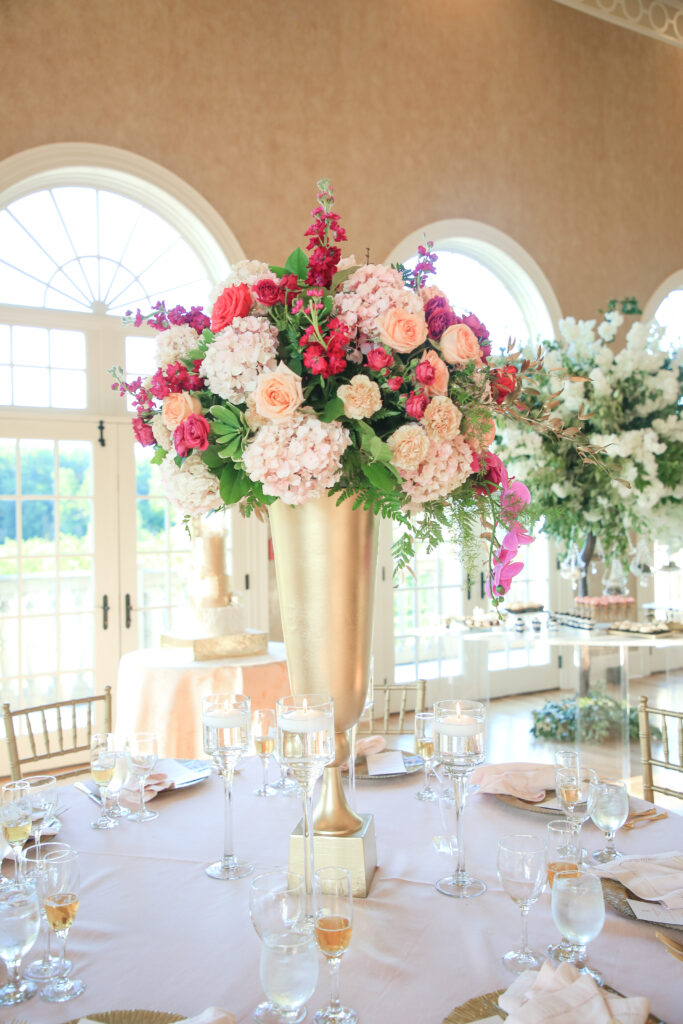 THE FAVORS
Tracey Fowlkes from KK&S Designs created lavish Chocolate Covered Apples for April & Taquan's Family Tables. They are too beautiful to eat, yet as delicious as they look! Check out the delicate tags she created with April and Taquan's names on them.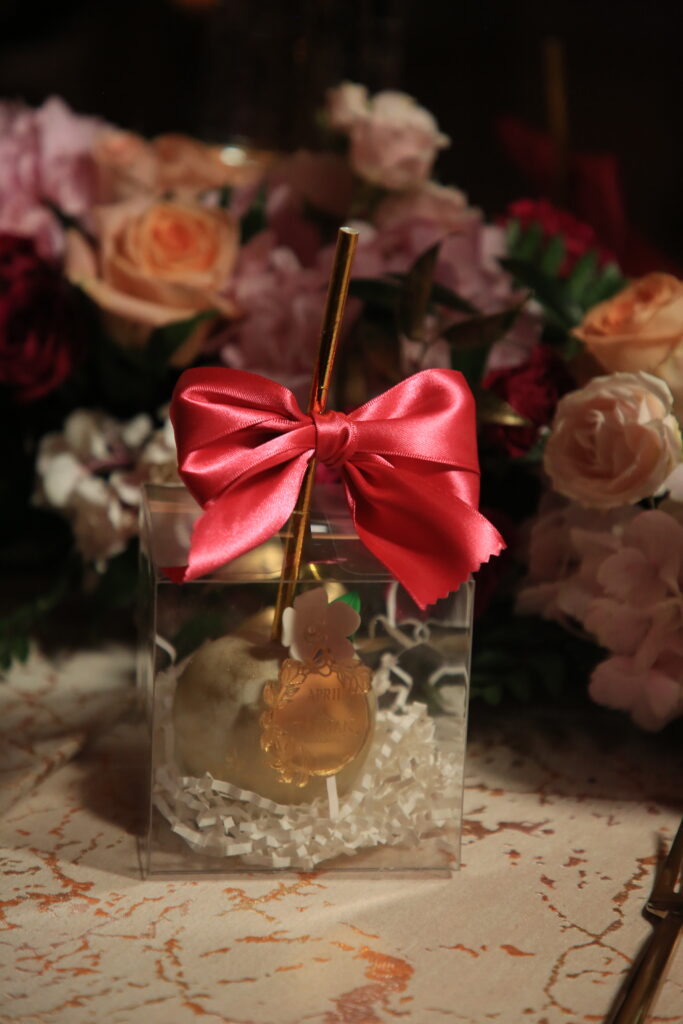 THE FOOD
One of the wedding planning appointments April and Taquan enjoyed the best was the food tasting with Chef John Homan and Leanne Homan from Zesty Gourmet. During their tasting – 3 hours of tasting their entire menu, April and Taquan had several favorite dishes that brought a diverse menu providing options for all their guests' palettes and likes.
Chef John Homan created the following Dinner Menu for April and Taquan.
Hors d'oeuvres (stationed)
Lavish Charcuterie Displayed on 3 tables, and which included: Aged Cheddar, Dubliner Irish White Cheddar, Gouda and Smoked Gouda from Netherlands, Product of Italey Asiago, Comté French Cheese, Maple Pecan Goat Cheese, Fresh Berry Brie, Gouda, Jarlsberg, Gorgonzola, Caprese (Marinated Mozzarella Balls, Cherry Tomato and Fresh Basil), Smoked Beef Sausage, with Grapes, Marinated Artichokes, Roasted red Peppers, Olives, Jam, Stone Ground Mustard, French Bread and Crackers
Italian Crostini Display
Roasted Gourmet Petite Rocker Potatoes topped with Mascarpone Cheese & Caviar
Hors d'oeuvres (passed)
Tequila Chili Lime Shrimp
Rosemary, Thyme and Garlic Crusted Lamb Lollichops
Asian Take Out of Candied Beef with Japanese Noodles
Asian Take Out of Asian Spice Tofu with Japanese Noodles
Tex-Mex Veggie Mini Tacos
First Course
Chef's Exclusive: Organic Mixed Greens and Organic Baby Spinach Salad with Fresh Strawberries, Goat Cheese, Candied Pecans served with Balsamic Honey Dijon Vinaigrette
Second Course (Guest's Choice of)
The Chefs Exclusive Prime Smoked Brisket with Southern Mashed Potatoes, Sautéed French Green Beans and Roasted Carrot
The Chefs Signature Organic Chicken with Rice Pilaf, Sautéed French Green Beans and Roasted Carrot
The Chef's Exclusive Plated of Cedar Plank Salmon with Side to Compliment of Rice Pilaf, Sauteed Green Beans and Roasted Carrot
The Chefs Signature Campanella Mushroom Pasta with Fresh Crisp Asparagus and Roasted Carrot
Rolls with Honey Butter
Third Course
Southern Peach Cobbler
Vanilla Ice Cream
Salted Caramel Ice Cream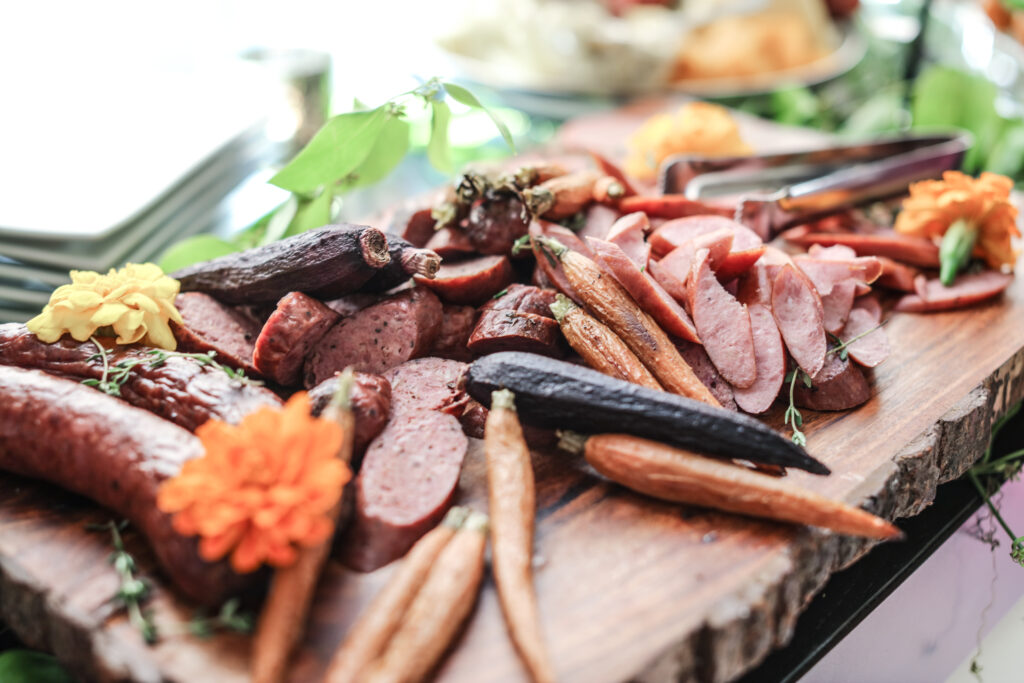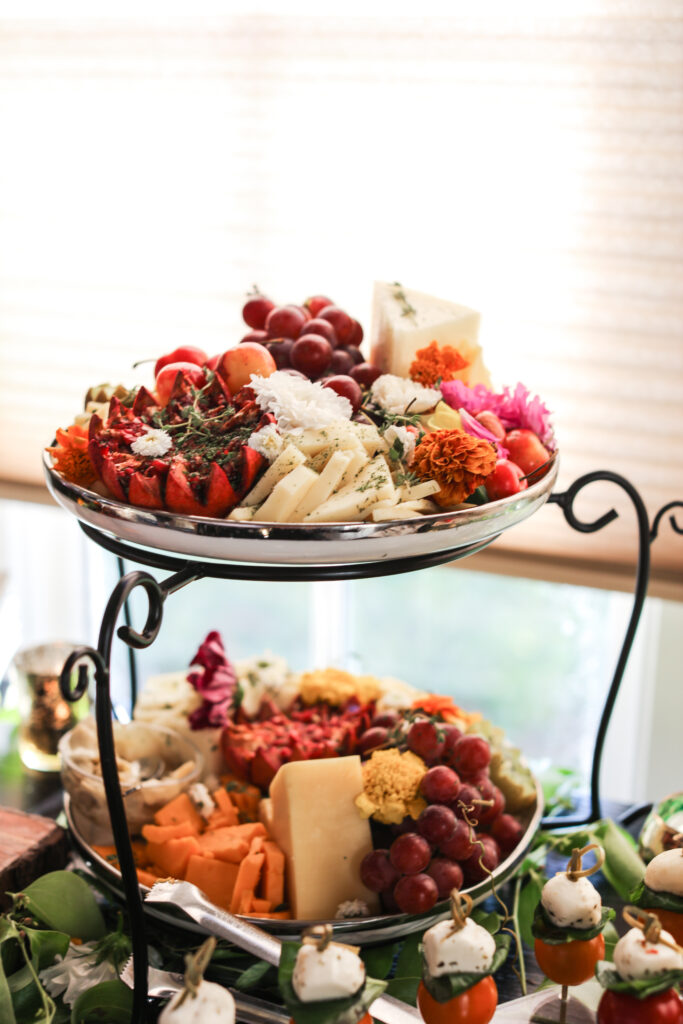 THE CAKE
Serap Andreasen from Le Cake Boutique created 5 cakes for this occasion. The cakes ranged in shapes, and sizes and were placed around the room to compliment the decor.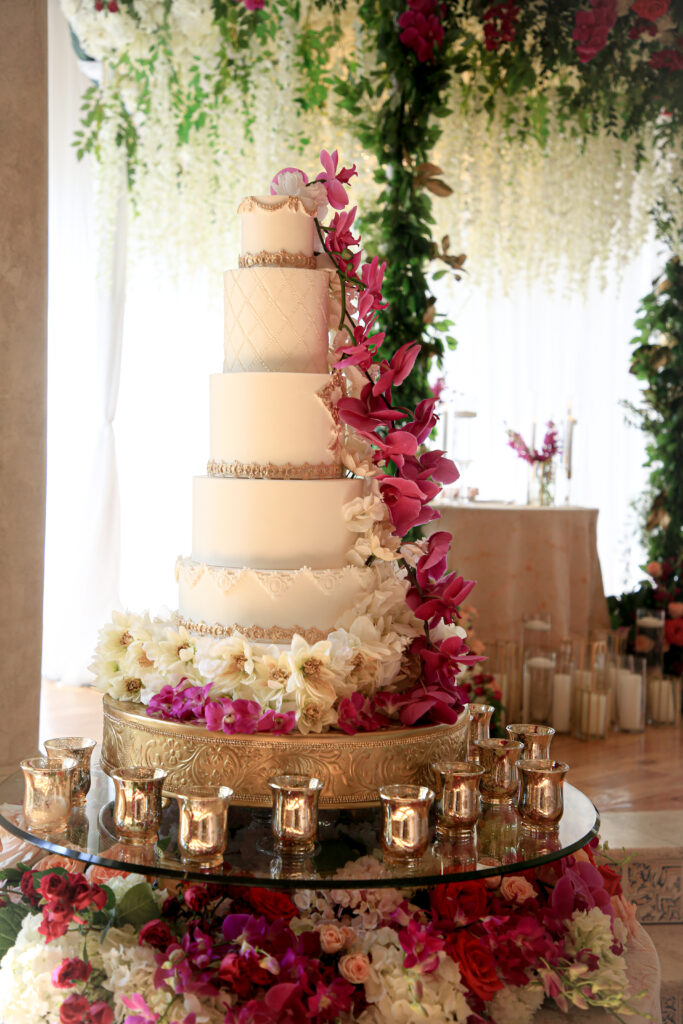 THE DESSERTS
I worked with Soledad Soto from SolEvents Floral and Victoria and Emily Wu from Cakes by Happy Eatery to create a Dessert Tree table. We hung desserts from crystal acrylic cups and placed an assortment of April and Taquan's favorite desserts on a halfmoon table on acrylic pedestals created (sanded, primed and painted) by yours truly. I created a WOW factor!
Their dessert table included the following scrumptiously delicious options:
Cupcakes: Cookies 'N Cream, Chocolate, Dulce de Leche, Classic Vanilla and Red Velvet
Chocolate Covered Strawberries
Ice Cream Cone Cupcakes
French Macarons
Cookies: Chocolate Dipped I Love You and Snickerdoodles
Parfaits: Banana Cream and Chocolate Galore
Almond Puff
Vanilla Cake Pops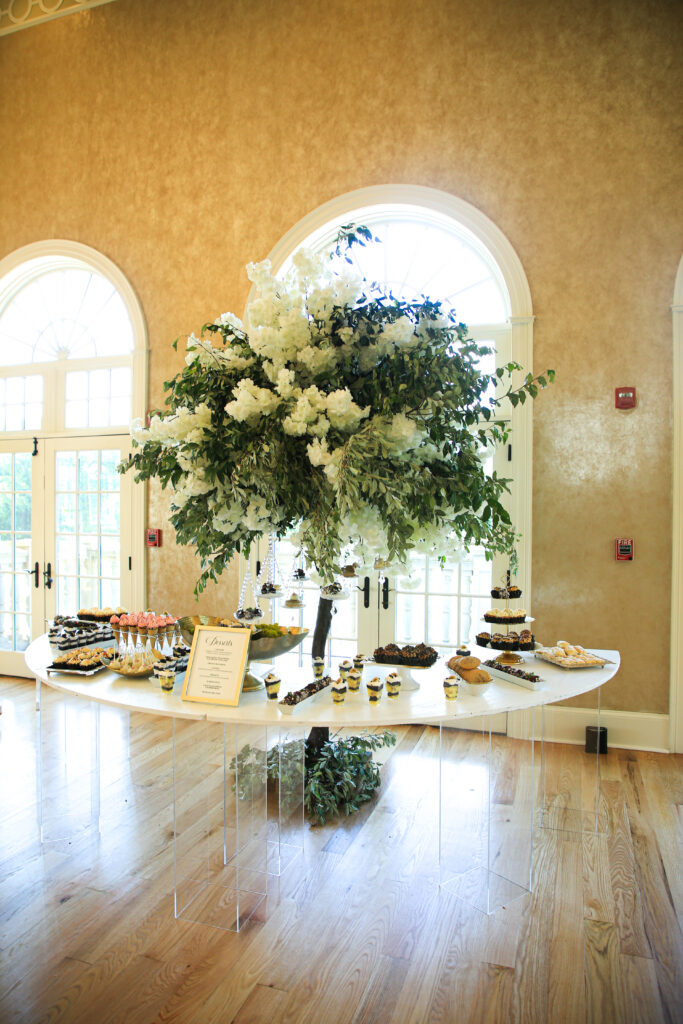 THE AGUAS FRESCAS
Taquan, and several of his guests do not drink alcoholic beverages. We wanted to offer their guests a refreshingly delicious option throughout the cocktail hour and reception dinner. Juan and Lidia Flores from La Michoacana Frozen Mix set up an Aguas Frescas Bar (Organic Fruit Juice Bar) that included beautifully garnished Cebada (Barley), Piña Colada, Fresa con Chia (Strawberry with Chia Seeds, and Ensalada de Frutas (Fruit Salad). They were absolutely delicious and refreshing!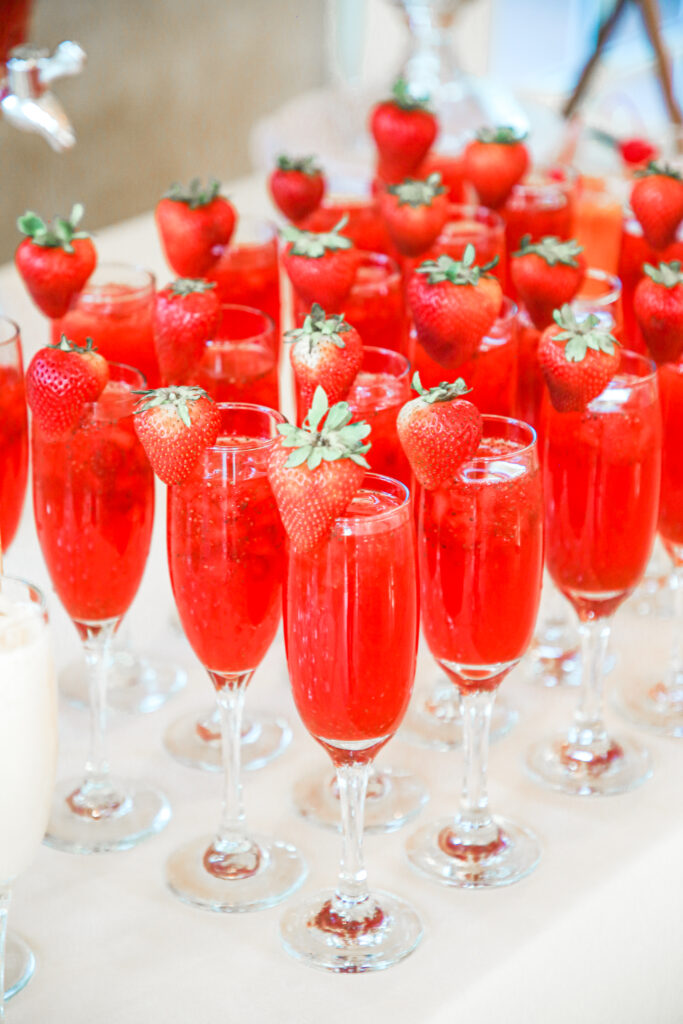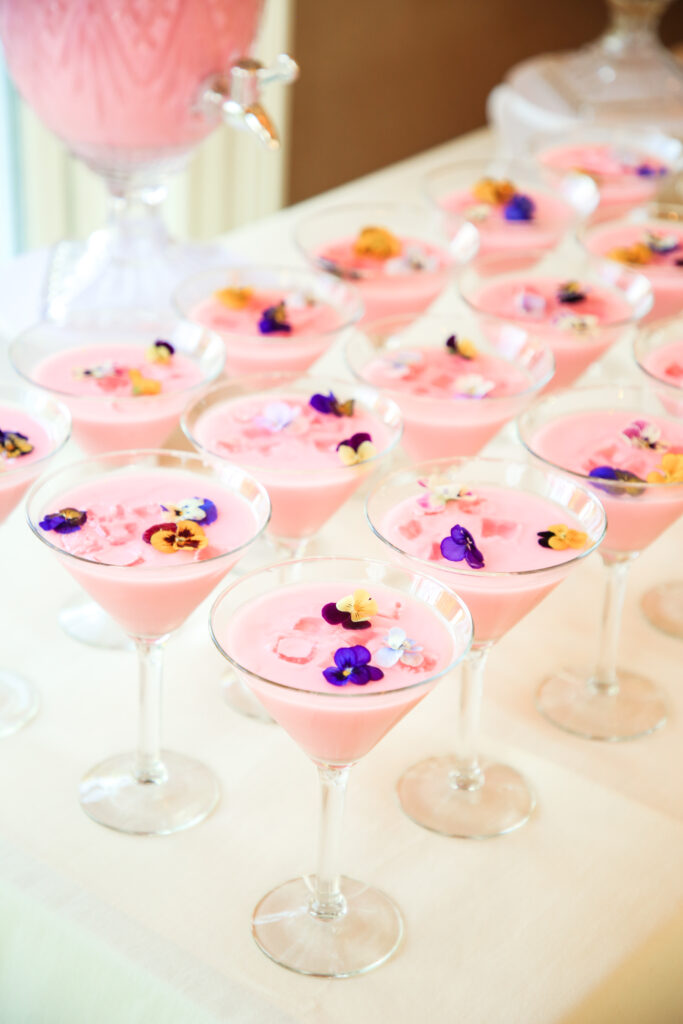 A HEARTFELT THANK YOU to all the Participating Luxe Sponsors!
Luxe Sponsors:
All For You Events and Designs
LeFay Cottage at Little Washington
The Mayflower Hotel, Autograph
Wedding Pros contracted by couple:
Bridesmaids Makeup: Ashley N. Artistry
Groom's Attire: Lawrence Clothier
Officiant: Rev. Danielle L. Bridgeforth