When it comes to your wedding day, any bride wants to ensure that they look their best. From the perfect hairstyle to gorgeous accessories, a bridal look is not complete without radiant skin. But, sometimes, it can be tough to ensure your skin behaves the way that you want it to, especially when you're dealing with the stress and pre-wedding jitters of being a bride. Keep reading to learn simple ways to guarantee that bridal glow you're going for on the big day.
Do a detox – detoxes are a great way to flush toxins from your body, which is bound to give your skin a boost! Some easy and effective steps you can take to detox are to drink a glass of warm lemon water every day, to eliminate sugar and alcohol from your diet for five or more days leading up to your wedding festivities, to up your overall intake of fresh fruits and vegetables, and to limit your intake of salty foods.
Clean your makeup brushes – a British study revealed that 72% of women never wash their makeup brushes. Wow! That's a staggering number as these brushes collect dirt and bacteria with each use, which can cause pesky breakouts. Loose powder brushes should be washed with a gentle foaming facial cleanser and warm water every two to three weeks and foundation brushes should be washed the same way each week. After washing, pat the brushes dry with a clean towel and then lay them out to air dry.
Get more beauty sleep – it's called beauty sleep for a reason, ladies! Getting an adequate amount of sleep allows your body to rejuvenate your skin efficiently, giving you an all-around glow. When you're sleep deprived, your circulation is lowered, which can make you look pale and washed out – not a good look! Hit the sack earlier in the days leading up to your wedding to ensure your skin is looking fresh and fabulous.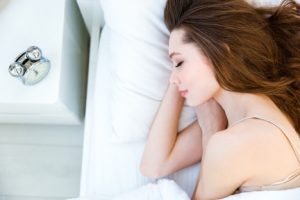 Moisturize – whenever you get out of the shower, it's vital to the health and hydration of your skin that you moisturize. We recommend using a moisturizer with a natural silicone present. Also, we suggest doing it while your skin is so damp in order to lock in moisture and to keep your skin soft and smooth. Moisturizing your body as a whole also helps to reduce other irritating skin problems, too, which is a major plus!
Exfoliate – exfoliating your skin is another great way to get your glow on! Light exfoliation removes dead skin, dirt, and oil that is trapped in pores. This allows your pores to appear smaller overall, giving your face a smoother and clearer appearance. Using a facial cleansing tool is a great way to exfoliate daily, ensuring your pores are cleaned without it being too harsh or causing irritation.
Hydrate your body…and your skin – drinking an abundance of water is a sure-fire way to give your skin a healthy glow. The official recommendation is eight cups a day, but the more you drink, the better! Water flushes toxins out of your body that can lead to breakouts and will keep your skin naturally moisturized rather than dry and flaky. Also consider eating foods high in water content, such as cucumbers or watermelon, to aid in raising hydration levels.
Don't be afraid to sweat – exercising regularly helps improve blood circulation, making it easier for your body to complete it natural cleansing process and an accelerated rate. This can improve your skin complexion, giving you a natural glow that you'll absolutely adore.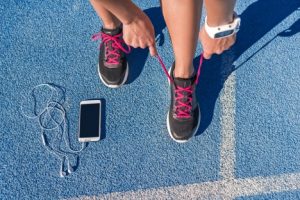 Don't let the worry of dull or blemished skin be a source of stress before your wedding day. Instead, use these tips and tricks to make sure your skin is radiant and flawless as you walk down the aisle!