Styled shoots are a creative way for photographers, stylists, and other wedding pros, to show off their talent and visions to inspire readers for their own wedding planning.
Today's featured styled shoot is set against the backdrop of the Blueridge Mountains on a farm near Blacksburg, Virginia. 
The theme is a wedding redo, which is gaining in popularity, for those who may want to "redo" the wedding.
Why redo a wedding?
There are many reasons, maybe you had a destination wedding and now want to share the experience with friends and family members who could not make the wedding, the first wedding was not exactly as you imagined, or perhaps you just want to recapture the memory several years later as a special anniversary celebration.
Here's the insider scoop from the photographer, Kayla Nichole Photography…
Kayla Nichole Photography reached out to local vendors wanting to do a wedding Re-do/Styled shoot.  First Kayla did a model call and that is when she received a message from Emily & Mike Wood. She was blown away by Emily's beauty and wrote her right away saying she would love for them to be the models for the upcoming shoot.
Then Kayla contacted local venue Sinkland Farms in Riner, VA & they offered their breathtaking venue for the shoot to take place.
Kayla Nichole Photography then gathered her team of vendors which she uses a lot:
Justine Malo that owns The Hot Seat for the professional Hair & Makeup.  Justine also works at Innovations Salon and Day spa in Blacksburg, VA and she does a lot of makeup applications for boudoir with Kayla Nichole Photography.
Flowers and table settings were done by Amanda Bishop with Trademark By B. She creates anything Kayla imagines and teams up for many shoots.
Jewelry was next and if your familiar with Kayla Nichole Photography then you have to know about M and M sparkle . Marilyn Altizer one of the owners of M and M sparkle is a sweetheart and creates the most gorgeous pieces. She created this set just for this styled shoot and then gifted it to Kayla Nichole Keagle owner of Kayla Nichole Photography.
Last but not least a cake was needed so Kayla contacted Rhonda Saunders with Cakes for you by Rhonda. Her cakes are delicious and a go to for Kayla Nichole Photography , Kayla's son which is 2 years old really enjoyed the cake after the shoot & was upset when the cake had to be taken to the venue but Kayla assured him he could have it afterwards.
All the vendors were set and they were ready for the shoot to take place 2/10/19.
When the team arrived to Sinkland Farms and entered the honeymoon suite everyone was speechless and in awe at it's a breathtaking setting. Justine the stylist got Emily ready for the big shoot as her husband Mike checked out Sinkland Farms Brewery and Kayla & her assistant Crystal Cooper took Emily's dress from the Woods own wedding and did some shots of just the dress.
When it was time to start the shoot they stepped outside onto the beautiful farm to find it sprinkling rain. They quickly did some outdoor shots but had to rush to the barn because the freezing rain begun. Their farm shoot turned into a barn shoot which was fine because the barn at Sinkland is breathtaking as well.
Emily is a natural model and  beauty and turned the shoot into a dream and so here is is featured for your viewing.
What we love:
The elegant decor against the rustic backdrop is so perfect for a romantic winter themed wedding in the Virginia Blueridge.
Don't you just love the pine cones and pine that is adorning the cake?
And the twinkling fairy lights along with crystal antique candelabra screams glamour.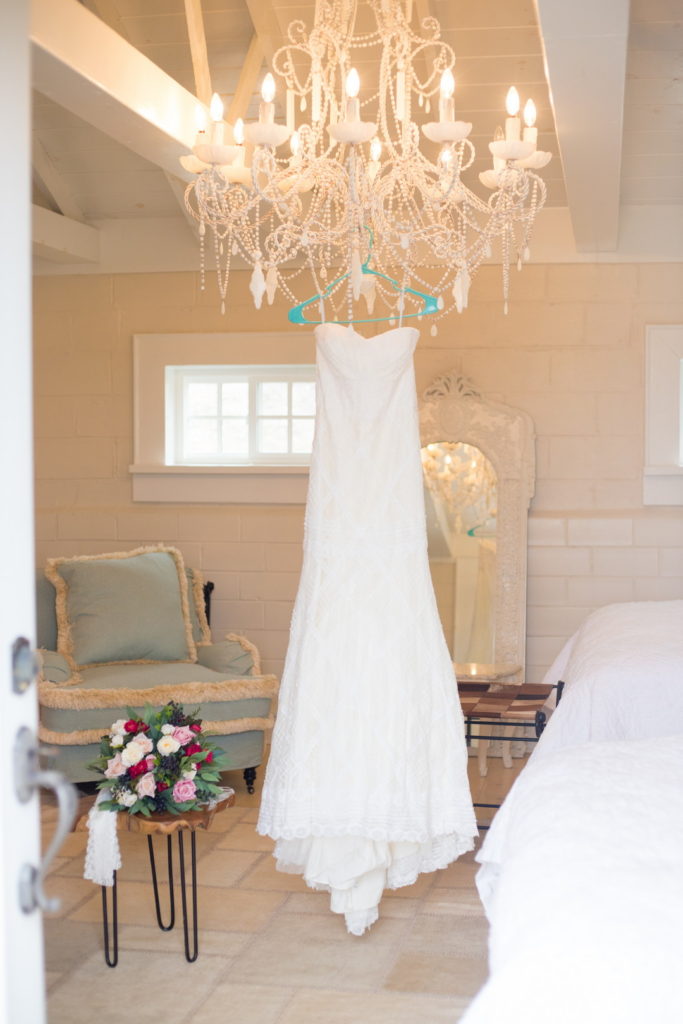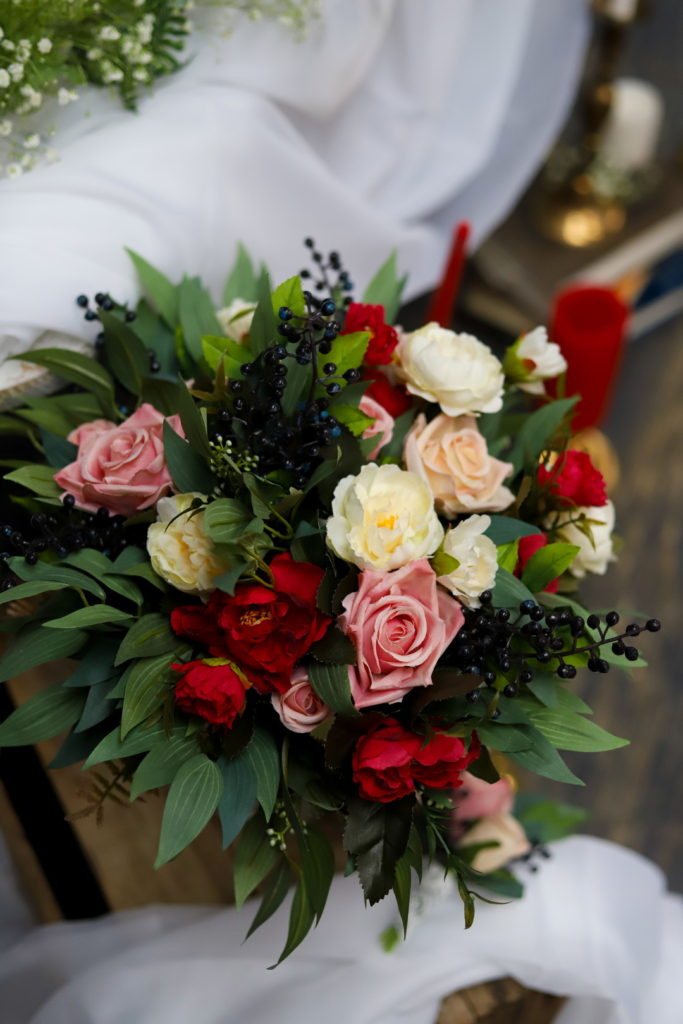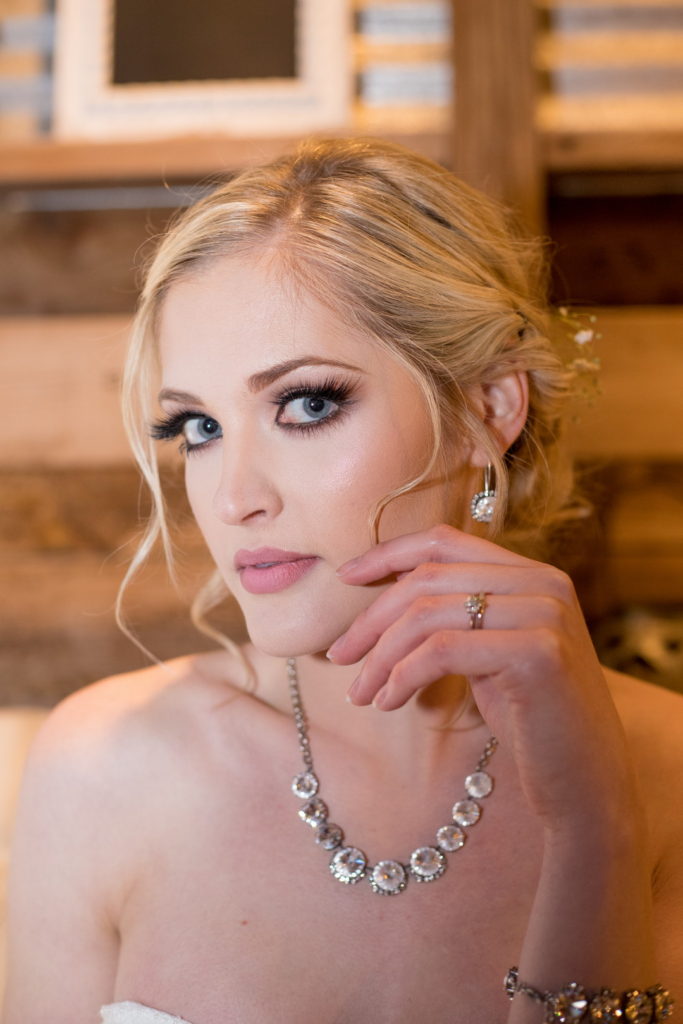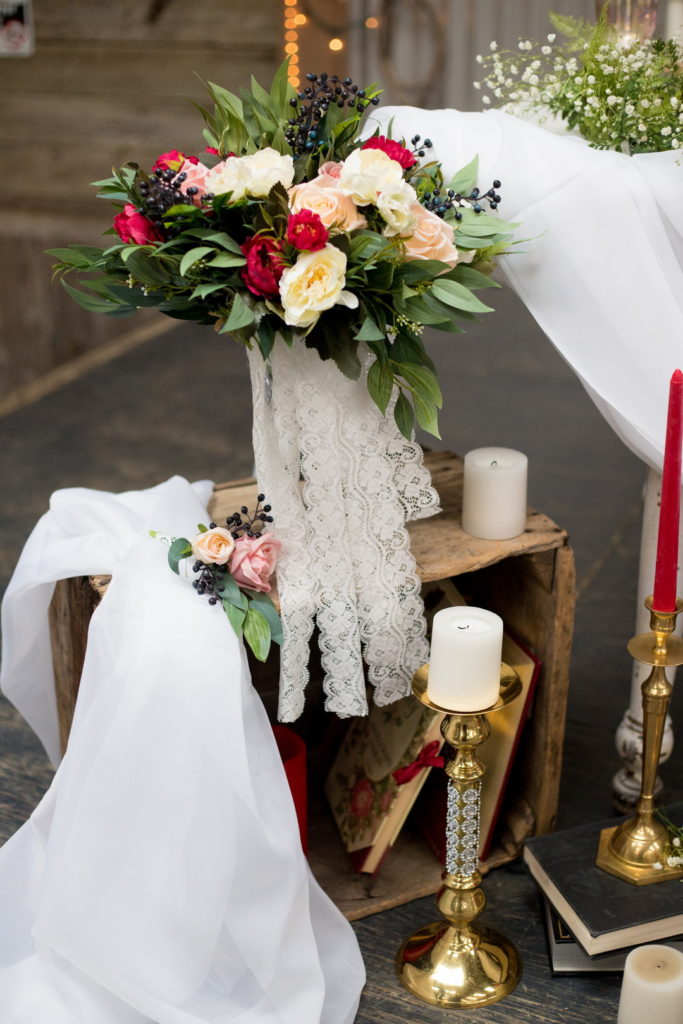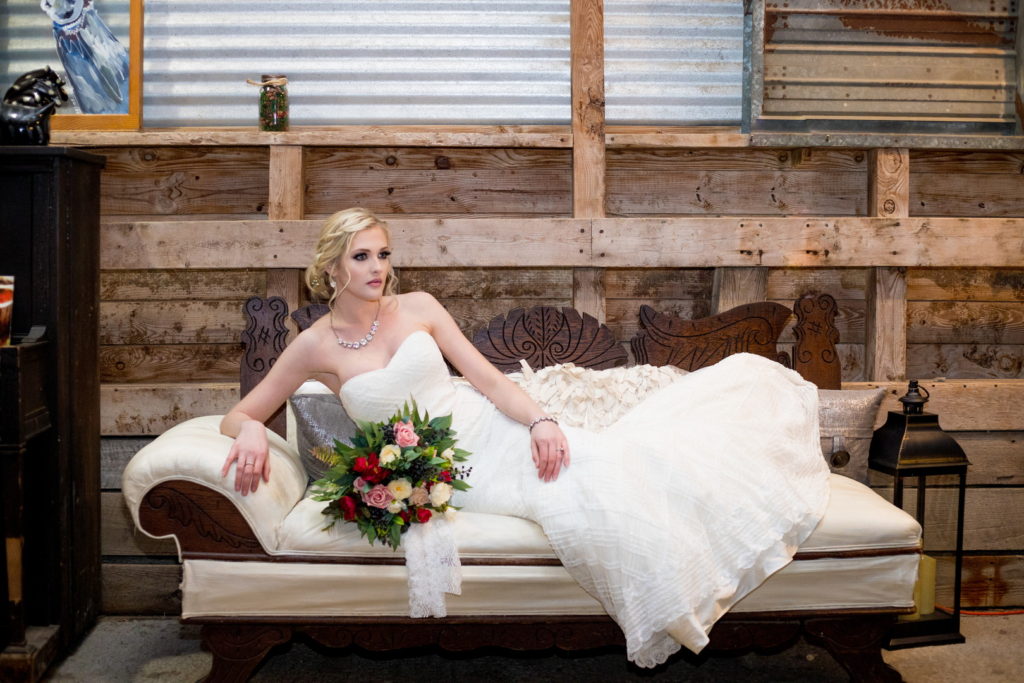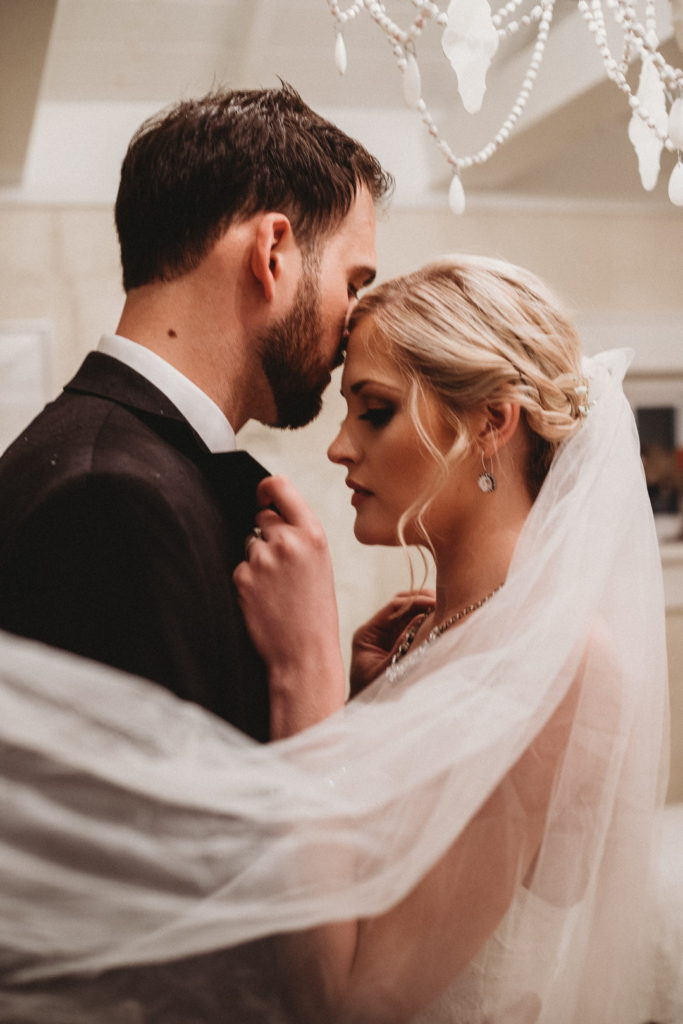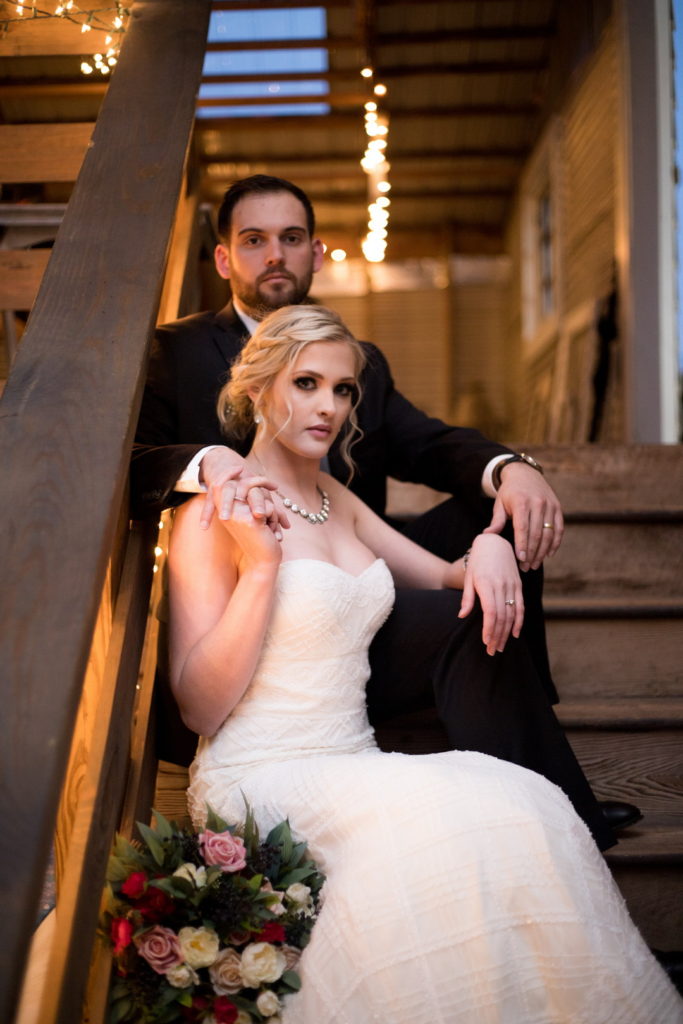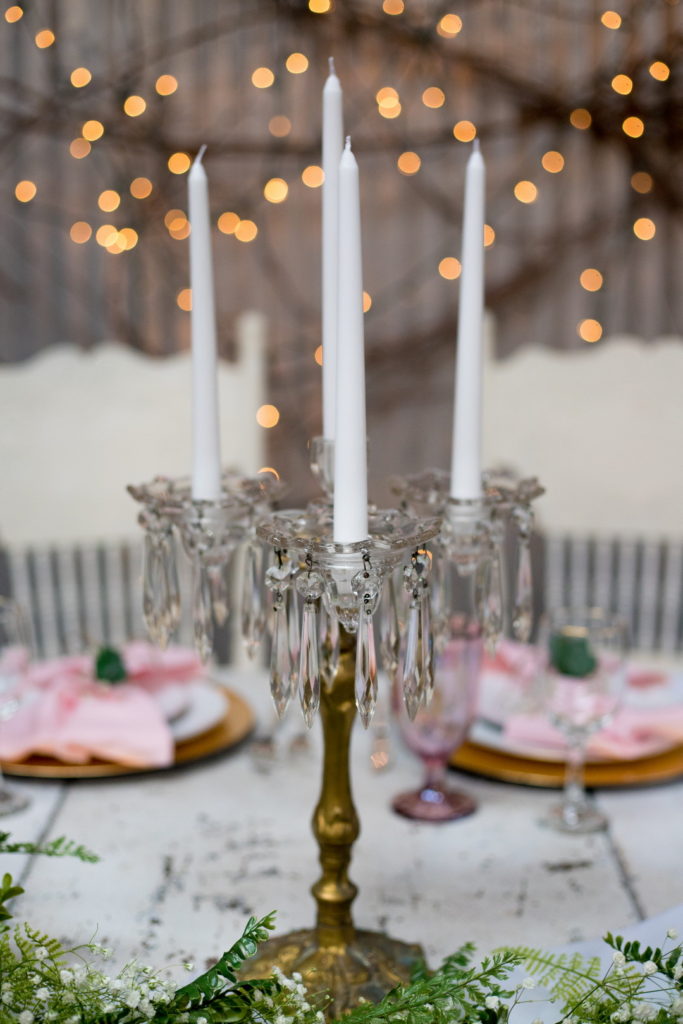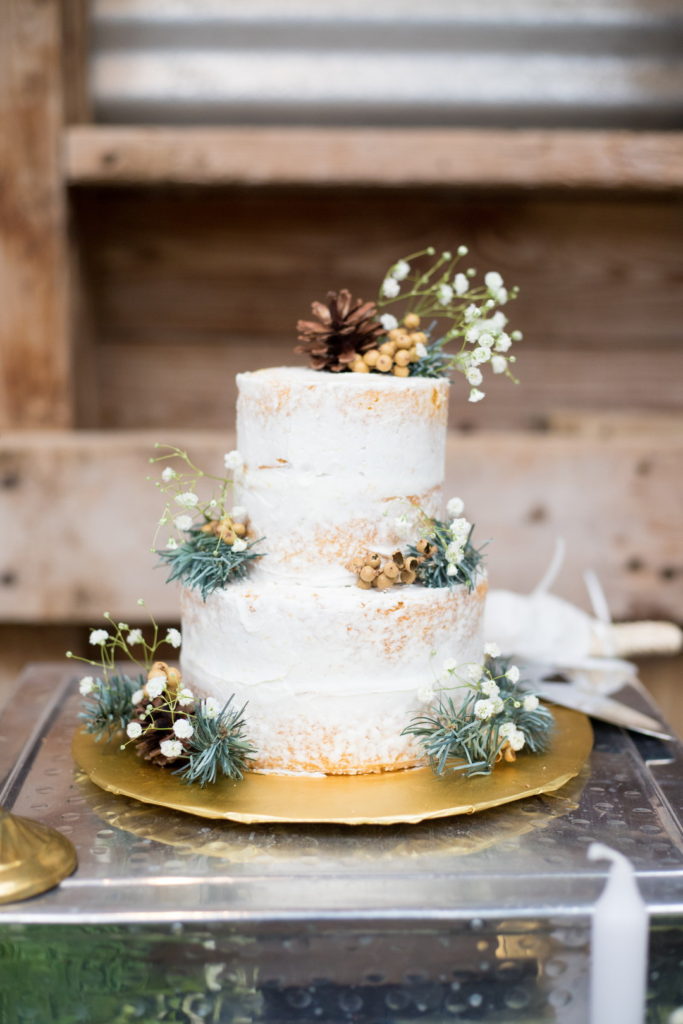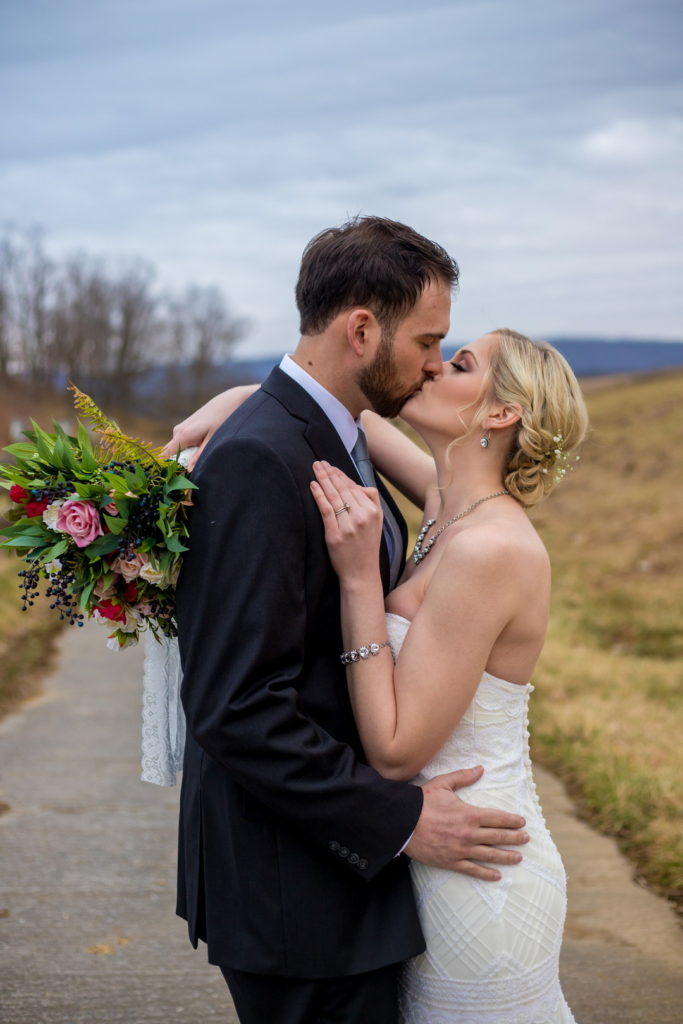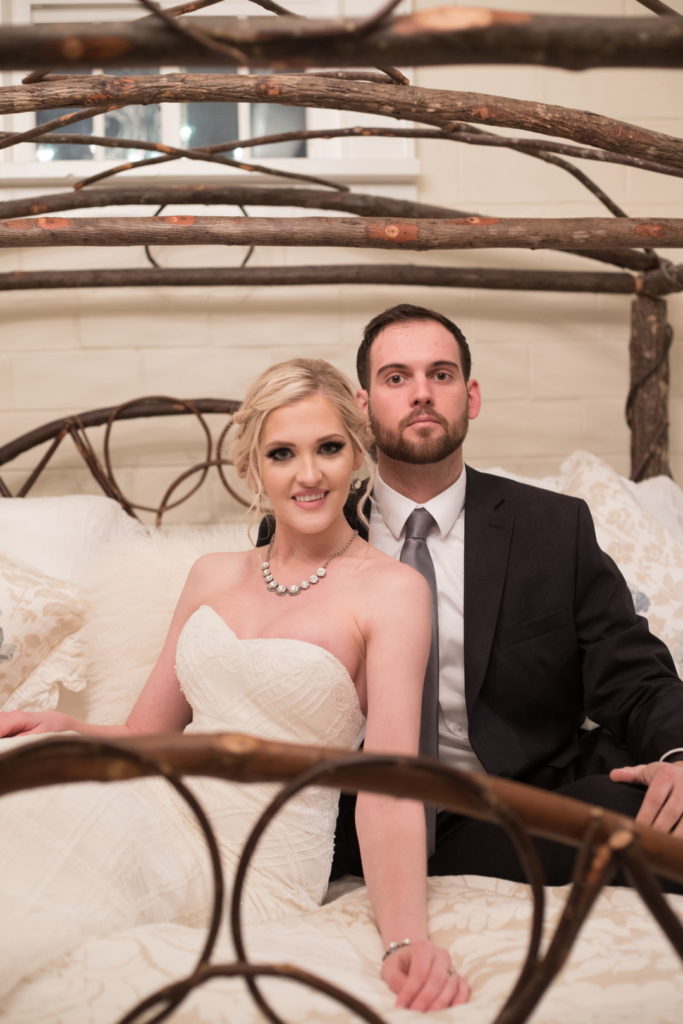 Sources:
Photography- Kayla Nichole Photography – Kayla Nichole Photographer
www.Kaylanicholephotography.com
www.Facebook.com/Kaylanicholephotography
Photographer Assistant – Crystal Cooper
Venue- Sinkland Farms
www.facebook.com/sinklandfarms
Hair & Makeup- The Hot Seat/ Justine Malo
www.facebook.com/justinejettahope
www.instagram.com/justinejettahope
Table design & Flowers – Trademark By B
www.instagram.com/TrademarkByB
Jewelry- M and M Sparkle
Cake- Cakes for you by Rhonda
www.Facebook.com/cakes-for-you-by-rhonda
If you are planning a wedding in Roanoke Virginia, Richmond Virginia, Fredericksburg/Northern Virginia, The  Shenandoah Valley, Coastal Virginia or in Charlottesville Va, we can help with your wedding planning and ideas.