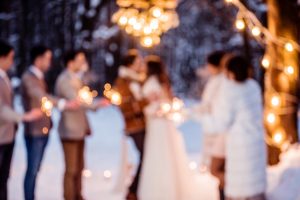 Wedding themes create a unique celebration that incorporate the couple's personalities and styles. And some couples also may choose to theme their wedding for the season…and the holidays near to their wedding day.
While adding festive details adds a touch of whimsy to a wedding day, there is the chance of going overboard. Although if the couple absolutely adores a particular holiday, overboard may be ideal. Some couples in the U.S. even hold weddings during Halloween that incorporate costumes, jack o'lanterns and even bags of candy. They may dress as zombies or other characters for their wedding attire. Although in New Zealand Halloween isn't as widely revered.
A December wedding may nod to the festive holidays, however. But keeping the spirit and celebration of Christmas sacred while incorporating this winter holiday into a wedding may take a little bit of care and consideration.
Don't Go Overboard with the Theme
While, yes, incorporating holiday colors and themes into a wedding celebration may be festive for the month, don't overdue the holiday details.
Embrace the colors of the season, but adding in Christmas colors doesn't mean a complete Kiwi Christmas wedding! Be subtle with Christmas colors. Add festive flowers to bouquets in Christmas colors, but you don't necessarily have to dress attendants in the colors of the season.
You also can create decorations that embrace the tradition of the season. Choose bells, small festive Christmas trees or other festive items.
Feed the Season
For a wedding celebration during the holiday season, choose a dinner option that incorporates popular festive delicacies. Hams, roasts or even a Christmas barbecue on the beach can celebrate your wedding and the season.
For dessert? Try fruit cakes or plum pudding!
Give Notice
Christmas is in the heart of the summer holiday. And most families may make plans early. If you want to host a holiday wedding, send out announcements early! You may even distribute a Save the Date announcement a few months prior to the nuptials. This gives your guests plenty of advance notice ahead of your big day.
The Date is Important
Don't plan a wedding too close to Christmas—or on Christmas. You want a holiday-themed wedding, but you shouldn't host your event on the date. A few weeks before the holiday are still a festive time without being held too close to the actual holiday. If you schedule the event too close to Christmas you may have many relatives and friends who have to decline the invite.
Carols and Music
To get guests ready for the holiday, a December or November wedding may include holiday carols during dinner. Including a few festive songs adds a thematic element to your holiday event…just don't keep the carols on constant rotation.
Parting Gifts
Embrace the gift-giving spirit of the holiday by presenting gifts to guest as they depart the event. This can just be a simple wrapped box of chocolates or a fun themed wedding favor…perhaps even an ornament with your names and wedding date inscribed.
Santa?
While Santa may be a part of many Christmas traditions, incorporating this iconic holiday symbol might not be ideal…unless you're hosting lots of kids at the event. In that case, you can include a wedding Santa and have him present kids with a symbolic token for your wedding. Just be sure not to give away the Santa surprise when promoting your event on social media…keep big holiday details under wraps for guests!
Holiday weddings might not be commonplace in New Zealand, but they can be fun and unique way to incorporate festive traditions with your special day. Just don't go overboard with the holiday details and be sure to give guests plenty of notice…so they don't make other plans during their holiday time off!