Written by: Elisa Yu-Shan Lion (Exceptional Events by Elisa)
Edited by: Glenda B. Winters
A bridal bouquet, like a wedding dress, is both intimate and personal, representing the bride's personality and unique style. It is also the most photographed floral piece in a wedding. The bridal bouquet compliments the wedding dress, debuting when a bride walks down the aisle; it is included in most family photos of the day; it is staged with the wedding invite and rings for the wedding photo album; it is placed on your "sweetheart" table or bridal party table during the reception; and, finally, many brides throw it to wedding guests as a gesture of spreading good luck near the end of the reception.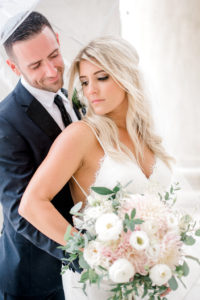 We recently interviewed our dear and talented friend Bryan Swann, EMC, from Karin's Florist / Events By Karin's Florist in Vienna, Virginia (in business since 1956!). I have been working with Bryan for over six years and love creating and designing unique (and exceptional!) designs with him.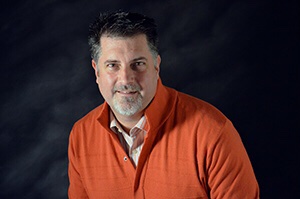 I want to share with you, our reader, highlights of Bryan's globally recognized expertise; he is truly an incredible floral design master. Bryan is currently the Creative Director and Director of Weddings and Special Events at Karin's Florist. He grew up with an exceptional love for flowers due to both grandmothers being avid gardeners (their influence continues to be very strong in his career today). Bryan earned his horticulture degree and went on to study floral design abroad, developing his design style with worldwide aesthetics intertwined throughout. He has worked in the floral industry for over 25 years and has won numerous awards. Most recently, Bryan completed the EMC Program to earn a European Masters Certification in floral design. There are only 150 designers in the world who carry this prestigious certification. Needless to say, he is one of the most sought-after floral designers specializing in weddings and events in our area and beyond! He is a truly talented floral designer and we are so fortunate to work with Bryan regularly when finding the right bouquets and florals for our couples!
Working with Bryan, we put together five steps to follow when designing a bridal bouquet. It is expected that a bride will have already narrowed her choices and preferences and is fully prepared to decide and select the bouquet and additional floral items for the wedding at the initial meeting with the floral designer. A bride is welcome to bring along their fiancé if they prefer to make final decisions together. Here is how to do that successfully, in just a few steps!
STEP 1: Prepare for your consultation. The better prepared you are, the more your floral designer can not only visualize your concept, but most importantly execute it!
Bring the following to your consultation with your floral designer:
 An open mind
 A picture of the wedding dress
 A picture and a swatch (piece of fabric) of all bridesmaids' dresses
 Wedding inspiration boards
 Your opinion on flowers – colors, shapes and flowers you do or don't like
 Your budget – your budget – your budget!!
STEP 2: Identify the bridal bouquets' top elements. There are five overall elements of a wedding every bride should have already identified before scheduling their bridal bouquet consultation. These elements are:
VENUE: Dictates a bride's style. (Ex: Rustic, boho, classic, modern, edgy, etc.)
DRESS: Dictates a bride's fashion style. (Ex: ballgown vs flare, etc.)
PERSONAL STYLE: Reflects a bride's individual personality. (Ex: contemporary, edgy, classic, etc.)
COLOR PALETTE: Determines preferred colors and tones. (Ex: neutrals, primary, pastels, etc.)
FLORAL PREFERENCES: Flowers the bride likes or dislikes. (Ex: must haves or must not haves)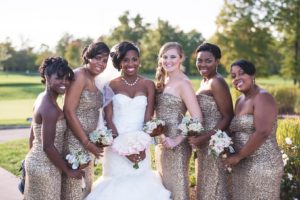 STEP 3: Schedule an in-person meeting with your floral designer. This meeting ensures a personal approach to the design and gives your designer the opportunity to see your inspiration photos, show you his/her ideas, and most importantly see your bridal silhouette. Bryan's Tip: "Any bouquet can work with ANY silhouette. The SECRET is all in the SCALING! For example, if you are a shorter bride, a vertical line or cascading bouquet will make you seem taller; just ensure the bouquet is not too wide."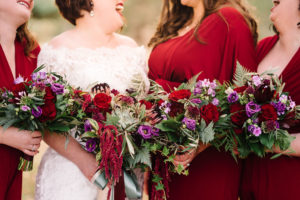 STEP 4: Select your flowers or floral formula. With your floral designer, select the preferred floral formula (type and quantity of flowers to be used) for your bridal bouquet. Follow the selection order below to keep it easy to decide. (Tip: When looking at inspiration pictures before your consultation, answer the questions: WHAT about a bouquet speaks to you? WHY?)
COLOR: Add a POP of color. Aside from selecting your color palette, decide which colors will be your primary, secondary and accent colors in your floral formula.
SHAPE: Select the shape of your bouquet that will best represent you and showcases your personality. These shapes include:

ROUND: A "ball" shaped bouquet.
LOOSE ASSYMETRICAL: Looks like flowers from your garden were loosely gathered, may be hand tied using natural materials or other materials of choice
CASCADE: Looks as if the flowers are cascading down from the bouquet handle. Can be formally shaped (tailored, like a teardrop) or wild & free (loose, like a waterfall).

SIZE: Your floral designer will scale it to compliment your personal silhouette.
IN-SEASON FLOWERS: In season flowers complement your theme (and, can save you money!)
TEXTURE: Florals with different textures add dimension and depth. (Ex: Prickly, velvety, etc.)
SPECIAL DESIGN: You can choose to go with a unique design such as a composite rose bouquet.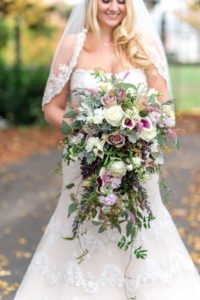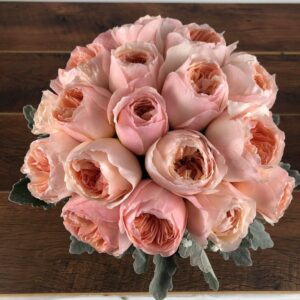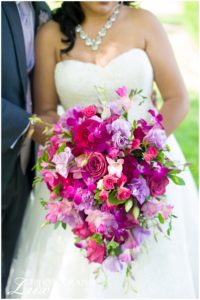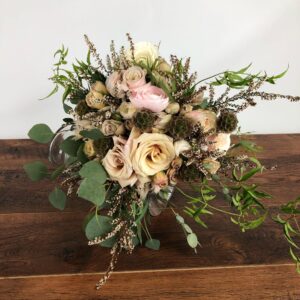 STEP 5: Select unique details to be added to the bouquet, if any. Decide if you wish to include any personal details in your bouquet such as family heirlooms or symbolic elements. Ex: lace from your mother or grandmother's dress, mini bibles, broches, lockets or rosaries.
Finally, Bryan and I would like to share a few closing thoughts as you look forward to selecting your beautiful bouquet and florals.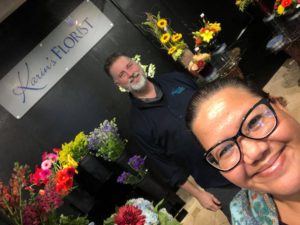 Be honest with your floral designer – especially with your budget. They want your flowers to enhance your beautiful event!
A professional and experienced floral-designer (or any wedding pro, really) will give you honest feedback, and should educate a couple in a professional and kind manner.
Remember, Pinterest is a GREAT inspiration tool. However, it does not generally share pricing or in-season options.
Every floral designer has their own style and way of interpreting an inspiration they might be shown. Give 14 designers the same flowers to work with? They would create 14 different bouquets!
Exactly replicating an inspiration photo shown to them is copying an artist's work without permission and reputable floral designers will not agree to create a copy.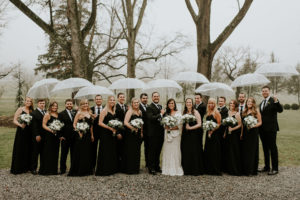 A SPECIAL THANK YOU to Maris Angolia (President and CEO) and Bryan Swann (Creative Director and Director of Weddings and Special Events) at Karin's Florist for their time, hospitality and sharing their expertise with our readers.
Elisa enjoys connecting with others. If you would like to share your feedback or ask for a specific topic, please feel free to contact Elisa at 703-752-6287, or email her at eyushan@exceptionaleventsbyelisa.com .