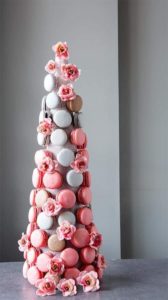 Let's face it: Cookie is the new Cake, and the macaron is that cookie.
    I'm not talking about just any old chocolate chunk, bland cookie.  I'm talking about a cookie that's a work of delicate art in its own right…the macaron.
    Macarons swept onto the social scene as America's next classy gourmet treat while cupcakes slid out of popularity in 2014, leaving many to don the delectibles as 'the new cupcake'.  As cookies started becoming a new wedding trend, macarons quickly and daintifully climbed to the top of that category as the latest and greatest go-to alternative signature dessert.    
   The macaron (not to be confused with macaroon, which is an entirely different dessert) is held beautifully and dutifully in place by a layer of either ganache or cream and is about the size of a pill bottle cap.  In contrast to traditional cookies, macarons are light and delicate and are often colored in varying hues of the rainbow. Pistachio green. Strawberry pink. Coffee tan. Vanilla beige… Often the brilliant colors represent the macaron flavor.  Macarons are an icon of French confectionary expertise. Though originally of Italian origin, macarons made their way to France in the 1500s (via Catherine de Medici, some speculate). From humble beginnings amongst nuns who sold them to sustain an honest living to landmark patisseries putting their own spin on its original recipe, the macaron we know and love today witnessed a very prolific evolution.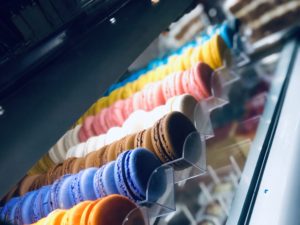 Modern macarons became a popular sweet treat among the French elite, as they were advertised in magazines like Elle, juxtaposed with jewelry and other fine wares.  It is perhaps at this point, the image of macarons as the classy dessert became imprinted into minds across the Francophone and Anglophone worlds.
    Only recently have macarons begun to gain popularity among American consumers and in Virginia specifically, thanks to chefs like Elena Hocking with Macaron Tart.  Having recently traveled to Paris, France only a week ago, I was eager to explore the Virginian take on this Parisian staple sweet treat.  
    As an alternative to the traditional wedding cake, macaron displays are becoming increasingly popular in the Commonwealth, and for good reasons.  Macarons leave less mess, as there are no excess gobs of icing to deal with staining the carpets and slicing isn't an issue. Macarons offer the opportunity for better portion control, and can even double as wedding favors for guests. Also, macarons hold their shape…a huge relief for anyone who has ever had to struggle with maintaining wedding cake integrity during transport.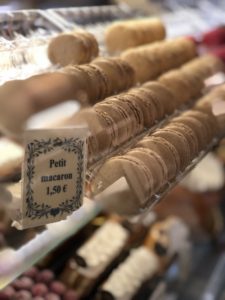 Elena Hocking would agree.  As the President of Macaron Tart, a patisserie (the French word for a cake and pastry shop) in Virginia Beach, Hocking tells me that a lot of her business comes from catering bridal showers and providing macarons for weddings.  Macaron Tart also provides tarts that can be purchased for buffet- style menus.  Elena discusses the versatility of macarons as a wedding component:
     "Macarons can be used as an alternative in traditional cake options or they can be a part of the gift giving to guests (doubling) as favors or as a modern option for the dessert display or buffet."
    Hocking has found a rising niche need within the wedding catering arena, and that is a desire for the real deal macaron experience.  Macaron Tart delivers that full experience, offering both high tea and bridal party hosting at their Virginia Beach location.  Brides-to-be are invited to celebrate their bridal gathering at their location for an informal or formal celebration.  Her business offers bridal parties and classes as well; an opportunity for confectionary fun and camaraderie before the big day.  
   "I found a growing need for couples looking for authentic macarons and are happy to have found Macaron Tart."