The crowning glory of an entire wedding day is, admittedly, the bridal gown. The bride's apparel is the most labored over decision of the whole shebang, and there is a lot of pressure to choose the very best dress. But let's not disregard the impact of the Groom's attire and the balance it lends to the opulent details of the wedding gown; the groom's more understated clothing is often the grounding factor for the whole wedding ensemble. The contrast of intricate lace, beading and damask with strong solid colors and bold fabrics is one of the components of an iconic formal wedding look.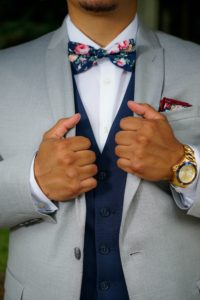 What is your groom style for your Virginia wedding? From formal to tropical, there are countless ways to bring your personal sensibilities into your wedding look, especially with the wide variety of location and scenery options that Virginia has to offer. At a rural mountain wedding you might see the male wedding attendants in suspenders and boots rather than a lineup of formal tuxedos that might be more appropriate in a church, and the Virginia coasts are a great backdrop for light-colored suits or linen pants and Tommy Bahama shirts.
Which suits your ceremony best? Here's a rundown of the basic styles of clothing for grooms and groomsmen:
Formal groom attire could range from a classic black suit to a tux with tails.
A black tuxedo should be worn with a black (or coordinating color) bow tie, white tuxedo shirt and patent leather shoes. This entails a Black-Tie dress code for guests.
Black Tie Optional means wearing a dark suit, black bow tie or necktie, white dress shirt and leather shoes
Creative Black Tie gives some artistic license; a dinner jacket tux, bow tie or necktie, tuxedo shirt or dress shirt, and patent leather shoes. Take the "creative" part and run with it! Any style of formal jacket and tie will go!
Cocktail Attire is considered to be a dark suit, patterned necktie, solid color dress shirt, leather shoes – what you might wear to work or church, jazzed up a bit.
Another option in this category is a formal military uniform. Who doesn't want to shine up those buttons and medals and be presented as husband and wife through an honor guard of sabers! Swoon.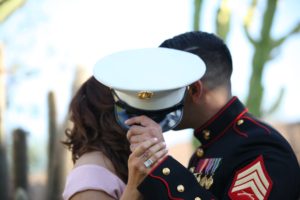 Many wedding couples are opting for less formal weddings to simplify the planning process, reduce costs, and give their attending wedding party the option of wearing something they might be able to actually wear again in a normal life experience. How many of us have a closet full of bridesmaid dresses we paid over $100 for but will literally never be able to use again? Groomsmen who buy suits for wedding duty can just line it up next to the other suits in their closet and their wardrobe has been expanded. (Guys are so lucky!) A decidedly casual wedding wardrobe solves a few inconveniences and can provide a host of fun and laid-back options for the wedding party.
Generally, Casual Attire is considered a suit of any color, other than black, with any combination of optional necktie, solid or patterned dress shirt, and leather shoes. This kind of dress code opens up all kinds of possibilities and can really make your style quirky and fun. Pocket squares, tie patterns, a little steam punk watch chain, and innumerable options for lapel florals can make even the most stoic ensemble quite unique. Have fun exploring the many ways you can tie your theme or style of wedding together with a well-placed trend for the groom and groomsmen.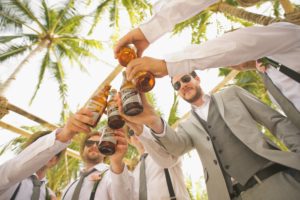 Informal weddings are where things get interesting. A more laid-back event can take on any creative direction! Sometimes weddings are rushed, low-budget, or just not as important to a couple for any number of reasons, so they opt for a smaller party instead of a traditional ceremony and reception. That's the cool thing about weddings: they reflect the love they celebrate. Here are some funky, fresh ways to keep your chill wedding cohesive and memorable!
Get comfortable! Choose a color palette and allow your groomsmen (and bridesmaids!) to wear any style, within reason, in those colors so they can wear what suits them and invest in something they can enjoy wearing again.
Take the guys shopping for new Chuck Taylor's – everyone will match but no one will complain about tight dress shoes that haven't been broken in yet.
Find a signature style move that defines you and incorporate it into the wedding party ensemble to infuse your big day with personal meaning and authenticity. If you love to go fishing, see if your fiancée will let you use fishing flies for lapel accessories; maybe you're the guy who wears shorts all year round? Build a wedding look that includes acceptable shorts. If you hate suits altogether, don't stuff yourself into one to get married! Anything that makes you feel like the best version of YOU is probably your best bet for men's wedding style.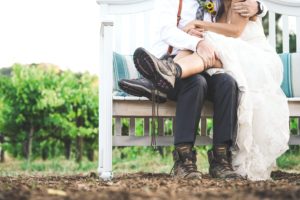 Of course, these are just the classic looks that many grooms ascribe to. One of the most special aspects of a wedding is the personal touch that the bride and groom infuse into their big day to make it truly theirs. Combine a few sharp fashion moves with the overall style you're going for and make the look all your own; you don't have to be a celebrity to rock a velvet cummerbund if that's your thing. Is it 2019 or not, anyway?! As always, be authentic and most of the rest falls into place. Just make sure you don't surprise your fiancée on her wedding day by wearing Star Wars costumes if she really won't be amused by it… other than that, go for it!