By Rita Pike
A featured wedding in the current issue of Virginia Bride Fall 2021
BRIDE: Molli Drook, 33, Administration
GROOM: Tyler Free, 31, Finance
DATE: September 18, 2020
LOCATION: The Winery at Bull Run, Centreville, VA
NUMBER OF GUESTS: 70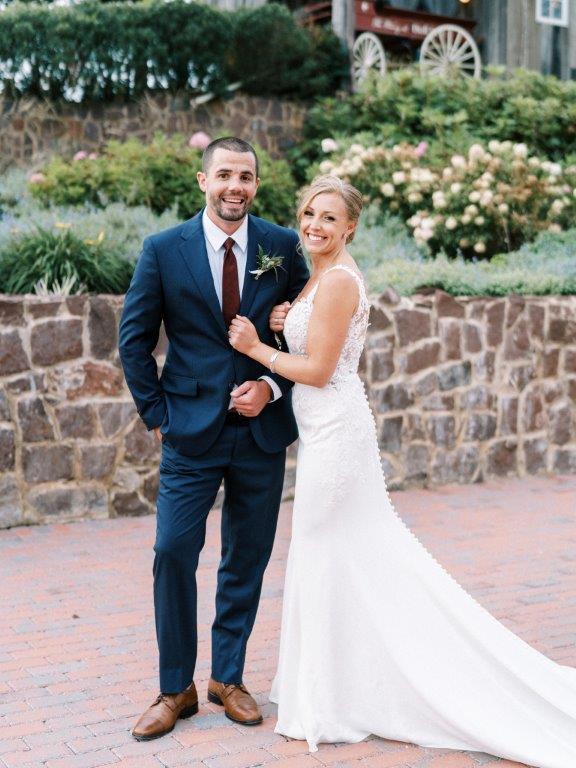 Molli and Tyler met through a mutual friend. After dating for a while, falling in love, and knowing they wanted to marry, Tyler popped the question. "I need to start by saying my husband thinks everything is uncomfortable and everything is awkward, so it was a very quiet and intimate setting in our living room. I came home from work on a Friday, and it looked like there was an explosion of rose peddles everywhere and he said "So . . . how do you feel about getting married?" and I said, "Yes."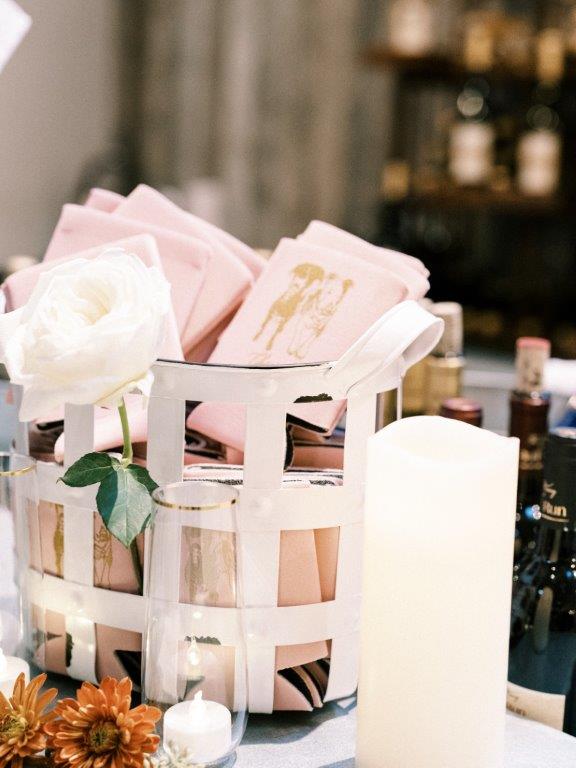 Molli is a planner, so she opted to do all the planning herself. "I am super OCD and I hate depending on other people. I'm one of those people that if something needs to be done, I'll do it immediately because I hate putting things off till last minute. So, it was just safer to do it all myself. It was actually easier than I thought it was going to be."
Molli knew she wanted fall colors for her special day and opted for a rustic, Boho chic style for the day. "My colors were dusty pink, rusty orange, blush pink, white, burgundy, and peach. Living in Florida, I feel like everything is full of color. I am from Indiana, so being from the Midwest, I wanted to tie in some natural and rustic elements. I loved the rustic yet chic appeal of the winery. Being drawn to the florals, I chose an earthy floral print for the bridesmaid dresses and used this as a color palette for my décor and flowers."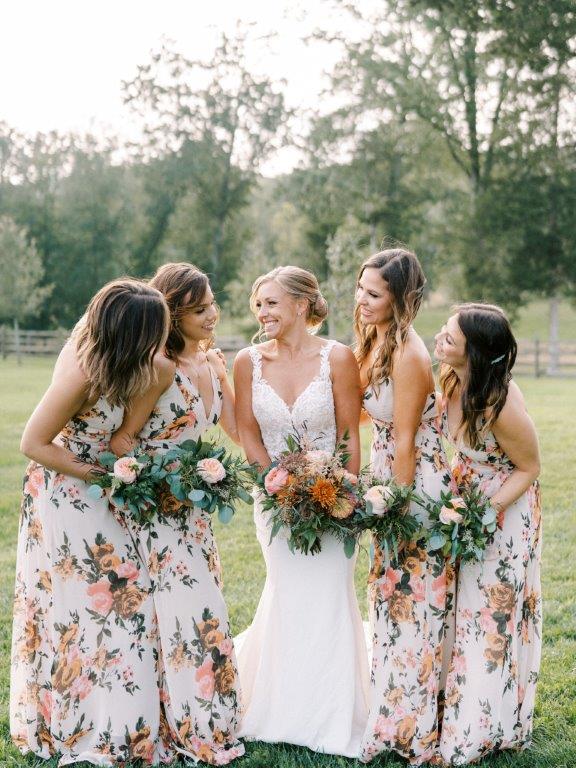 Molli chose a white, elegant, form-fitting V-shaped dress for their big day. "It had a modern lace pattern, mixed with a sleek and chic crepe bottom. It had a long lace train that matched the straps and a keyhole back. The dress was made by Stella York, purchased from CC Boutique in Tampa Bay, FL. I chose not to wear a veil, and my shoes were Everafter Embellished Block Heels by Badgley Mischka in ivory. I wore a Tiffany's bracelet that my husband had provided me as my wedding gift. And I wore a hummingbird bracelet that belonged to my grandmother. I chose stud earrings which were part of a 2 for $25 deal at Dillard's."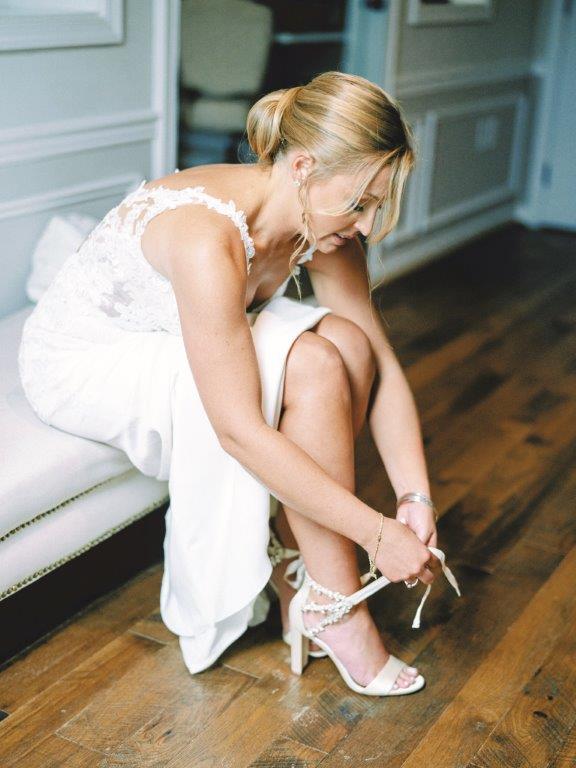 Molli had four bridesmaids who wore long, wrap-around, floral maxi dresses that tied at the hip. "The dresses were a beige color covered in an earthy, fall floral pattern with orange and pink flowers. The designer was Vici Collection."
"The groom wore a custom navy-blue suit from Joseph Abboud with burgundy silk on the inside of the jacket. He also had a white button down with a burgundy tie, brown belt, and brown shoes. The groomsmen wore a navy-blue suit, with a white button-down shirt, brown belt, and brown shoes with no tie."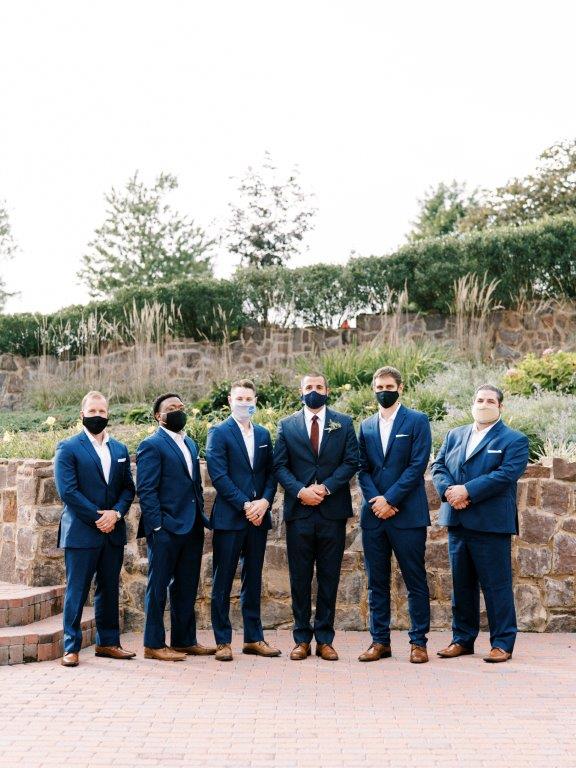 The couple opted to do photos in a few different locations on the big day, capturing the whole experience as best as photos can. "We had a photographer at my mother-in-law's house with me and the bridesmaids, then we had another photographer at my brother-in-law's house with the groom and the groomsmen. We then all met at 4:00pm at the winery to take bride and groom pictures, followed by pictures with the wedding party. After the ceremony, we took pictures with the immediate family while the other guests went to cocktail hour. I chose Hana because I loved the lively and natural warmth of all her pictures. I liked how they were not overly edited, and the colors were clear, not too filtered, or dull. She was also so sweet and pleasant when I spoke to her. I knew she would be a great fit. I explained my budget to her, and she was willing to work with us. She offered us a discount that she was going to be running just to get the price where we wanted it. Planning a wedding can be so expensive, so when you have someone who is willing to work with you and negotiate, that to me is a sell. I was 100% sold."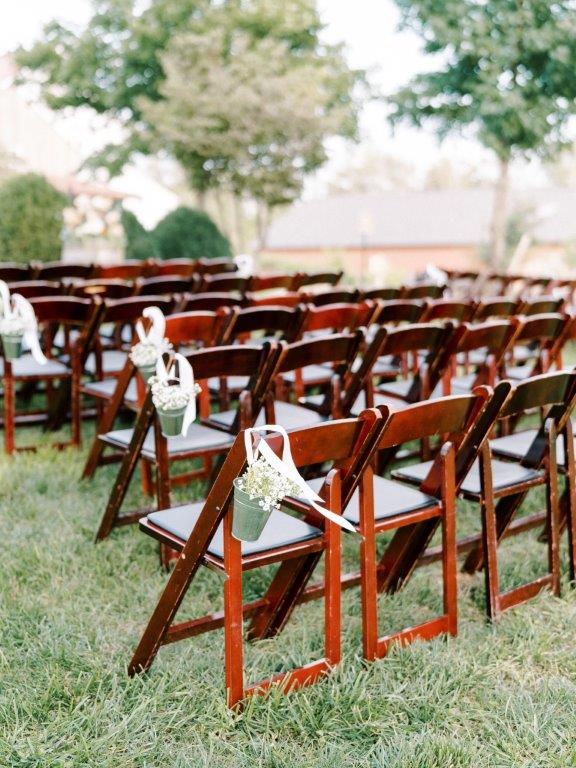 The ceremony took place at a vineyard and horse farm. "We had four wine barrels, two at each end of the aisle with really big bouquets on each. The aisle was lined with tin buckets that had baby's breath inside. We stood on stone ruins from the historic Hillswood Mansion to say our 'I do's.' The sun was setting so we had the most beautiful ceremony."
They chose a naked, two-tier vanilla cake with fresh strawberries and served an assortment of mini Bundt cakes in vanilla, lemon, blueberry, chocolate, and white chocolate raspberry. Their favors included a fun donut wall which guests could choose donuts from to take home.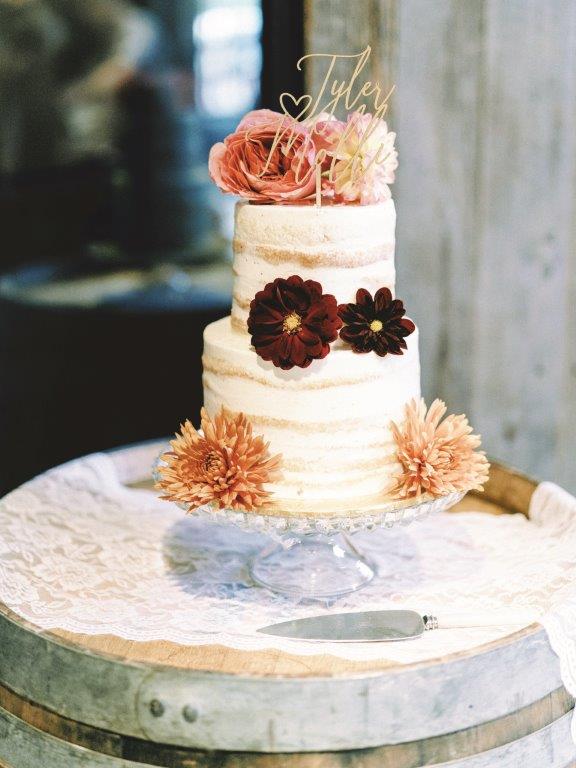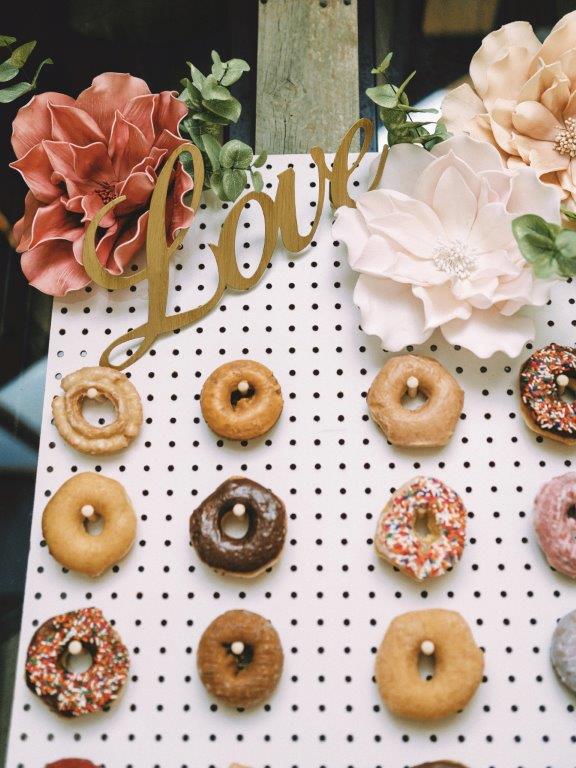 CREDITS
CEREMONY AND RECEPTION SITE: The Winery at Bull Run, Centreville, VA, 703.815.2233
PHOTOGRAPHY: Weddings By Hana, Haymarket, VA, 703.200.1031
OFFICIANT: Davyd Jones, Fort Wayne, IN, 765.729.9114
GOWN: Stella York gown from CC Boutique, Tampa, FL, 813.877.2410
SHOES: Badgley Mischka, badgleymischka.com
MAKEUP: Jacob Thorne, Centreville, VA, 315.528.6131
BRIDESMAID DRESSES: vicicollection.com
FORMALWEAR: Men's Wearhouse, Tampa, FL, 813.872.6686
INVITATIONS: zola.com
FLOWERS: JP Wedding Flowers, Haymarket, VA, 571.212.5190
CATERING: Rochelle Myers Catering, Leesburg, VA, 703.791.9328
MUSIC: Jake Richie at Day Dream DJ, Centreville, VA, 540.341.7072
CAKE: Hallin Halls Pastry Shop, Alexandria, VA, 703.768.9643, & Nothing Bundt Cakes, Fairfax, VA, 571.234.5334
FAVORS: Texas Doughnuts, Centreville VA, 703.543.8343, & koozies from totallypromotional.com
TRANSPORTATION: Uber and hotel Shuttle ACCOMMODATIONS: Hyatt Place Chantilly, Chantilly, VA, 7
If you are planning a wedding in Roanoke Virginia, Richmond Virginia, Fredericksburg/Northern Virginia, The Shenandoah Valley, Coastal Virginia or in Charlottesville/ Lynchburg Va. we can help with your wedding planning and ideas.