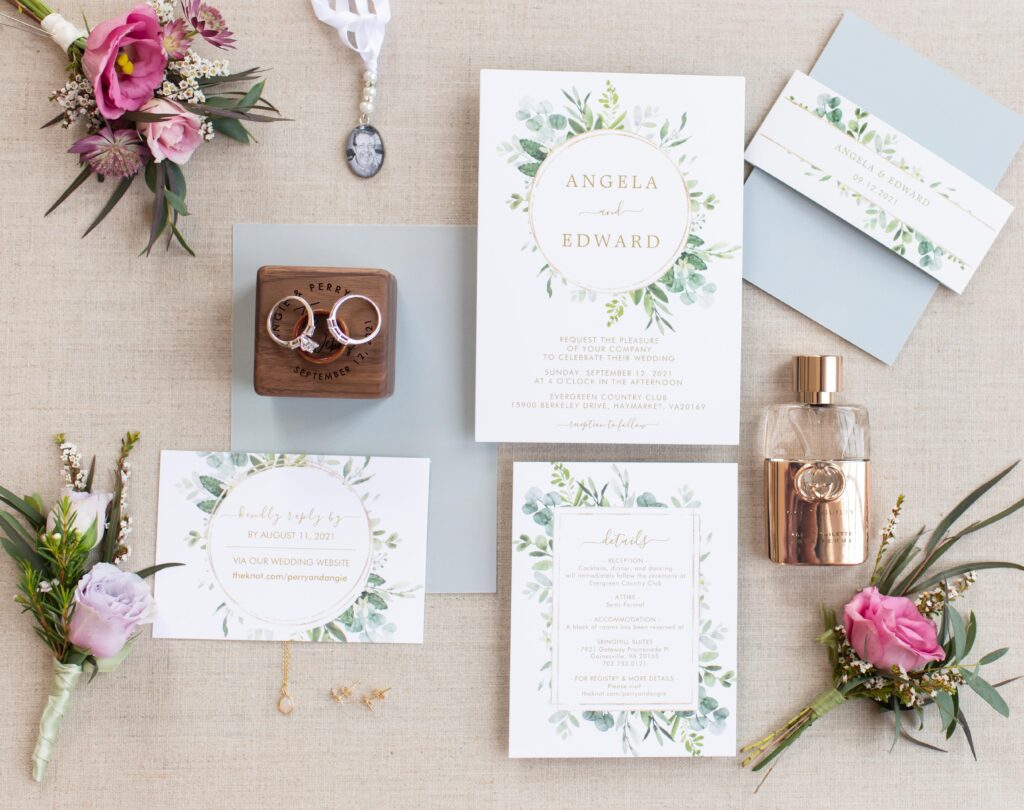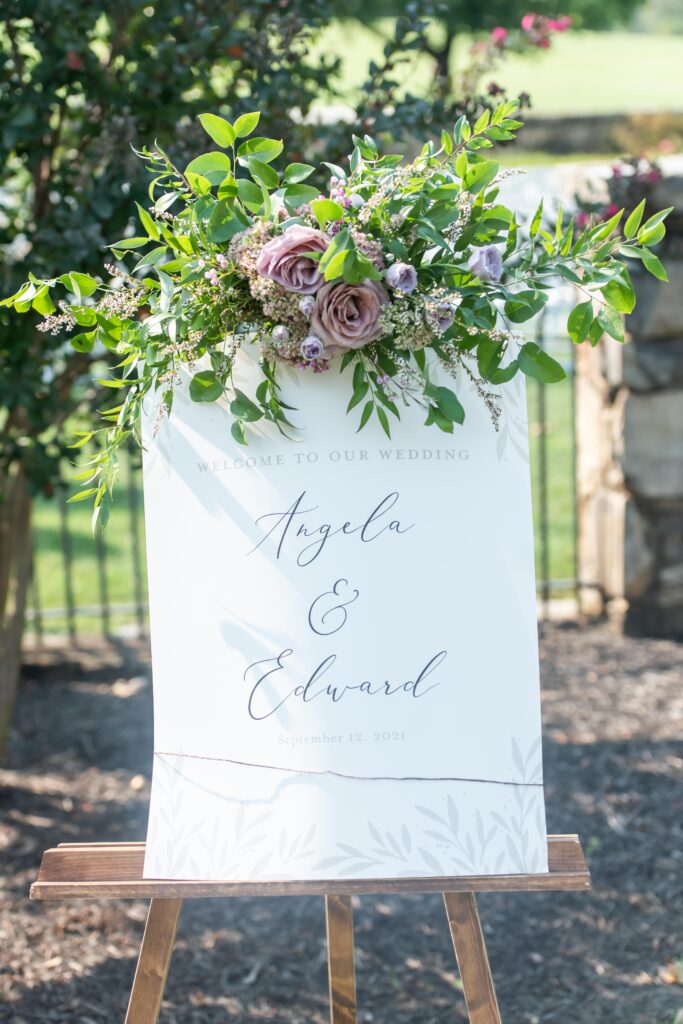 This week's real Virginia weddings love story comes from mutual connections. "Perry and I first met at our mutual friend Michelle's (one of the bridesmaids) house for a Taco Tuesday in 2014. We both had friends in the same circle so we occasionally saw each other. I was actually living in Arlington and working in Rockville when my father passed in June of 2016.
"At the same time, Perry had just gone through a break-up and was about to leave for a year of training with the Navy in Illinois. I had moved back home to Manassas to be with my mom, and he only had a month or so until he was going to leave. All of this somehow started our relationship, because he reached out to me to see how I was handling everything and to hang out. While it's not that exciting of a story, it reminds me that great things can come from bad times."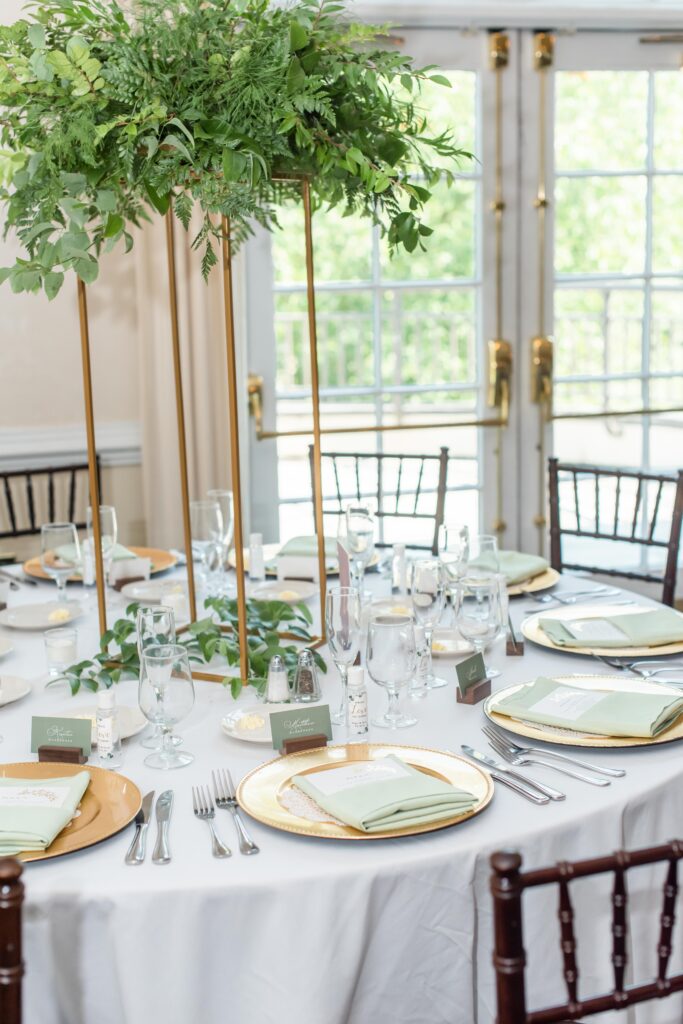 Angela says, "I don't know if we actually had a true 'first date.' The first time we hung out was when he asked me to go to Walmart to get fishing supplies. Our relationship really grew from friendship. We stayed in touch while he was in training in Michigan and I planned his coming-home party when he return in 2017. When I saw him, things just clicked for both of us and fell into place like they were meant to be."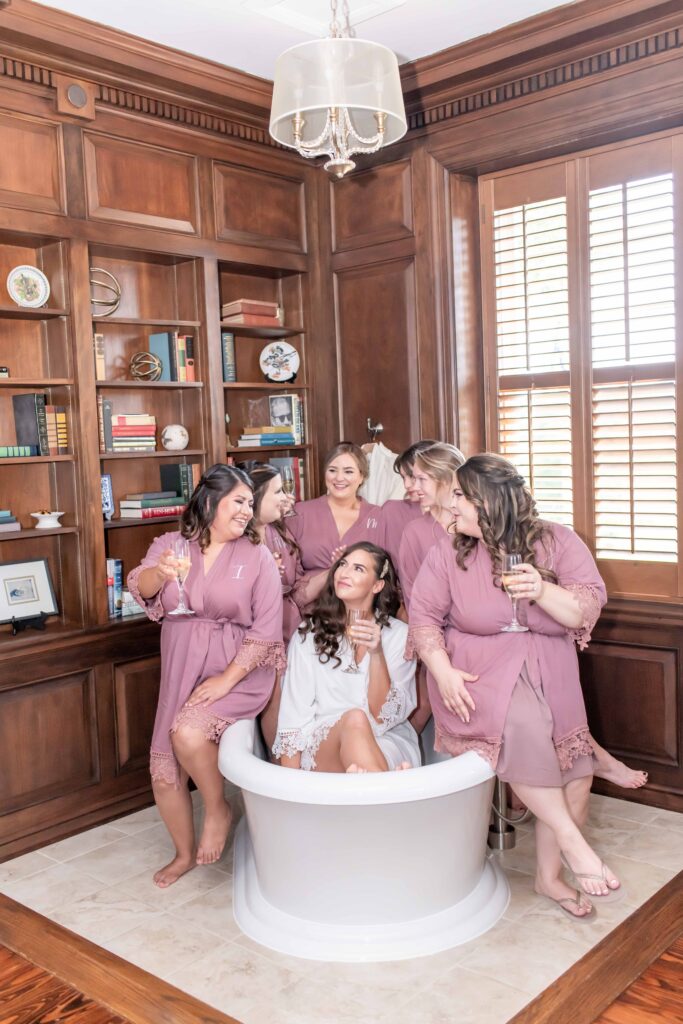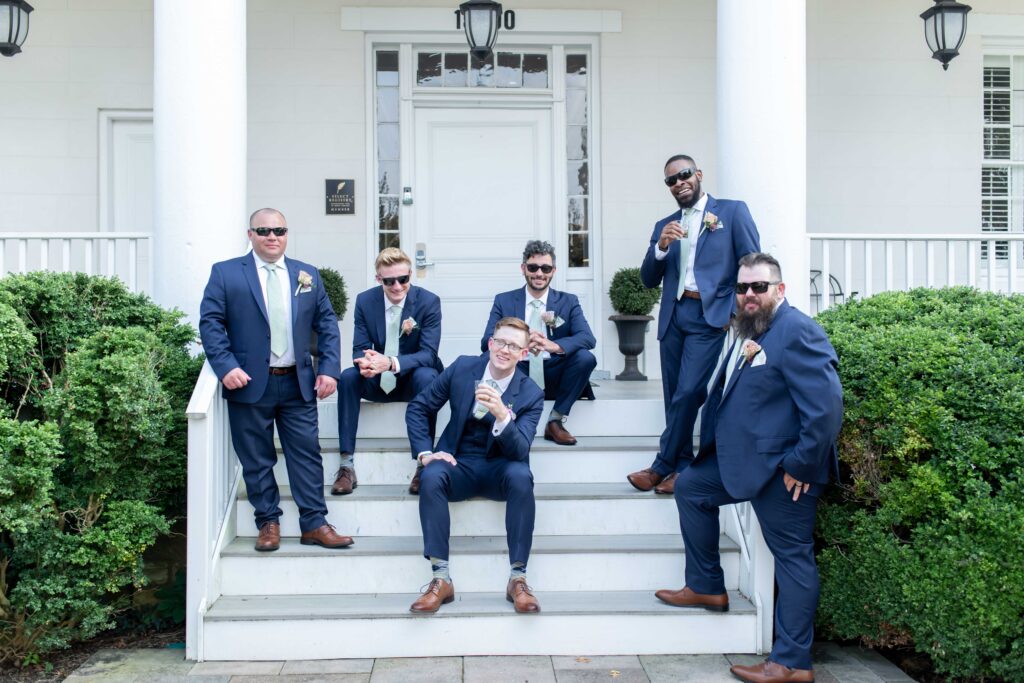 The Scoop
Bride: Angie, 30, Capture Manager, ECS Federal
Groom: Perry, 29, Engineer, TechUSA
Wedding date: September 12, 2021
Number of guests: 130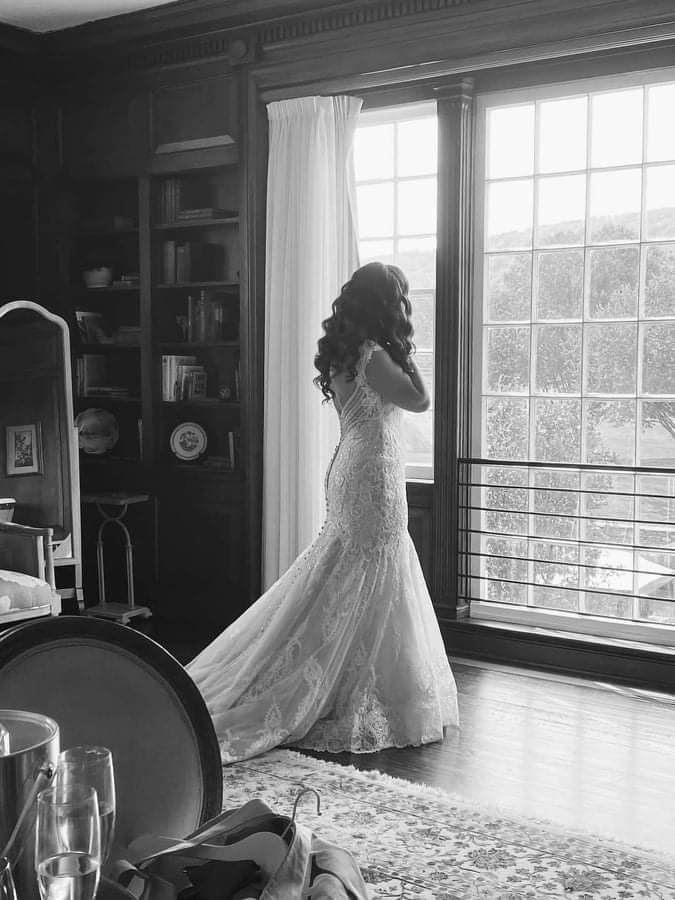 "With COVID, we had things up in the air for a little while. We hadn't gotten to see many of our guests in a long time. What we focused on was making things as easy, stress-free, and fun as possible for our guests. I know a lot of people say that the day is about the bride and groom, but with so many limited chances for family and friends to get together over the past year and a half, we wanted it to be a celebration for everyone.
"We did serve beer from our favorite brewery in PA called Troegs. This was the first planned trip we took together as a couple, and we love beer, so it's always been kind of special for us. The beer was the Perpetual IPA, both a favorite of ours, and it has the infinity sign on the label, which was a nice touch for the wedding."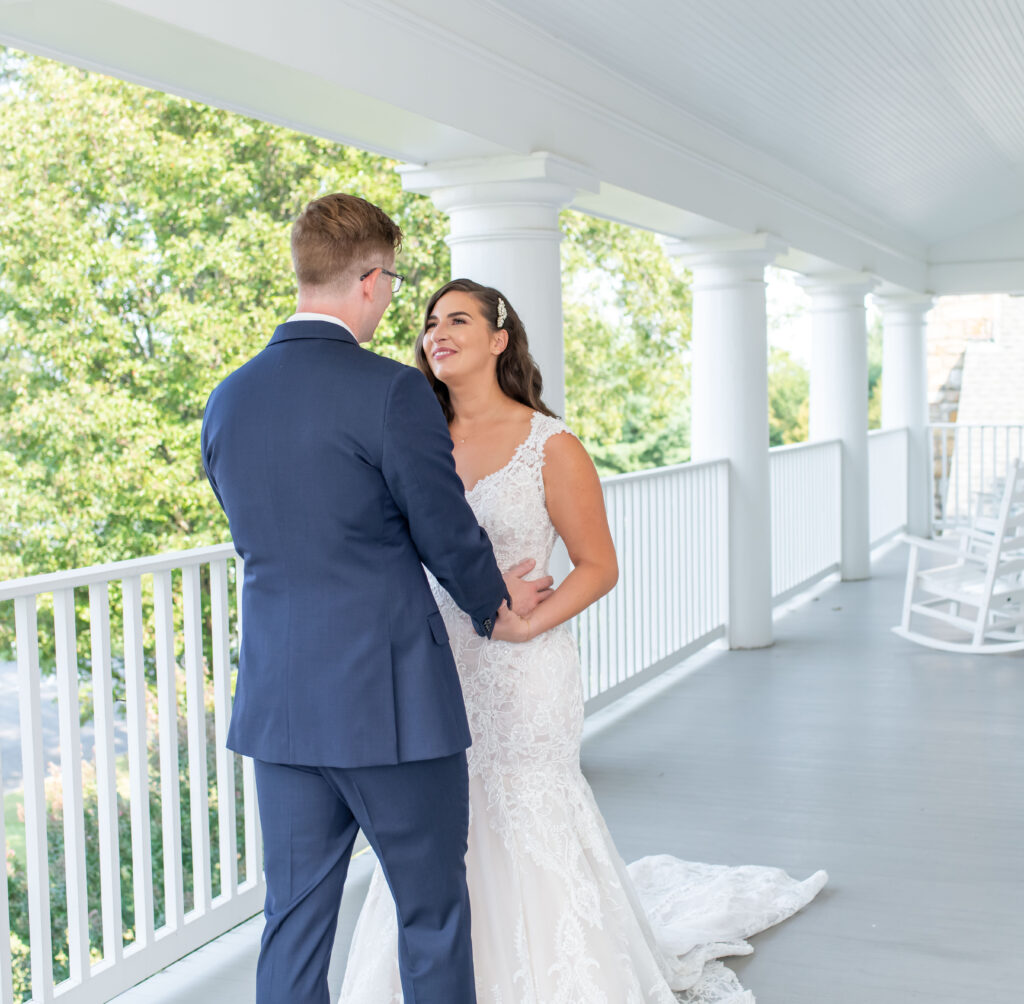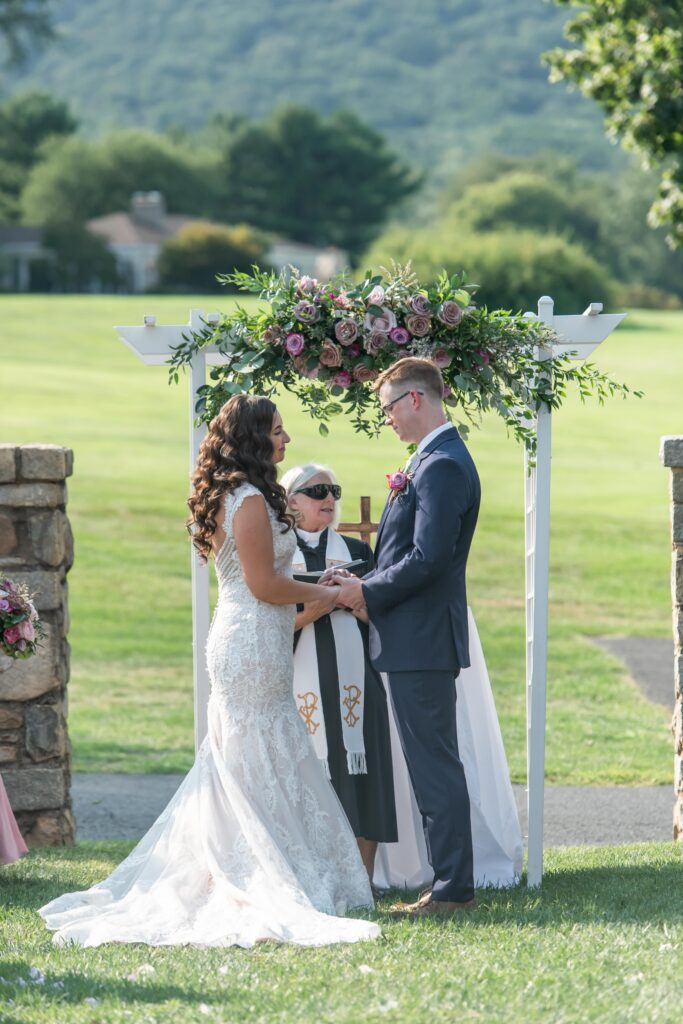 Angela's dress was designed by Allure, "[with] a mermaid style with cap sleeves. It had white lace with a champagne fabric underneath. The back had beautiful beading, which is why I chose it, and also a lace train. I would describe it as romantic. It showed off my curves, without being revealing, which was a perfect in-between for me.
"My shoes were from Charlotte Mills and were the Meghan Pearl heels. Very pretty and with a thicker heel so I had some support. I didn't have any issues with them before the wedding, but I guess standing for however long during the ceremony just really killed my feet. Would definitely not recommend them.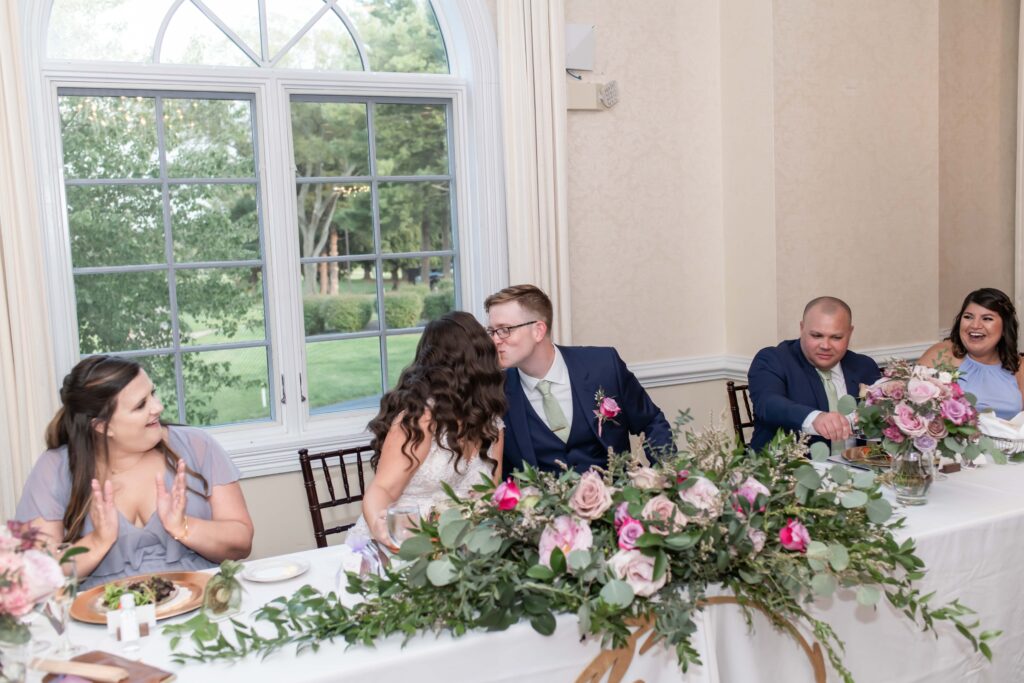 "The jewelry I wore was all jewelry Perry had gotten for me throughout our relationship. This included gold opal and diamond earrings he had gotten me for my birthday, a gold opal pendant he had gotten me on Valentine's Day, and a gold double-chain bracelet with a pearl, which was his wedding gift to me. The opal is my father's birthstone, so it's really special to me and means a lot that he has gotten me jewelry to remember him by."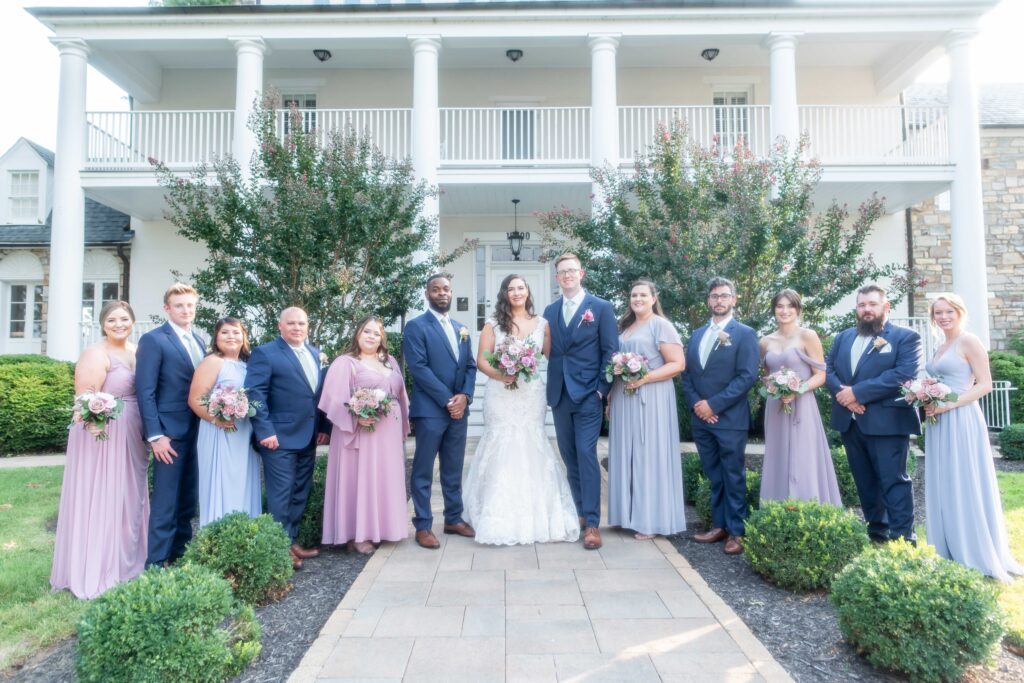 "Our color palette was primarily greens and white with pops of varying shades of mauves and lavenders with gold accents. I did not want to go with two or three very specific colors to be overly matchy or too feminine."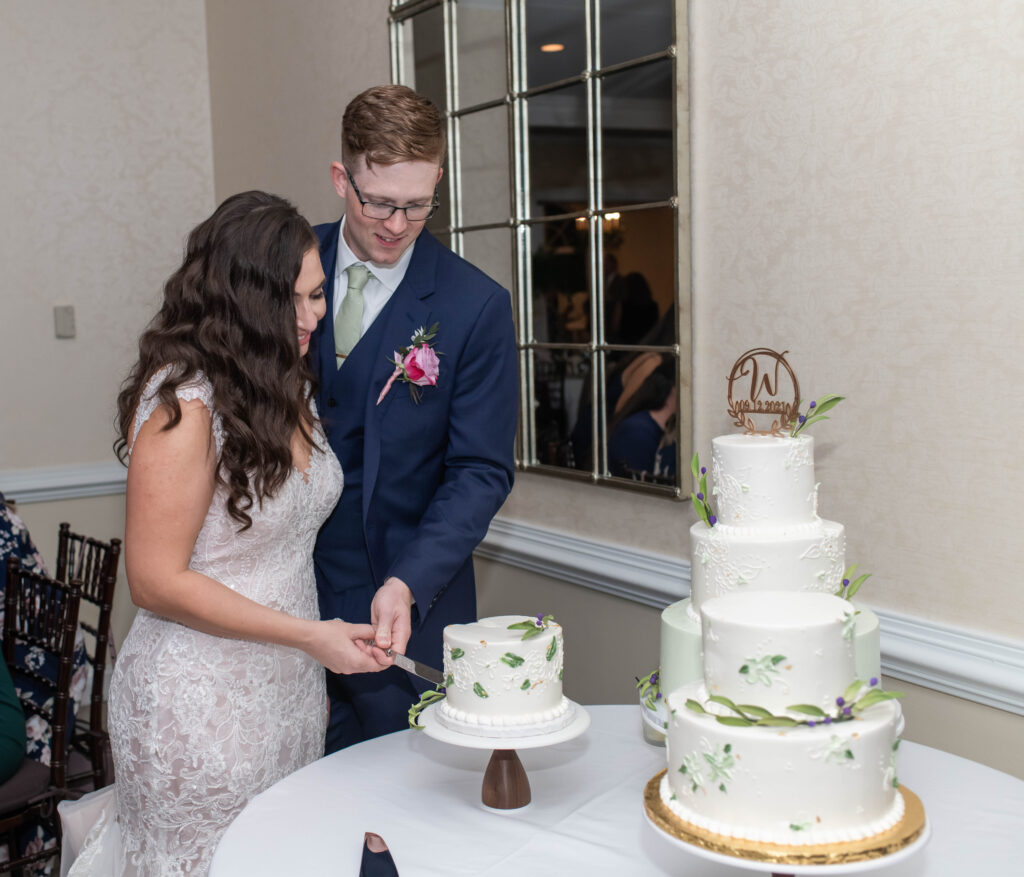 "Being able to have the ceremony, cocktail hour, and reception all in the same area was a big reason why we picked Evergreen. It is also in a beautiful location with the mountains in the background, old stone walls, and a beautiful, old inn. We were able to rent out the entire inn so family and friends from out of town could stay the night before and the night of to make things easier and less stressful for everyone involved.
"We also loved that they took care of all of the food, alcohol, a majority of the décor basics (ex: tables, chairs, and linens), day of coordinator, sparklers, and the set-up and clean-up of everything. This made our vendor list a lot smaller, easier to manage, and so much less stressful."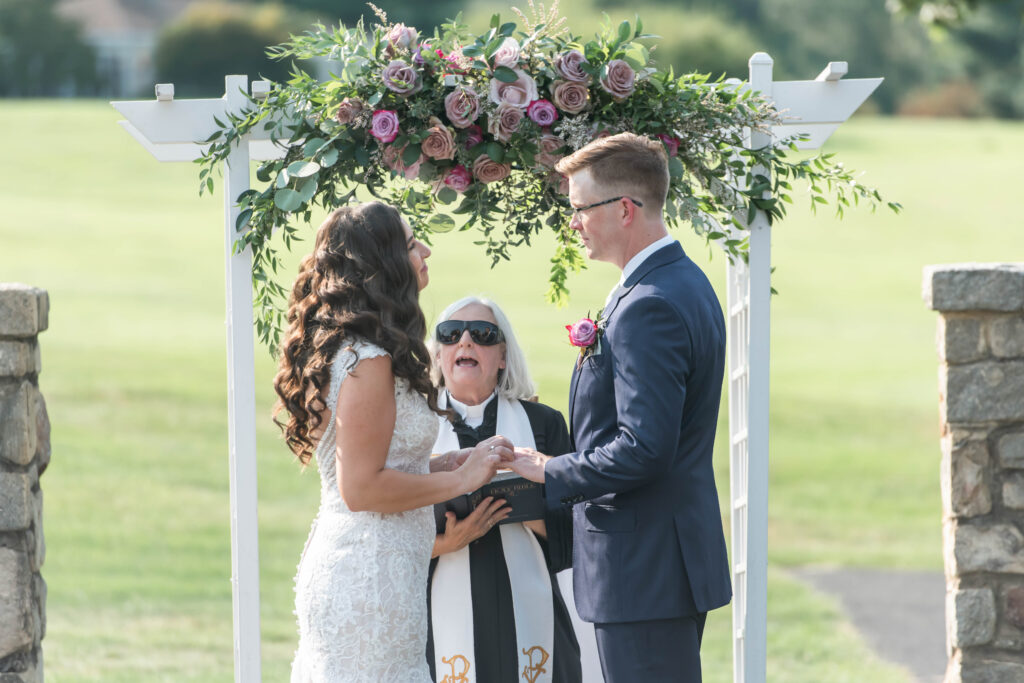 For their special day, Angela and Perry had Pastor Kathleen Monge officiate their wedding. "She is special to both of our families, though we didn't realize how much so until after we were engaged. Perry's family used to attend the Paris UMC she served at and she actually baptized both Perry and his sister Rachael. She also officiated the second wedding of his great grandfather while he was in a nursing home. My family attended the church she went to later on, called Dunn Loring UMC. I was her acolyte and also went through confirmation with her. She also officiated my Aunt's memorial service and was very close with my grandmother. She performed our marriage counseling and, overall, has been in our families' lives since the '80s. We made a sign and put this next to the memorial table for us."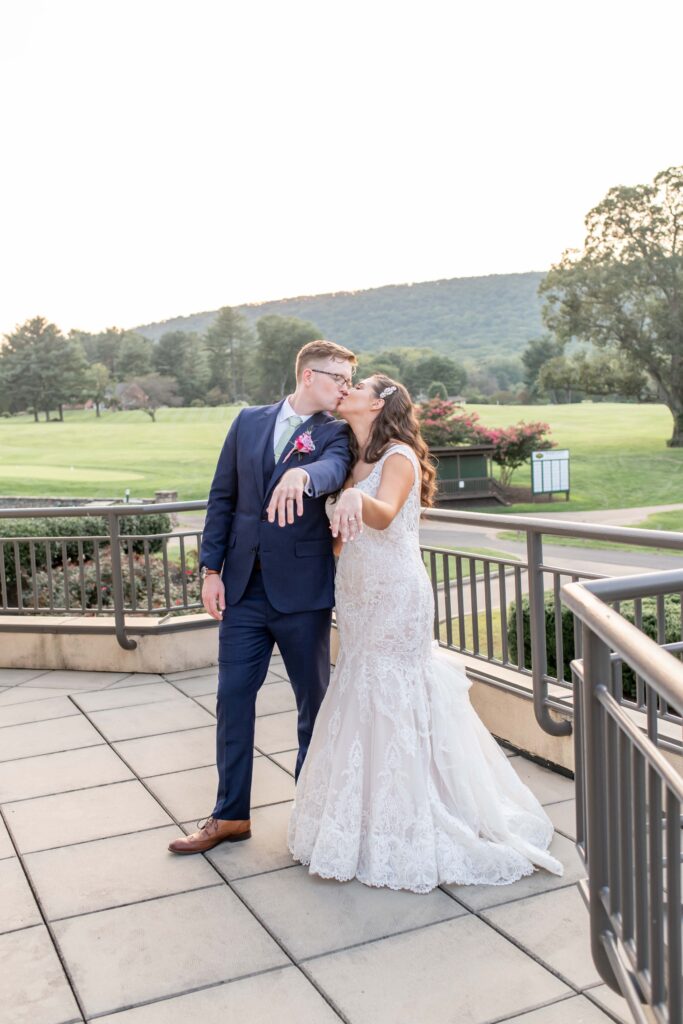 The day was described by their florist as having a garden-style theme. "I think it describes our décor well because it's a mix of classic, modern, rustic, and romantic elements. Evergreen has beautiful gold chandeliers in the cocktail hour and reception areas. Our florist did an amazing job wrapping greenery around them and the cocktail tables to give it a rustic and romantic feel. We added pops of modern colors, like lavenders and mauves, with the flowers, but kept it classic with a majority of greenery and white flowers. We also used walnut wood card holders, cake stands, and signs that gave a little bit of a rustic feel, while still keeping it clean and classic."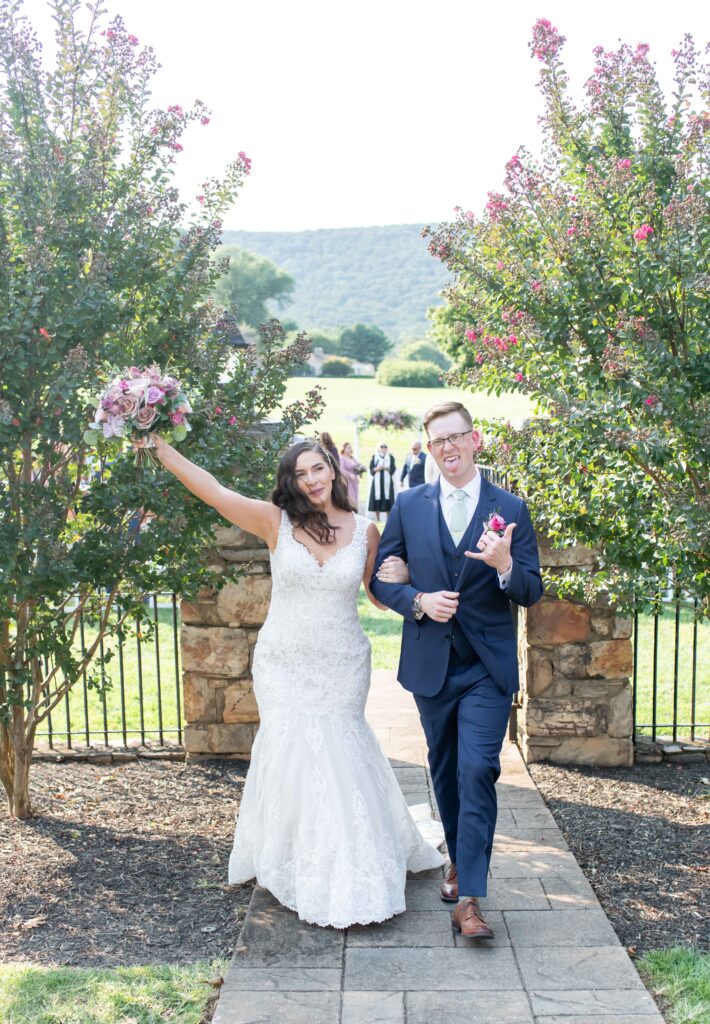 Angela leaves fellow brides planning their day with these thoughts: "Just like everyone tells you, the day goes by super-fast. Soak up each moment and try not to worry. Everything will come out beautifully."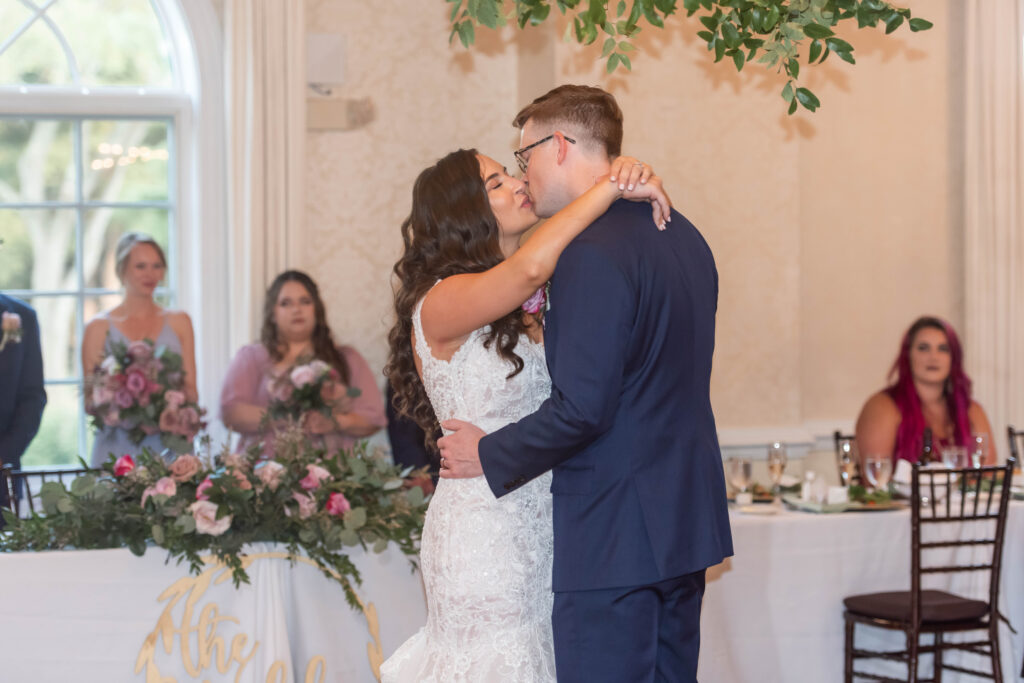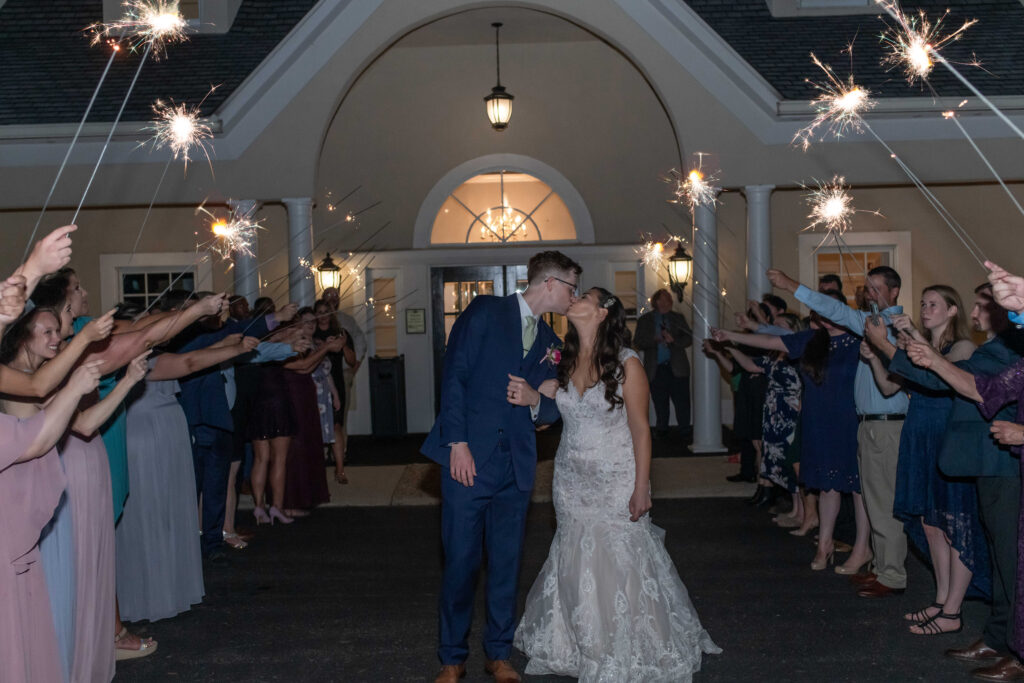 Congratulations to you both!
Vendors List
Venue: Evergreen Country Club, Haymarket, VA, Cassi Hudson, 703-754-4125 Ext. 227
Photographer: Rosi Guyton Photography, Contact: Rosi Guyton, Phone: 540-661-9769, Culpepper, VA
Day of planner: Evergreen Country Club provided one for an additional cost
Officiant: Pastor Kathleen Monge, Bon Air United Methodist Church, Richmond, VA
Gown & Veil: Vivid Bridal, Woodbridge, VA, Designer: Allure
Shoes: Charlotte Mills, United Kingdom
Hair & Makeup: Les bourgeois Artistry, Culpepper, VA, Sparkle Gose
Bridesmaids dresses: Azazie
Suits: The Black Tux
Ties: The Tie Bar
Invitations: Minted.com
Flowers: Design in Bloom; Contact: Cynthia Damico, Gainesville, VA
Catering: Evergreen Country Club, Haymarket, VA
D.J.: Soundwave Entertainment, Contact: Chris Rao, Phone: 703-753-9887; 703-
627-5158, Bristow, VA
Ceremony Music: Perfect Harmony – Trio String Band, Contact: Gretchen Heller,
Phone: 240-912-7604, Washington, D.C.
Cake: Cupcake Heaven, Contact: Kim Newman, Phone: 703-754-6300, Haymarket, VA,
Favors: Cork wine stoppers with wood floral holder from Etsy, All In Cork
Transportation: Reston Limousine, Sterling, VA
Videographer: Grayter Memories, Contact: Matt Pavlo, Phone: 818-448-2041,
Manassas, VA
Honeymoon: We've planned our honeymoon for December, and it will be in Costa Rica. We went through the Costa Rican Vacations travel agency.