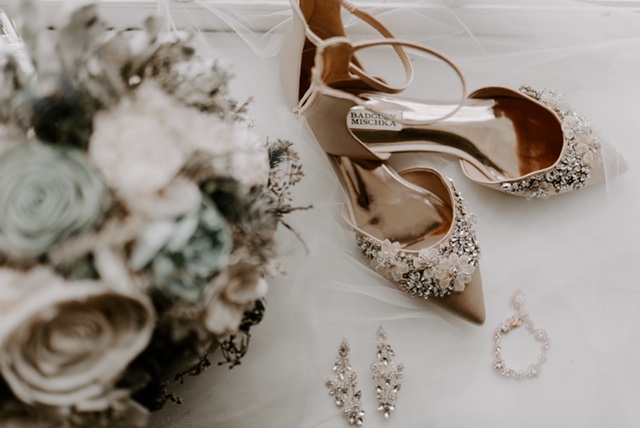 Eleven years ago, this dazzling couple met in school. "There was an instant connection and we talked all the time through messaging." At the time, the pair lived in West Virginia, but soon after, Adam moved to Myrtle Beach, South Carolina, to continue his education and work at a golf course.
"We tried to date long distance for about 4 or 5 months and even visited each other quite often, but we were so young and the distance got the better of us." They remained friends, and eight years after they broke up, they took a trip together, as friends, to Virginia Beach. They kept hanging out whenever they were both in town, and eventually, they fell in love. After that, they both moved to Roanoke where they were able to grow their love even more.
Nine months later, the pair took a trip to Jamaica at the Sandals resort. The complimentary photoshoot from the resort was a welcome moment after a day of hiking, and Adam took advantage, popping the question as he got down on one knee. "Will you make me the luckiest man alive and marry me?"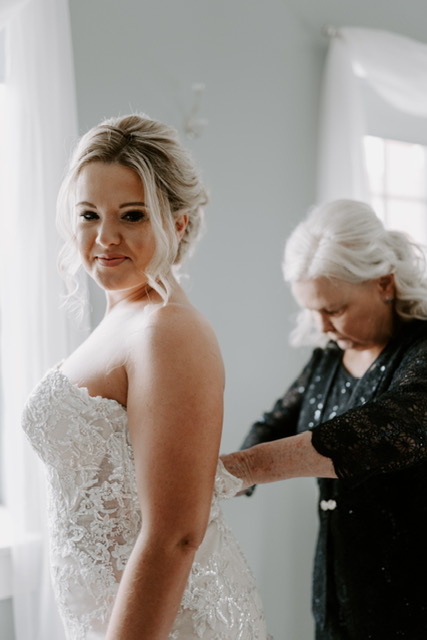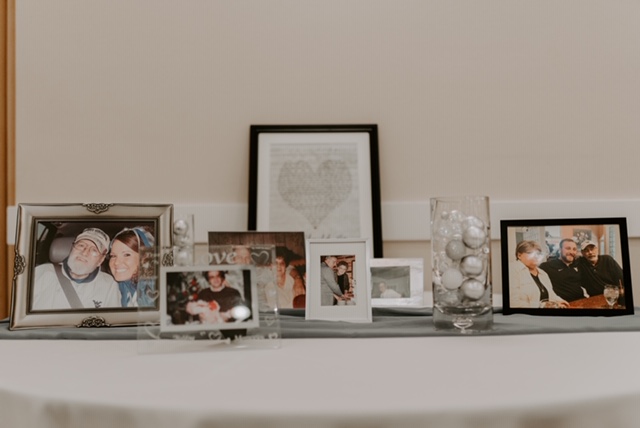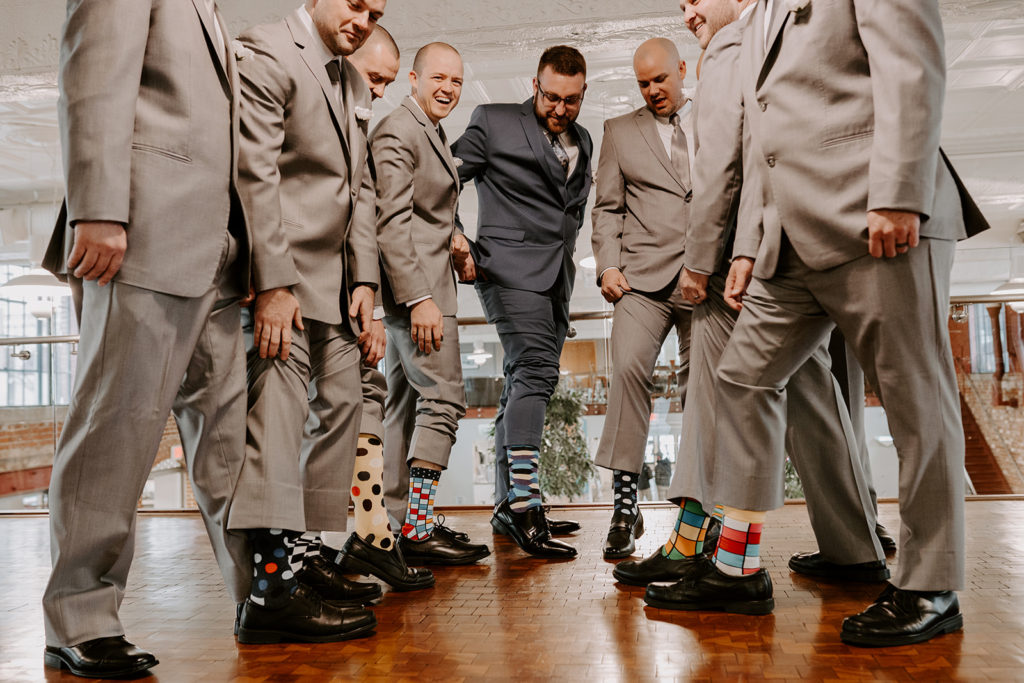 Six months later, the couple came together for their January wedding. Cassie decided that the perfect theme for their special day was a beautiful winter wonderland. "I love the colors blue and silver, and every time I pictured my wedding I saw lights and sparkle everywhere and I wanted to bring that to life."
The couple chose to incorporate their Christian faith into this stunning occasion, as well, with prayer and Scripture readings.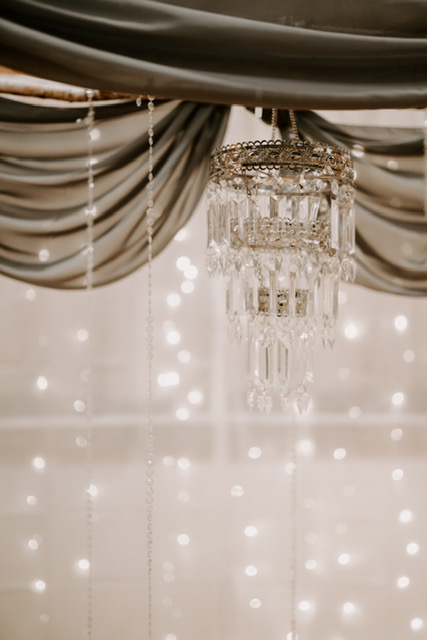 The Scoop:
Bride: Cassie, 33, Accounting Manager at Fleetmaster Express, Inc.
Groom: Adam, 34, Salesman for Landscape Supply, Inc.
Wedding date: January, 18, 2020
Guests: 130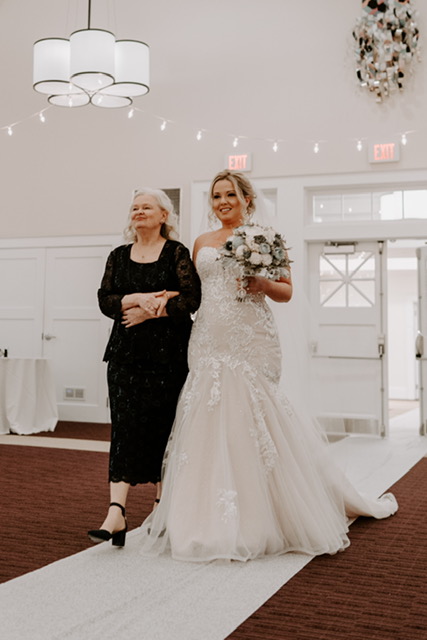 For the special day, Cassie and Adam wrote letters to each other and had them delivered before the ceremony. "It was so personal and overwhelmingly emotional and I wouldn't trade it for the world." The couple also planned a moment of silence in remembrance of their parents who had passed.
For their unity sand ceremony, Cassie and Adam chose the two colors of their favorite sports team (blue and gold), the Mountaineers.
"Really the whole day was absolutely beautiful and one of the best days of my life. I loved walking down the aisle and seeing my best friend so emotional on the other end. We held hands during our vows and tried to help each other keep it together. He made me laugh so much during picture taking and our first dance. We had so many friends and family there to share our day with. It was just amazing."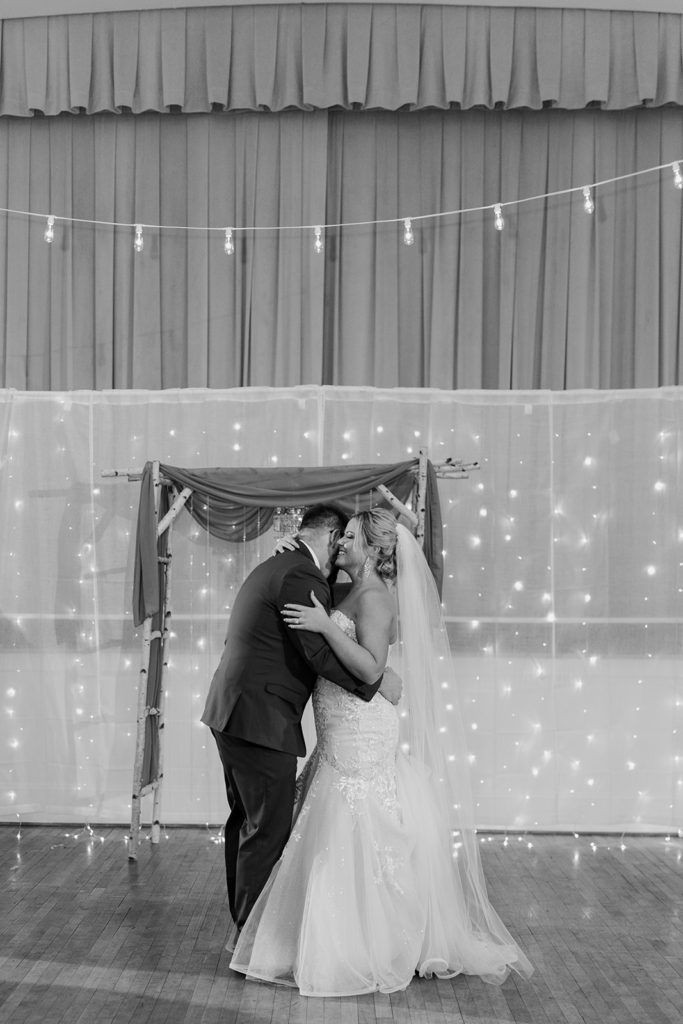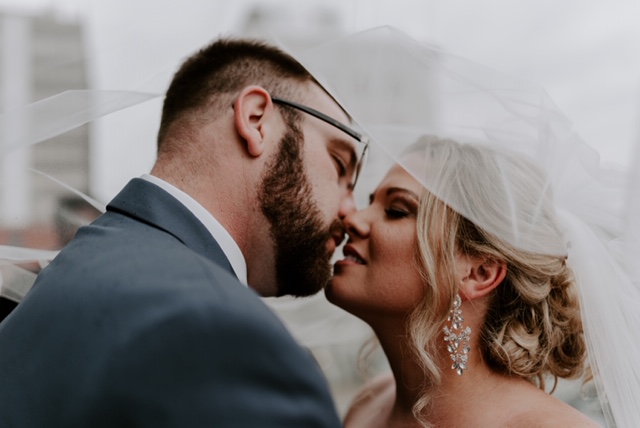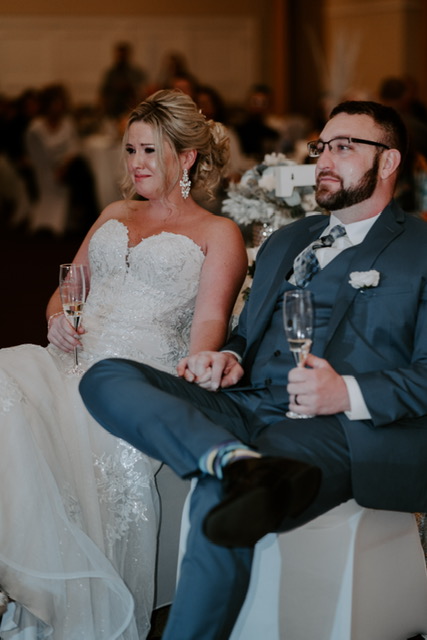 Their sparkling winter wonderland was felt through the beautiful selection of lights in every centerpiece, lights hung from the ceiling, the stunning chandelier, blue up-lighting at the windows, evergreens and other special touches throughout. The sweetheart table had a silver sequin tablecloth with a large "F" for their new shared last name, and frosted pine branches and pinecones. The stunning ceremonial arbor of white birch was draped in dusty blue curtains.
Cassie chose a bouquet of Sola flowers, which are made of wood. The bridesmaids carried small ivory rose bouquets made from silk flowers from Michael's, and the centerpieces featured birch branches.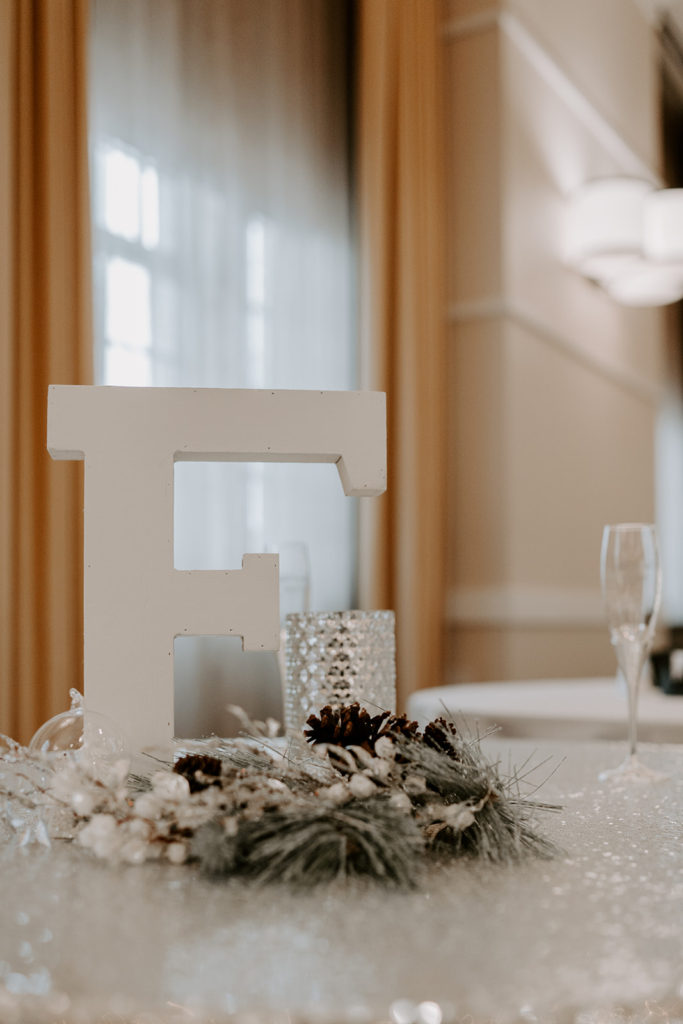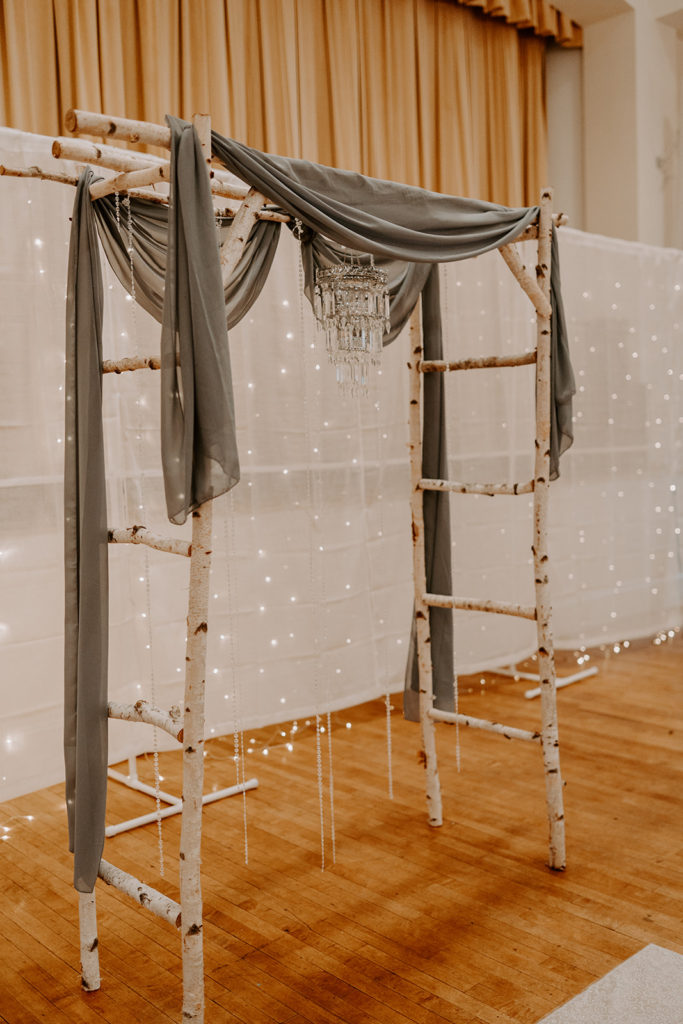 To find her gorgeous gown, Cassie did what most brides do: she looked online. And as she did so, she happened across the website of a local bridal boutique. She saw the dress and instantly knew this was the one for her. "I wasn't sure it would look good on me, but when I went in for my appointment and tried it on I knew! It made me feel more beautiful than I had ever felt in my whole life."
The mermaid style gown in blush with silvery-white flowers and shimmer underlay was all she had ever dreamed of. The long train of the gown and ivory shimmer veil brought everything together perfectly for this wintry dream wedding.
Adam wore a three-piece suit in blue with a silver and blue tie.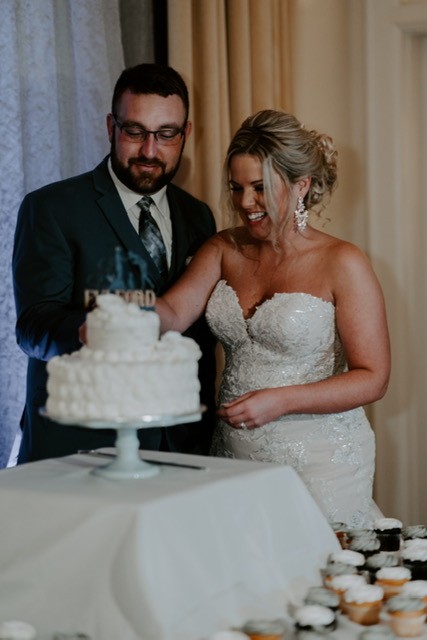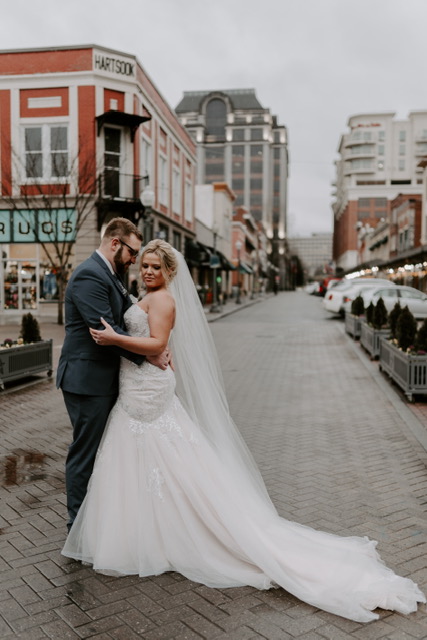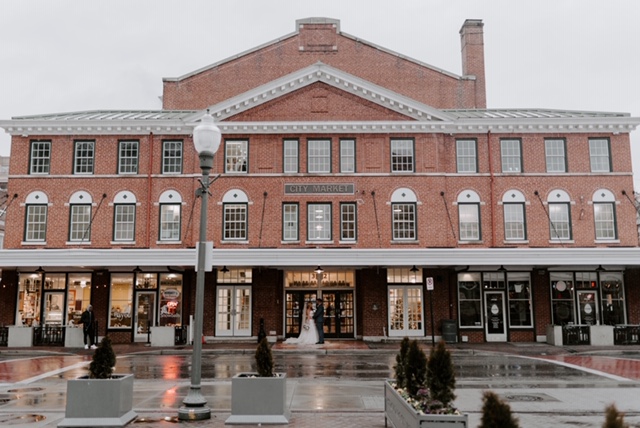 "Walking down the aisle with my mom and seeing Adam's face full of tears was a moment I will never forget. He looked so happy and I couldn't stop smiling. Every time I think of that day I smile ear to ear because it was such a good day."
Cassie adds some thoughtful tips for future brides.
"Some advice I have is to definitely get a day of coordinator if you don't have a wedding planner. Our officiant/coordinator, Jared Walters, saved my life that day and I couldn't have done it without him. Try to soak in every moment. It goes by so, so fast. Do everything you want to do. Don't have any regrets later. It is one of the only days of your life where everyone is there for you. Let them be there and ask for help. If you don't write your own vows, write letters to one another beforehand. It was one of my favorite parts of the day and we will have those keepsakes for the rest of our lives. Think of all the pictures you want and make sure to get them. Those are what you will have to look back on and remember your day for years to come. Finally, don't be nervous. It is intimidating standing in front of a room full of people, but once you get down the aisle to that special someone the whole room fades away."
Congratulations to you both!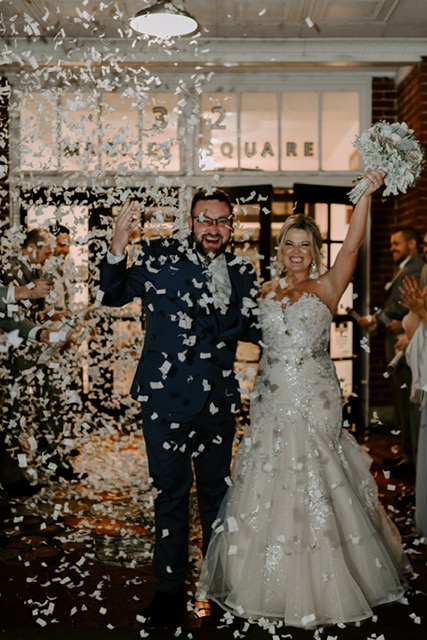 Vendor Credits:
Venue: Charter Hall at the City Market Building, Roanoke, VA, 540-986-5992
Photographer: Mackenzie Scurlock,Virginia Beach, VA, 317-590-0922
DJ: Mike Feamster/Uptown Band, Roanoke, VA, 540-314-0452
Gown and Veil: Studio I Do Bridals, Roanoke, VA, 540-904-5088
Groom's Attire: Newfangled Bride, Salem VA
Officiant and Day of Coordinator: Jared Walters Weddings, Roanoke, VA, 540-797-8022
Videographer: Piximpress by Henry Saint-Jean
Caterer: Master Sergeant BBQ, Vinton, VA, 540-339-6250
Hair Stylist: Makaela Hurd at Heavenly Hair, Roanoke, VA
Lighting: Lighting Ninja, Inc., Roanoke, VA, 540-598-1694
Bridesmaids' Gowns: Azazie
Groomsmen's Attire: Men's Wearhouse
Favors: Made by bride's mother
Cake: Sam's Club
Honeymoon: Royal Lahaina Resort, Maui, Hawaii