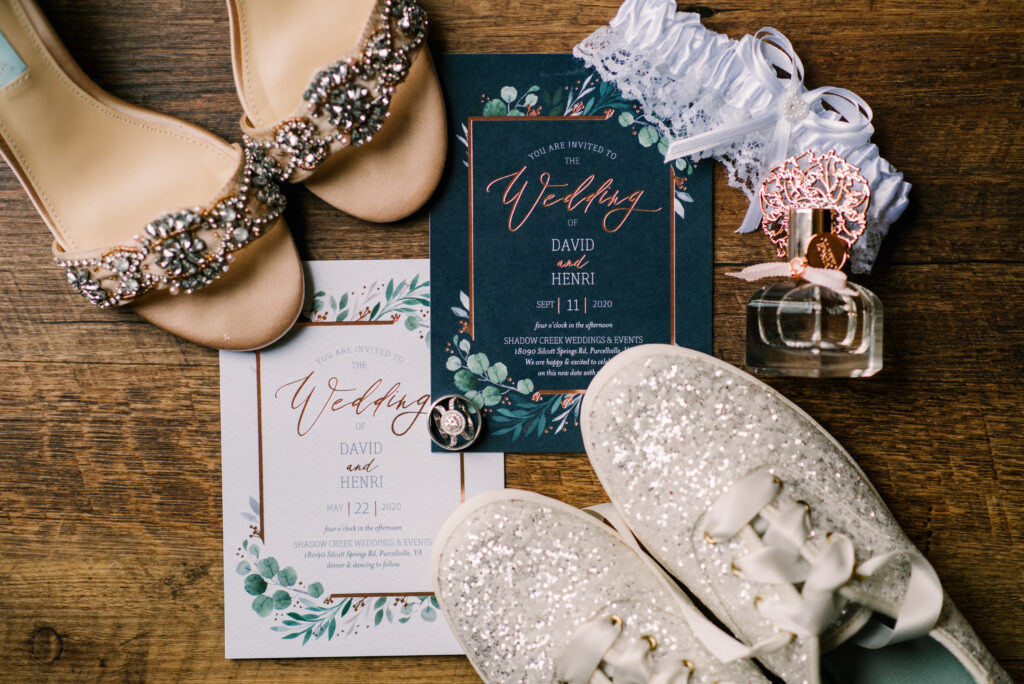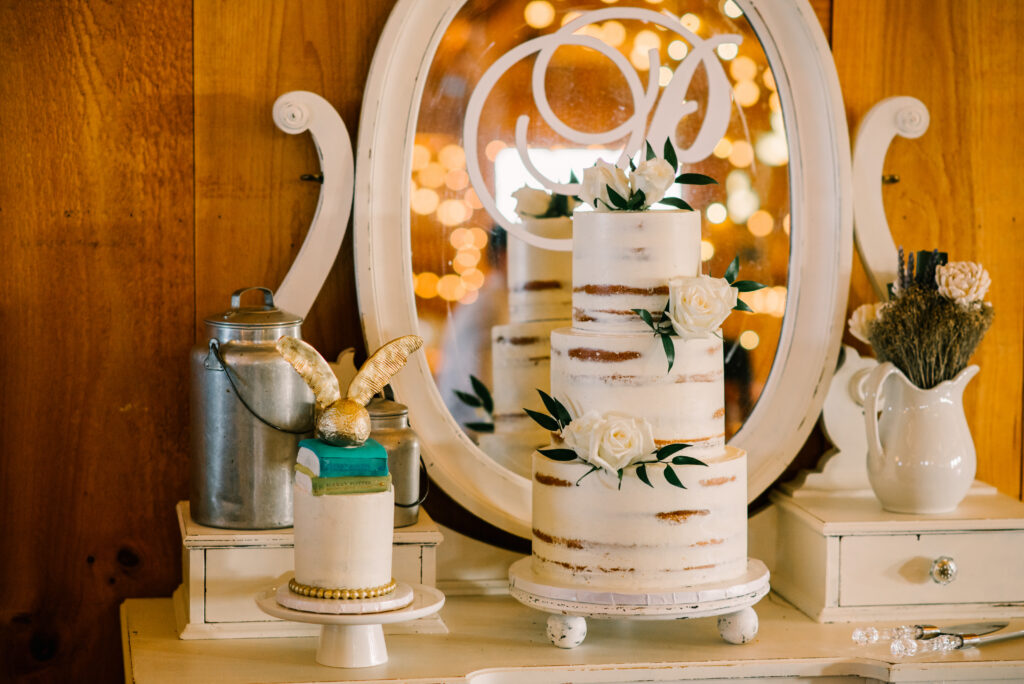 Meet Henri and David, our lovely couple for this week's real Virginia weddings story. The pair met during their second year at Christopher Newport University in Potomac River Hall. "We were hall-mates, and our roommates were dating, so we all hung out pretty often. However, it wasn't until David asked me out on our first date, to Chipotle (what a cheesy first date), that we really got to know each other. We both were very nervous, but we were excited to finally talk and spend time together. This simple lunch date lasted hours as we found out more and more about each other, talked, and laughed. From then on out we've been inseparable."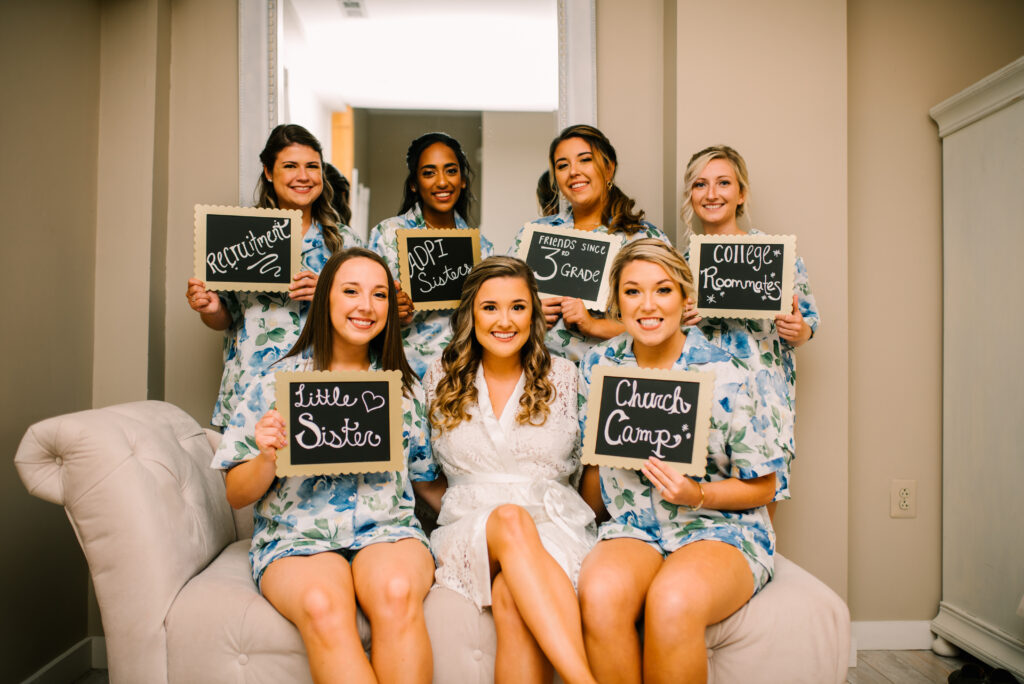 As Henri and her bridesmaids got ready for the big day, Henri "gave each of my bridesmaids a sign of how we met to take a picture all together! I also did not do a first look and instead did a bridesmaid reveal and the father of the bride reveal."
The wedding took place during COVID-19, meaning a lot of things changed from their original plans. Masks and hand sanitizers were passed out. I also had a mask made from the extra material from my wedding dress! And instead of a dollar dance because COVID donations were made to the Alzheimer's Association in memory of my grandma we raised $338."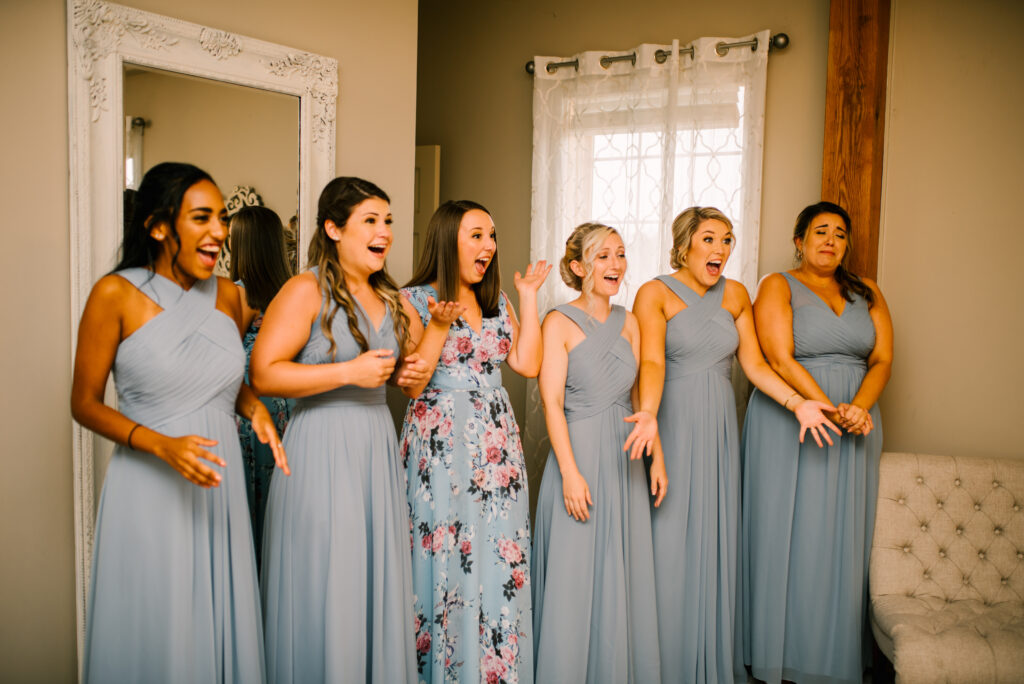 The Scoop:
Bride: Henri, 25, PhD Student and Professor, George Mason University
Groom: David, 25, Merchant Billing Specialist, cxLoyalty
Wedding date: September 11th, 2020
Number of guests: 120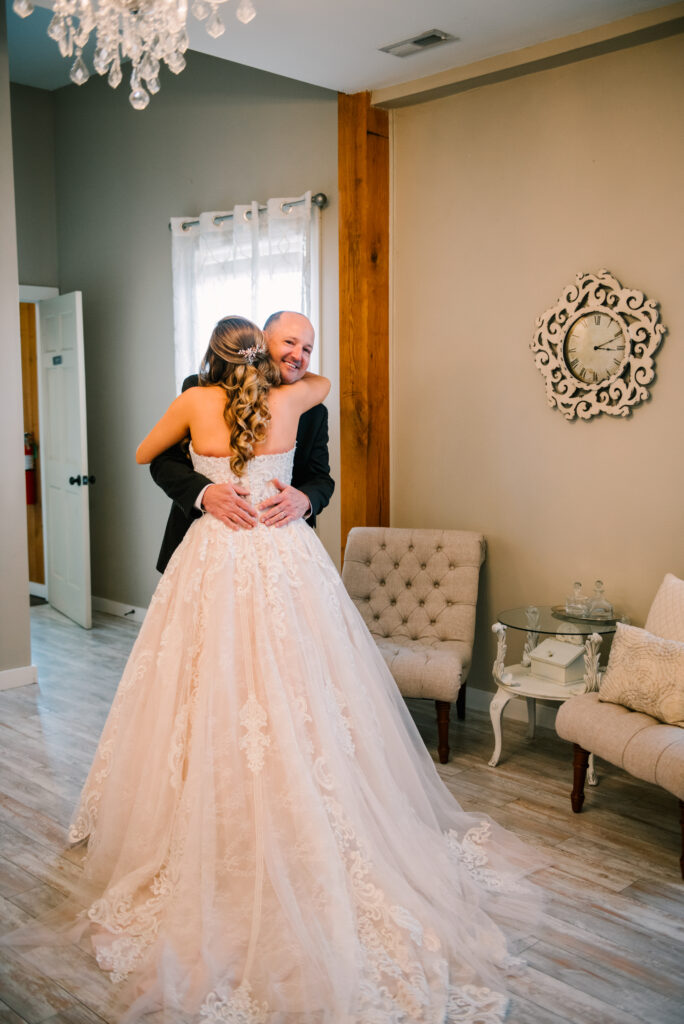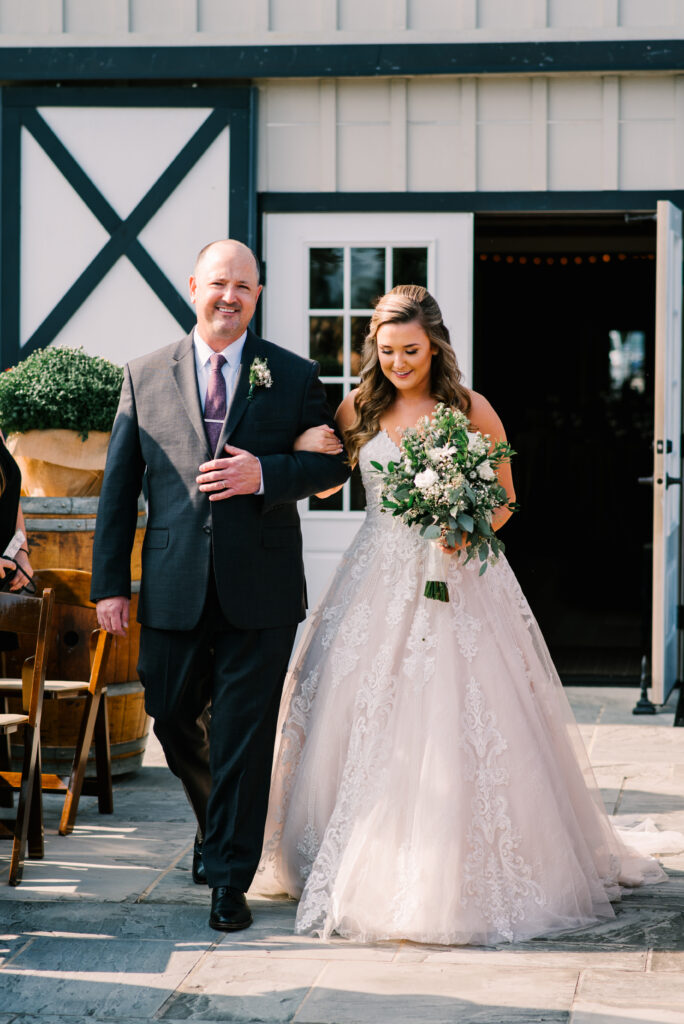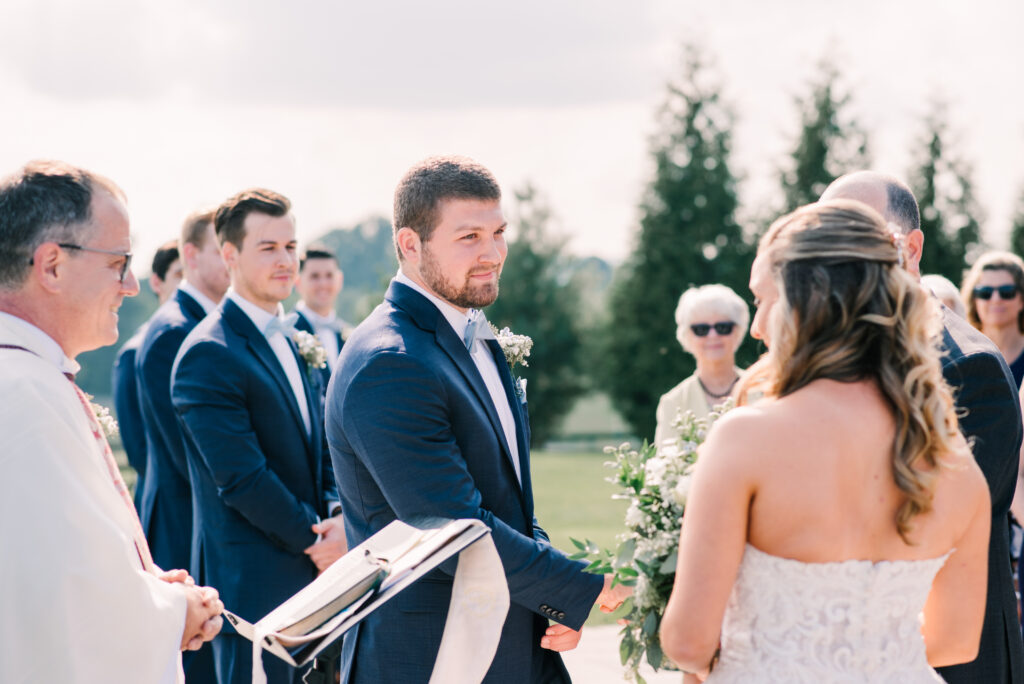 For their elegant, rustic wedding, Henri and David implemented many sentimental and thoughtful touches. "We had a slight theme of stars throughout the night. Starting the ceremony with an orchestra version of Coldplay's "Sky Full of Stars" and ending the night with the actual song. The guest book was actually a huge wooden star for guests to sign made for me by a close family friend. Each table received a card that had the number their table number was this card they wrote a message on so that we could open it on our corresponding anniversary! (For example, the guests at table 18 wrote a note for us to open on our 18th anniversary)."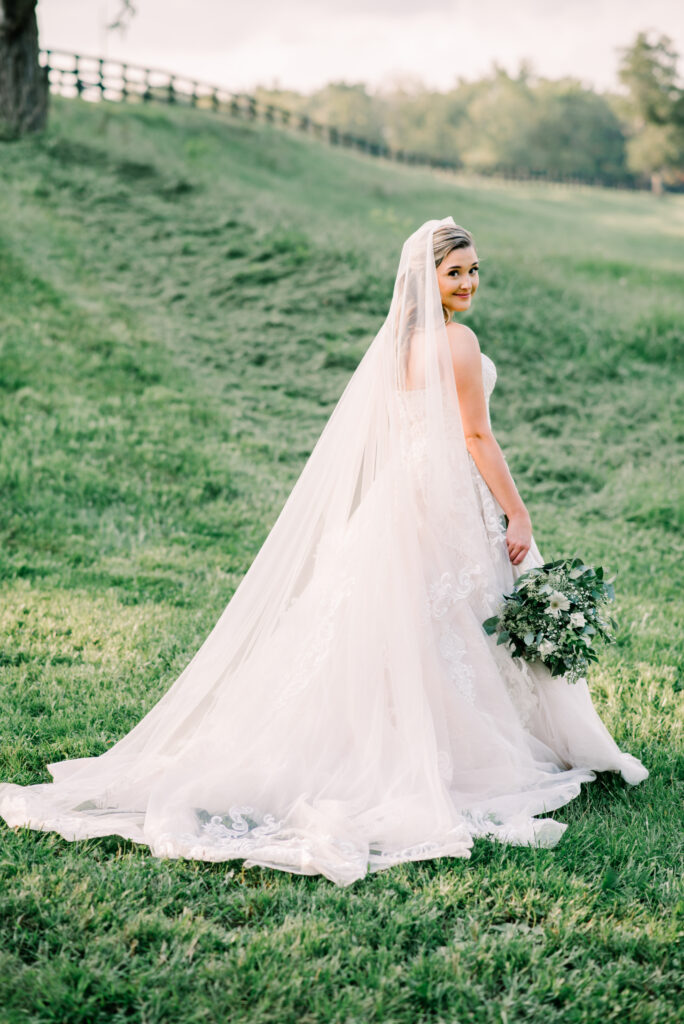 Henri's maid of honor, and sister, Johanna, sang, "I Can't Help Falling in Love" during the traditional ceremony. "It was so special to have her sing on our special day."
Henri's something borrowed was her "Mom-Mom Lusky's wedding ring which was tied within in my bouquet with a ribbon from a bonnet of my husband's from when he was a baby. I also had my 'Godfather' necklace given to me by my godfather, Uncle John in my bouquet. And a heart from my Pop-Pop Henry's old T-shirts sewn into the bottom of my dress for my something blue. The earrings I wore were given to me by my sister as well."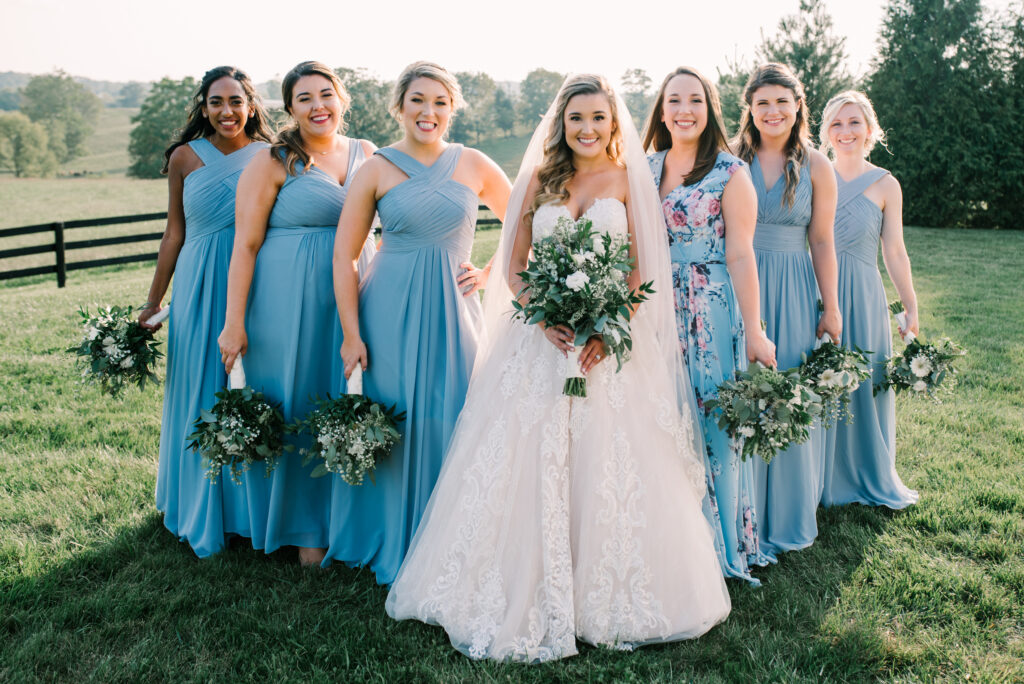 The bridesmaid dresses were thick strapped and dusty blue from the website Azazie. The maid of honor did have a different dress from the other bridesmaids that was floral because I wanted her to stand out! She looked beautiful and I loved how all the dresses looked together."
Another special touch for the big day was bringing in ice cream for the nighttime part of their celebration. "My family has always been ice cream lovers with some of them being dairy farmers themselves! This was a great way to have a snack at the end of the night. Ice cream was by Rocky Point Creamery. We also had a dessert table done by Signature Sweets By Amanda my Mom-Mom passed away and all of her daughters and granddaughters were given a special sweet at their table (lemon meringue tart to remember her by) which was her favorite."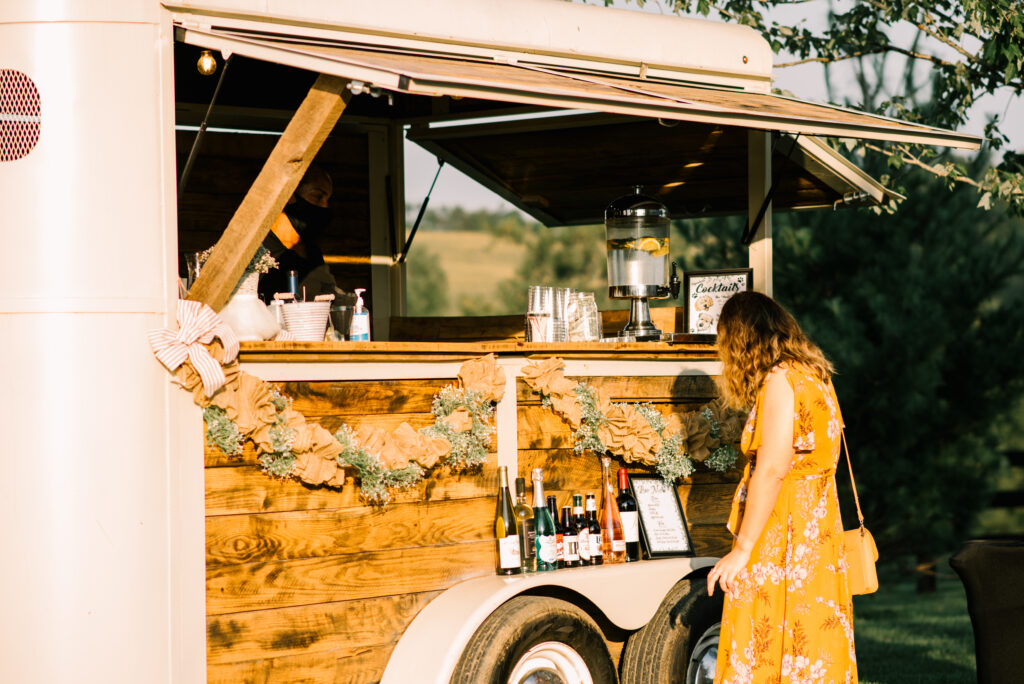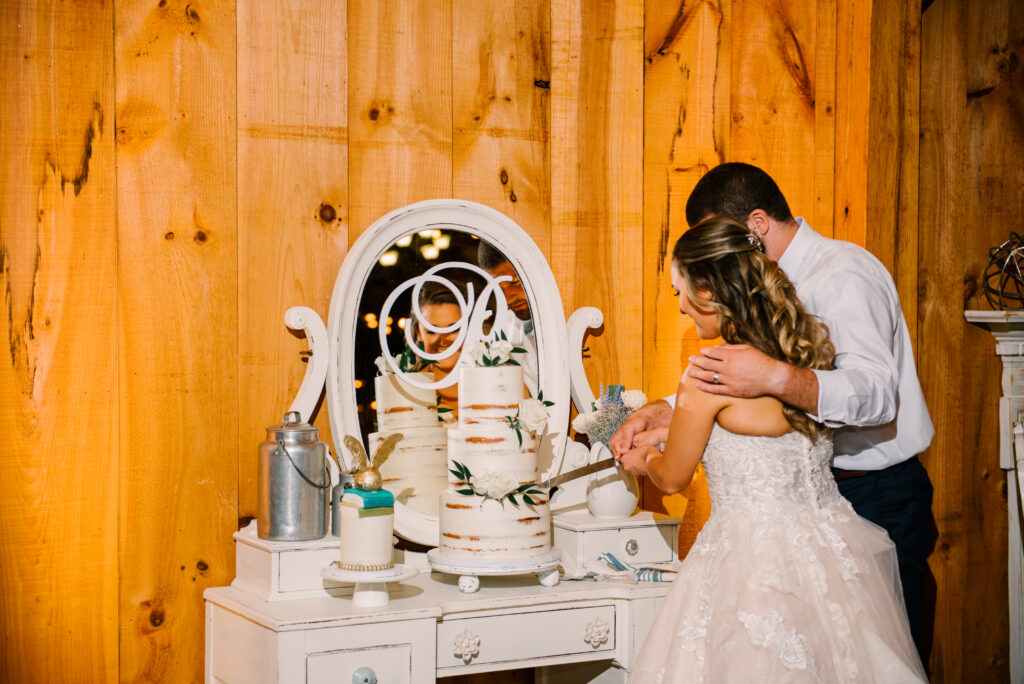 Their signature drinks were named after Henri's dog, Hank – "The Hank Williams" (an old fashioned), and David's dog, Tucker, the "Tanya Tucker" which was blue champagne with blueberry garnish. "My dog Hank passed away a month before the wedding so this was a good way to honor him."
For favors, guests received cookies to take home, which were made to look like Henri and David's wedding attire.
They also invited Gus the horse to stop by during the cocktail hour.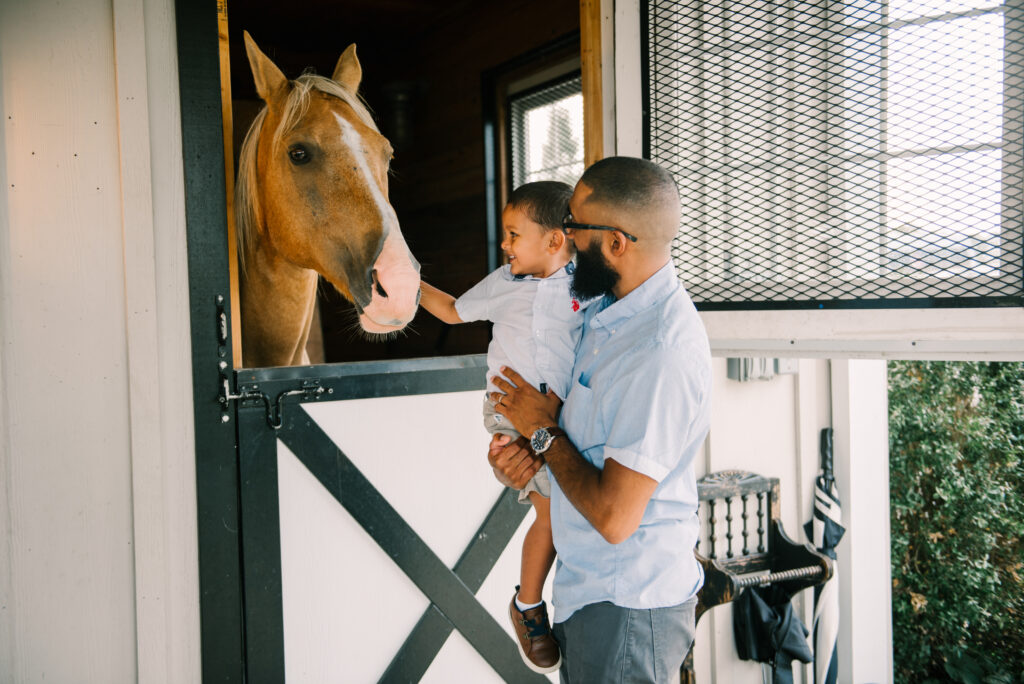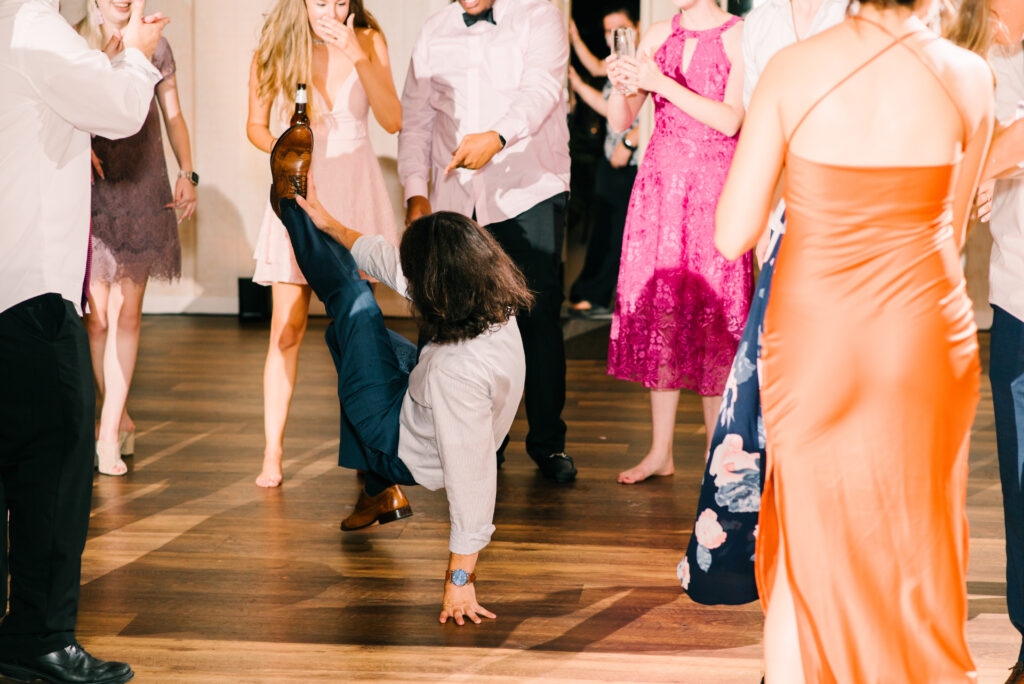 Henri adds, "I am a big believer that everything happens for a reason, but I am not going to act like it was not a stressful time rescheduling an entire wedding! The inspiration for the big day was to make something beautiful out of both a year and date that were both not so beautiful for everyone."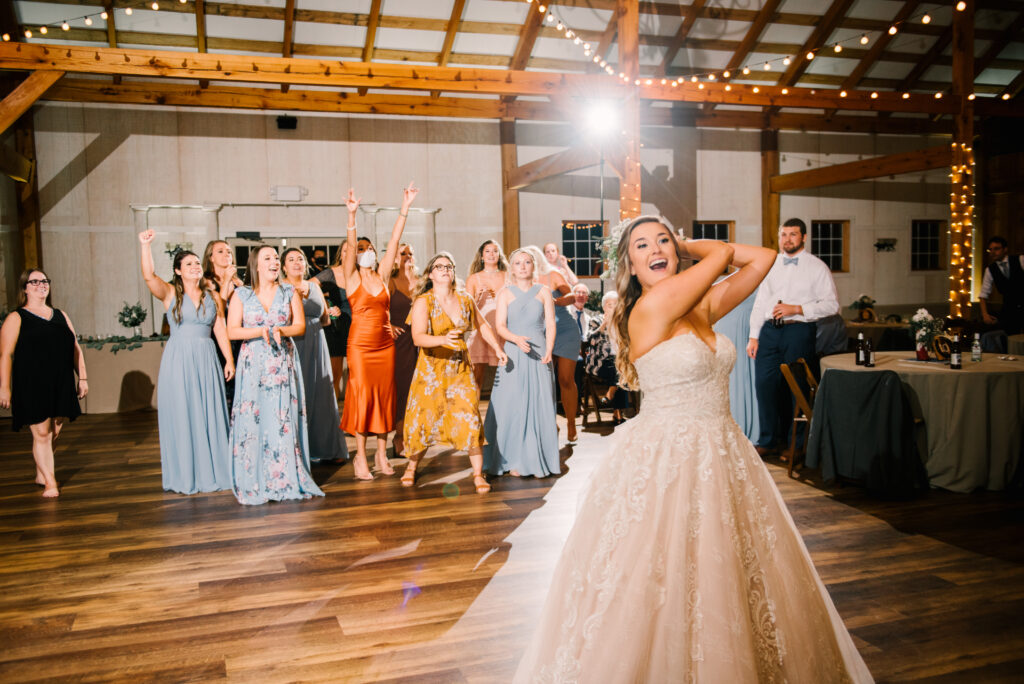 "When the pandemic initially hit, I wanted to reschedule to 2021 because I no longer wanted to be a 2020 bride. However, I am so happy that I was. 2020 taught me how strong I was, to never give up, and that there will always be a happy ending."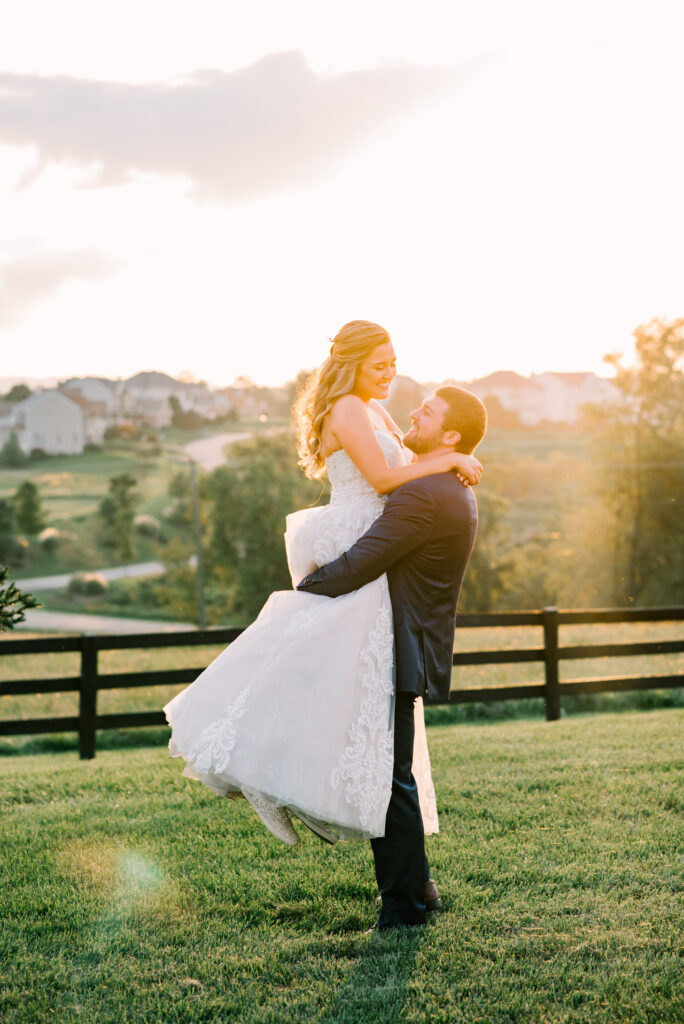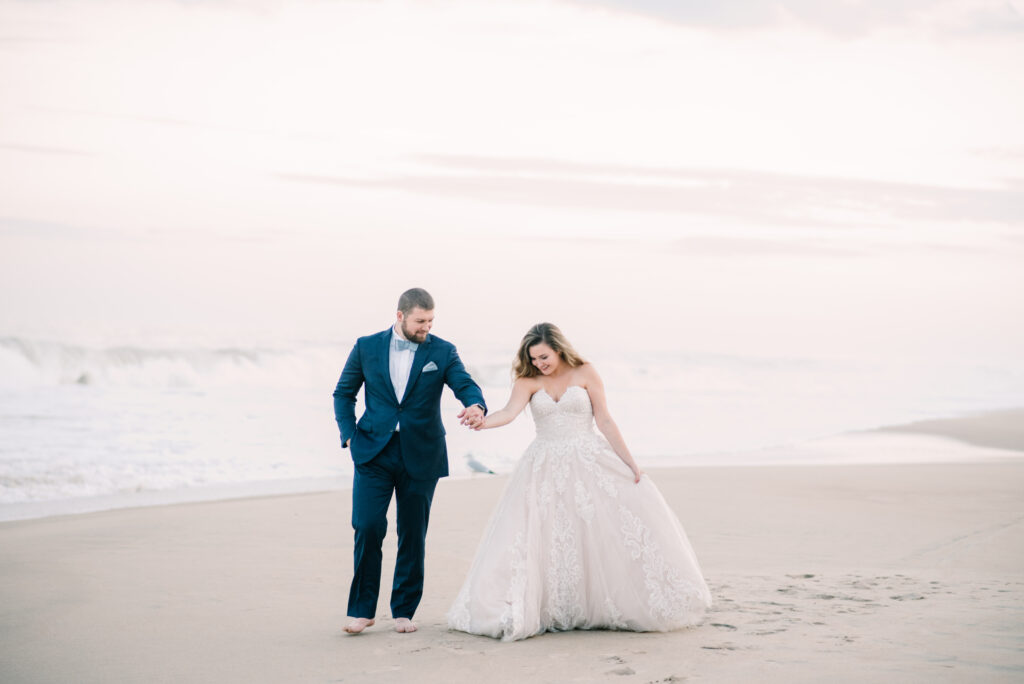 VENDOR CREDITS
Venue: Shadow Creek Weddings and Events, Jenna Sullivan, 540-454-8115, Purcellville VA
Photographer: Heather Frable Photography, Heather Tolbert, 1-434-851-1244
Day of planner: Diamond Events Co, Stephanie Dasch
Officiant: Trinity Lutheran Church, Dennis Di Mauro, (703) 568-3346, Warrenton VA
Gown & Veil: Ava Laurenne Bride (Adelaide)- private label collection- Fredericksburg, VA- (540) 899-7771
Shoes: Betsey Johnson Blue
Hair: Ash Salon, Katherine Kemper, (540) 878-6995, Haymarket VA
Makeup: The Studio Hair Salon & Day Spa – Jessica Dekle- (540) 434-8188, Harrisonburg, VA
Bridesmaids' dresses: Azazie
Formal wear for groomsmen: Joseph A Bank
Invitations: Shutterfly
Flowers: Wegmans Fairfax Florists, Jessica Goldman- 703-653-1630, Farifax VA
Catering: Pigs BBQ – Lisa O'Connell- 240-731-2878, Frederick, MD
Music: Johanna Huber – Maid of Honor and Singer
Cake: Signature Sweets by Amanda – Amanda Wheeler- 703-895-0083
Favors: Cookies by The Angry Baker, Cindy Cannizzo- 1-201-390-6578, Warrenton VA
Ice Cream: Rocky Point Creamery, 240 405 4365, Tuscarora, MD
Honeymoon: A long weekend beachfront in Ocean City. We are looking forward to a longer trip to celebrate in the future!