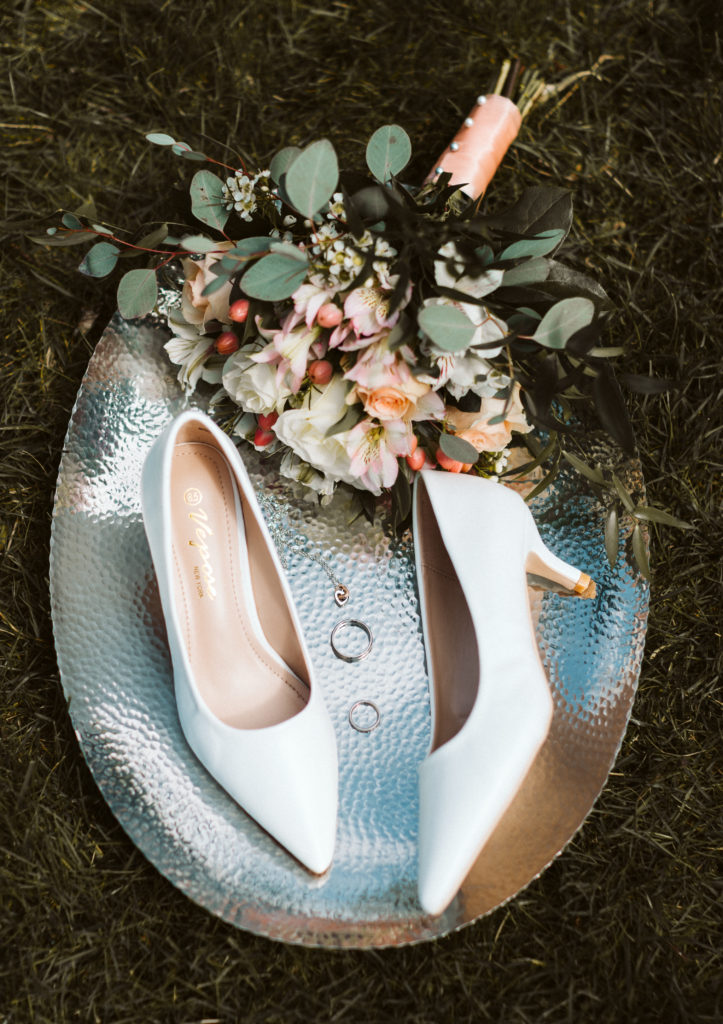 Thaís came to Virginia from Brazil two years ago through an exchange program. Trevor was raised in Ohio and moved to Virginia for work six months after Thaís relocated there. The happy couple met through a dating app, Christian Mingle.
"He was new in the area and he was looking for a church to go and I was looking to find someone in the app but honestly, I was almost giving up. We started to talk every day and after a few weeks we met each other in person when he went to the church that I go to, called Centerpointe Church."
Trevor attended the Brazilian service with Thaís and kept coming back every Sunday afterward.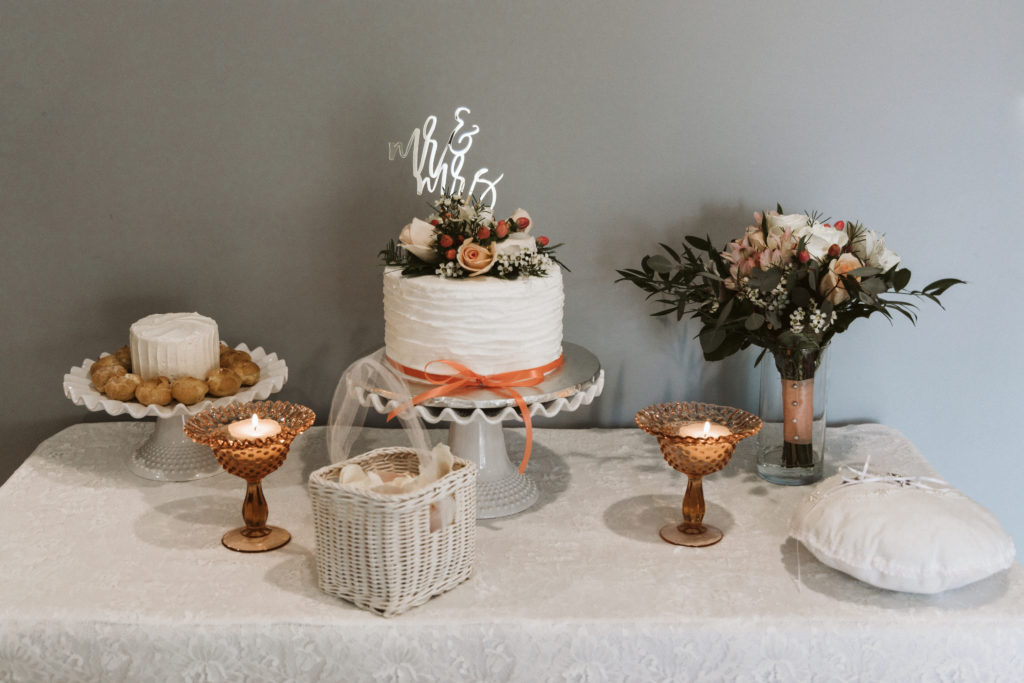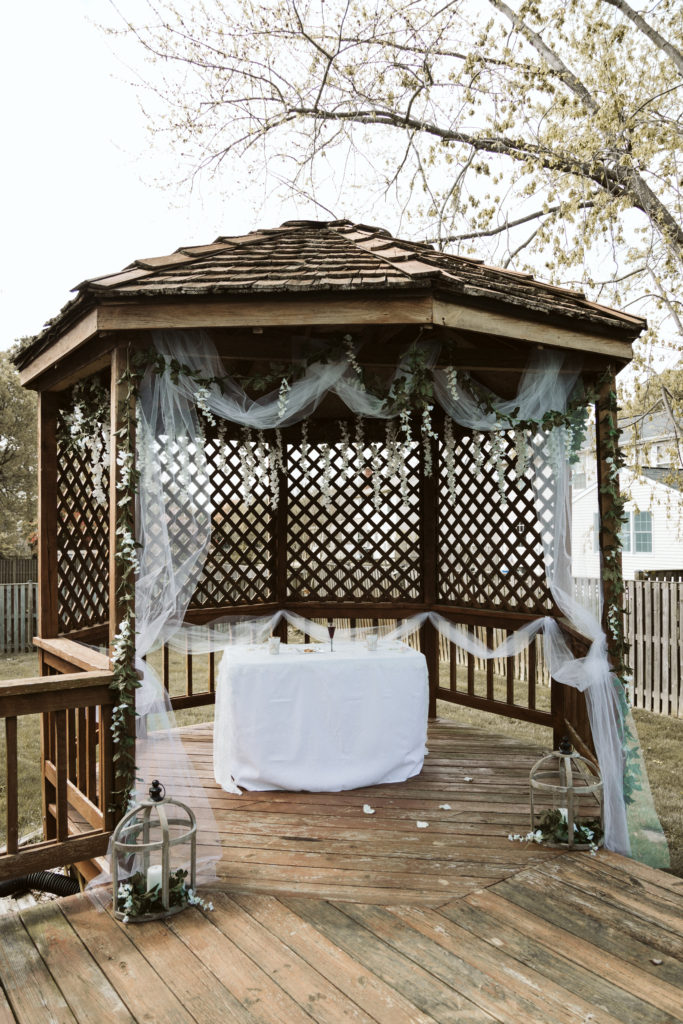 Thaís and Trevor had their first date on an ice rink. "I was very nervous especially because I don't know how to ice skating. It was going to be the very first time that I was trying to do it and of course he had to hold my hands all the time. We had fun, we laughed a lot. It was a special day; we could see how we enjoyed each other's company."
Thaís could tell that Trevor was special. They talked about the differences in their cultures. "It was amazing." A month and a half later, on Valentine's Day, Trevor asked Thaís to be his girlfriend, using a poem he wrote for her.
"After 11 months he planned with my friends to propose me at the Lincoln Memorial…it's one of my
favorite places in DC. It was wonderful and literally a surprise for me."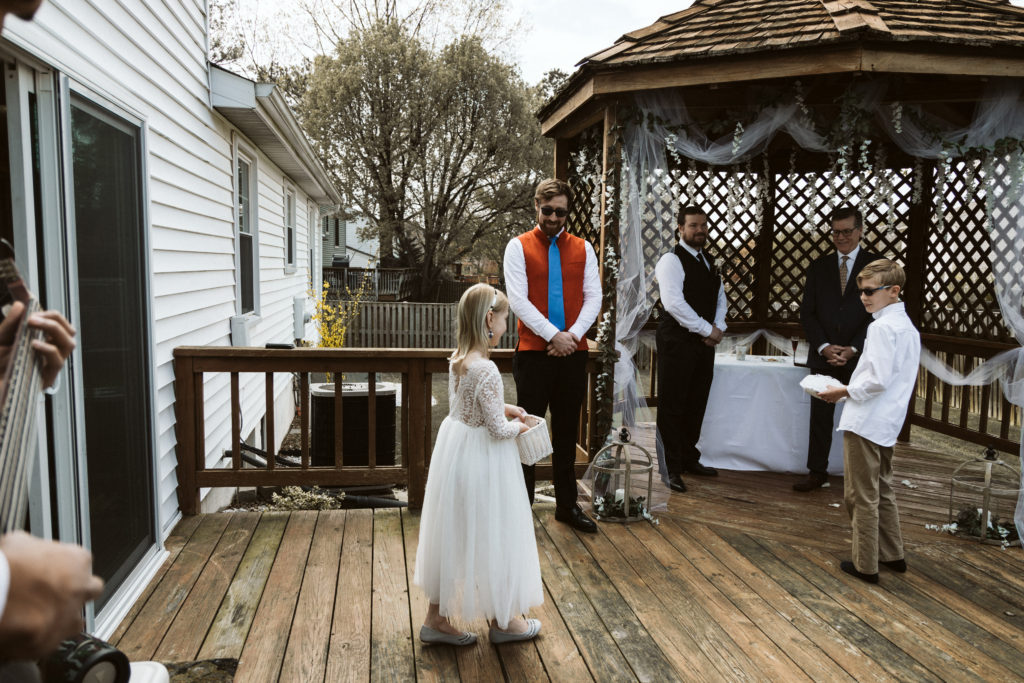 The Scoop:
Bride: Thaís, 26, Au Pair
Groom: Trevor, 28, Engineering Operations Technician at Amazon
Wedding date: April 5, 2020
Number of guests: 10 – following CDC guidelines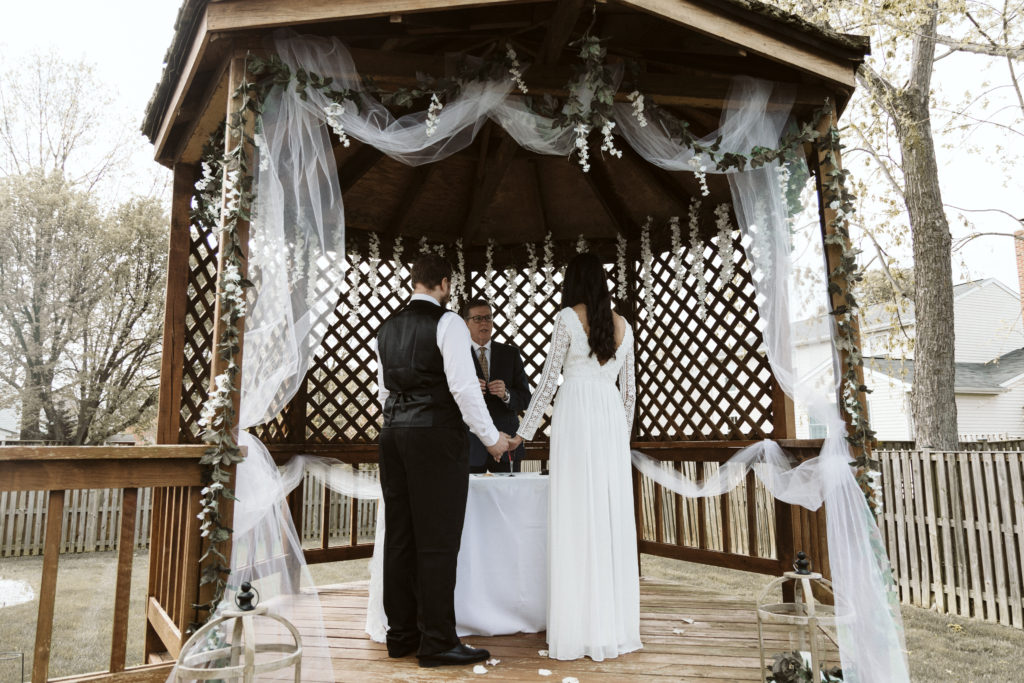 The beautiful wedding was unique – held during the Coronavirus pandemic. For a while, Thaís and Trevor thought they wouldn't be able to move forward with their wedding day. "We had all plans canceled and it was frustrating at first…but we kept confident and positive that good things were coming."
They were able to still get married this April, though, and it was "better than we were expecting…and  everything worked very well, of course, respecting the social distance and the laws for gathering (no more than 10 people, so we had my host family, a few friends and the Pastor Keith)."
They also took their ceremony live on Facebook so that other friends and family could watch and participate in the day in a small way.
"We had a religious tie; we are Christians so we had communion for the first time as a wife and a husband and this moment was very special to us. We had guests from Brazil, Beatriz and Heitor, they are my special friends and they live close to me. They were representing all my family and friends in Brazil and my other friends that couldn't go because of the Coronavirus."
They served a special mango gluten and dairy-free cake with peach frosting – an unusual but completely delicious combination.
"We had an amazing after photographer, Maria Martins, who were capturing our memorable wedding and after the ceremony, we went to the Great Falls to take more pictures of us and also, we had our first dance over there. It was incredible!"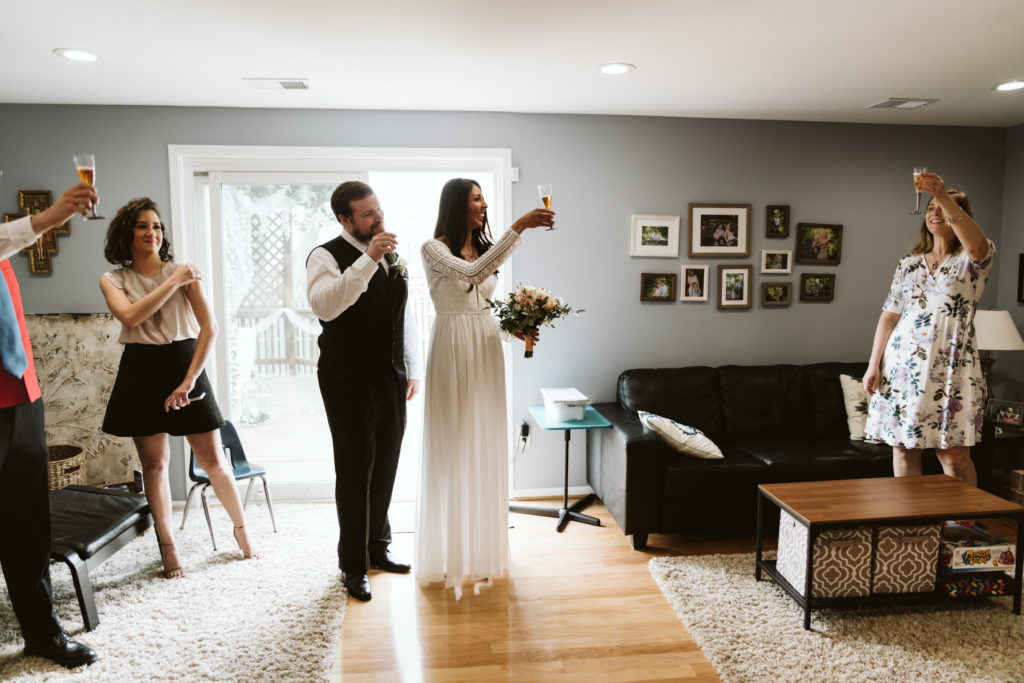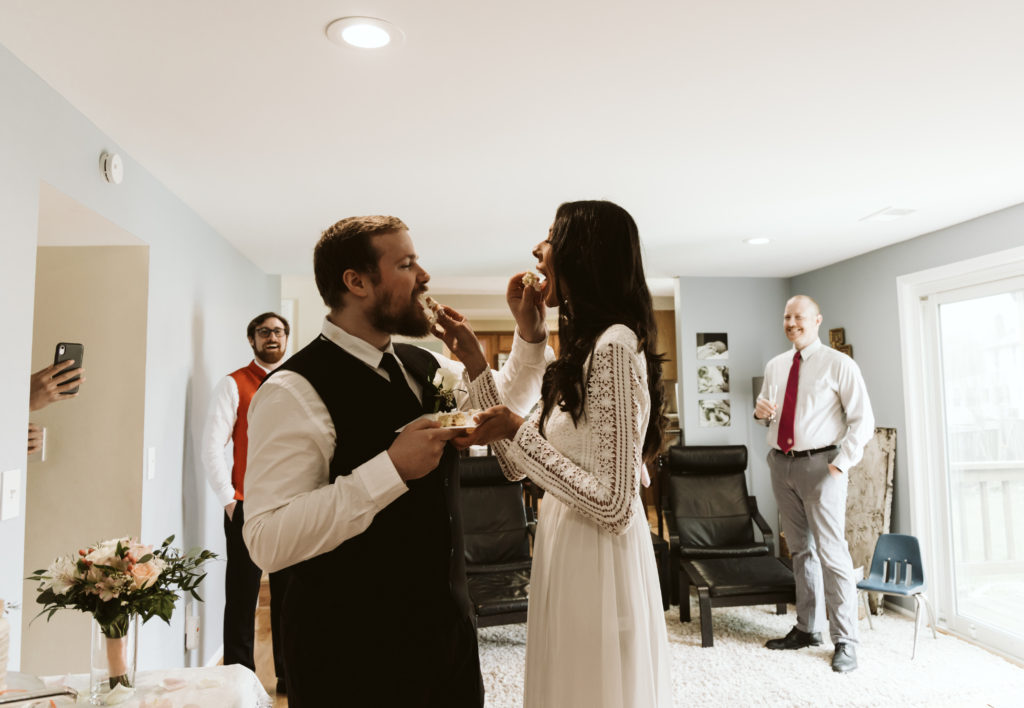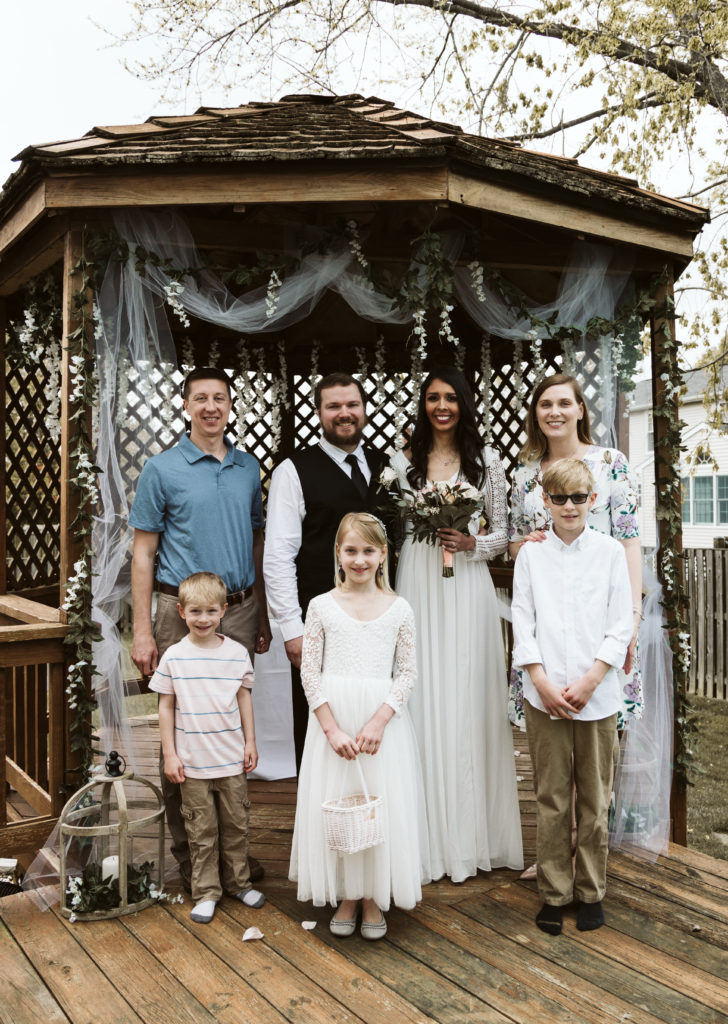 Thaís wore an ivory lace long-sleeved maxi dress by Lulus. "It had a crochet floral lace creating a V-neck and back, fitted long sleeves and darted bodice." She wore a pair of white pointed-toe shoes and a necklace that her husband gave to her for Christmas.
"Unfortunately, my bridesmaids Beatriz, Manu and maid of honor Liliane couldn't go because of the Coronavirus, otherwise they would have worn a Marsala dress. But we made a call before the wedding, we talked about the expectations and we prayed together. That was great!"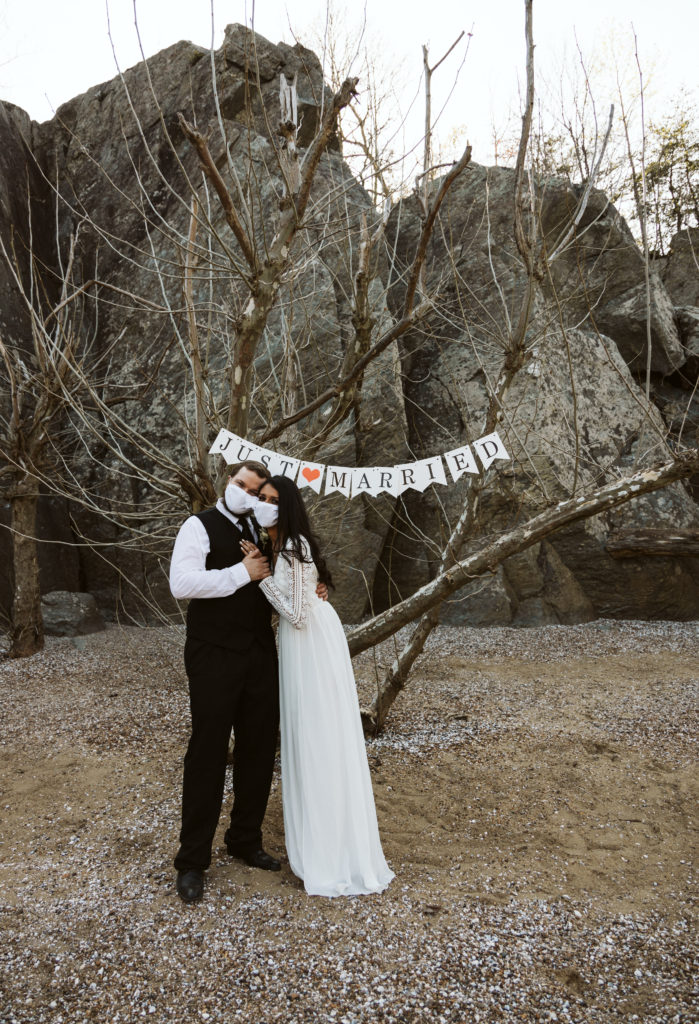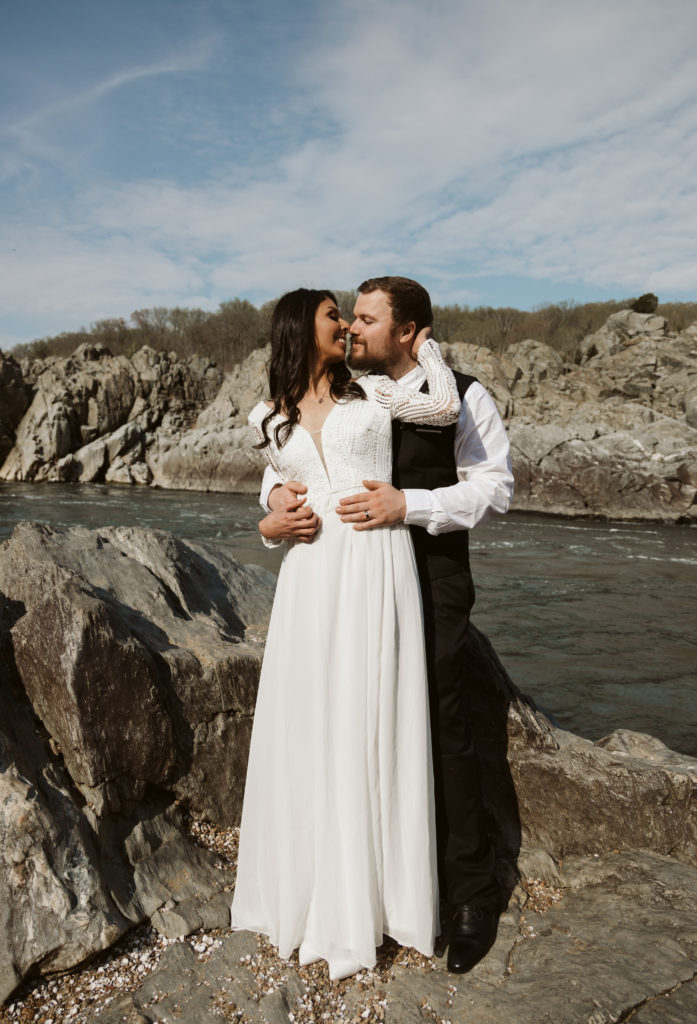 The couple wasn't able to use their planned wedding for their special day, but Thaís' host family, the Shlesingers, opened up their home for the occasion. The wedding ceremony took place on the deck out back, with a small reception with cake indoors afterward.
"It was special because it was the place I was living and working and they helped us a lot and we couldn't be more grateful for that; it was unique and very pretty. My host mom Abbie Shlesinger had all the ideas for decorating and she made it."
Rustic style décor in the backyard and living room were complimented by a flower arbor, flowers, and candles for a simple but elegant look.
In attendance were Thaís' host family, a couple of her Brazilian friends – Beatriz did Thaís' hair and Heitor played his guitar – friends from rock climbing, a few other friends, and their pastor, Keith G. Edwards, who officiated.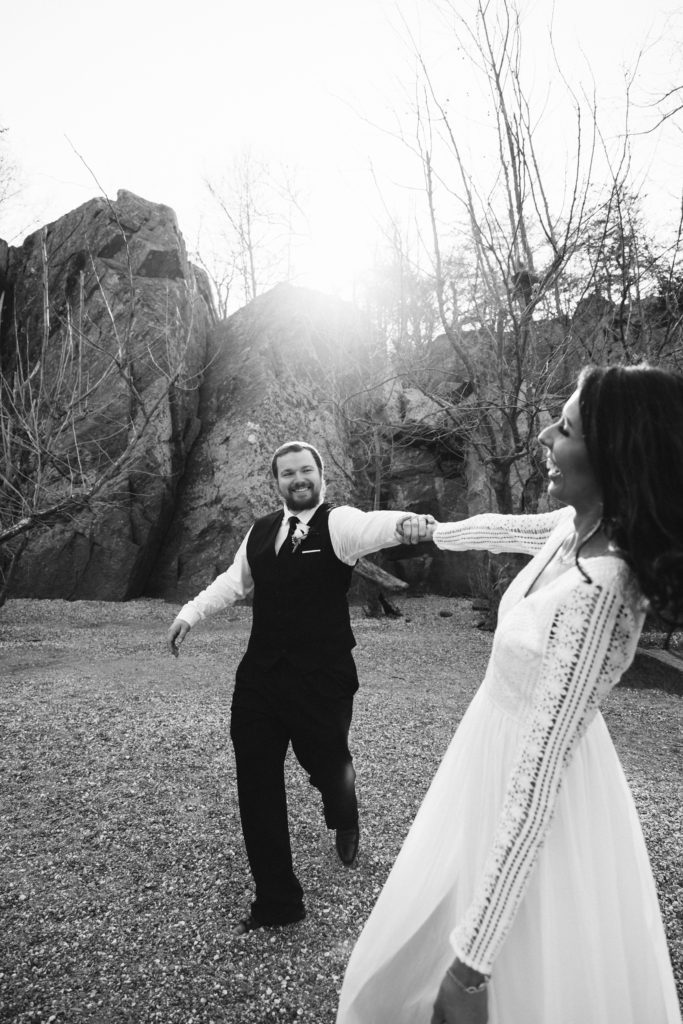 "Getting married in a pandemic situation was not easy. We had to cancel plans and dreams, and it was frustrating and disappointing at some points. But we reminded ourselves that even with the plans changed, it was going to happen, it was going to be the beginning of our story, our special day; the day we were going to become one. We could experience God's provision in everything, the generosity of the people that helped us, and words of encouragement and support. In the chaos, we could find a way to celebrate our love and union. It was the best day of our lives and a memorable wedding."
Thank you for sharing your beautiful story with us. Congratulations to you both!
Vendor Credits:
Photographer: Maria Martins, Manassas, VA, 469 323-4382
Officiant: Pastor Keith G. Edwards, Chantilly, VA
Gown: Lulus
Shoes: Vepose, New York, NY
Hair & Makeup: Beatriz Carvalho, Herndon, VA
Flowers: Herndon Florist, Herndon, VA, 703 437-4990
Music: Heitor Presser, Herndon, VA
Cake: Val Blow, Herndon, VA
Decoration: Abbie Shlesinger, Herndon, VA, 703 499-4878
Honeymoon: Postponed due to Coronavirus. They plan to visit South Caroline as soon as it's safe to travel again.