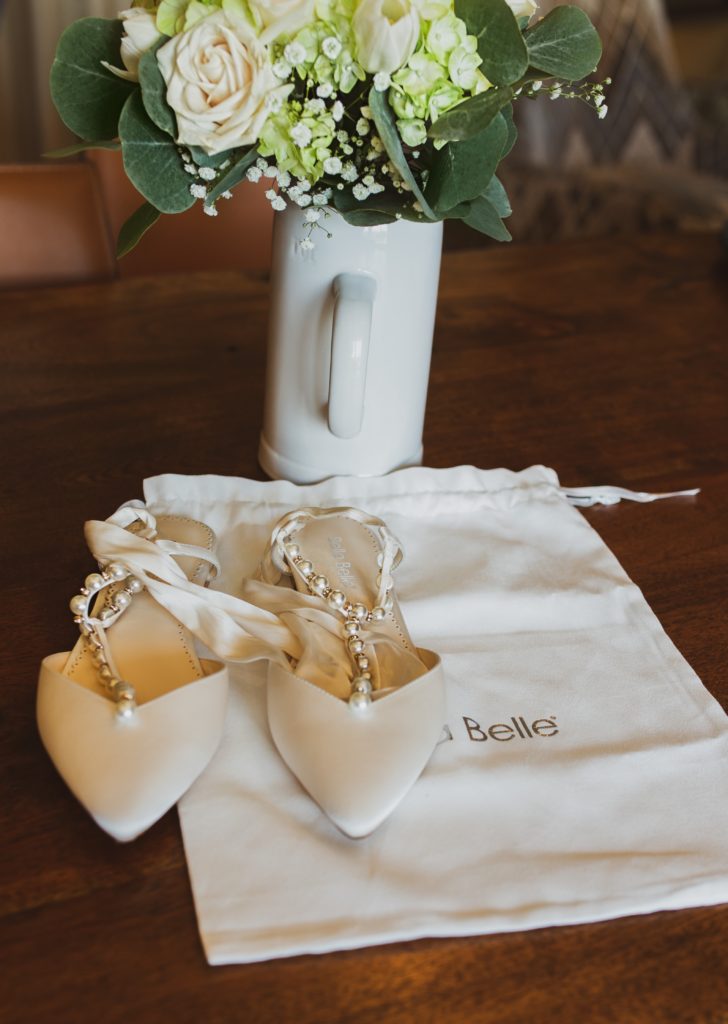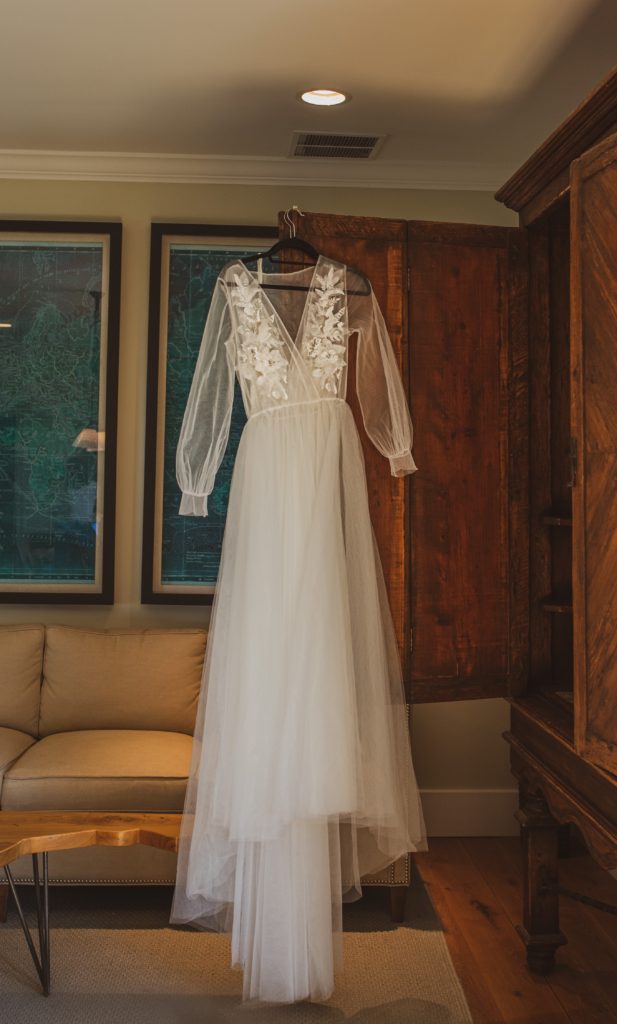 Victoria and Eric met in college, through the swim team. They hit it off quickly. "I thought he was the funniest person I'd ever met, and he found my incessant rambling endearing. I liked how direct he was, it was incredibly refreshing. He asked me to hang out a few weeks after we met and asked me on a date shortly thereafter. At the time, I was a sophomore and he was a senior. He was friends with my older sister who went to the same college, and you know how much siblings love it when you date their friends – lucky for us, it worked out!"
"Our first date," Eric shares, "was at a local steakhouse. Tori was very hungry and swallowed her giant steak in about 5 minutes flat, while I was talking and cut my steak into a million pieces – must have been my nerves!"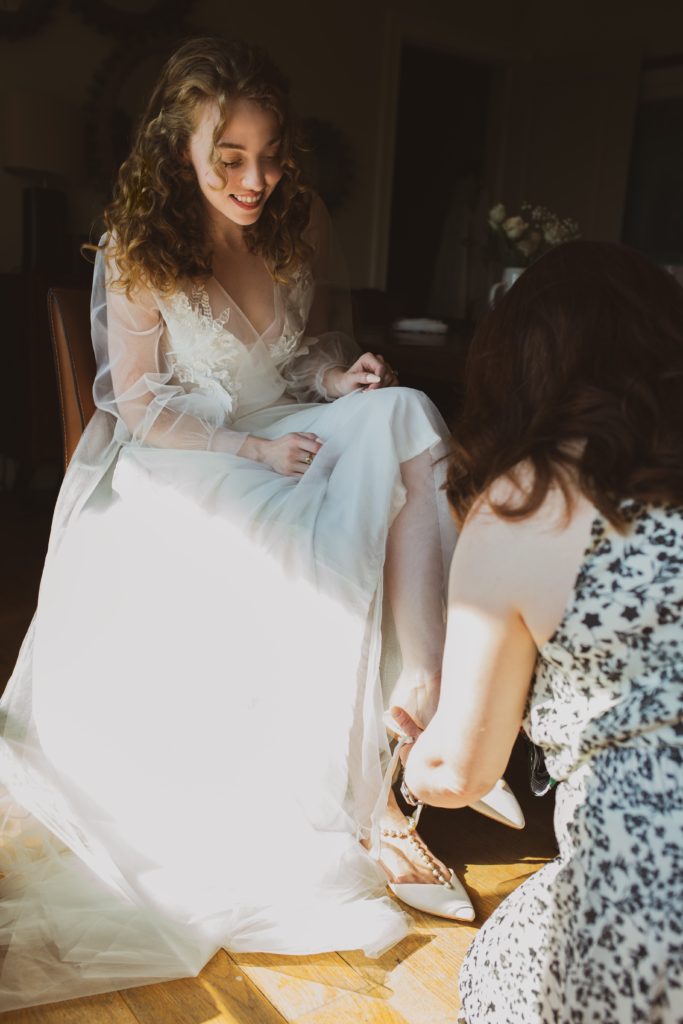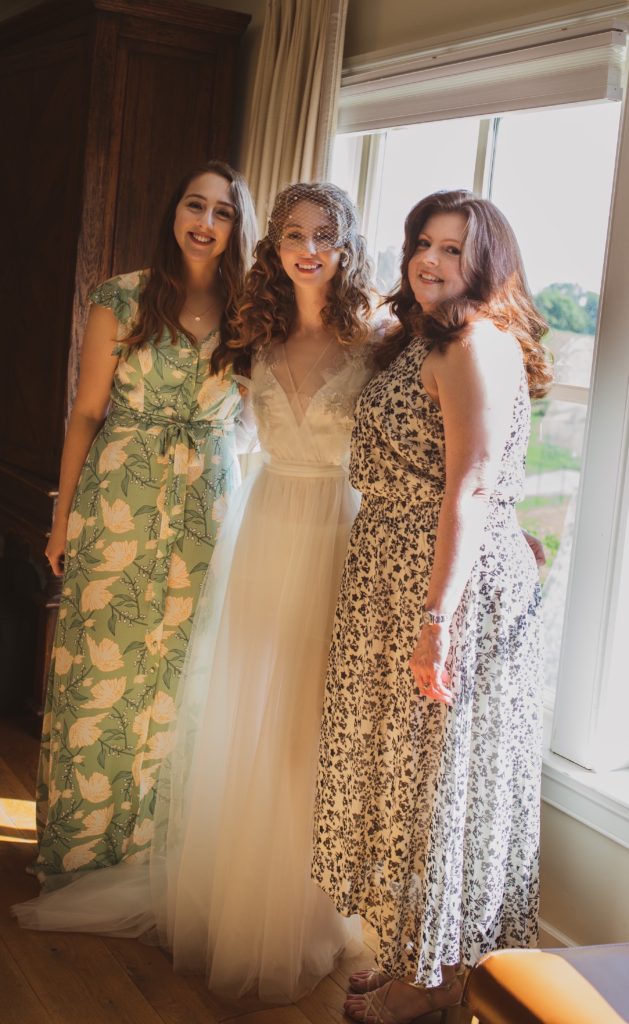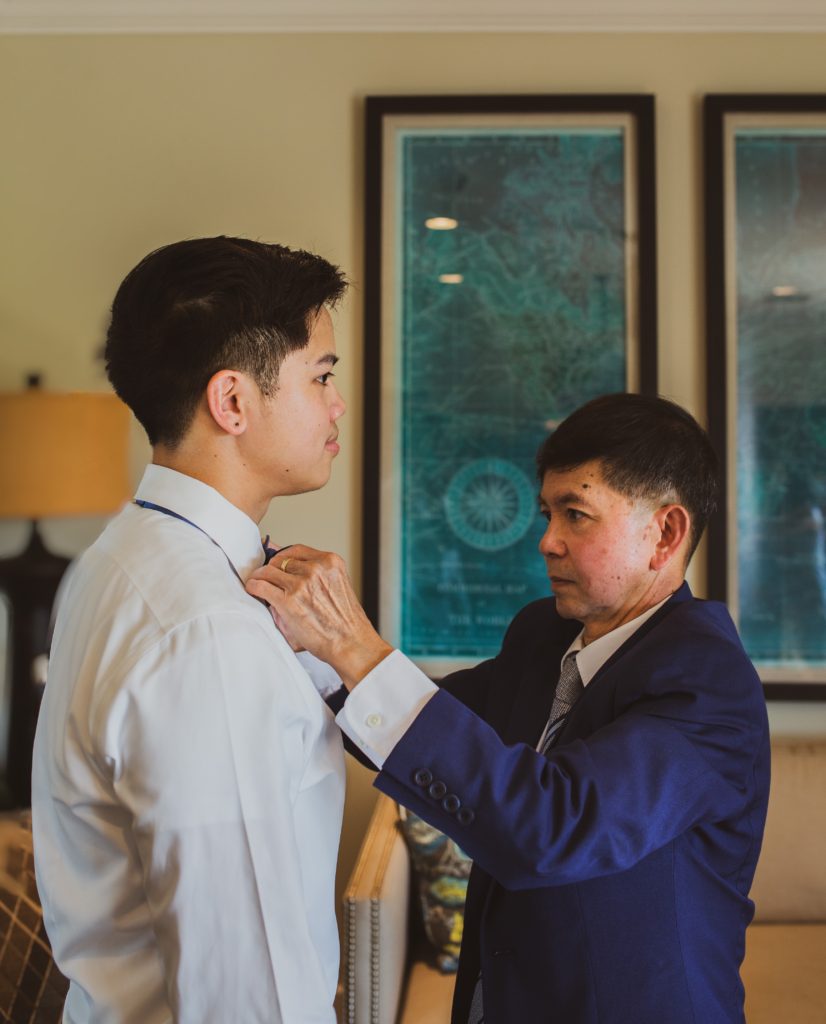 Tori was drawn to light, billowy, ethereal styles for her wedding dress, which is different from her usual day-to-day style. "And surprisingly difficult to find! I wasn't able to try on dresses in person, so I threw caution to the wind and ordered something I fell in love with online. My shoes were a product of a lot of searching as well – I wanted to wear flats, and had the hardest time finding a pair that didn't look like a worse version of their heeled counterpart. Bella Belle to the rescue!"
Tori wore diamond earrings that belonged to her late grandmother, which her grandfather (who was in attendance at the wedding) gave to her. He was thrilled at Tori's choice of honoring her grandmother in this special way on their big day.
"The ring I wore on my right hand also belonged to the same great lady – originally my twice great-grandmothers, purchased sometime in the 1920s, passed down to me through my mother's side. From my mother, I had a small handkerchief that was tucked into my bouquet – the same one as she did at her own wedding."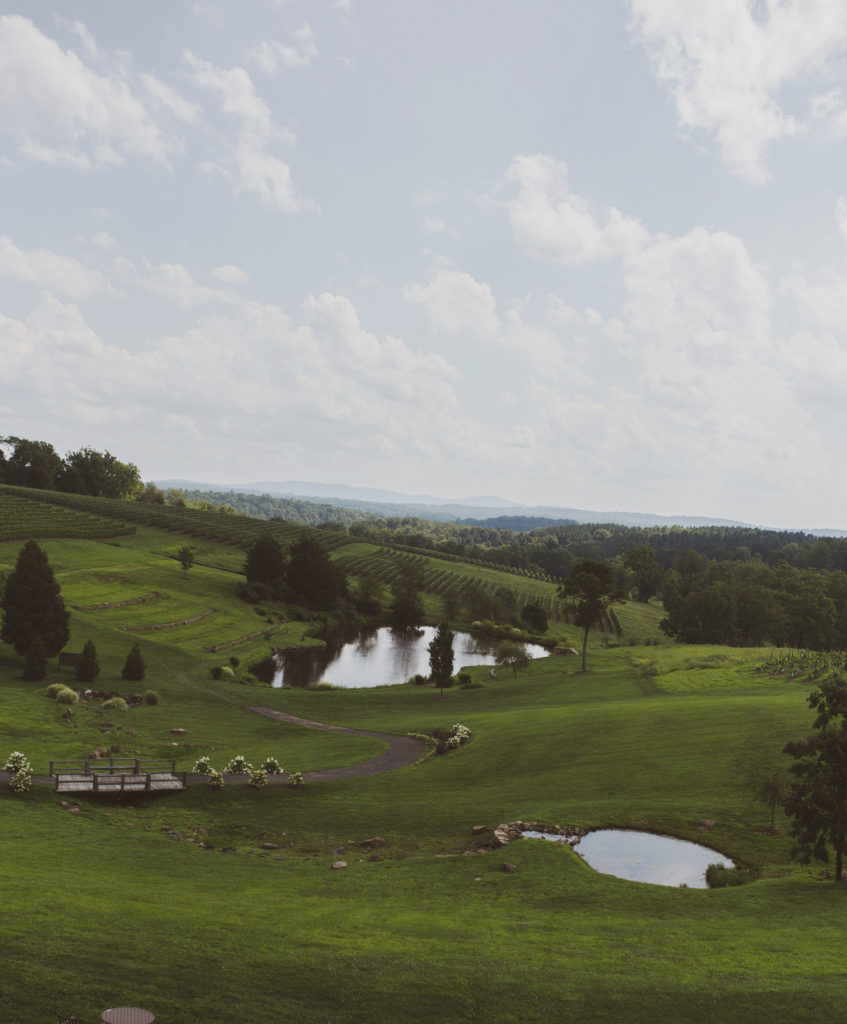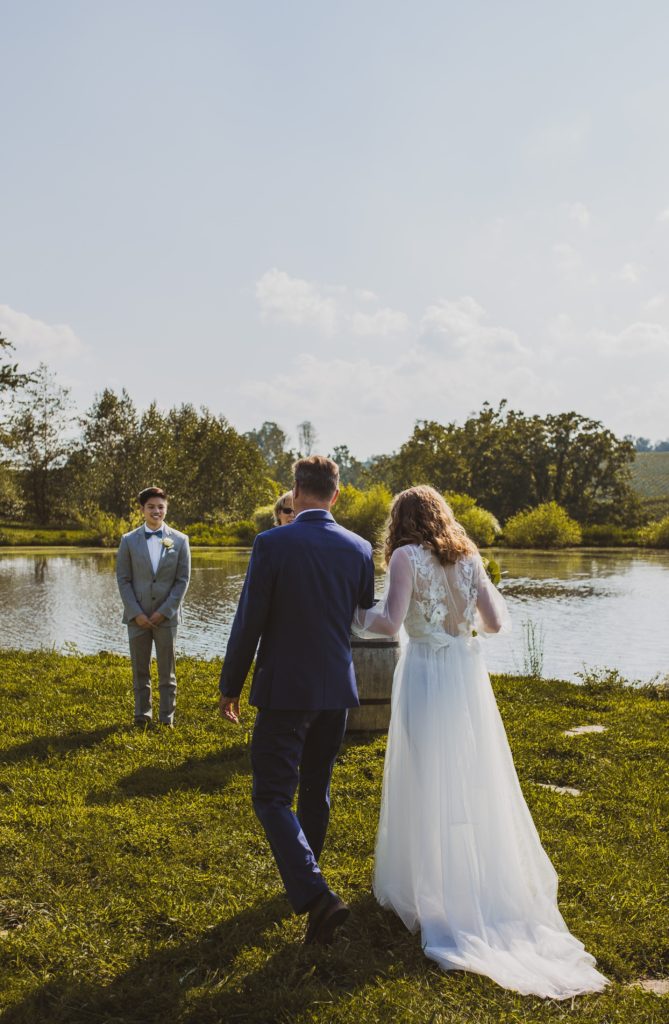 The Scoop:
Bride: Victoria, 25, IT
Groom: Eric, 27, IT
Wedding Date: August 9, 2020
Number of Guests: 12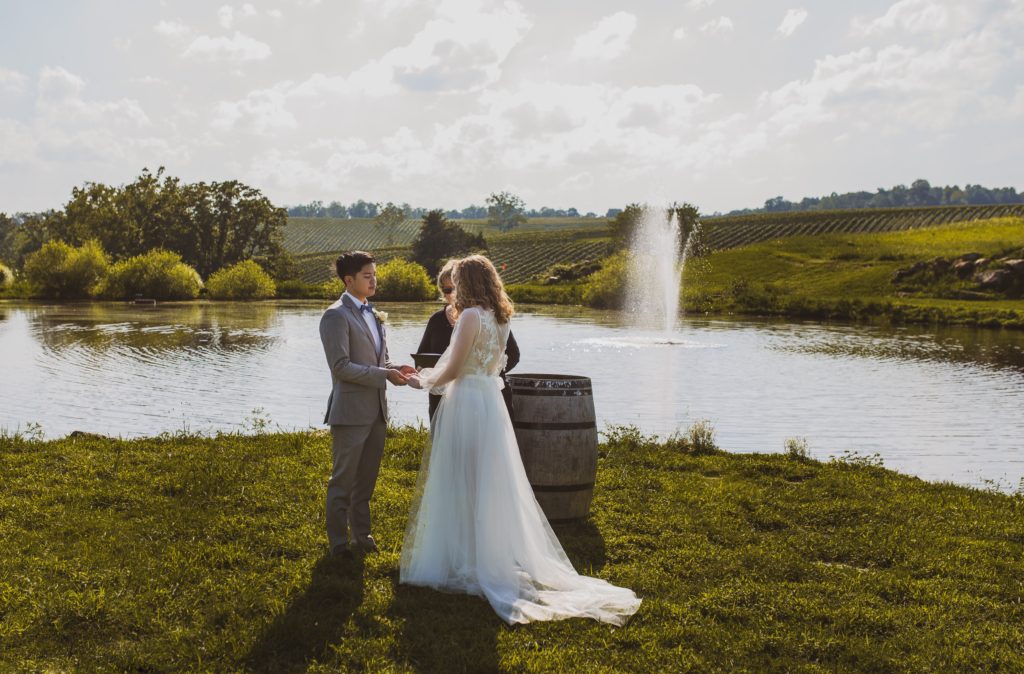 Tori shares, "Honestly, the most unique thing about our wedding is probably the circumstances under which it was planned and executed. We secured the venue in February, and all our planning came screeching to a halt directly afterward when COVID hit the US. We had to make a go or no-go decision in June, and we decided to move forward. We planned the entire wedding in about 6 weeks, from finding a photographer to buying my dress. This also meant I did a lot of things myself I otherwise would not have. Hair, makeup, flowers, dress alterations – you name it. (Spoiler alert – I'm a terrible seamstress)."
They weren't able to have a bridal party for their Virginia wedding, also thanks to the pandemic, but Tori's sister stood in as both maid of honor and best man. She also put together Tori's bouquet and Eric's boutonniere and helped with the dress alterations.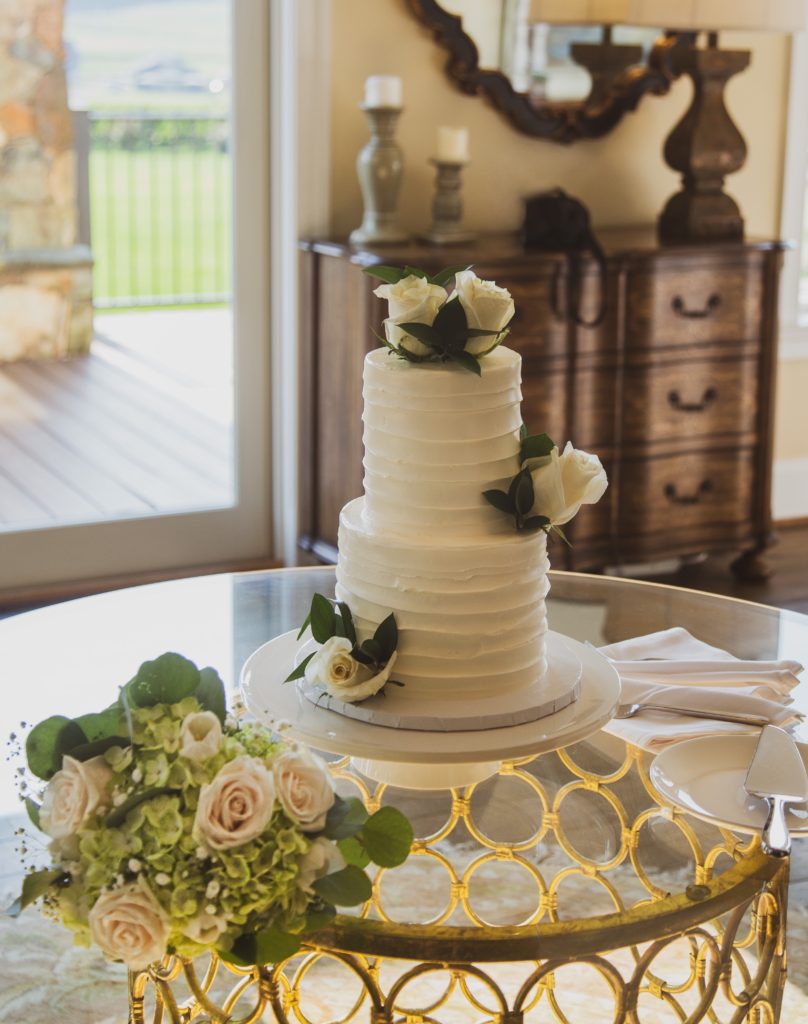 For décor, the couple focused on light and simple, playing off the white and green beauty of the venue at Stone Tower Winery. "Since we didn't have a bridesmaid, groomsmen, or much additional decor, it was mostly for the flowers & cake. By happy coincidence, my sister wore a white and green dress to the wedding, fitting for her role as the sole member of the impromptu wedding party."
Tori and Eric chose the Stone Tower Winery for their venue because it was one of the first places they visited after buying their house. "We couldn't believe that we lived so close to such a beautiful place and as silly as it is, it helped us feel we made the right choice in moving. We weren't engaged at the time, but I remember Eric saying that he could see us getting married there. Two years later, we made it happen!"
Eric says, "The reception venue really spoke to us and set the mood for everything else. The room was elegant, small, and cozy. It didn't look like a formal restaurant room but just like any other part of a house, with couches, cozy chairs, a deck, just places to lounge in. Since the ceremony was outside, we didn't bring in any additional decor – the view was beautiful, and we thought anything else would just detract from the scenery."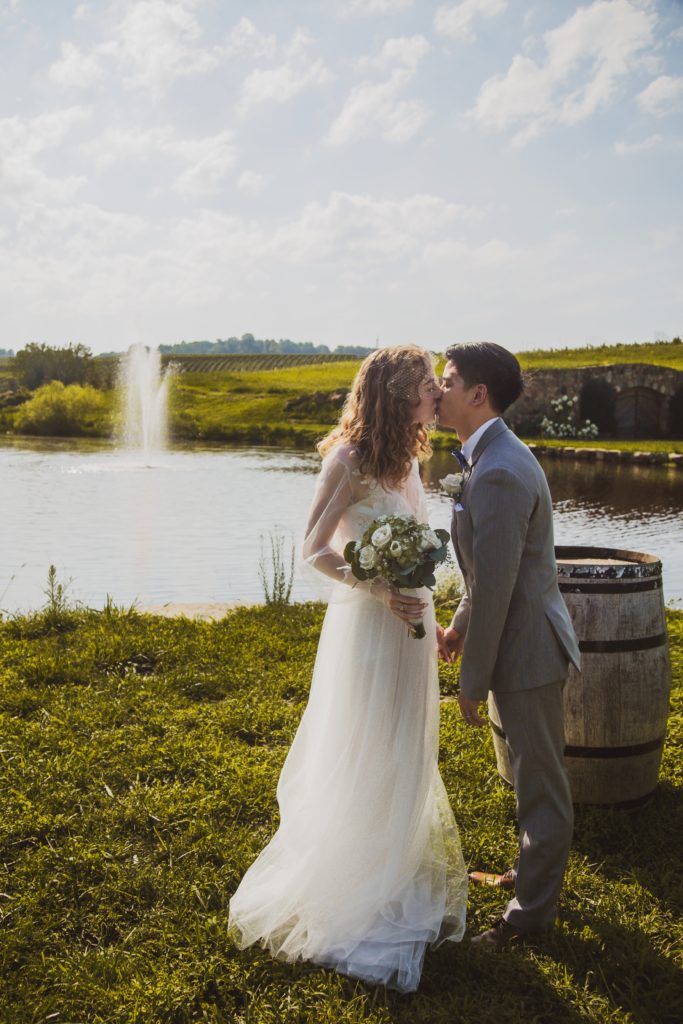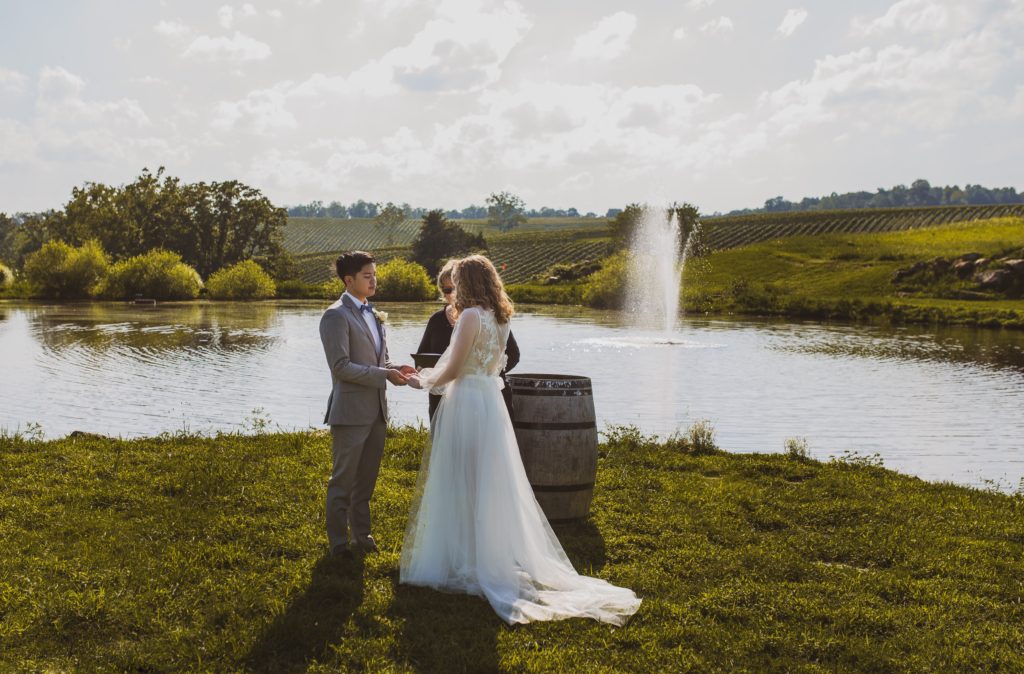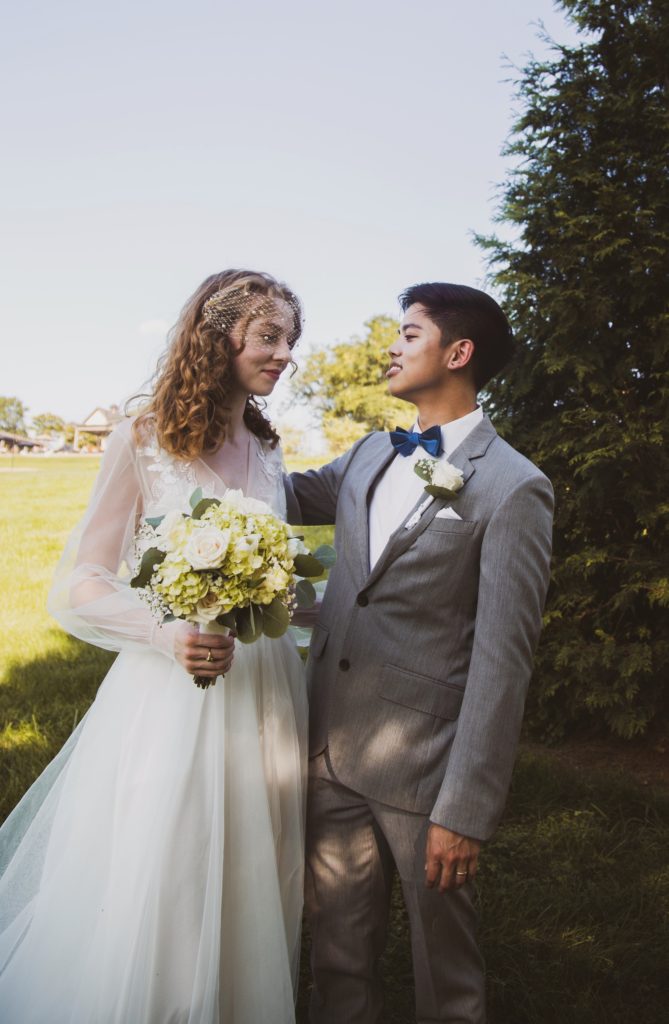 The couple planned the wedding carefully to ensure that Tori's grandfather could attend. "I'm the first of his grandchildren to get married, and he was so excited to be there. He's never been able to come see where I lived since we moved, so he was very excited not only for the wedding but to be able to make the trip.
"Additionally, while I couldn't have my best friend there due to the pandemic, I was able to FaceTime her after I finished getting ready and before walking down the aisle. It meant so much to me to be able to speak with her and take a few moments to catch my breath. She even got dressed up, despite being in her own home a couple hundred miles away, which was hilarious and absolutely made my day."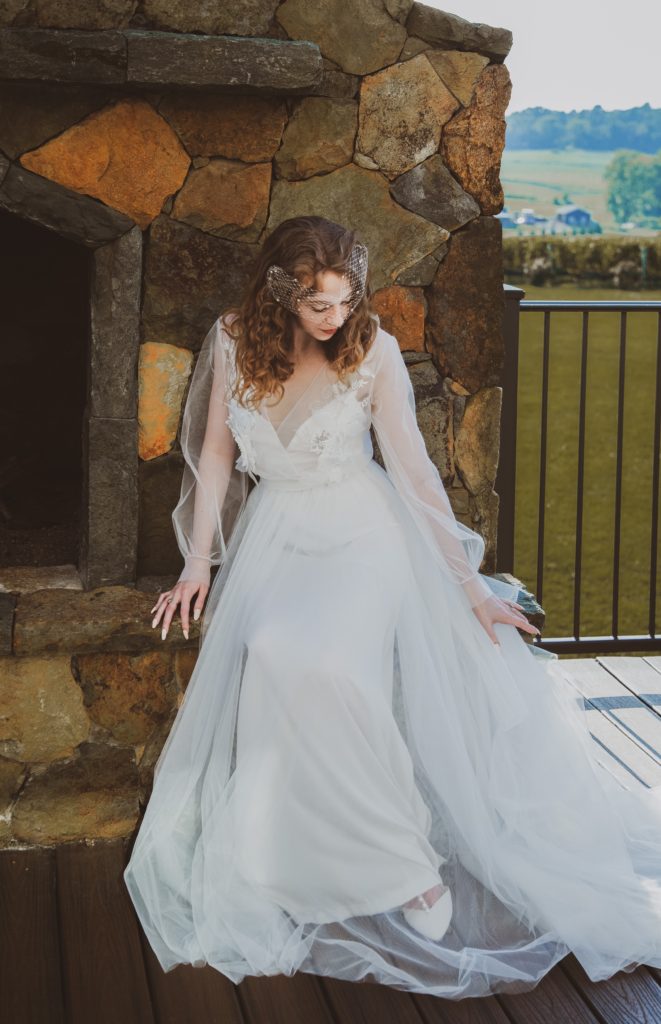 Eric says, "We always wanted a small, intimate wedding with our closest family members. The inspiration for me was Tori's family inviting me to Thanksgiving. I remember meeting the extended family for the first time, and how inviting and relaxed everything was. I wanted to keep the same atmosphere – cozy and informal on a day that's often about pomp and circumstance."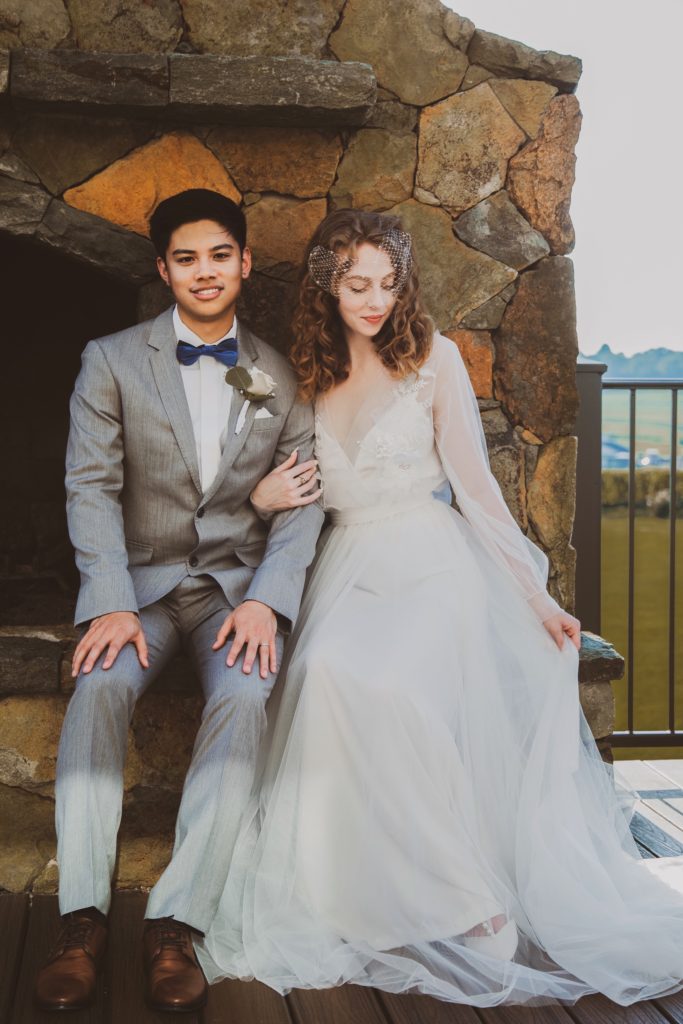 Their beautiful, simple wedding with just a few guests certainly met that desire for an intimate family gathering. Congratulations to you both! And thank you for sharing your story with us!
Vendor Credits:
Venue: Stone Tower Winery, Leesburg, VA, 703.777.2797
Photographer: Elaine Li, 406-208-7089, lovelettertoselfphoto@gmail.com
Officiant: Trish Fox, Leesburg, VA, 540-303-1824
Gown: Boudoir Wedding
Veil: Twigs & Honey via BHLDN
Shoes: Bella Belle
Hair & Makeup: The Bride
Formal wear: The Black Tux
Flowers: The Bride, with flowers from Trader Joe's & Wegmans
Catering: In-house from Stone Tower Winery, Leesburg, VA, 703.777.2797
Cake: Simply Desserts
Honeymoon: Delayed due to COVID – tentatively rescheduled for November in Bora Boar, French Polynesia.