Happy Monday everyone! Now if you think anything like me, then the centerpiece on your tables is one of those things that can bring together your reception. Whether it be those tall beautiful bouquets of roses, or lilies, to the cute little shrub-like bushes of orchids in round vases filled with water, centerpieces make the reception. It can get a little intimidating, but if you keep a positive attitude, choosing your centerpiece can be a lot of fun! I'm here to break it down with you and give you some ideas of a couple of different centerpieces you can have at your own reception! Here we go!
I'm sure you've seen these before. Whether it be in the movies, or your friend from college's wedding, tall, long stemmed centerpieces are very popular among wedding planners. These beautiful centerpieces can be very versatile. You could give them a modern touch by making the stem sleek and smooth. The arrangement of the flowers would be symmetrical. Just add some neutral colored flowers, maybe a pop of color here and there and voila your elegant, and modern centerpiece! Or we could go in the other direction. Classic, romantic and whimsical! These are usually the centerpieces that have some intricate designs etched into the stem. These arrangements also tend to be more colorful which gives you more options when it comes to choosing flowers. So go ahead and go bold!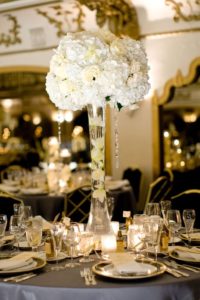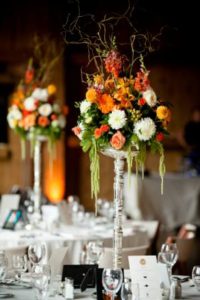 The second, and probably more common centerpiece arrangements, are the medium sized, fuller, and bolder arrangements. I feel that you have more room to create and customize your own centerpiece when using medium sized arrangements. You can add some lace to the vase holding the arrangement, or some ribbons in your wedding color scheme so that it is personalized to your wedding. The one complaint that I do have about these arrangements, is that they do tend to cover the faces of people sitting across from you. This may cause problems when people try to hold conversations. But overall, these arrangements tend to be more fun!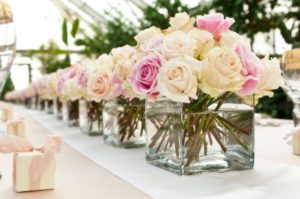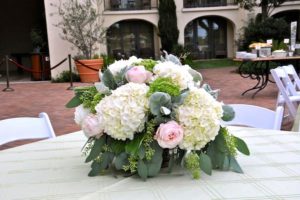 The last centerpieces are the small and dainty arrangements. These arrangements are meant to add just a hint of creativity, but not so much that it overpowers the reception and the memories being created. You could also get a little creative with these arrangements, and instead of making flower arrangements, you could include, maybe a set of candles, at the middle of the table, or maybe a bowl of water with floating flowers and candles in it. These arrangements are my personal favorite. I think you could multi-purpose these centerpieces! They could be a simple and beautiful reminder for your guests to use in home after your wedding!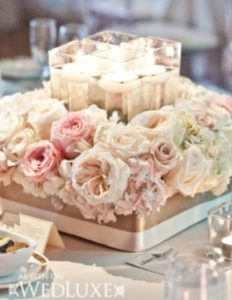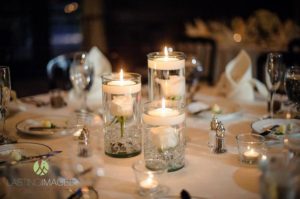 Now these are just my point of view on the different arrangements. Everyone has a different style and personality, so everyone's wedding will be different. Find and create your perfect centerpiece to match your personality and wedding style. Hopefully this post gave you some ideas to think about while shopping! Good luck and have fun!