Wedding themes are important.  Here are many top choices!
When you see a wedding that is perfectly coordinated with all these layers of details, it is more than a color palette at work. And once you pick your theme, you instantly narrow down your choices of dresses, flowers, invitations, venues, and place settings.
The Vintage Wedding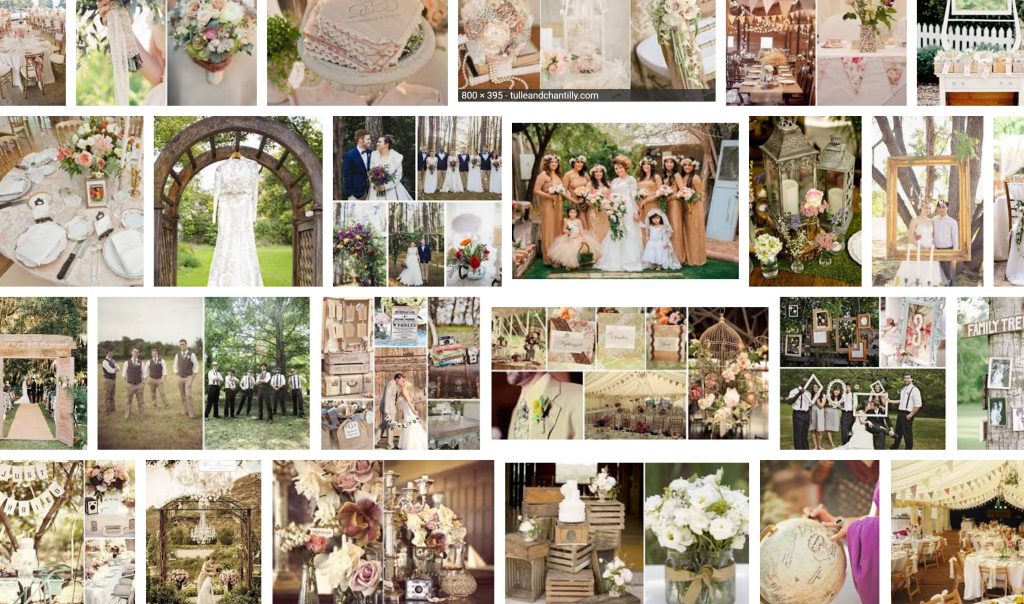 Anything over 50 years old is oftentimes referred to as vintage.  However, a vintage themed wedding has come to mean lace, pearls, white-on-white colors accented with light pinks, blues, greens, or yellows.  It also means cut glass or pressed glass that will catch the lights on patterned surfaces.  For a vintage wedding, it isn't necessary to pick an era, just sample them.
Relive a Decade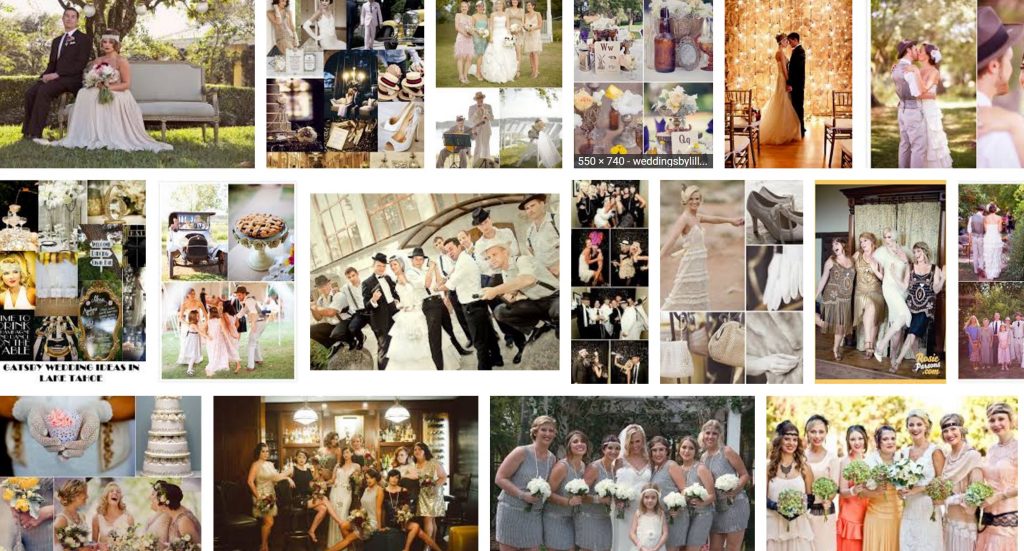 When you start investigating vintage weddings, you might become attracted to particular decades.  Popular decades include the Roaring 20s, the Mod 60s, the Chic 50s, and so on.
The 20s had iconic sleek, satin dresses, headbands, feathers, long pearl necklaces, champagne fountains, teacups on great china, and white walled tires on Chryslers. The 30s and 40s had long sleek dresses with shoulder pads, hats with short, lace or fishnet-like veils, and big bands.  The 50s and 60s you see sleek, smooth hair, heavy eyeliner, short simple dresses, and not-in-nature patterns and colors.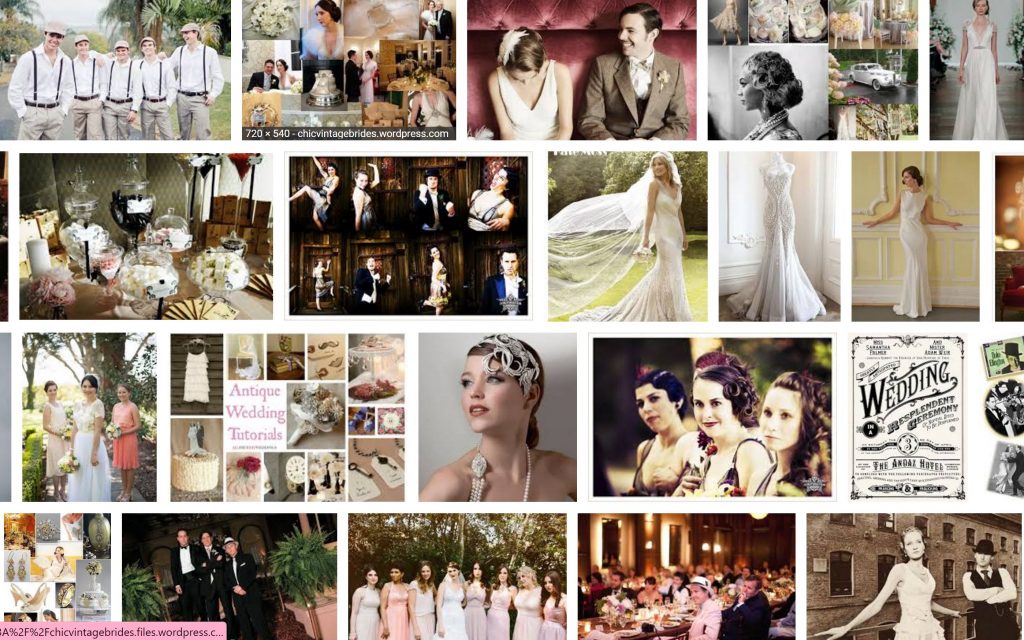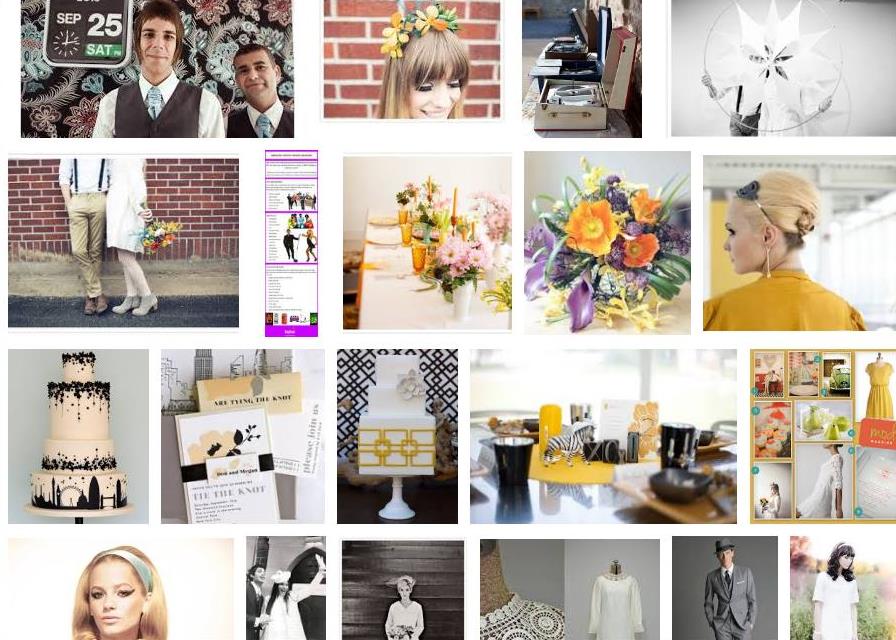 Relive an Era
Another way to hone your vintage wedding into something more focused is to pick an era that has long passed. A popular and recognizable era is the Victorian era.  Another beautiful time to hark back to is the Medieval period.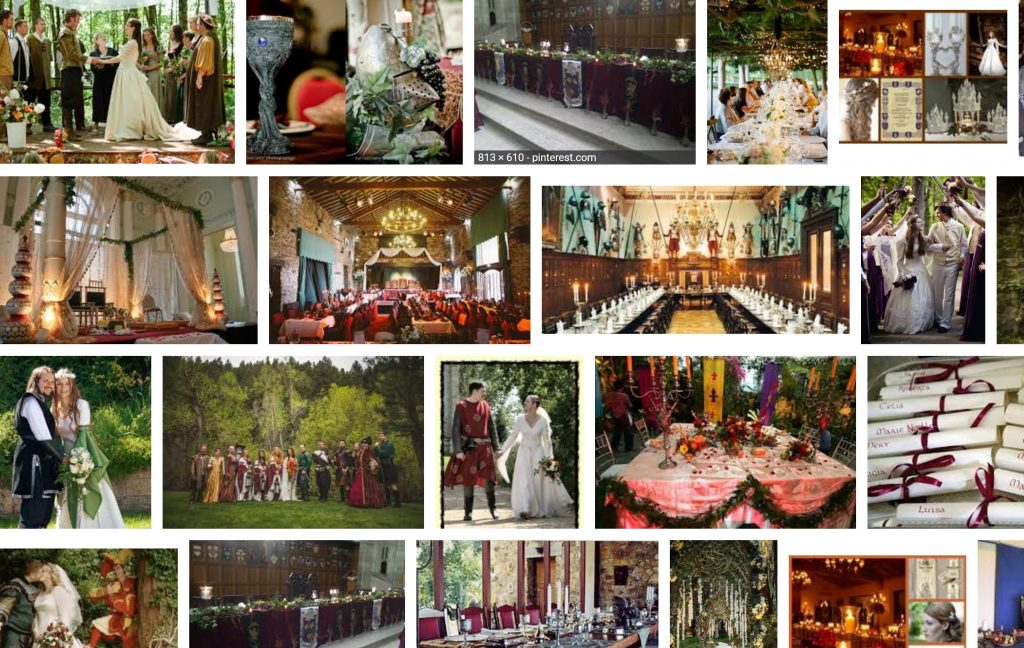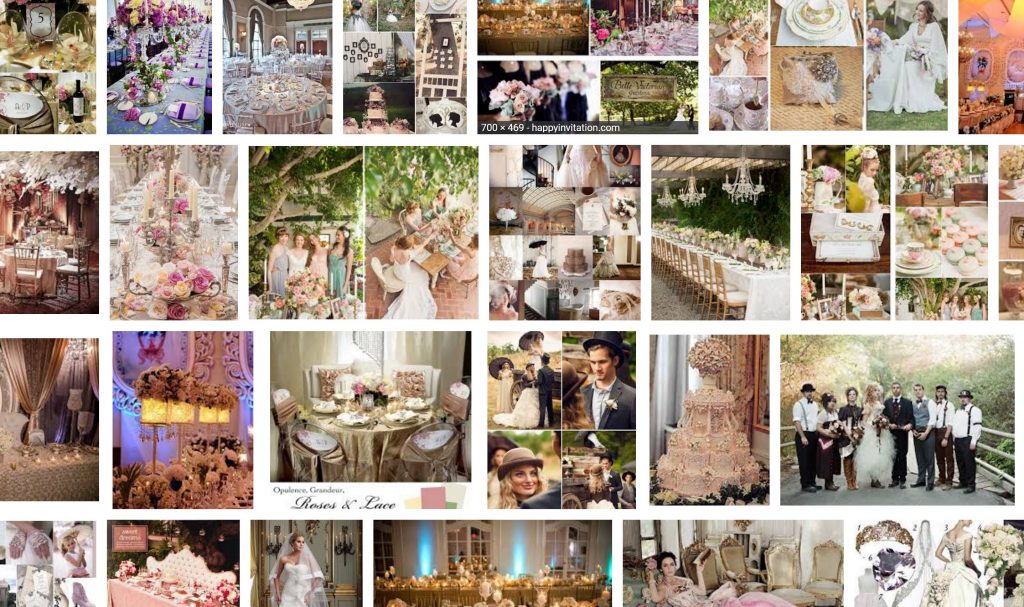 Popular Style Themes
If going back in time isn't appealing, there are themes that are just about style, not history.
Rustic Chic Weddings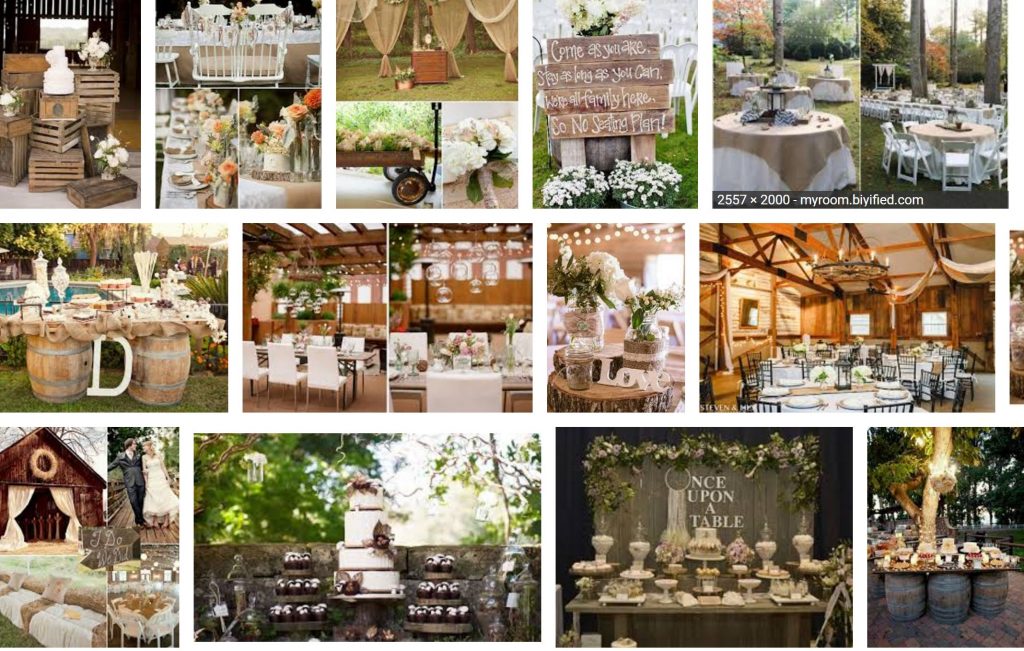 Rustic Chic can mean renting out a barn, but not necessarily.  Most rustic weddings include natural, unfinished wood props strung with lights and rose garland.  People employ copper and galvanized metal containers to hold bouquets of flower, or a galvanized tub to hold ice and beverages.  But it isn't all raw wood and metal and rain barrels.  Oftentimes vintage or antique chandeliers are hung outdoors, so you have cut, sparkling glass to contrast with the distressed, naked wood.  This is a theme I can't get enough of.
The Multicultural Wedding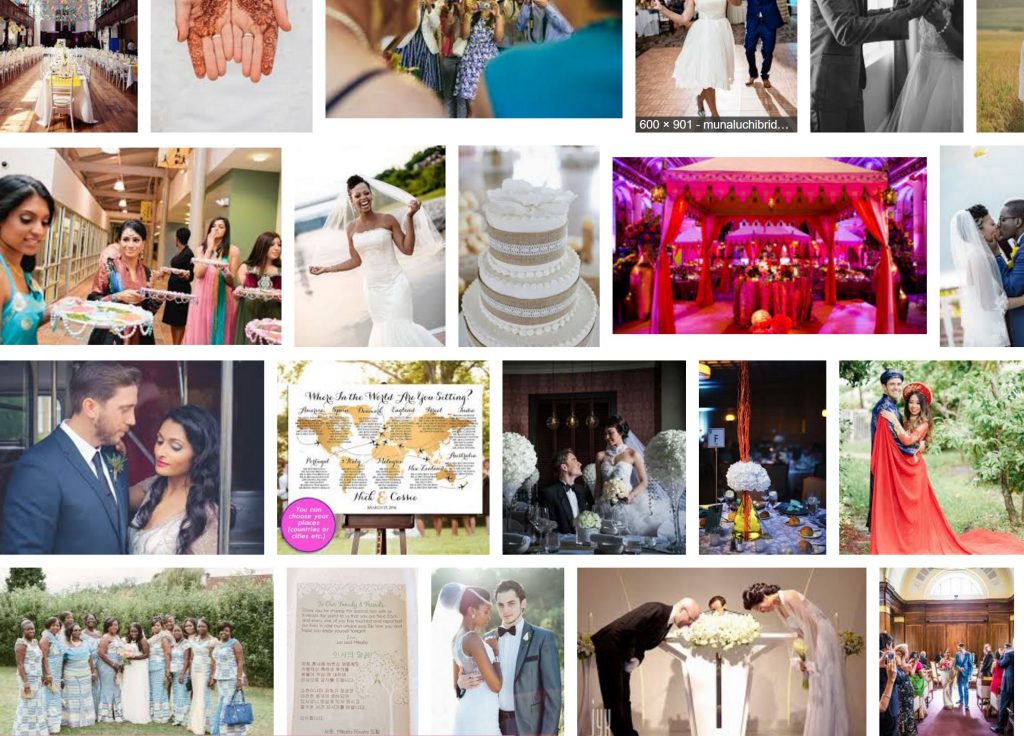 Another theme I'm in love with is the multicultural theme.  This doesn't have to be for someone who wants to celebrate their particular heritage, but for someone who loves world travel and exotic locations.
There is a great use of hot pink and velvety purple with swaths of gold.  Radiant red, especially used as lace, also makes an appearance.  Headdresses are employed in lieu of veils and crowns of flowers.  Henna painting can beautify the ladies' hands.  There are big shows of  tropical, summertime flowers and large, glossy leaved greenery.  There are brightly colored fabric or paper lanterns, but the most attractive quality to these weddings is  their use of colors and exotic traditions.
Could you imagine sending off invitations that look like passports?  What a wonderful introduction for some of your home grown relatives to a theme that you would like to be swept away by.  If you are really fortunate, maybe your honeymoon can be abroad.
The Seaside Wedding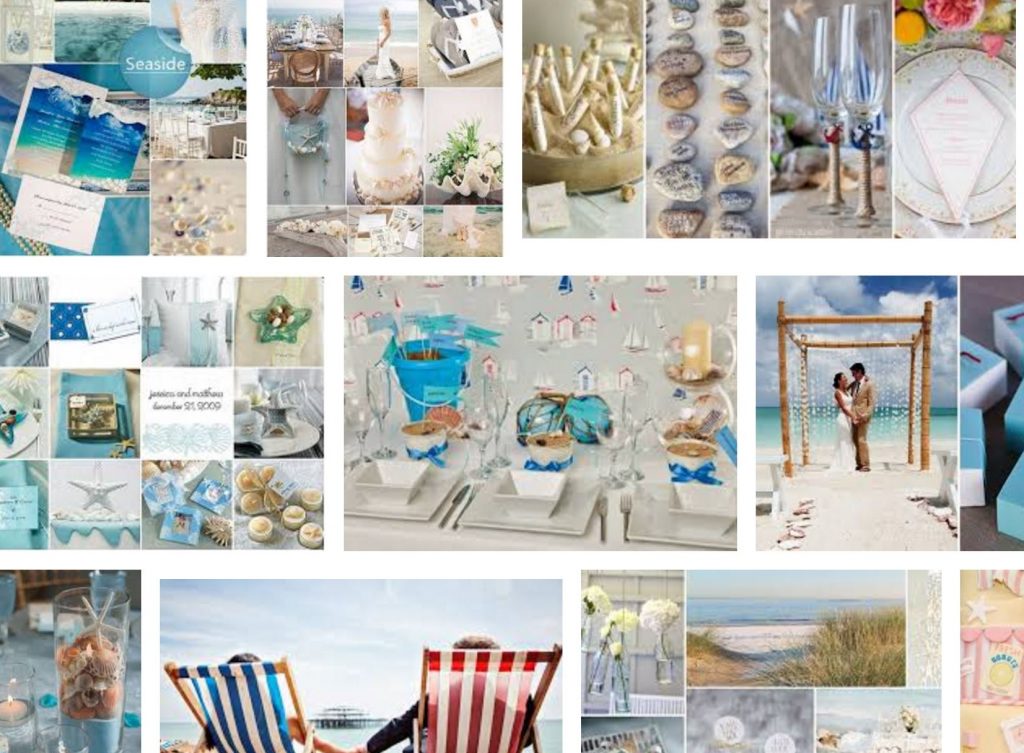 The Seaside Wedding has to be the second most notable wedding style of all wedding themes.  This theme does not have to be only for those being married at or on the seaside.   You just have to love the seaside.  Hurricane lamps, fish netting, seashells, and glittering sand are just a few of the notable pieces to this wedding.
So whether you get inspired to travel the world or visit the seaside or relive a decade or a century, your wedding can be any transporting theme you wish it to be.  Love making it your own no matter what you are basing it on!  Once you pick a theme, all your decisions will fall into place.
---
– Virginia Bride Magazine features the best Virginia weddings and Virginia bridal shows. Find it all in one place. Check our blog posts regularly for the latest show information.