Everyone thinks "wedding season" is from late spring to early fall, but there's no reason why a winter wedding can't be just as beautiful. Not only can a winter wedding be a little easier on your wallet, it also comes with a uniqueness that is unmatched by weddings in other seasons. The colder months make having a black tie dress code painless, so if you want an elegant, sophisticated wedding the winter might be a perfect fit. When thinking of a classic, timeless wedding pallet most people go to a traditional black and white theme. However, a bit of a modern spin on this classic is navy blue. A plethora of colors can match navy blue, such as burgundy, dark green, and gold. Our personal favorite, however, is a sophisticated combination of navy, tan, and white, with hints of gold.
The Bridal Party
So how can we incorporate this color pallet into the bridal party's attire? One of my personal favorites is to have bridesmaids wear navy floor length gowns, like the in the photo below. Don't be afraid to mix and match styles of gowns, as long as they're the same color. This allows each bridesmaid to choose a dress that matches their style and that flatters their body type.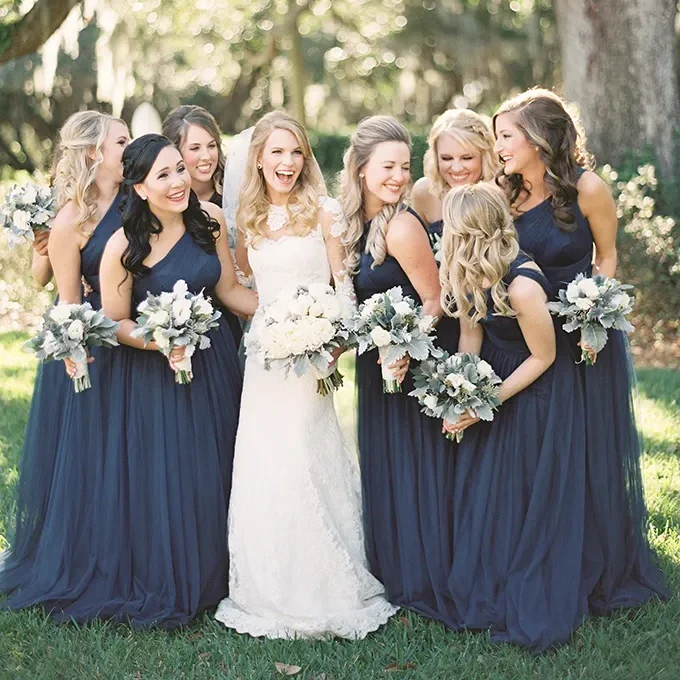 Having the groomsmen wear tan suits will provide cohesiveness to your photos. If you want your groom to stand out a little, have him wear a navy suit. Whether everyone is in tan, or the groom is dressed to stand out, the photos of the couple and their bridal party will be beautiful.
Flowers
Next let's discuss flowers! Personally, I love large flower arrangements. Florists are expensive, however, so if you're on a tight budget it is definitely something you're able to DIY! Bouquets with large amounts of greenery are on trend right now, and will fit perfectly with your existing theme.
In addition to full bouquets, tall centerpieces with gold vases with bring the gold accents into your reception.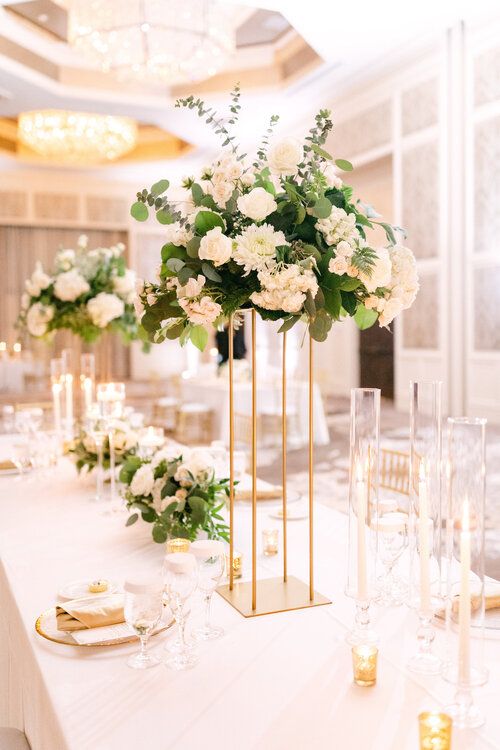 Whether you are creating the arrangements yourself or are using a florist, flowers might be limited in the winter months. Some flowers that will make beautiful arrangements and will be available include white roses, orchids, white ranunculus, and gardenias. White anemone flowers with blue centers, shown below, are beautiful and will carry the navy blue into your floral arrangements perfectly. Don't be afraid to include berries in your bouquets and arrangements, they add a pop of color and are ideal in winter weddings.
Decorations
Lastly, carrying your colors throughout the reception space really makes your wedding seem cohesive and intentional. Some subtle ways to do this is with decorations such as centerpieces, signs, and other small details. Since we already discussed centerpieces, we'll jump right in to signs. This acrylic sign with navy and gold detailing is a great way to welcome guests into your reception or cocktail hour space. The one below is available on Etsy. In addition to a welcome sign, table assignments, dessert table signs, cocktail menus, and gift table signage are all ways to incorporate your color pallet.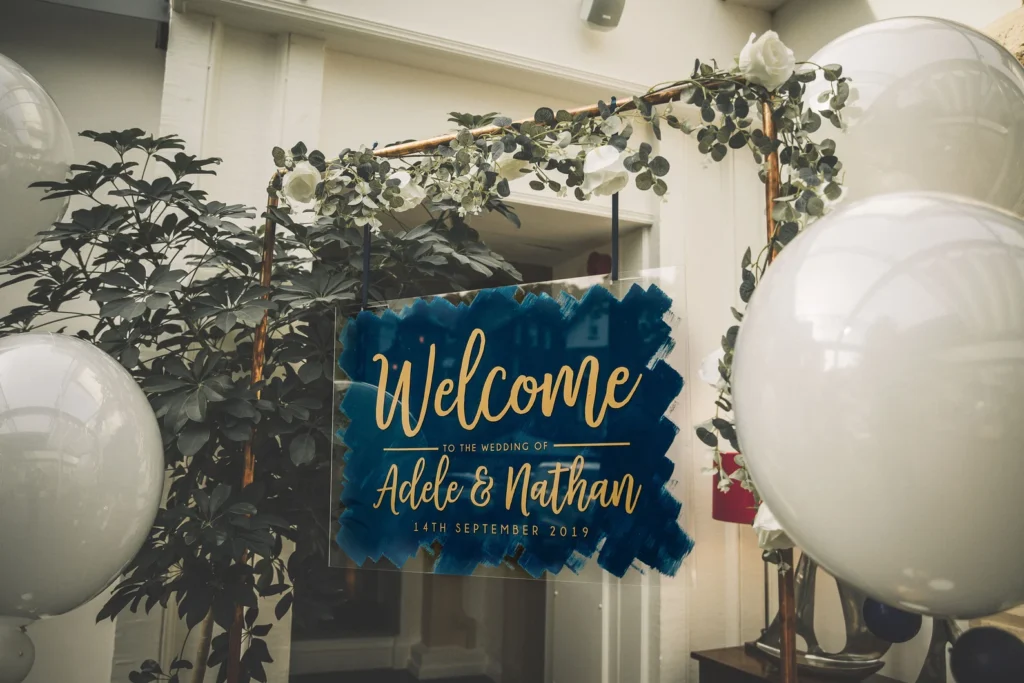 Small details on the tables such as place cards, menus, and candles are another way to carry your colors throughout your wedding, from start to finish.
If you are planning a wedding in Roanoke Virginia, Richmond Virginia, Fredericksburg/Northern Virginia, The Shenandoah Valley, Coastal Virginia or in Charlottesville/ Lynchburg Va. we can help with your wedding planning and ideas.