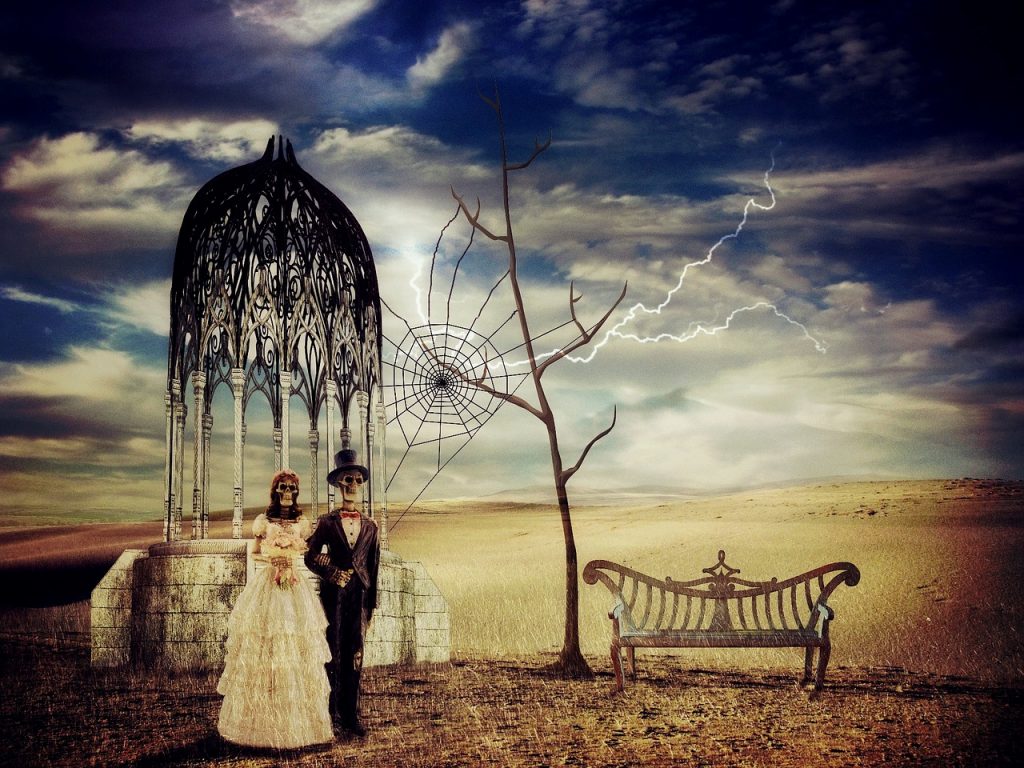 If you and your undying Love have a love for the spooky, the Gothic, or ghosts and their ghost stories, YES! You can do a delightfully haunted wedding that is beautiful and fun. And you can get as spooky or kooky as you want.
Name The Place
Virginia is full of haunted B&B's, plantations, and farms. Richmond, VA is the home of the Edgar Allen Poe Museum, a father of a whole Gothic genre that embraced passion and dramatizing of dark scenes. Virginia has aristocratic ghosts, plantation ghosts, pirate ghosts, and colonial ghosts. You may not want to hold your wedding in a hospital for the insane or an abandoned farm, but you can tour them to get your party on the right footing. A destination wedding of a different kind, you can treat you clan to the spooky side of Richmond or Williamsburg. Maybe your reception can be one long haunted hay ride.
Theme of Dark Colors, Jewel Tones, and Candlelight
Funny how the deeply romantic and the slightly spooky can work together. Haunted weddings are deep in reds, purples, and golds framed in with black and then accented with pearly whites. Beautiful, dramatic flowers poring out of white pumpkins on deep purple table clothes are romantic and will haunt people with their beauty. Black table clothes and dishes just make the pastel peonies, lilies, and roses appear that much more fragile and beautiful.
The Beautiful Bride's Bouquet
The colors are enough, doing black roses with purple and red: jewel tones. If you want to take it to another level, and you don't suffer from arachnophobia, you can put some jeweled spiders to catch the candle light as you walk the aisle.
Treat and Trick
At your reception, treat people to black candied apples or a candy bar full of autumn favorites and never fail favorites. And yes, not everyone will love the candy corn, but it will still look splendid displayed in apothecary jars with jaw breakers and special fall mix of jellybeans. Also, you can set an all black desert bar with lots of deep chocolate. Got a darker side, use a Gothic coffin and dare people to sneak a treat.
Party Favors
Not everyone will wear black or dress up, but you can provide the reluctant with beautiful masks. Think of themes like the Day of the Dead or Mardi Gras for inspiration.  Think of a macabre masquerade.
Dial It Up or Dial It Down
When you look around the internet for inspiration, you will find some go far and beyond anything you imagined, complete with corpse brides and monstrous grooms while others go for more romantic, Bronte'esque style with powdery grey wedding gowns and charcoal top hatted grooms with canes. You can dial it up or dial it down. Maybe just the jewel tones and jeweled spiders with lots of candy and lace is enough. Maybe you want carved pumpkins and everyone in costume reliving the best of childhood Halloweens past.
It's your party. You can howl if you want to.
– Virginia Bride Magazine features the best Virginia weddings and Virginia bridal shows. Find it all in one place. Check our blog posts regularly for the latest show information.