When dog people get married, it's a must to keep the pupper in the picture – figuratively and literally. Formal or fancy-free, any ceremony can include your special animal in lots of unique ways!
If you have a highly trained dog, consider putting her in charge of the rings, "handing" out the programs, or just simply posing for fantastic pictures as the world's most lovable photo prop.
Canine Couture
Every dog needs a fancy wedding outfit or accessory! If you have larger breeds, give them a top hat or bow tie and keep it simple. For small breeds, there are dapper dog tuxedos and formal gowns on the market for pets! All they have to do is sit and look adorable!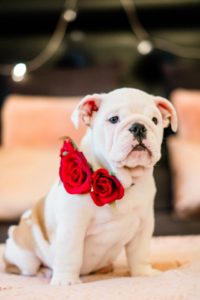 A flower crown or garland around the neck is a classic touch, but make sure it won't make the dog sneeze or itch. Give him a trial run with the greenery or botanicals you want to use to avoid any day-of catastrophes. Avoid using any decorative flowers that are poisonous to dogs. Or, avoid the issue altogether and use silk flowers; have you seen the custom-made bridal collars available online?! This is a great option if real flowers aren't going to work out well.
If you do plan to dress your dog in a pet costume, make sure she is used to wearing doggie outfits and won't vehemently reject the tiny taffeta gown you had made in Switzerland. Be realistic with your expectations of what your dog will put up with.
If your dog is not having it with the costumes or flowers, opt for a simple bow tie collar or a small artificial flower arrangement on the collar where it is less noticeable for your pet. Maybe a soft tulle bow that matches the bride's veil would be more manageable around the dogs neck. Do what makes your animal happy and gives them the best chance for a successful wedding experience with all your loved ones.
Photo Op with Fido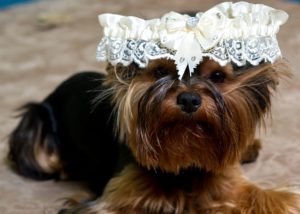 There is something innately photogenic about dogs. Why not include that moxy in your wedding fun by making your pup one of the star attractions? Cute and fuzzy or big and burly, come one and all to the canines who fulfill our lives and kept us from utter loneliness before true love came along. Get those dogs in your pictures!
Using your dog in the wedding announcement or invitation is a heartwarming way to make them part of your big day from the beginning, especially if they aren't cut out for being a "dog of honor" and the center of attention on the big day. Consider having a really good pet photographer at your wedding to make sure the photos showcase your pet's true nature.
Show off and honor your canine companion; having your flower girls or ring bearer wheel a pampered pup wearing a flower crown in darling wagon down the aisle would melt everyone attending. Action shots of the dog playing fetch in a wedding outfit or flower garland would be hilarious and unforgettable, and maybe even a great image for thank you cards later. Don't miss the chance to give the dog a sign at the reception that says, "I do too."
A well-behaved dog who won't get stage fright can easily fit the bill as a bridesmaid or groomsman, or a ring bearer if you have a solid plan for making sure the rings don't get lost or run away. For a less traditional touch, have the dog give the bride away at the altar! Everyone will be grinning and teary-eyed at such a sweet exchange.
Proper Pooch Protocol
If the dog is part of the ceremony or attending the reception, plan ahead to make sure he will not get overwhelmed with lots of people and sensory overload. Regard his personality when making plans to include him. Make sure he gets the chance to familiarize himself with the venue, the people who will be helping to handle him during the wedding day and help him feel comfortable with all his favorite things!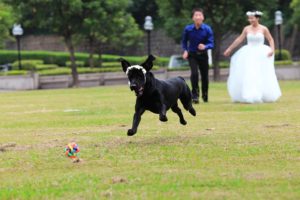 Understand that your dog will be quite himself with a lot of people around. Be prepared to have a trustworthy designated person available to tend to the dog so you can tend to your guests and enjoy your big day. Make sure to have your dog on a leash so there is no random upset with a tray of hors d'oeuvres or your great aunt's walker…
Also, don't force it. If your fur-baby is just too hyper or not fully trained enough to be able to handle all of the excitement, give yourself and your dog some grace and find a way to include him or her without overwhelming anyone involved! You can have pictures displayed, name drinks or zones of the venue after your dogs or have them make a special appearance with a trusted friend who will bring him and take him home after a short visit and lots of adoration. Pooch smooches for everyone!
Every dog has its own strengths and struggles. You know your dog better than anyone else and what kind of role a dog might be best suited for as its own little spotlight of your ceremony. Sometimes the dog predates the fiancée; make sure you keep your main squeeze involved in the party!