Every bride deserves to feel like a princess on her special day; a beaming, beautiful Belle glistening gleefully on her promenade down the aisle towards the altar.  For the past few months she has planned the food, the guest list, the cake (or macaron tower) and the jewels that will radiate her skin and seal the deal for her signature wedding look.  For some ladies, Tiffany & Co. or other fine jewelers will do. For a distinct few however, the jewelry will tell her story, and that story will be woven into the narrative of her beautiful day.  The pieces she dons will be  designed by skilled jewelers who have honed the craft of creating the perfect piece for each princess on her big day.
   Today, I will shine the spotlight on two such artisans.  I've asked them to share with me the story behind their favorite pieces and what makes them truly one of a kind.  My intention for this post is to focus more on the piece and the story behind its creation, because a soon-to-be bride somewhere in the Commonwealth is reading this, and that story resonates with her journey to the big day. (Confession: little did I know, I'd be that bride-to-be whose story resonates with one of the featured pieces here; keep reading to find out more.) That opportunity for connection through something so beautiful yet timeless as an article of jewelry is certainly worth it's weight in words, and that's why I've chosen to lead this article in such a direction.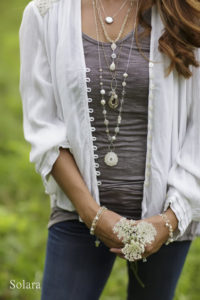 Anne Vaughan Original Jewelry- Floyd, Virginia
   Anne Vaughan Designs fills a niche all their own, choosing to direct their energy towards designing layered collections around certain color palettes. This, according to Co-founder Aaron Vaughan, lends itself to fitting the color theme of a wedding and creating a 'wow' effect around the bride and bridal party.  
   Weddings are their forte, and here's why: Anne Vaughan Designs has provided hundreds of wedding pieces for brides and their bridal parties, with each collection speaking to the bride's aesthetic and color way…from individual jewelry items for a sleek chic look to layered pieces.  
  Anne Vaughan Designs recognizes that there is a story behind every piece, down to the jewels that go into creating them.  Often, the stones they source have properties that cannot be found in jewels native to our country: properties that make each piece pop and enhance the appeal of the design.  Aaron identifies some of his favorites: fluorite with an Aurora Borealis finish, ruby in zoisite, garnet and pyrite and so much more.  Anne Vaughan Designs also works with with Swarovski to provide Swarovski pearls (not crystals) in their designs, which many people do not realize exist.  
  "There is a story and a person behind every piece – each design that comes from our studio is signed by the individual maker" Aaron says.  "Also, just like their vows, we offer a lifetime workmanship guarantee so they can be assured to have their piece regardless of what happens to it."

Moonrise Jewelry- Cape Charles, Virginia
  From the Blue Ridge Mountains to the blue waters of the Chesapeake Bay, we venture to Cape Charles, Virginia, the home of Moonrise Jewelry and the company's esteemed designer and owner, Meredith Lusk.  
  Moonrise Jewelry specializes in jewelry and accessories made with a uniquely beautiful material…eco-friendly Fish Leather! Say…what?
  I know you're wondering…what on earth is Fish Leather?  I know…because I wondered the same. Fish Leather is a type of exotic leather made from fish skins that are discarded by the seafood industry (non-endangered food species). This natural byproduct is repurposed into a luxurious leather by their tannery in North Iceland, utilizing renewable hydro and geothermal energy. The month-long process is similar to tanning other types of animal skins, and produces a durable, odor-free leather that is stronger than cow leather. The distinctive scale pattern of each fish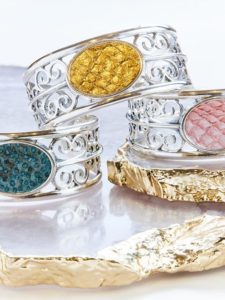 is unique, highlighted with metallic finishes to create an incredible array of vibrant colors and textures.
  Moonrise Jewelry then inlays this amazing material into necklaces, earrings, bracelets, rings, cufflinks and bow ties in their Cape Charles, Virginia studio.  Many of their customers have a connection to the coast or are planning weddings in coastal areas, so their Fish Leather jewelry and accessories are real conversation starters that reflect their love for the sea.
When designing jewelry for her clients and their wedding parties, the experience is equally special for Meredith.  
  "When I work with a bride to design jewelry and accessories for her wedding, I take the time to get to know her individual style, preferences and her vision for the look and feel of her wedding. That way I can design jewelry to fit within her budget that is a perfect complement to the dress, the wearers and the wedding day venue. Most people don't want a "cookie cutter" wedding, so why should the jewelry be any different? Most brides have several fittings for their dress and the jewelry that will be worn with it should be tailored to fit and flatter in just the same way. That is one of the true benefits of custom, handmade jewelry— it can be designed and altered to fit the wearer to a "T" and personalized to suit individual preferences and special needs (i.e. earring type, metal sensitivities, or adjustable lengths)."
  Having traveled to Iceland, the experience for me was quite magical.  The pastel mango sky against an icy white landscape… the crusty, volcanic soil crunching beneath my boots… my adventures in the world's northernmost country capital city almost rivaled the culmination of wonderful memories made while living here on the Virginia Coast.  From rowing on the crew team at Virginia Tech to chartering boats with Daddy on the Chesapeake, some of the greatest moments of my life happened on the water, and for this reason, I intend for my special day to be a signature coastal wedding. As a travel blogger, I've experienced some really amazing places around the world, but none quite like Iceland and most certainly none quite as special as Coastal Virginia.  I'd never imagined I would be able to combine such eccentric elements with a piece that could so perfectly enhance the magic of my magical day.
Hopefully, my magical Coastal Virginia wedding day will be filled with the people I love, the food I crave…and Icelandic- tanned fish skin.