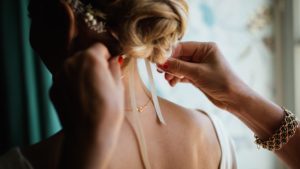 Is it old fashioned to wear a family member's wedding dress, use a set of antique family rings or include "something old, something new…" in your wedding ensemble? We think that as long as there is a generation alive who remembers those quaint nuptial customs, then they are still relevant at the modern wedding.
There has always been a nostalgic charm to the juxtaposition of old and new, modern and traditional, classic and contemporary. You can add layers of meaning and memories by pulling gems from the past into your big "today." Grandparen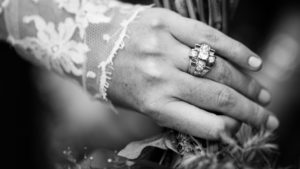 ts are the patriarchs and matriarchs of the families you are celebrating joining at your wedding; there are many simple ways to honor them accordingly!
Grandparents are special. They are part of the story that made you the person you are today, and chances are they helped raise you in some form or fashion. Most of the peripheral attention will be on your parents and attendants throughout the wedding day, but if you have grandparents who are around, here are a few ways you can give them a special highlight.
Rethink your wedding party. Maybe you have seven young girls to choose from for a flower girl, but what about giving that role of ushering in the bride to your beloved mémère? What about having Pawpaw bear your rings? A grandfather might be a little more reliable than a four-year-old, and possibly even more adorable. Especially if he has some mischief and is the type to mutter jokes under his breath all the way down the aisle and give everyone a sly smile from the altar.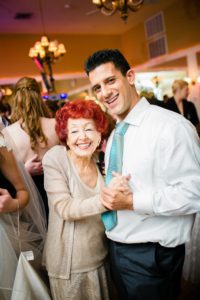 If your mother-in-law wants a special song sung at your wedding but a trilling version of a Josh Groban ballad is just not going to work for you, keep working the suggestion until you find something that hits home. Perhaps instead of a family friend vocalist that rarely lives up to your expectations, have a grandparent read a special poem, passage, or love letter from the past as a personal segment of the ceremony… without the cringeworthy solo.
At the reception, a special grandparents dance is a sweet way to show the mature members of your crowd that you see and acknowledge them. Choose a number from when they were young, a Frank Sinatra classic or Perry Como croon, and have the DJ dedicate the dance to all the grandparents in the room. As the bride and groom, join them at the end of the dance in an unmistakable expression of togetherness.
"Mobility Challenged" Grandparents
Of course, not everyone's grandparents are able to walk down the aisle, give a reading or dance the night away. There are still ways to get Nana involved in the nuptials! You might be the belle of your own ball but throw a little limelight toward the grandma and grandpa who helped bring you into this world.
Traditionally, the mother of the bride might be seen in the pictures zipping up the wedding dress or helping the bride with her hair. Make it a family affair and have grandma help out as well. Make sure to snag those classic generational photos, too. Having three, four or even sometimes five generations in one photograph is such a precious keepsake!
Ask the grandparents from both sides of the family to contribute anecdotes of advice about marriage, love, life and companionship. The eldest members of the family tree have lived longer than anyone else present and probably have some useful nuggets of wisdom. These can be presented in a formal, fun or funny way; mining treasures from these members of your family can be a wonderful and unique focal point at the reception and a special display in your marital home after the big day.
When the Grandparent's Seat is Empty
Of course, many of us have grandparents who are not with us anymore. Just because they aren't around in person any longer, there are still poetic ways to keep their spirit nearby.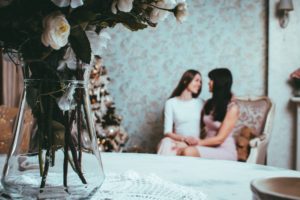 Use heirlooms where you can to bring personal and meaningful décor to your celebration. Talk to extended family who might own linens and tableware that have been in the family for a long time. Ask your aunts and uncles if you can borrow some of these things to add family charm to your event, such as procuring candlesticks that a deceased grandmother always used at Christmas and placing them on your sweetheart table. You can always purchase your own champagne flutes, cake cutting utensils or cake topper, but before you rush to shop for these things, consider shopping the china cabinets of your family members first. You will likely find items with more character, value and stories attached to them than you would find buying them new.
A formal or vintage-inspired wedding (really any theme at all!) could incorporate a special drink menu featuring some of the grandparent's favorite cocktails. A dry martini is nice, but when it's your grandpa's favorite drink and named after him for your party, it becomes one of a kind. Think of your grandparents' names and how they would sound ordered at the bar: quaint, endearing, memorable. These invoke feelings that make your wedding inclusive to your heritage and show those attending your wedding that you really went the extra mile to honor family. I'll have a "Jefferson Park" on the rocks please…
The classic gesture never fails – reserving a seat for a deceased family member at the ceremony. Flowers and a lovely placard denote the love still remembered between your and your grandparent. Some brides choose to have pictures of grandparents included in the reception slide show or wear a token of a deceased loved one as part of their bridal ensemble. For as many different personalities of grandparents, there are just as many ways to pay homage to those you hold dear.