Men have lots of thoughts about their wedding although you may not be privy to them. That's what's great about the internet. There are threads and chats and interviews online. Here is what I learned that men think about when they think about their wedding.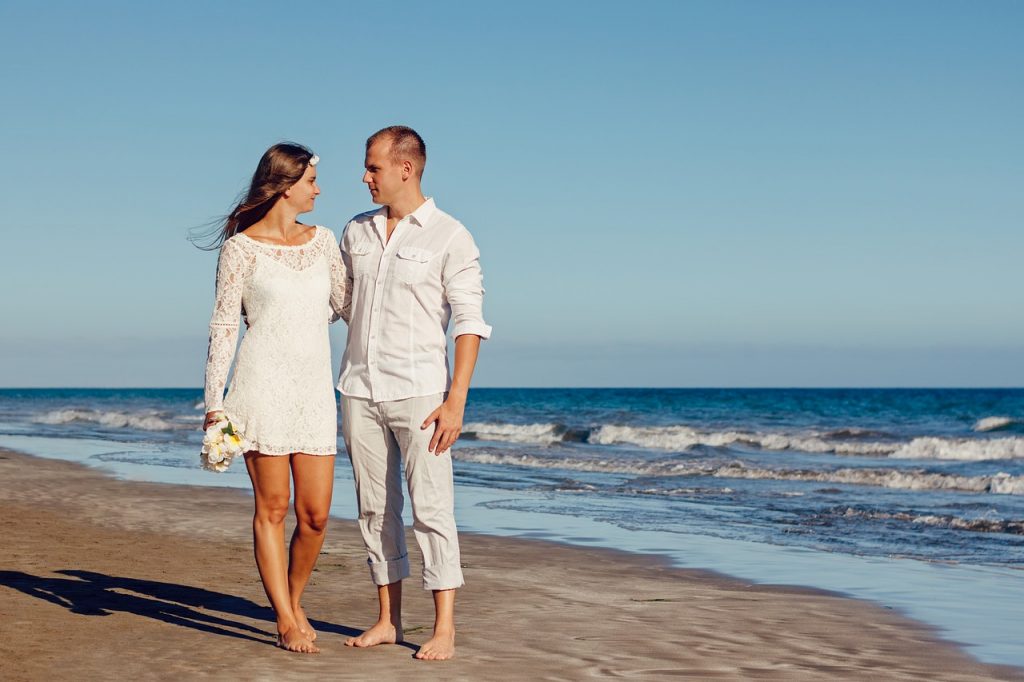 The Walk of Pride
The most important moment is when the bride walks down the aisle. This moment is mentioned over and over again either because it is the very first thing that comes to mind or because it is an important detail that is brought up in discussion. They look forward to it and can't wait to see their bride walk down the aisle.
The First Kiss as Man and Wife
The next most important moment is the first kiss they share with their wife. This is actually something they spend time thinking about and look forward to more so than the wedding night. The wedding night is often times seen as too grand an expectation filled with too much pressure. However, the first kiss as man and wife is mentioned with as much sentiment as an older man remembering a first date or holding hands for the first time. It is pure pleasure and full of importance.
The Great Party
Something that is also mentioned with great frequency is the reception or party they have with all their loved ones. That seems to give most of the men great joy. That and the possibility of having an open bar at the big reception bash. The food. The music. The dancing. The pictures. They love the whole deal overall and can't wait for everyone they love to be under one roof (or tent) to party the night away. This takes the cake.
Their vows
Surprisingly (at least to me) saying their vows is actually mentioned with excitement. They may not have the actual words worked out but they like the idea of standing in front of their loved ones and saying their vows to their wife. Declaring their love and devotion in front of family is something they look forward to, not something they shirk from in any way.
Not the Decorations
The things not talked about with great frequency are the decorations, the dancing, the rings, the clothes, the flowers, the boutonnieres, the champagne, or any of the other things that women will gush about at length and discuss. They may have actual preferences and opinions on all this stuff, but when talking about their wedding, they are not fantasizing or fixating on any of it, not even the cake.
Bring Them in for a Huddle Anyway
Even though they don't talk about those things, it's mentioned as important to ask what they believe would be the best choice and include them if they want to be included. Some men do have preferences that maybe they don't even know they have until you bring it up.
TIP: If your groom has an aversion to carnations or camellias or hates chocolate or can't stand the color pink on anything, you might want to listen as to why, and learn something new about your beloved. I know a guy who can't stand lilies of any kind because he associates them with his grandmother's funeral, something that he found traumatic. This lead to some endearing stories about him and her. Had I not asked why he disliked lilies so much I wouldn't know this about him. Sometimes people's aversions and preferences are informative. Sometimes they aren't anything but they don't like chocolate as a flavor. End of story. And if a guy despises pink, it doesn't mean anything more than that, because once he has a girl, all of a sudden he may think everything pink is the best thing ever. I can think of two guys I know that love all thinks pink and their little girl, although a few years ago they'd have said, "Eww.. girly princess. How can people get into that?"  Now someone has them wrapped around their little pink princess pinkies. You just can't tell. But be open for a conversation. I love the story behind one guy's preference of champagne and a trip he had overseas. What a wonderful lark.
………………………………………………………………………..
Virginia

Bride

Magazine
features the best
Virginia
Weddings and
Virginia
Bridal
Shows. Find it all in one place. Check our blog posts regularly for the latest show information.